Liverpool are out of the FA Cup at the fourth round after an extremely poor performance and a 3-2 defeat to West Brom. Here are five talking points.
Liverpool 2-3 West Brom
FA Cup Fourth Round, Anfield
January 27, 2018
Goals: Firmino 5′, Salah 78′; Rodriguez 7′, 11′, Matip (OG) 45+2′
---
VAR is a Red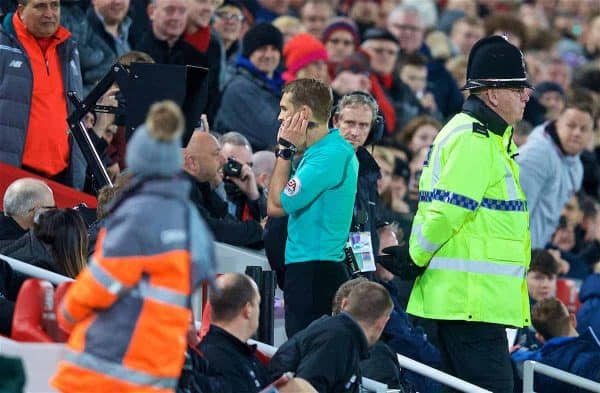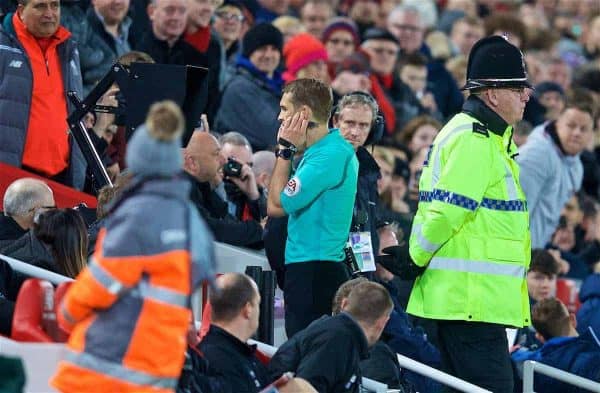 No surprises for guessing the biggest talking point—the video assistant referee, called into action multiple times.
The Reds were big beneficiaries on the night, to the extent that only a layer of paint on the crossbar was the difference between 1-3 and 2-2.
A third goal for the Baggies would likely have stood in normal circumstances, but a review showed an offside player a metre away from Simon Mignolet.
Moments later, Mohamed Salah going down in the box was ignored or unseen, but the video replay—after a lengthy delay—subsequently awarded a penalty.
Perhaps there would have been a different outcome had Roberto Firmino buried his penalty, but it came back out off the crossbar.
Thereafter, the Reds rarely threatened until Salah's consolation, and not at all in the final 10 minutes.
Horrendous Defensive Work Again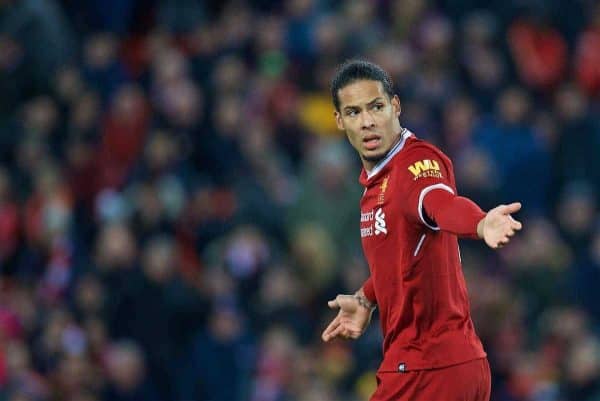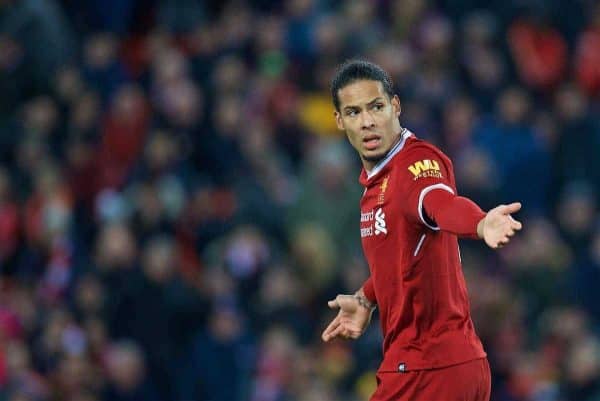 A goal up at home early on to a side struggling in the Premier League, Liverpool should have been in for a good night.
Instead, by half-time they were staring down the barrel after, yet again, some calamitous defensive work left them in the lurch.
The mistakes and blame lay everywhere: not tracking runners, missing tackles in key areas, not being alert to shift across and close out space and in basic decision-making.
Emre Can was twice at fault—more on him in a moment—but Gini Wijnaldum, largely anonymous throughout, completely failed to track Jay Rodriguez's run for the second goal while Alberto Moreno wasn't close enough to his centre-backs for either one.
A succession of errors occurred throughout—and what Joel Matip was thinking trying to backheel a cross-shot off the line before the break for the third goal is anyone's guess.
Mignolet, reinstated in goal, was abject—and even managed to be beaten by a header when jumping to fist the ball away.
Fortunately, the offside flag came to his rescue to chalk off the fifth time West Brom found the back of the net.
Emre Can…'t Be Captain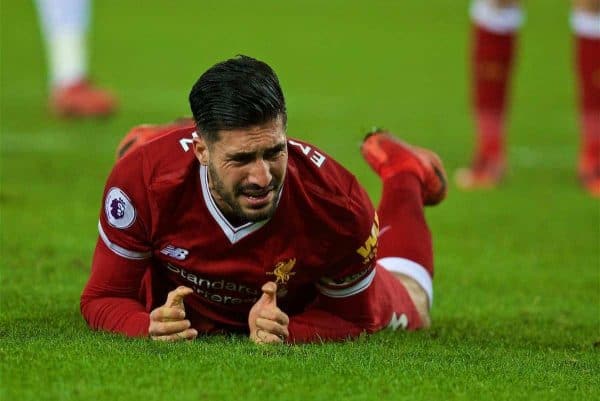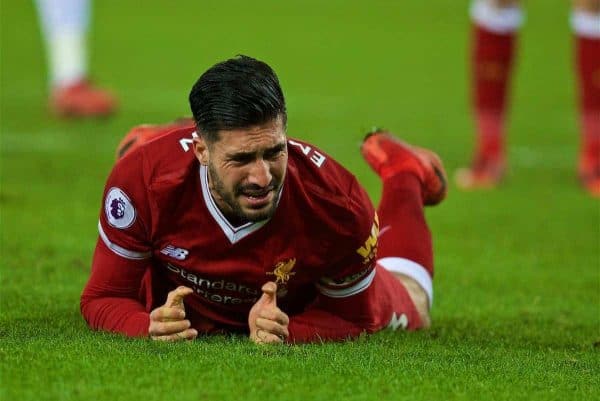 Wearing the captain's armband has got to mean more than "who is available, who has been there longest."
The players must look to the skipper for inspiration, the skipper himself must rally the team and organise throughout, as well as be an influence on the match.
Can did none of that.
Sure, a poor performance can happen, but this was beyond poor, it was dismal. The Germany international can produce enormous games—he did against Man City recently—but this simply wasn't good enough.
Is it right that he skippers the team without being willing to commit to it?
It's a subjective question, but an entirely relevant one if the manager is choosing him to lead a team he doesn't even wish to remain a part of.
Can might want bigger things, more silverware, but he's contributed hugely on this occasion to his current side not being able to do win exactly that.
Does Klopp Trust His Bench?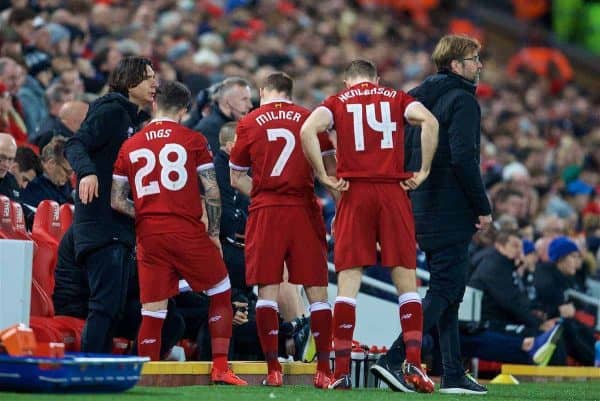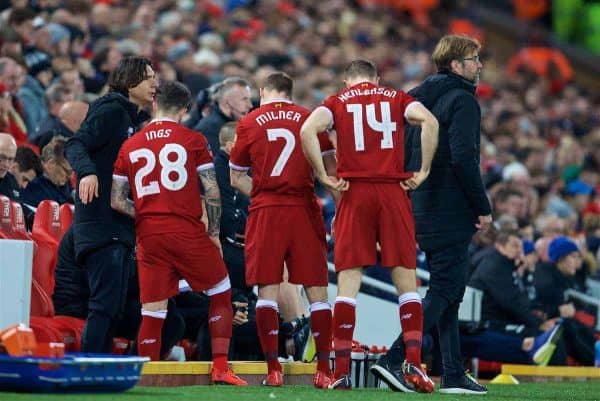 Two goals down, needing a response. Who to turn to?
James Milner, Jordan Henderson and Danny Ings, all at once this time.
A total haul of two goals between them in all competitions this season, and not a whole lot of match action of late.
Quite why Dominic Solanke has gone from being turned to before Daniel Sturridge to not being called upon at all, is up for discussion.
But the Reds simply don't have game-changers available to them right now and it's natural that, after two defeats to average opposition, questions will be asked over the January transfer market and the club's spending.
It's obvious another forward option is needed.
If Salah or Firmino go on a scoreless run, as can befall top attackers from time to time, where will the points come from to maintain a top-four challenge?
Klopp cannot possibly believe Ings will come through with eight or 10 strikes in the second half of the season, or some of the squad midfielders can even push half a dozen.
Another Trophyless Season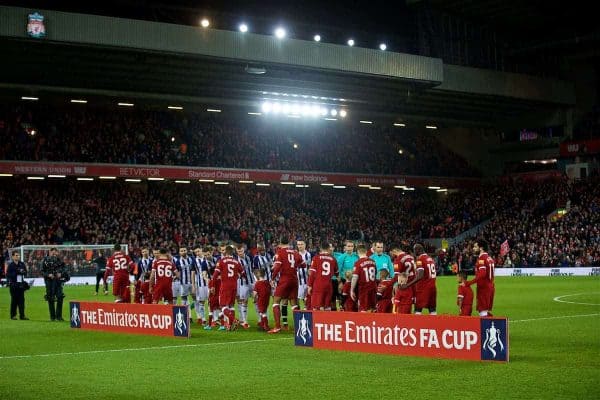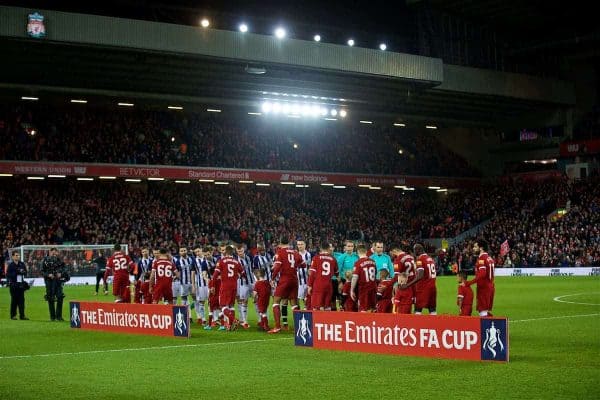 It's now fast-approaching half a dozen years since the last time Liverpool won a trophy: the League Cup in February 2012.
Out of the FA Cup, it looks like another campaign will pass without that statistic changing.
The Reds remain in the Champions League but forget about winning that—if West Brom can find the net five times, so too could a Barcelona or City, even if Porto are beaten.
Much improvement is needed and both players and fans need a quick pick-up in the shape of a win over Huddersfield.
Top four this season in the league is now an absolute must, and anything less, after early domestic cup exits, will be seen as a failure.