As Liverpool put four goals past Man City, the only player to score in front of the Kop was their unlikely new hero, Alex Oxlade-Chamberlain.
Receiving the ball in midfield from Roberto Firmino, the No. 21 powered past Fernandinho, which in itself is no easy task given the Brazilian's form in the defensive midfield role for City this season.
He then tore at the opposition defence and, as they backed off in a manner which the Kop definitely wouldn't stand for were they their defenders, unleashed a clever shot across Ederson's goal which was just powerful enough to nestle in the far corner.
"Always I give credit to the opponents," said Pep Guardiola in an attempt to relieve his defenders of the blame.
"Sometimes we always think about our mistakes, but maybe we can think that the other ones [opposition players], they are good."
Oxlade-Chamberlain was good, very good, and was one of the players in with a shout for the Man of the Match award at the end of the game.
Any doubts on his arrival at the club as to whether he would fit the Jurgen Klopp style or whether he could find a role in the side have now been answered emphatically, and the fee of £35 million which was questioned at the time is now boasted about around Liverpool.
Itchy Feet
"Playing for a team like Arsenal, it ends up being more of a right-wing job. But, the centre-mid role… I've always wanted to be Steven Gerrard, so I've still got a hope of that."
Those words sound like they were said by a player who had just joined Liverpool and wanted to get on the right side of the fans by name-checking one of the club's all-time greats.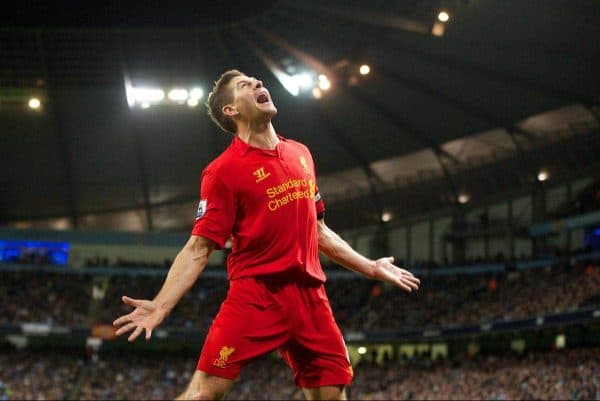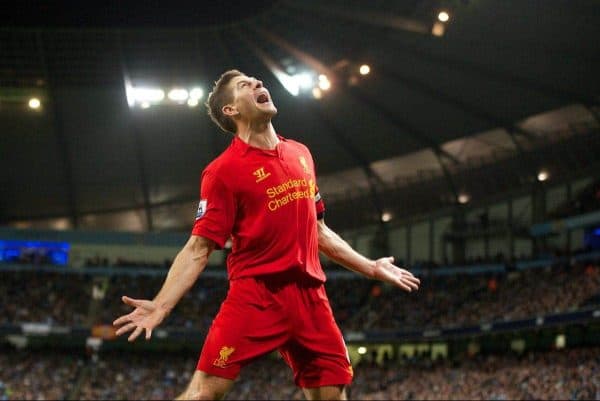 But they were spoken by Oxlade-Chamberlain after he'd just won the FA Cup with Arsenal following an impressive outing at wing-back, which helped his side lift the trophy.
His move to Liverpool wasn't just fuelled by a desire to play in a different position, though.
It was also the search for a different style, a new challenge and a place where he could play his natural game regardless of the position on the pitch he was occupying.
As Melissa Reddy wrote for Goal: "Those attributes which he had to funnel under Wenger, are encouraged and demanded by Klopp. His fundamental, dynamic qualities were not allowed to flourish."
Against City they certainly were, and though there has been a period of adjustment while he gets used to the Klopp style, he appears to be getting there.
Adaptation
"In the system we play at the moment, he can play in four positions. Both No. 8s and both wingers. We play in a specific way and we want to use him in these positions."
Klopp was true to his word and Oxlade-Chamberlain has played more minutes for the club than you might think.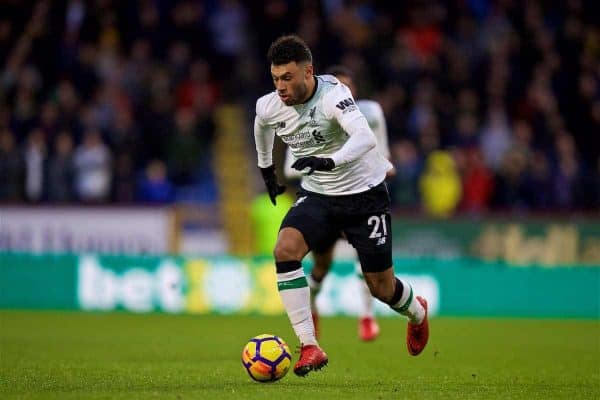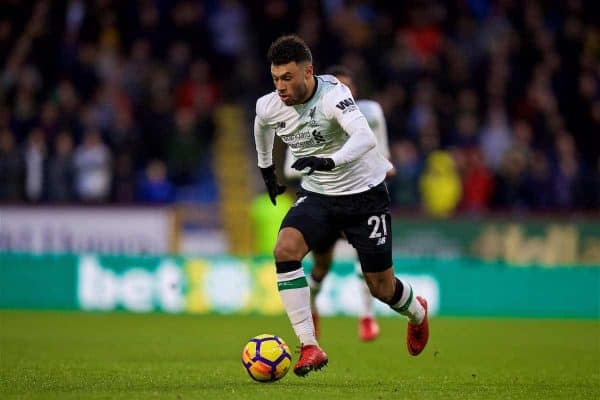 Despite sitting on the bench for the early part of his Liverpool career—to derision from Arsenal fans—he's now making them eat their words.
Oxlade-Chamberlain has made 11 starts in all competitions with a total of 1,219 minutes played.
He's operated in all the positions the manager promised he would, starting off on the wings before gradually moving to the centre as he's grown accustomed to his new side and been reminded of his natural strengths.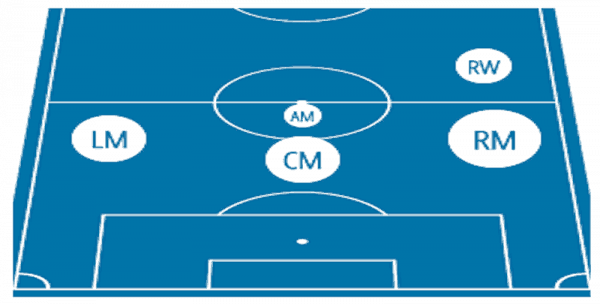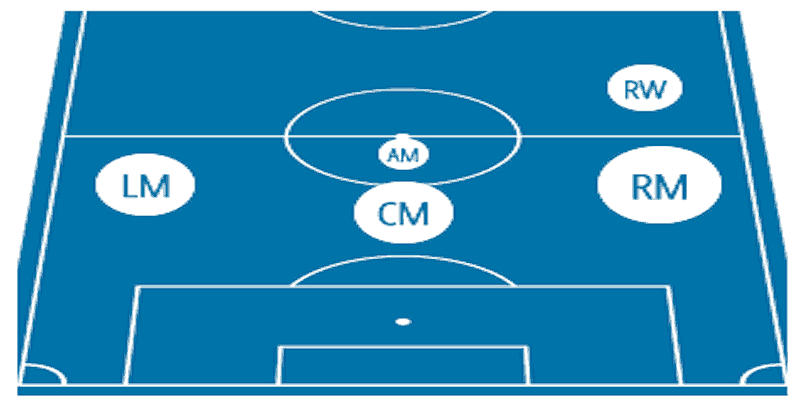 "These performances come because of how good his attitude is in training at Melwood," said Klopp in November.
"He has the highest quality in everything he does; sometimes I think he is the last to realise this."
Maybe he's now beginning to realise, as he moves into what his new manager described as a "dream" position.
Middle Man
"He can still play the wing which, for us, is really important, using the speed more and more even in the midfield role.
"He needed to adapt as the midfield role was more a dream of his than a reality, because he didn't play there too often. maybe in the youth last time, but he's in a really good way."
So spoke Klopp on his man after the Man City game—and the aforementioned goal against City was his dream goal.
Driving from the heart of midfield at a cowering defence and sliding one past the 'keeper in front of the Kop.
Even if Oxlade-Chamberlain isn't the next Gerrard, it was a very Gerrard-esque goal.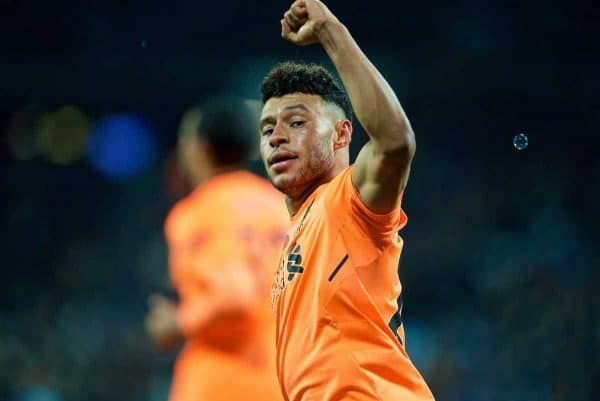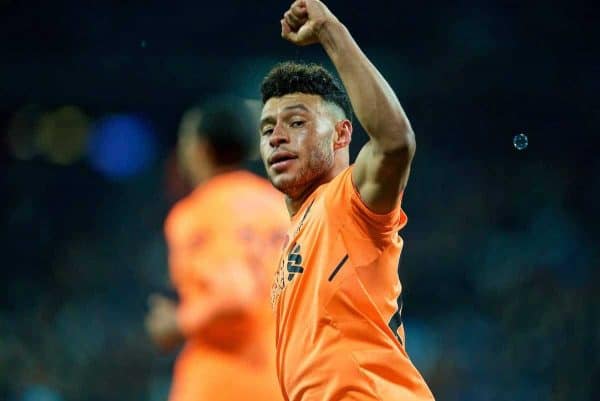 Five of his last seven starts have come in central positions, and he's regularly taken up the role played by Adam Lallana last season, which requires him to support both the midfield and the attack.
It's from this position which he scored against Man City and Swansea, giving him three goals in 20 games, or one every 6 or so appearances.
It's a reasonable return when you consider he only scored nine in 132 league games for Arsenal, which comes out at a goal every 15 games.
This was the position he found himself in prior to his goal and, having raised his hand to tell Firmino to leave the ball, he proceeded to advance between the two would-be defenders at the retreating Nicolas Otamendi.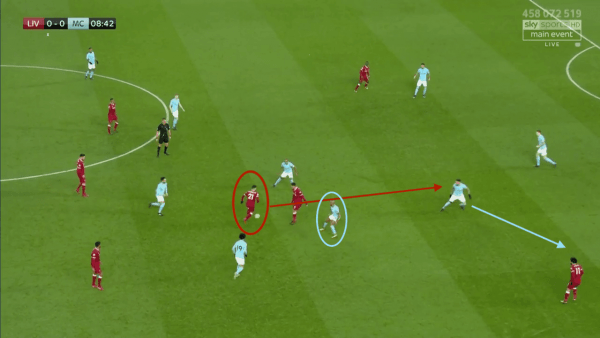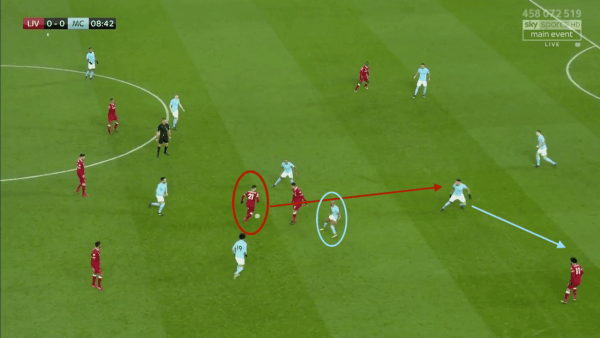 The Argentine centre-back had to think about Mohamed Salah as left-back Fabian Delph (circled) had been dragged out of position by Firmino's typically excellent movement.
Oxlade-Chamberlain outmuscled his marker, driving into the space before scoring and celebrating with his team-mates in front of the Kop.
Leader
"It's so nice to see how much he's adapted.
"I could not have a kind of an idea what a good guy he is. When you see him playing, you ask me what is better, the football player or the person?
"I think I have to think a little bit about it. So he is in a good way."
Klopp added his views on Oxlade-Chamberlain the man as well as the player in his post-Man City press conference.
You can tell a lot about a player's character when, having only made the bench for a game, they're warming up with the rest of the substitutes.
Many Premier League players will look disinterested in this scenario, but at Liverpool these warm-ups appear jovial, fun, and sometimes quite competitive.
Oxlade-Chamberlain epitomised this during his early days at the club while he was warming the bench, and now he's transferring this character into the starting line-up.
His infamous interview alongside Philippe Coutinho also saw his reputation as a dressing room leader grow, and he'll fit in nicely with the strong-minded and intelligent group of players Klopp is trying to assemble.