Virgil van Dijk is now Liverpool's undisputed first-choice centre-back, but who will be the Dutchman's defensive partner moving forward?
Van Dijk made an eye-opening £75 million switch to Anfield from Southampton in January, smashing the club's record transfer fee.
It hasn't been a faultless start at Liverpool for the 26-year-old, but as we touched upon last month, patience will be required to begin with.
A memorable match-winning debut against Everton was followed up by shaky showings in the losses to Swansea City and West Brom, but there should be no concerns over him not justifying the price tag.
Van Dijk is unquestionably the first defender on Klopp's team-sheet long term, but there are question marks over who will become established as his partner.
Lovren, Matip or Klavan?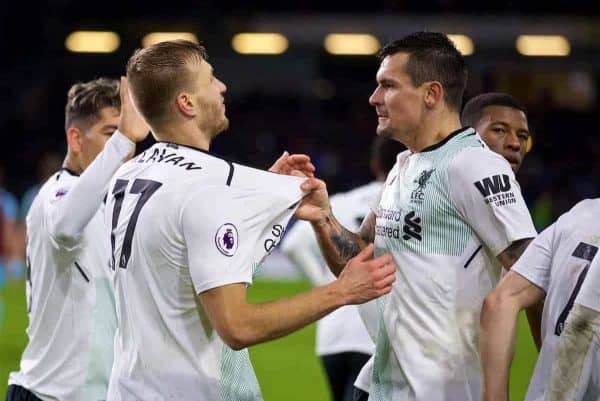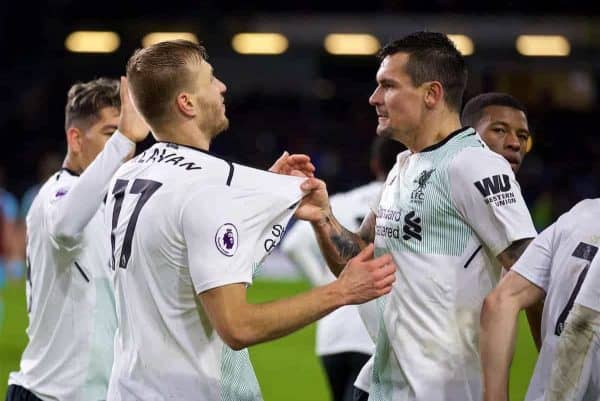 Liverpool have been crying out for a good centre-back duo for over a decade now, since the peak years of Sami Hyypia and Jamie Carragher.
The addition of Van Dijk will shore things up immeasurably once he fully adjusts to life in a Red shirt, but he can't do it all himself, as recent weeks have shown.
With stability required, Klopp must decide who is best suited to slot in alongside him for the foreseeable future: Dejan Lovren, Joel Matip or Ragnar Klavan.
It is not an easy decision, with all three Liverpool defenders flawed, but also capable of putting in excellent displays on their day.
Lovren is arguably the favourite at the moment—something that felt improbable back in October.
The Croatian's horrific showing in the 4-1 loss at Tottenham saw him replaced before half-time, and there appeared to be no way back for him at Liverpool.
There are still major doubts over Lovren—being dependable is the minimum requirement for a Reds player—but it would be very unfair not to applaud his response since that abominable afternoon at Wembley.
He has been largely good in the three months that have followed, with Tuesday's performance at Huddersfield another assured 90 minutes.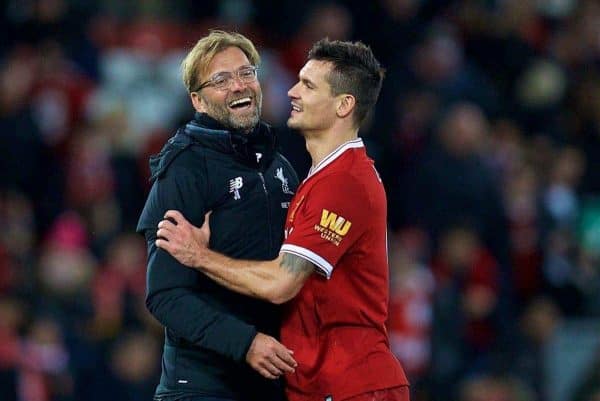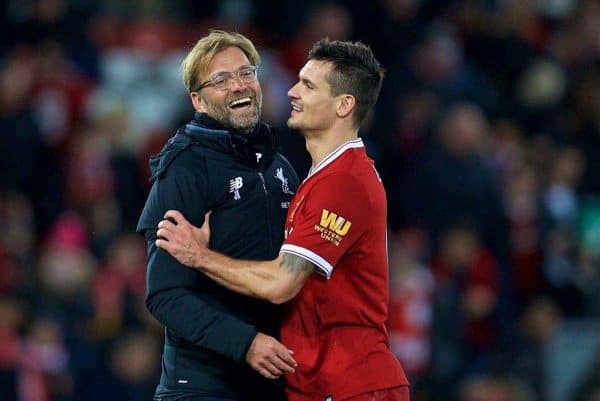 Lovren has made no key errors in the league since his Spurs nightmare, winning 52 per cent of his duels, and he has cut out the moments of stupidity.
The 28-year-old feels like someone who could quietly do an effective job alongside a world-class centre-back; Van Dijk is certainly in and around that category, at his best.
Matip has been viewed as Liverpool's strongest central defender for most of his time at the club, but recently, sizeable cracks have started to appear.
The former Schalke favourite has not looked convincing at all, and given his giant frame, he has cut a timid figure—someone you wouldn't go into the trenches with.
Matip often looks far too relaxed, and as soon as a physical battle comes his way he seems to shrink.
His style feels too similar to Van Dijk's; can you succeed with two laid-back figures at the heart of the defence?
The Cameroonian has his plus points, though, and it may be that he is just suffering an extended run of poor form.
He has achieved a 89 per cent passing accuracy despite being willing to play more incisive, risky passes than Lovren, and he is not as prone to producing baffling mistakes. Concentration seems to be his main issue.
Matip showed during an immaculate display against Man City that he can excel when he wants to, but he is not justifying a guaranteed starting place at present.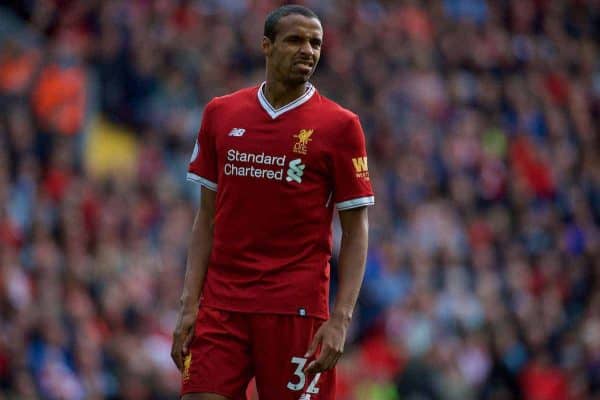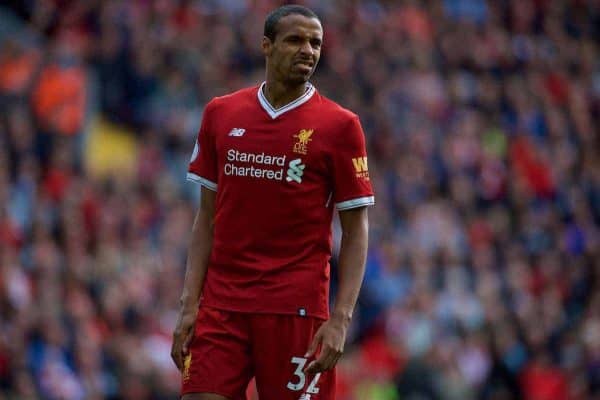 If he doesn't find another gear, he is in danger or warming the bench regularly as the business end of the season approaches.
Meanwhile, you have to feel a little sorry for Klavan, who may not even get a look-in now, given Van Dijk's preference for adopting a left-sided berth.
The veteran has been the Reds' most consistent centre-back in 2017/18, and his dramatic winning goal against Burnley only helped enhance his cult hero status at Anfield.
Klavan is 33 later this year, however, and partnering him with Van Dijk would only act as a short-term move, which Liverpool don't want.
He can still come in and do a job when called upon, but Klopp needs to be taking a punt on one of Klavan's younger teammates, much like he has with Loris Karius in goal.
It is Lovren who deserves the nod at present, but history suggests his latest disaster might not be a million miles away.
Looking ahead, however, do any of them really justify being starters for such a big club?
Someone else?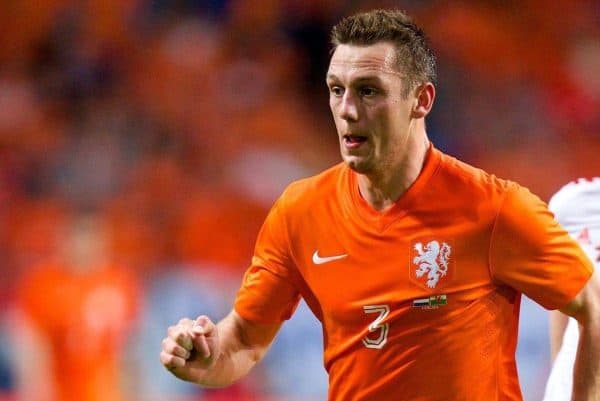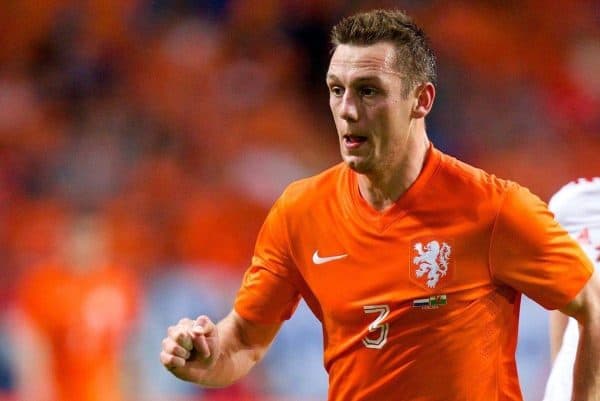 If Liverpool want to become a trophy-winning team again, Klopp should be encouraged to add to his defensive options this summer.
Essentially, this period between now and the end of the season will be an audition for the current centre-backs, as they attempt to show they should be persevered with in the coming years.
Unless something fairly drastic happens, though, none of Lovren, Matip and Klavan are good enough, and the team could grow so much from having a more formidable presence next to Van Dijk.
Top class defenders are at a premium these days, with many of them tied down at their current clubs, but there are still superior options available.
Lazio's Stefan de Vrij has been linked in the past and would be a noticeable improvement, while Daniele Rugani, playing for Juventus, is a highly-rated youngster who may be tempted by the offer of more regular football.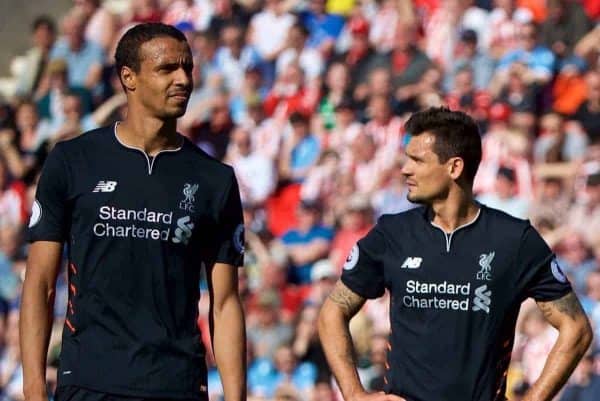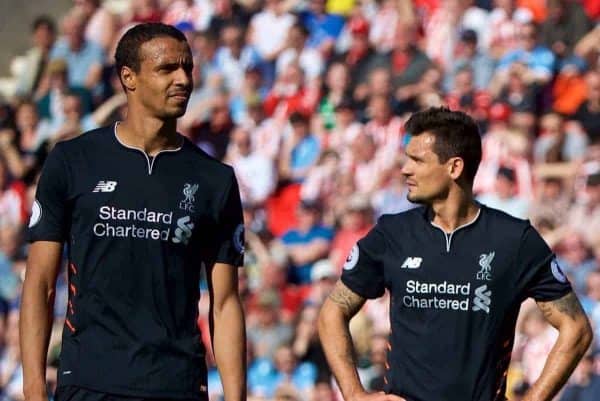 Real Madrid's Spain international Nacho is another example that springs to mind, and looking closer to home, could Klopp be willing to gamble on a young Englishman such as Leicester City's Harry Maguire?
Joe Gomez deserves a mention in a long-term sense, but the youngster is still a long way from being the finished product, especially centrally.
All of this will be decided in the summer, and for now, it is about finding the right partner for Van Dijk for the remainder of this season.
In a lot of ways, Klavan would be the deserved recipient, but he is left-sided and ageing, and Klopp would learn nothing new from sticking him in.
It has to be Lovren or Matip, for all their respective faults, with the former edging ahead as things stand.