Sadio Mane isn't hitting top gear for Liverpool, but the signs both past and present suggest an upturn in fortunes is around the corner.
After a brilliant debut season for the Reds last year, equally big things were expected of the Senegalese wide forward.
And why not: he quickly became a pivotal player, offering a goalscoring threat and ridiculous pace, two attributes which few could provide for Jurgen Klopp's team.
But it doesn't feel as if 2017/18 has been quite as impressive for Mane, struggling for top form and consistency.
There have been runs of form, but nothing sustained, nothing suggesting he's about to displace Mohamed Salah or Roberto Firmino as the most crucial element of the front line.
And, because of that, he's seen as out-of-form, as disappointing, even as a problem for some.
It's a half-truth though, and the signs on the pitch are that Mane is doing everything possible to turn around his own form, and is still offering the Reds plenty regardless.
In-game progress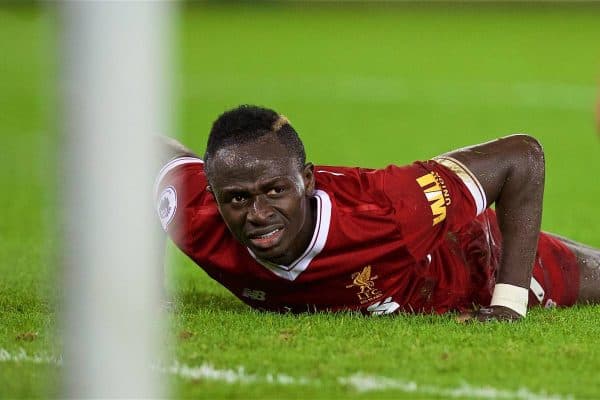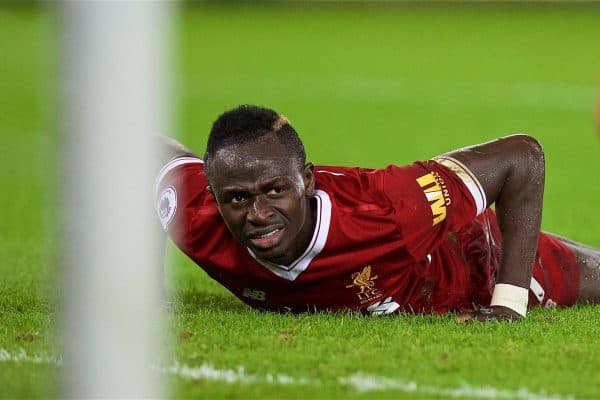 First of all, two facts have to be acknowledged: One, that Salah (or Firmino) is not the standard-bearer for Mane's form. Mane is the standard bearer for Mane, and any ups or downs in performance should be measured from what he is capable of producing.
Secondly, even without being in top form, he's still showing enough moments of quality to play a telling part in Liverpool's game.
When the first touch returns, when the decision-making isn't clouded by doubt, productivity will again soar.
As it is, in his last five league games, Mane accounts for four goals: one scored against Burnley, another against Man City, a back-heeled assist for Salah's first against Leicester and a flick for Firmino's against Huddersfield.
Both the latter strikes owed much to technique and impudence of the eventual scorer, but in each case, without Mane's contribution there's no prospect of the goal arriving at that point.
Aside from goalscoring, there have been other moments, signs that Mane knows what to do.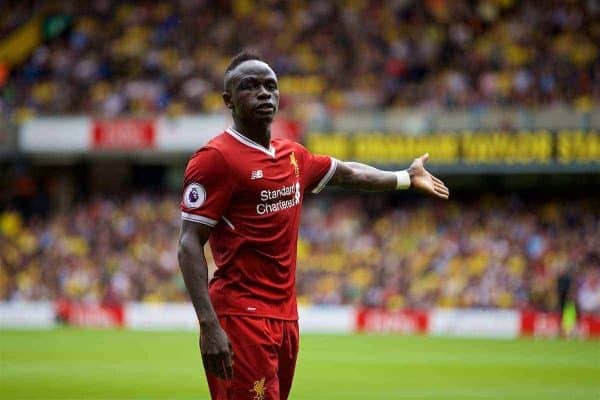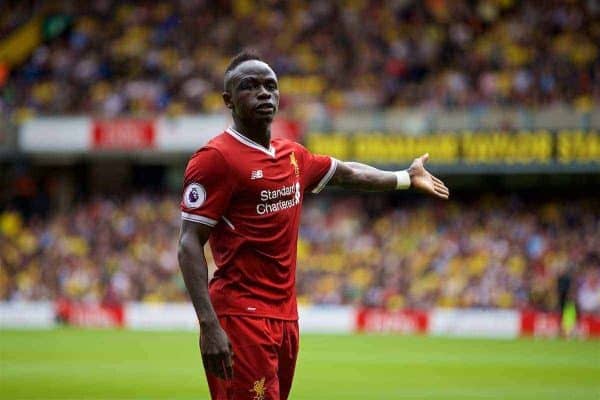 The execution is the let-down at times, or even his team-mates' passes, but Mane's movement is absolutely on-point.
Against Swansea, dire as the performance was, there were two critical moments of Liverpool attacking. Both involved Mane running behind, on the diagonal.
The first didn't result in a clear chance, but it showed the way forward for the Reds against massed ranks of white shirts. Liverpool failed to repeat the trick until near the interval, when another Mane surge saw him teed up by Salah.
Awkwardly, he failed to hit the target due to a difficult body shape, but the movement, the getting into position in the first place, is the key to focus on.

His display against Huddersfield is too easy to overlook, given the Reds won handily and the scorers were other key names, but at 0-0 and 1-0 it was Mane, continually moving infield and finding space between the lines, who allowed the Reds to keep up the pressure.
It's coming, it's just not quite there yet.
And despite that—Mane is on course to match last term. He scored 13 Premier League goals then, he has six so far this term, with half the season still to come.
In all competitions, he's just three of last term's total, in 500 minutes less of action.
Historical form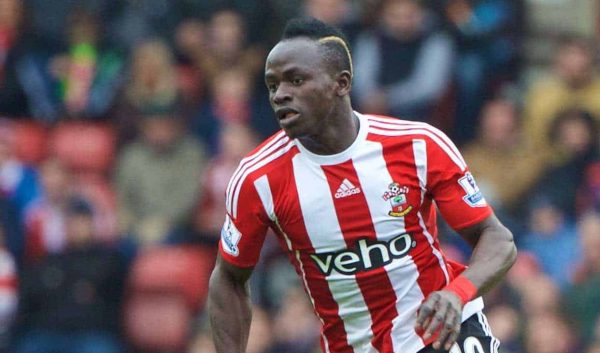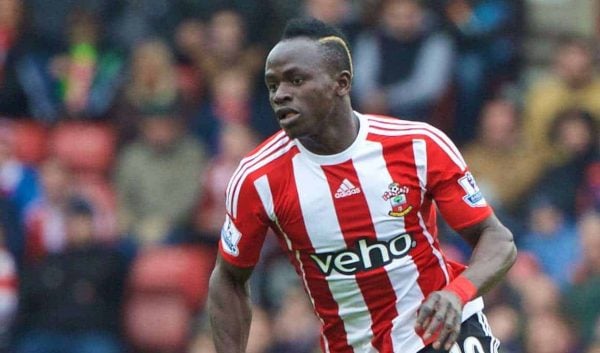 It isn't just on the pitch where we can see Mane's return to form is imminent.
Naturally, Liverpool fans will look to last season as a measure of what to expect from him, but 16/17 was comfortably his most consistent campaign in terms of finding the net.
Mane netted 13 times in the Premier League—and not once did he go more than two successive league games without beating the opposition goalkeeper.
Prior to joining the Reds, though, one criticism of Mane had been his tendency to go missing, not just for periods in games but for huge stretches of times—weeks, even a couple of months.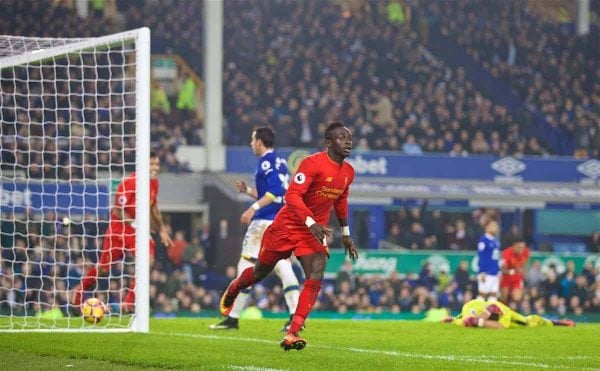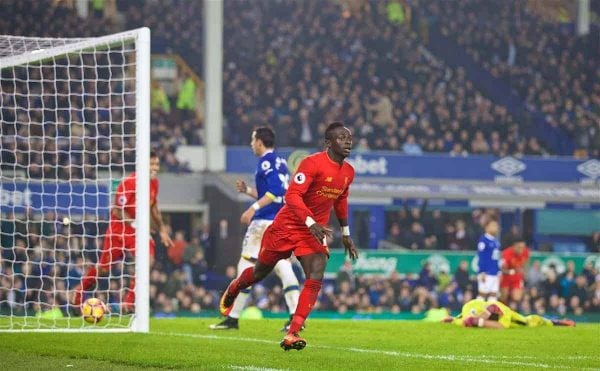 To an extent that's understandable. He is now 25; his final campaign at RB Salzburg he was just 21 years old, still raw and learning. The idea would be to improve upon that, but at Southampton too he was beset by huge swings in form and reliability.
The graphs below show his league goalscoring through the past four full seasons, at Salzburg, Saints and his debut Liverpool campaign.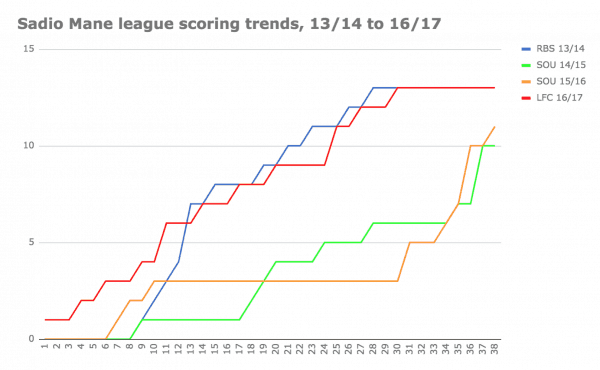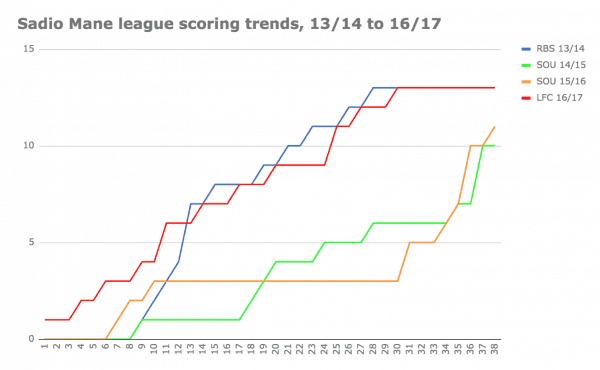 The red line of Liverpool is far and away the most stable, an indication of his progress and his importance perhaps.
Both campaigns at Southampton saw long barren runs, while his final campaign at Salzburg didn't see Mane hit goalscoring form until game week 9.
In all three cases, though, a drop-off from Mane preceded a sudden surge of scoring form, a sharp upturn in productivity.
Of course this only looks at scoring, and doesn't factor in sporadic absences from the team, but his season-ending injury with Liverpool in early April 2017 was the only time Mane missed more than a couple of fixtures in a row with any of the three clubs.
Mentality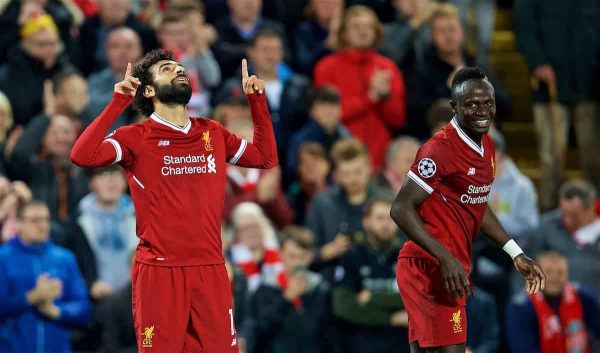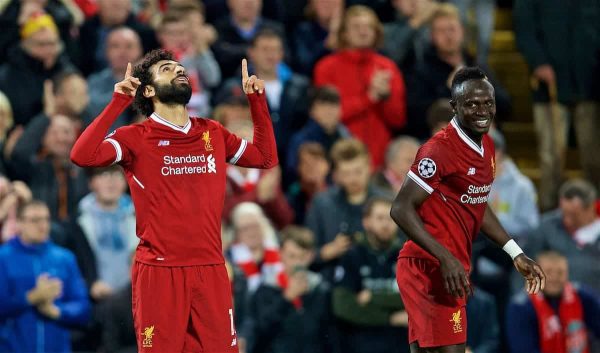 There are other factors to consider, too.
Last year he was the star; this year the fans found a new hero in Salah even before welcoming Mane back to fitness.
Perhaps that's a factor, perhaps not. But mentality is, always, and Mane has more reasons than the fans for disruption this term.
At the start of the season it shouldn't be forgotten that he was key: goals in each of the opening three league games, an assist against Hoffenheim, another away to Spartak.
Then came the red card against Man City, where he had been producing a tremendous performance early on.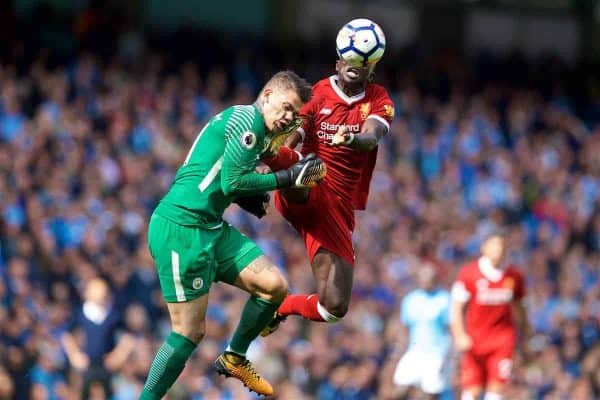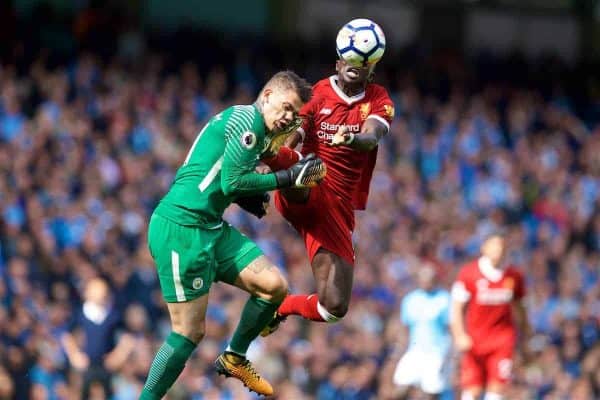 That suspension, followed by a hamstring injury, meant a hampered run for Mane up to Christmas almost, by which time uneven form had set in and that derby incident caused further unrest.
He's not a machine, but a person—and judging by interviews and his own words, a reasonably introverted one.
AT the very minimum, he comes across as a player who doesn't crave the limelight and needs a little reasurrance, but when confidence is high, it's very high.
That's when the goals flow and the speed is on show—and for Mane a return to that level is surely not far away.