The media were in awe of Mohamed Salah after Liverpool's 5-0 rout of Watford, heaping praise on the winger for such an incredible season.
The Egyptian King ensured the Reds made an instant return to winning ways at Anfield by inspiring a 5-0 demolition of Watford.
It was one of the best individual displays Anfield has witnessed, as Salah hit a fantastic four to reach 36 goals for the season while also assisting the other for Roberto Firmino's exquisite back-heel.
Though it was undoubtedly the Salah show, Klopp will be delighted by the way his side raised their performance level to bounce back perfectly to last week's Old Trafford disappointment.
The win leaves Liverpool in an extremely healthy position in the top-four race going into the international break, and here's how the media assessed a memorable afternoon at Anfield.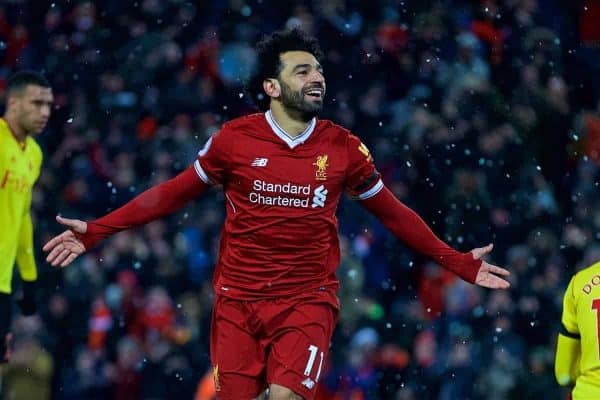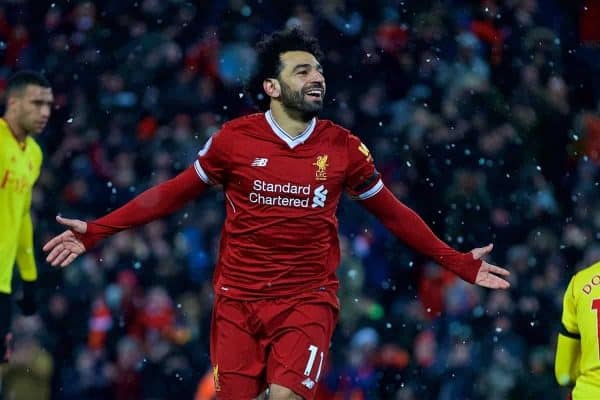 The media were predictably in awe of Salah…
The Independent's Simon Hughes perhaps dished out the highest praise possible:
"Sometimes it feels like you are watching Lionel Messi."
And the Liverpool Echo's Ian Doyle believes the comparisons of Salah with Lionel Messi are becoming increasingly worthy:
"And, whisper it quietly, that Egyptian Messi tag does not look misplaced on this evidence."
For the Guardian, Chris Brereton brilliantly summarised Salah's brilliance:
"The most frightening thing for opposition defences must be how easy Salah is making the game look at the moment. There's not a hair out of place or a bead of perspiration to be seen – he is currently playing with the childlike ease of the truly talented."
The Mail's Joe Bernstein believes the Egyptian King should already be considered alongside the Premier League's greatest:
"Already, Salah deserves to be included in an elite list of Thierry Henry, Cristiano Ronaldo and Luis Suarez as the Premier League's most captivating overseas stars."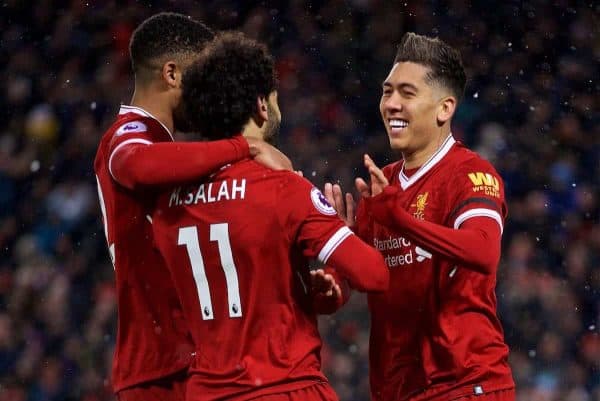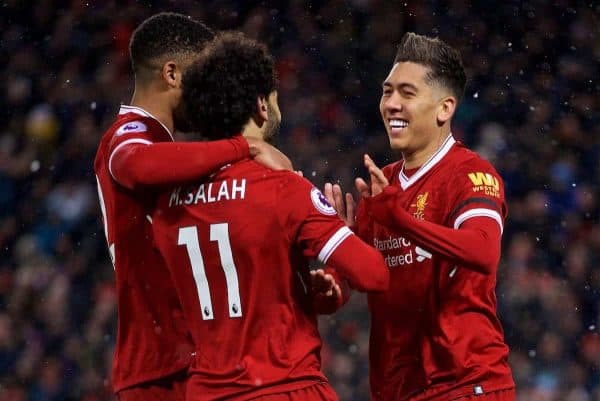 Reporters also praised the work of certain players and staff—as well as the man himself—for Salah's rise…
The Mirror's David Maddock praised Salah for reinventing himself and adding extra dimensions to his game, noting his improved movement in particular:
"People forget he arrived as a winger, and they also forget that earlier in the season he was criticised for missing too many chances.

[…]

"He is far more than a winger of course, his instinct for drifting into central positions is uncanny, and his ability to drift past players to produce shooting chances is undoubtedly Messi-like, as his first goal proved."
Hughes noted the key roles played by sporting director Michael Edwards and Jurgen Klopp in the Egyptian's success this season:
"For his recruitment at a fee that now feels like loose change, you have to credit Michael Edwards, Liverpool's sporting director. For Salah's subtle repositioning, you have to credit Jurgen Klopp and commend his vision."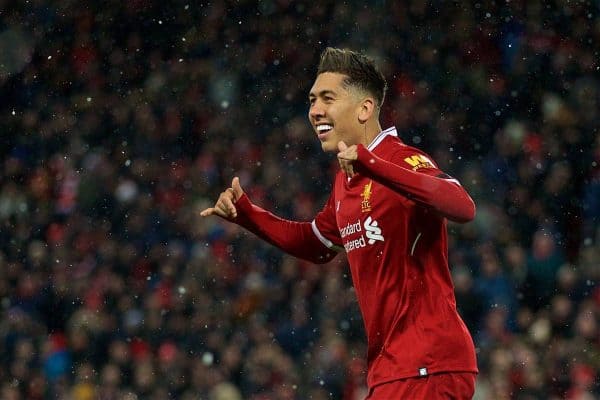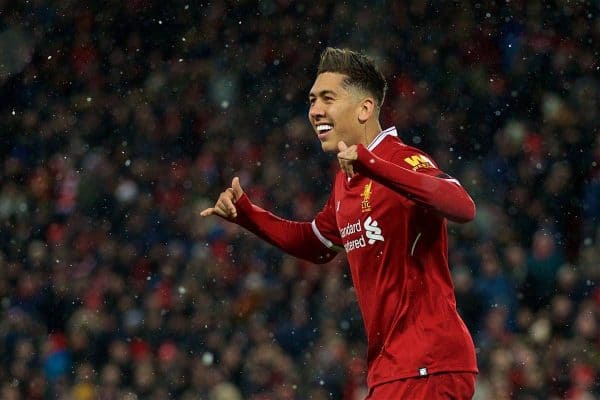 Similarly, our own James Nalton lauded Klopp for turning Salah and partner-in-crime Roberto Firmino into "world beaters":
"Has turned Salah and Firmino into world beaters. They're two players who had struggled under their previous managers in the Premier League, but Klopp has found the perfect role for them both in a style which suits them."
Maddock also reserved praise for Firmino's role in the success, assessing how the Brazilian has helped bring the best from Salah:
"Salah wouldn't be the goalscorer he is though, with the support of Roberto Firmino.

[…]

"Even more important though, is the forward's movement in pulling opposition defences out of shape, and creating the sort of space his strike partner thrives on."
The Liverpool Echo's Andy Kelly labelled Salah's partnership with Firmino the best in the Premier League:
"If it is Salah who has provided most of the cutting edge for Liverpool this season, it's Firmino who is forming plenty of the rest of the knife.

"He and Salah are now the Premier League's most inspired partnership. Salah has laid on four for the Brazilian, who has returned the favour three times."
Brereton believes Salah is redefining what it means to be a goalscorer, noting the variety of goals the Egyptian goal machine scores:
"The closer we get to the end of the season, the closer Salah gets to concluding a dreamlike campaign that is threatening to redefine what goalscoring means at Anfield. His four goals were all wonderful in their own way and Salah is simply unstoppable at the moment."
On a similar train of thought Hughes believes a lot more will certainly be expected from natural wingers as a result of Salah's achievements:
"For delivering, you can only credit the player, who is currently in the process of redefining expectations on wingers in this country."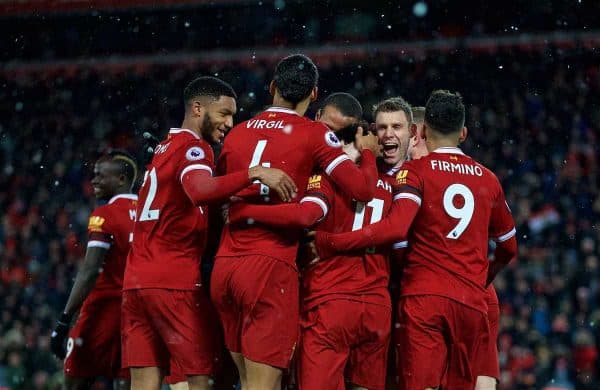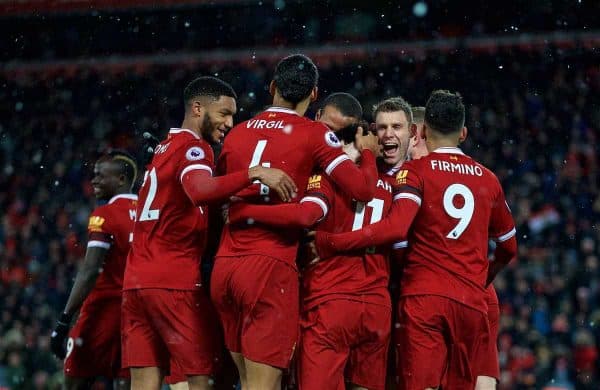 The Reds earned praise for a great response in bouncing back to winning ways…
Hughes noted another impressive reaction from Liverpool, commenting on how Klopp's side have made a good habit of responding strongly to setbacks:
"If there was a temptation to fall into a slump after last weekend's defeat to Manchester United and think, 'typical Liverpool,' it is worth remembering that typical Liverpool is now a team that responds to set-backs by finding the right result in the next game."
And Hughes put this success down to a hungry and determined performance to ensure further complacency was avoid and to show this is a side moving the right way:
"Yet if Liverpool consider their place in next season's Champions League secure already they are not showing it. There was an appetite about this performance and a confidence that reassures absolutely they are a side heading in the right direction."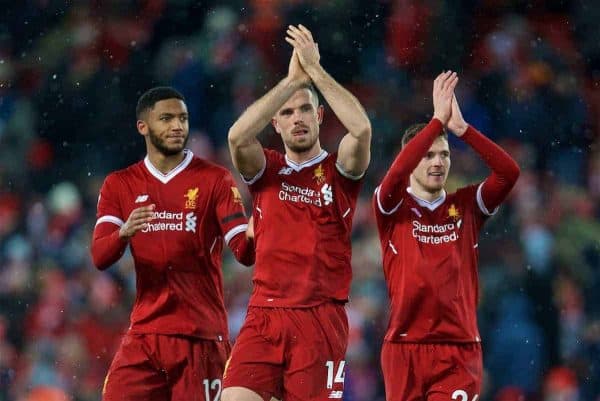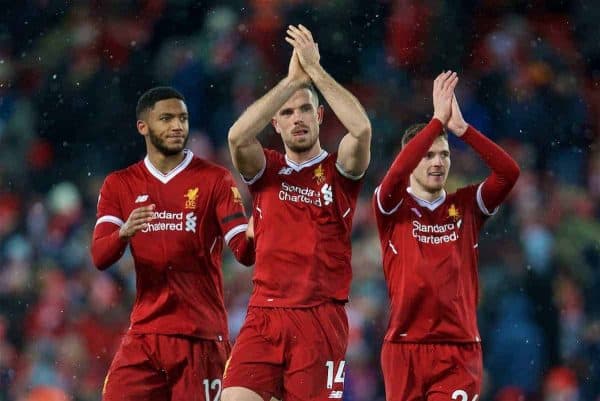 Reporters were impressed by yet another complete team performance…
BBC Sport's Emma Sanders complimented Liverpool's control, assessing how the Reds "never looked like" surrendering the advantage:
"The hosts never looked like throwing away the lead and, after scoring twice in the first half, controlled the game comfortably before Salah's late additions to the score."
Bernstein commented on how the Reds are now a much more complete and balanced unit:
"Liverpool look far better defensively than when they did drawing 3-3 at Vicarage Road on the opening day of the season and at the other end they hardly seem to be missing Philippe Coutinho at the moment."
Our own Karl Matchett reserved a word of praise for the complete performances of full-back pair Joe Gomez and Andy Robertson:
"Yet again, massive praise needs to go to Liverpool's full-backs on both sides of the pitch.

"Andrew Robertson on the left, Joe Gomez on the right: the duo were an outlet, rock-solid defensively and a real threat going forward."
Looking ahead, ESPN's Glenn Price believes Salah's goalscoring and Liverpool's attack gives every reason to be confident ahead of the Champions League quarter-final ties with Man City:
"But with Salah scoring at a record-breaking pace and help from his other two lethal forward partners, it is no wonder Liverpool and their supporters remain confident in the Champions League, despite drawing one of the favourites Manchester City in the quarterfinals on Friday."