After conceding two almost identical goals at Old Trafford, Jurgen Klopp's post-match press conference heavily focussed on the right side of his defence.
Two goals from Marcus Rashford, both scored after Romelu Lukaku won aerial duels against Dejan Lovren off long balls forward from goalkeeper David De Gea, gave Man United the three points.
In each situation, Liverpool's 19-year-old right-back Trent Alexander-Arnold was caught too wide of Rashford, rather than tucking inside as Lovren went for the header.
"In the situations around the two goals, it was not like it should be – you cannot leave a player alone," assessed Klopp.
"With Romelu Lukaku, he can win the headers sometimes – we did it afterwards [won the headers], but in these two situations we didn't."
The match-up between Lukaku and Lovren had been much-talked about ahead of the game, and United boss Jose Mourinho said the Belgian was confident he could get the better of the Croat.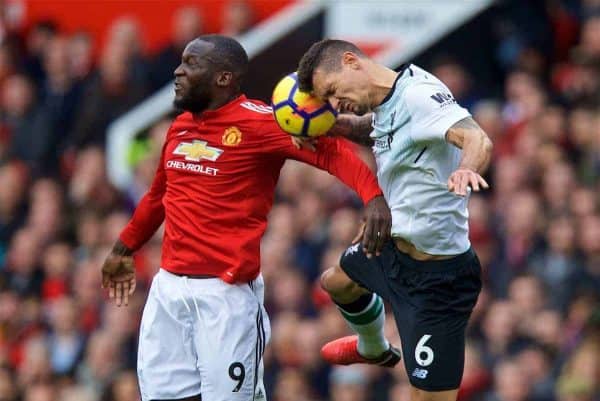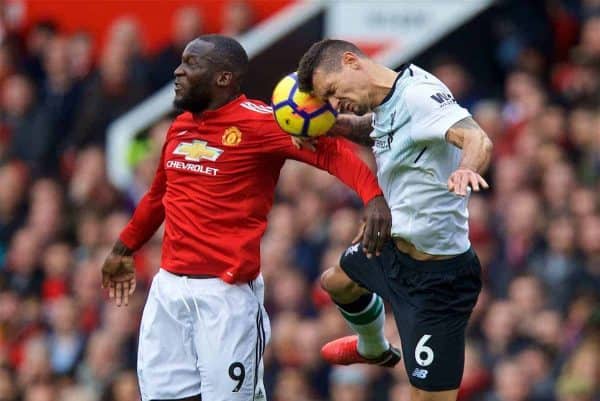 "Lukaku was confident, from experience, he could be dominant over Lovren," explained Mourinho post-match.
On Rashford vs. Alexander-Arnold, Mourinho said: "My intention was to give a direct opponent to Arnold. Arnold is fast, but probably Marcus is faster. [To] create them problems going in behind their defence."
Klopp said that his side had worked on closing the space on the second balls, but failed to do so for the two goals:
"You need to be there, everyone knows that and we trained that of course, around second balls where we had to be – but we were not there. They scored twice and that has a big influence on different things in the game – one team gets a big boost, the other one a big blow."
Despite the obvious United tactic of targetting Liverpool's right side of defence, Liverpool failed to protect Alexander-Arnold in-match, with Mohamed Salah playing high and inside, and Alex Oxlade-Chamberlain the more advanced of the midfielders.
"We have to defend these two situations better as a team, from all areas, that's it," said Klopp in his post-match press conference.
"It is not allowed to concede these kinds of goals. If you do, you have to react and that's what we did. If you have to react at Manchester United, you need a little bit of luck.
"We have to continue working and turn the fortune a little bit more on our side. In these decisive moments, when it's not in our hands and we did what we do and somebody else has to decide, so far it was not really often that the help came.
Talking specifically about Rashford vs. Alexander-Arnold, Klopp said:
"Rashford is coming at 100 miles an hour in that situation. Trent makes this move, he cuts back and there needed to be another player. That's how it is. Could Trent have done better? Probably. But could he have sorted the situation alone? Rather not – there needed to be a second player.
"Rashford makes one move inside and shoots immediately. You don't get a second chance alone. It was the right distance, he made the cutback early enough and it was a brilliant goal from Rashford."