There were very few negatives as Liverpool rampaged to a 5-0 victory over Watford on Saturday, headlined by Mohamed Salah's four-goal brilliance.
The Reds bounced back from their 2-1 defeat at Man United in ideal fashion, as they dismantled a lacklustre Hornets outfit with ease at Anfield.
With the snow falling on a cold evening on Merseyside, Salah struck four times and laid on another for Roberto Firmino as Liverpool returned to third in the Premier League table.
It was a five-star performance from Jurgen Klopp's side, providing a boost of positivity before the March international break.
So what can Klopp take from this all-round performance, what can his remaining players work on during the interval and where does Salah rank in the Player of the Year stakes?
This is Anfield's Jack Lusby (@jacklusby_) and Matt Ladson (@mattladson) discussed the highs and lows of Liverpool's 5-0 victory with Patrick Ambachtsheer (@Patrickkk1997).
The good…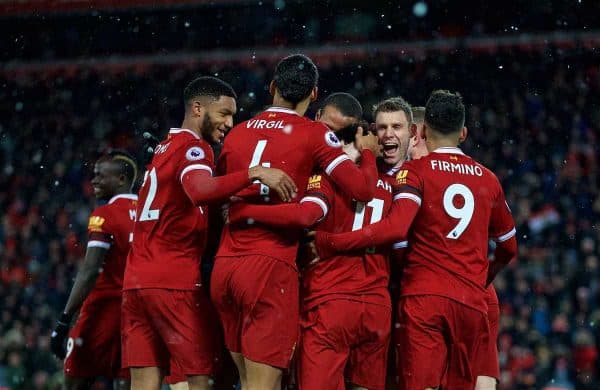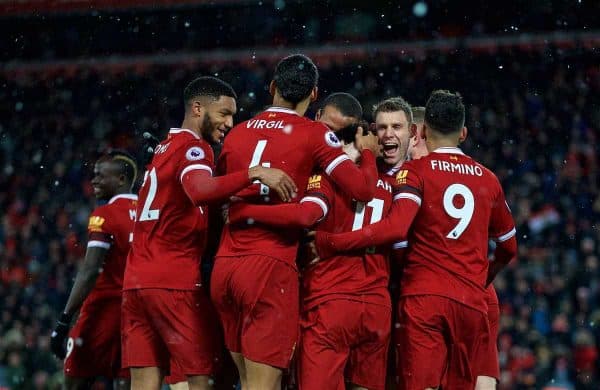 JACK: It's impossible not to focus on Salah here: he was at his effervescent best, always in the right place at the right time, and that was due to his hard work on and off the ball.
But since he's already dominating the headlines I'd rather highlight an excellent team display, in which very few mistakes were made and errors from the loss to United were eradicated.
It was a controlled, composed performance akin to the wins over Southampton and West Ham recently, and serves as further proof of the growing maturity of this side.
Robertson was particularly impressive driving down the left, but Matip, Van Dijk, Gomez and Wijnaldum are all similarly deserving of praise in my eyes.
Firmino was top class again, and while he is playing third fiddle now this was one of Mane's best displays this season.
MATT: We're running out of superlatives for Salah aren't we?
His performance was very reminiscent of Suarez vs. Norwich when he also scored four and assisted another. You have to be some player to do that in any game.
Aside from Salah, it was good that we bounced back from defeat again in a professional and controlled manner. We weren't great in the first half, but I never felt like we wouldn't do anything other than go on to win it four or five nil.
Van Dijk continues to lead from the back, Mane is becoming more influential in an improved run of form, and Firmino continues to prove why Liverpool have the perfect No. 9 for Klopp's system.
It was nice to see Gomez back in the side—a shame he wasn't considered fit enough at Old Trafford—and Robertson is the absolutely perfect full-back.
He does the basics right defensively, which seems easy, but is so often not done by so many other full-backs these days who are more attacking. He offers both attacking output and defensive nous.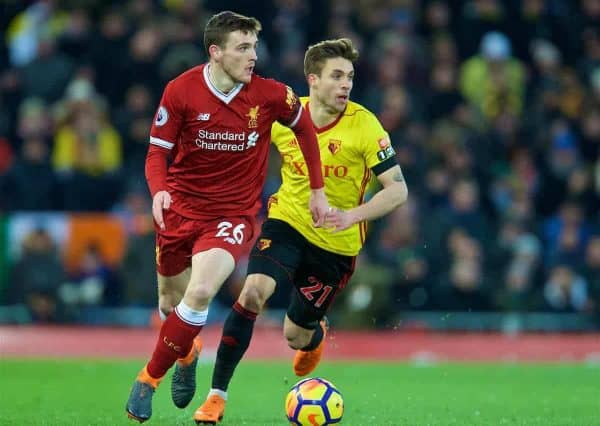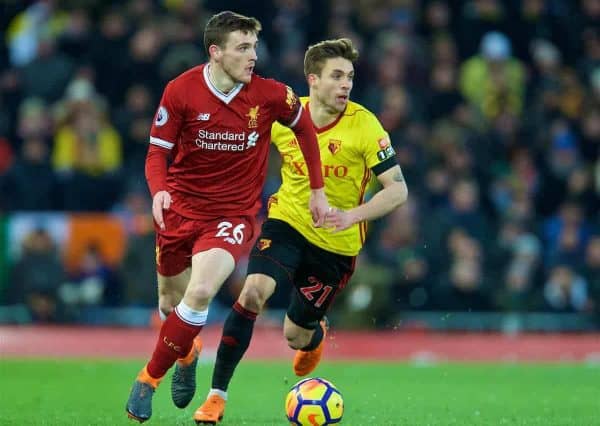 PATRICK: First of all, we managed to get a very solid and important win. We have been much better against those type of teams this season.
The fact that we are more solid defensively means the players ahead know they don't have to score four or five times. This has resulted in a far more patient approach.
The impact of my fellow countrymen Van Dijk has been immense. We have finally found our leader and organiser at the back.
Also, the comeback of Karius has massively helped. His style means we are able to defend high, as the defenders know there is someone behind who comes out and helps them when needed.
Those two players have really made sure we are a lot more solid and reliable defensively. The defensive panic we often had has been minimised by them.
Offensively we are just a joy to watch, nothing new basically. We rely on our front three to decide matches with their individual quality and teamwork. I have no words actually for how good they are together. I do really hope that remains the same next season.
The bad…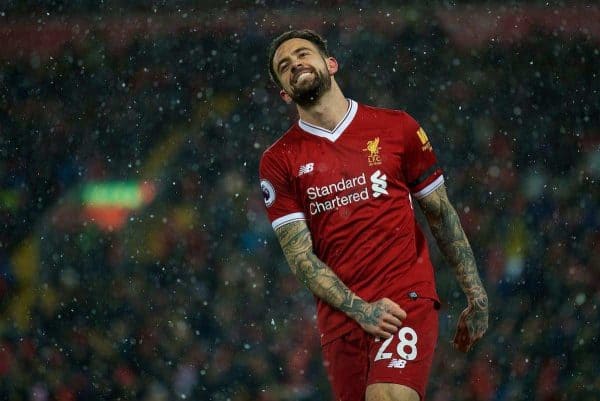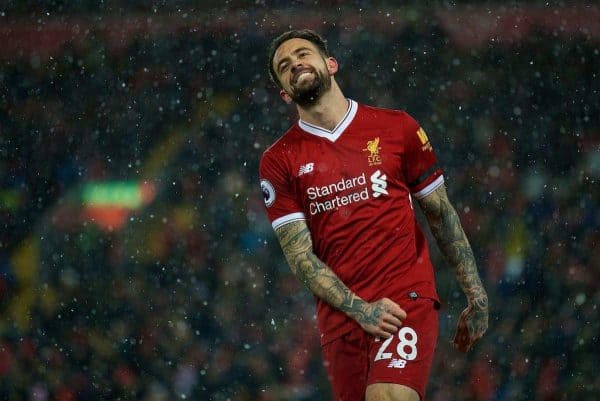 JACK: Difficult to take many negatives from a performance like that, but three spring to mind.
Henderson struggled again at the base of the midfield, and while I think he's improving in terms of his contribution to more progressive play he wilted under pressure throughout.
Losing Can to injury so early on was a blow, but hopefully the diagnosis is as encouraging as Klopp suggested after the game.
And on a minor note, another cameo appearance without a goal for Ings was disappointing. He's coming so close, and had two great chances, but he just isn't getting any luck at the moment.
MATT: Not a lot! The weather! Honestly, it's getting boring now having to wear 15 layers when going to the match.
The other disappointment was seeing what looked like, and seems correct from reports on social media post-match, police and stewards throwing fans out of the Kop for doing nothing more than standing during renditions of Allez, Allez, Allez.
The club say they are conducting a review but it's extremely poor that this is even a situation.
The club sell this famous atmosphere as a product, but they're eroding it by marginalising the fans who contribute to the atmosphere.
Before long, the product they are famed for will be destroyed by themselves. They really need to tackle this issue before it's too late.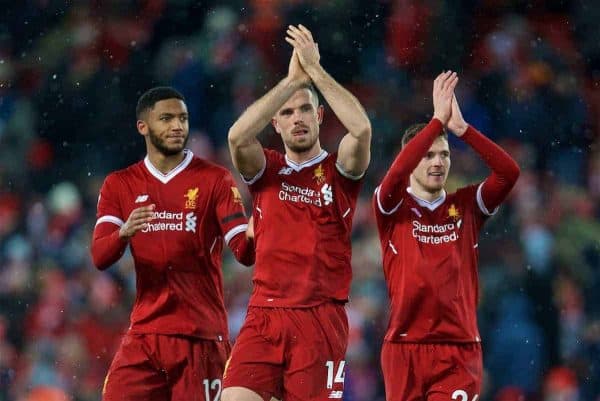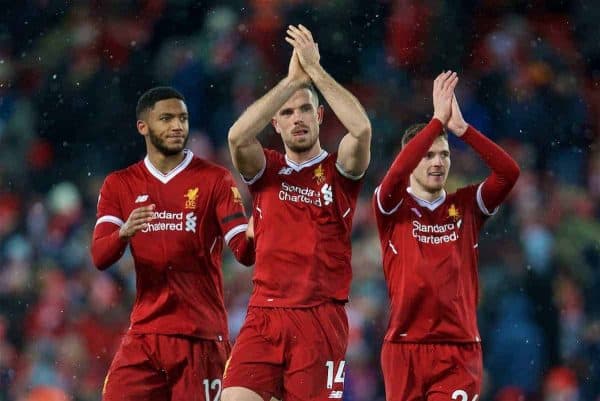 PATRICK: The Watford match basically proved why we have to make sure we get a specialist holding midfielder in the summer.
I've never been a fan of Henderson in that role, because I always feel it's one which is very difficult to play.
You have to be calm, composed and quick in possession as well as being intelligent with your positioning defensively. Those are exactly the aspects of the game that Henderson lacks.
Against Watford he had a period where he constantly lost the ball just ahead of our defence when he was a little bit under pressure.
He didn't provide any protection to our defenders in the following counter-attacks either. He also had moments like this against Newcastle, one of them resulted in Karius having to make that world-class save before half-time.
He has been dropped for at least two very big games this season (Spartak and United), which is probably a sign that Klopp is trying to change his role in the team to more of a 'squad player'.
I'm quite sure that we are ready for very big things under Klopp, if he is able to upgrade our midfield. The arrival of Keita has been the first step of that and I hope it isn't the last one either.
And should Salah win Player of the Year?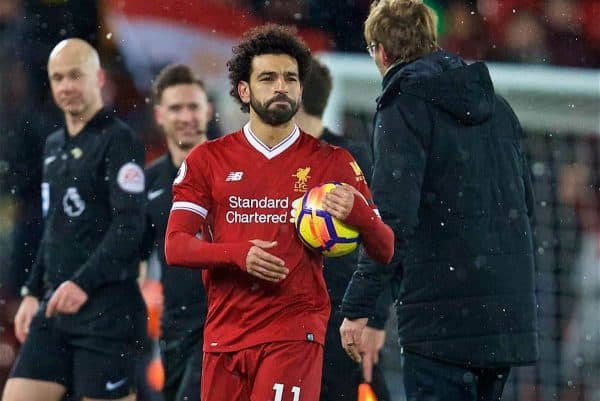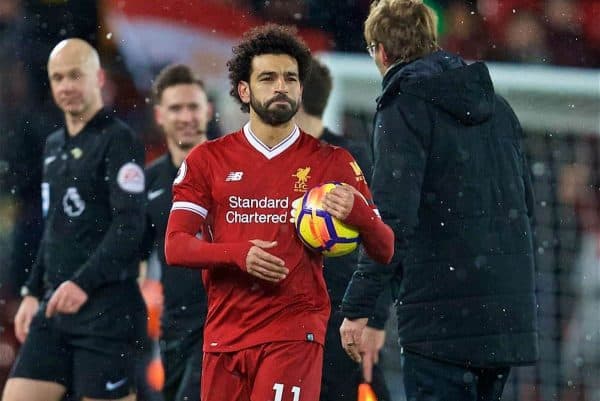 JACK: If we're considering it a two-horse race between Salah and De Bruyne, I'd definitely say the Egyptian King is edging it now.
De Bruyne is the star man for the champions-elect, but Salah is the Premier League's marquee player now, and as Klopp attested after the game his consistency levels are remarkably high.
To score 28 goals in 30 league games while playing (at least nominally) as a winger is insane.
MATT: I'd say yes at this moment. Primarily because this is Salah's first season at Liverpool, whereas De Bruyne has had two seasons at City before this.
For Salah to arrive into the club and so quickly have this level of impact is phenomenal.
With seven league games left to score four goals that would break the Premier League record, how on earth could he not be Player of the Year?!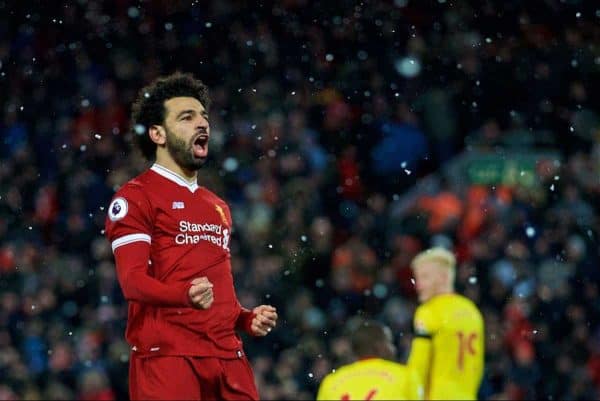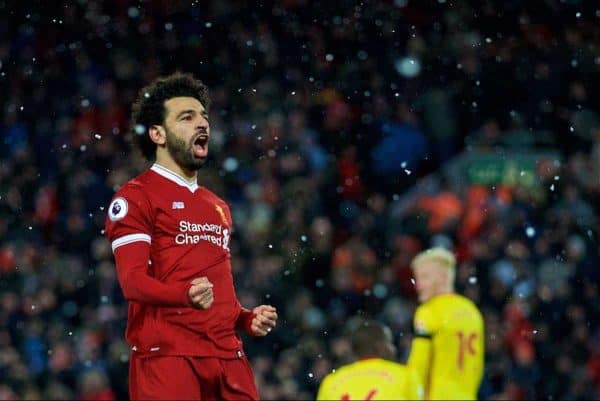 PATRICK: I really don't know what to say about this lovely guy. I was a big fan of him when he still played for Basel, and was devastated when we didn't pull it off back then.
When we finally signed him from Roma I knew we had done some brilliant business, but the level he has performed at goes way beyond all expectations.
The goals, the assists, the pace, the technique, the movement in behind even when he doesn't get the ball. His attitude off the field also should get way more attention.
For me he really is the Player of the Year in the Premier League. He has 28 goals and nine assists so far this season—that's a hell of an achievement for a wide forward player.