Liverpool are in their eighth European Cup final; Sachin Nakrani writes from Rome on the story of his trip to watch the Reds book their place for Kiev.
It's almost 1am and I'm sat on a bit of pavement outside the Stadio Olimpico. And I'm not the only one. There's loads of us. All waiting for a bus back into town. We've been here for an hour, we could be here for an hour or two more. It's a joke. But it's warm and we won and we're going to another European Cup final.
So we're relatively relaxed, standing and sitting around, chatting and shooting the breeze. Some are talking about the game that's just gone, others about the one to come – Real Madrid. Kiev. May 26th. "When you flying out?" "Where you staying?" "You going to wear colours?" It's mad that this is happening but here and now, in the darkness of a new Italian day, it also feels completely normal.
Because this is what Liverpool do. Not all the time, and not as often as we'd like, but when it comes to European adventures nobody does it better. An eighth European Cup final, a third in 13 years, a second European final in two seasons. All those games, all those goals, all those memories. It's part of our DNA. It's what we do.
I'm thinking about how we got here, to Kiev and dreams of No. 6. It started with a qualifier against Hoffenheim and for me personally has taken in seven trips to Anfield, one to Moscow, one to Porto and now this. Rome, where we always win, even when we lose.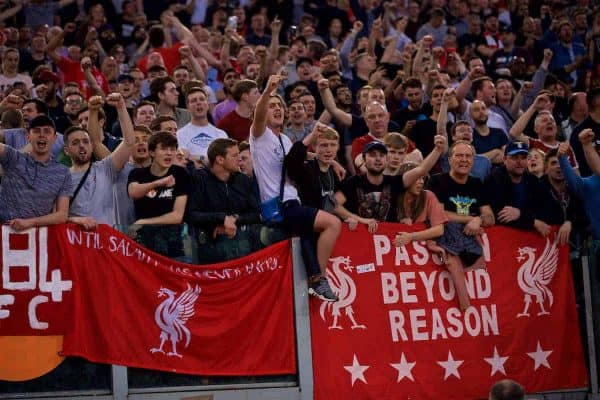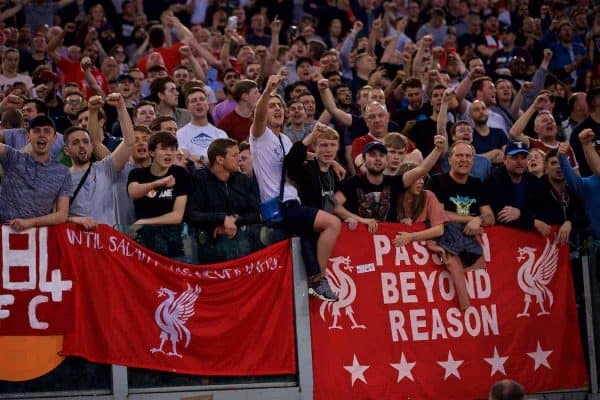 Only this Liverpool side, Jurgen Klopp's Liverpool side, could lead 5-0 in a two-legged tie and still manage to find themselves on the brink of extra-time.
A mad, bad and brilliant bunch of lads and I love every single one of them, even Alberto Moreno. They've earned this and the way they celebrated in front of the 5,000 travelling supporters after the final whistle also showed it means almost as much to them as it does to us.
They were ecstatic, wildly so, and none more so than the manager. Klopp came out after everyone else had gone in and greeted us with that broad, beautiful smile of his. What a man. What a manager.
Singing his name and celebrating our progression to the final was the climax of a long day.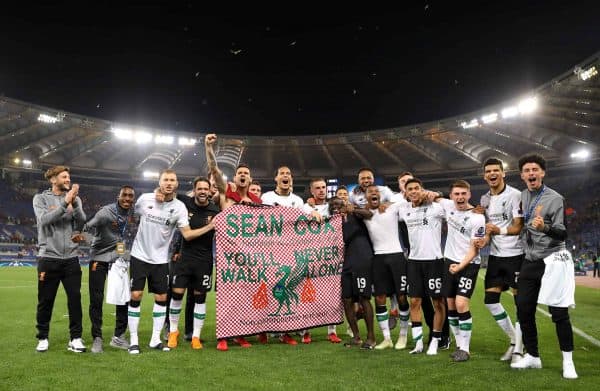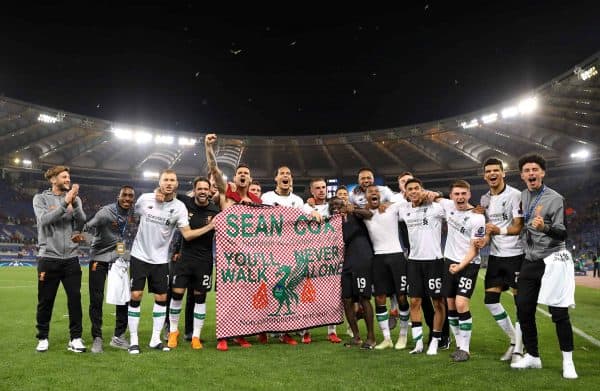 The day started with a 3am alarm call that led to a 420am taxi to Luton airport, a 630am flight to Naples and then, from there, a train journey that got us into Rome a little after 1pm local time.
Naples was properly muggy. The heat hit us as soon as we exited the station and sought out somewhere to eat prior to catching the train. We settled on a streetside cafe that looked clean enough, and sweated in the Neapolitan heat while eating croissants and getting through an assortment of drinks; namely lager, Coca-Cola and coffee.
By "we", I mean the six other lads from the supporters club I'm part of and who to varying degrees have all been part of this most unexpected thrill ride through Europe with Jurgen's Reds. Men of different ages and tastes drawn together by a love of one team. Matchgoers. My personal heroes.
Food and drink consumed we boarded the 1202pm train from Naples Central Station and a highly pleasant journey it proved to be. Air-conditioned carriage, comfortable seats, plug sockets to charge our phones within easy reach. Bello.
Once in Rome, which was also muggy on arrival, we checked into our apartment located in the historic centre of the city, a short walk from Castel Sant'Angelo, and, having freshened up, went in search of a properly Italian pre-match meal. And by properly Italian, I, of course, mean pizza.
Mine was big and tasty, as was the accompanying beer, and as an added bonus, one of our crew spotted former Liverpool winger David Thompson near our table. Little Davey was beckoned over and a few obligatory photos were taken. Little Davey was ace. Chatted, posed and smiled with no fuss.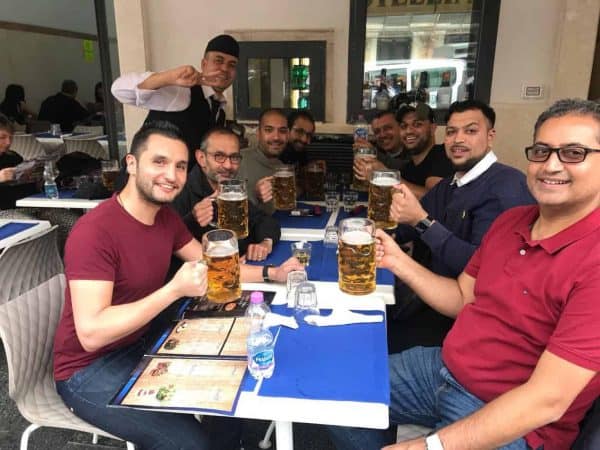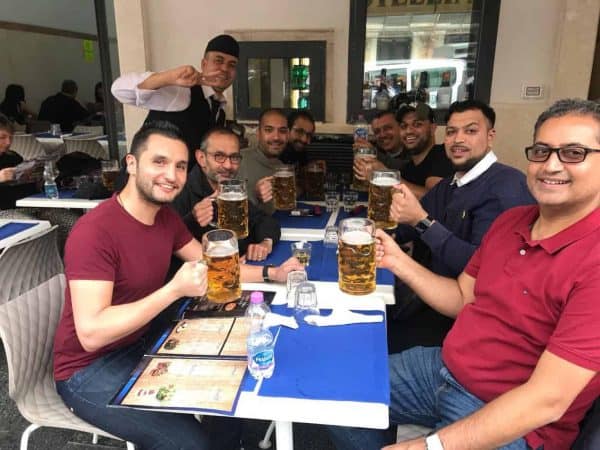 Meal consumed it was time to make tracks. Kick-off was still some four hours away but we were taking no chances. The message to travelling Reds in the aftermath of the awful attack on Sean Cox the previous week had been clear – this was a high-risk game, security was being stepped up, so get to the ground early and be prepared for strict checks.
Having walked past the Spanish Steps, through the nearby Metro station and to Piazzale delle Canestre, we reached the buses designated to take Reds to the Stadio Olimpico. Loads were already waiting when we got there, singing and sweating in the early evening heat, and in batches we were put on the waiting buses. Immediately I was taken back 13 years, to Taksim Square and the journey to the Ataturk. Back then it had been a bus trip to the ground too, a single decker heaving with excitement and anticipation.
We travelled through the roads of Rome, singing and sweating some more as we did, taking in the glances and, in some cases, best wishes of the natives getting on with the remainder of the day. It was so Istanbul-esque I got Jerzy-flashbacks.
Eventually we arrived at the Stadio Olimpico, and immediately it was obvious that there was an issue. Loads of away fans were standing outside the away end, not moving. It was ages before kick-off but a huge queue had already formed. Soon enough it became clear what the issue was – security checks
We'd already had our ticket and ID checked before getting on the bus and now it was being checked again. OK, fair enough, but there was only a handful of Italian officials dealing with the process and lots of travelling supporters to deal with – lots at this time of the evening because we'd done as we'd been told – to get to the ground early.
5,000 (FIVE THOUSAND) supporters through 3 (THREE) gates for ticket check. You couldn't make this up. Bedlam outside and we've been here a long time; this isn't fans turning up late.@TonyBarrett #ROMLIV pic.twitter.com/mjXQBhiVfg

— James (@JamesWard80) May 2, 2018
Slowly we got through the checkpoint only to be hit by another bottleneck. Myself and as well as those around me had no idea what was going on. Then we started hearing agitated noise from the front of the queue, which led through the main turnstile. It was impossible to make out what was going on but what had been a pleasant, jubilant atmosphere was starting to become unpleasant. Tensions were simmering.
We edged forward and it soon became clear that the issue was the electronic turnstile system – it wasn't working properly. Tickets weren't scanning. One lad said that another lad had tried to get through with a photocopies ticket and that had caused the system to faulty. Whatever the case, it was a ballache and added to the sense of unnecessary angst.
I appreciate that after last week's incident and in light of the history between Roma and Liverpool fans, security was a concern, but as is often the case, strong and strict controls actually create the hostile atmosphere that they're meant to be dealing with.
There was no trouble in the centre of Rome, no trouble on the buses but now, at the ground, and through a combination of overzealous stewarding and a system not designed to deal with people turning up in large batches – as they were told to do so – as opposed to filtering through gradually, a fear of trouble suddenly filled the air.
Thankfully nothing and nobody kicked off. We all got through the turnstile OK and, after a THIRD ticket/ID check, we were finally in the ground.
And what a ground it is. A ground I first visited in February 2001. My first European away. Roma v Liverpool in the UEFA Cup. The night Michael Owen scored twice and pushed us towards the treble. Then I'd got in late due to a delayed flight and by the time I did, the sense of occasion was already alive and kicking. Heaving crowds, loud singing, smoked-filled, all surrounding that iconic pitch, surrounded by that iconic running track, just as I had imagined it while watching Gazetta from my sofa in north London.
On this night, and having got in so early (about an hour and half before kick-off) the immediate hit was less evocative. But having taken my place in Block 51, row 72, high up and with a great spec of the pitch, it became immediately obvious this was a special night.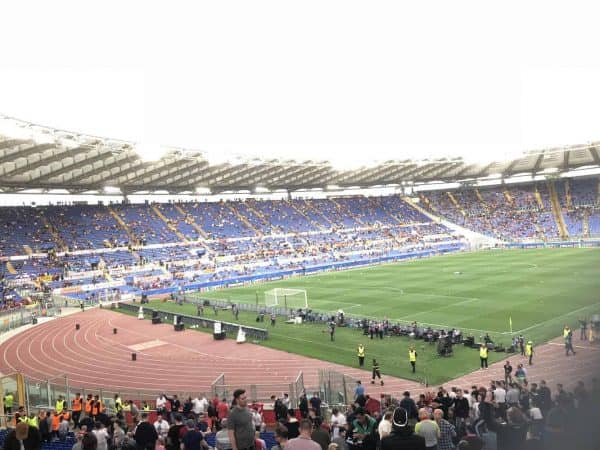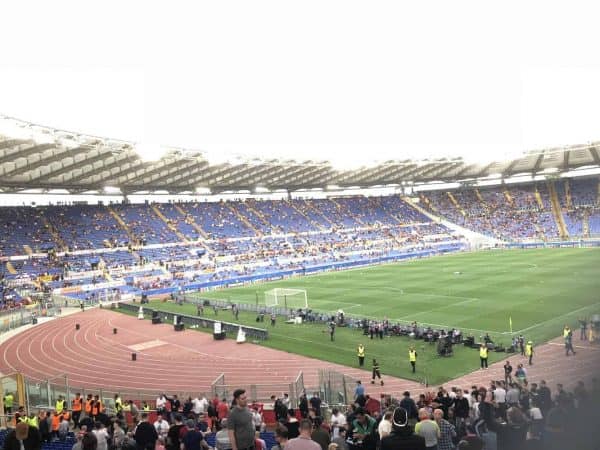 Credit to the Roma fans. They had turned up in great numbers and were in great voice. Their team were 5-2 down but they still believed a miracle, another in successive Champions League games at this venue, was possible. They were singing way before kick-off and the closer kick-off came, the more fervent they became.
At the opposite side of the ground, behind the other goal, there was one hell of a flag show. My mate Anil, a Kop veteran of close to three decades and someone who waves his own flag at every game at Anfield, was in awe. That gives you a sense of how good it was.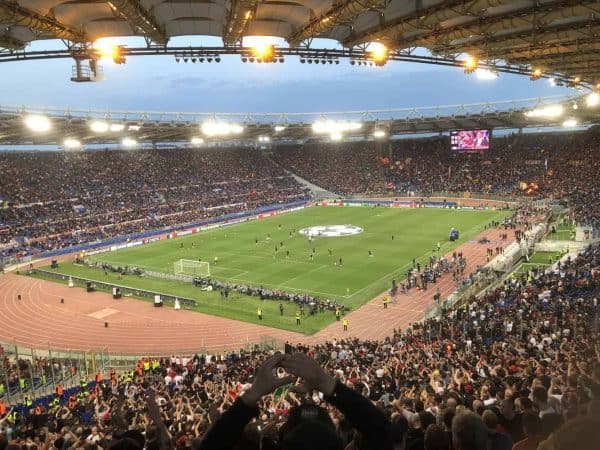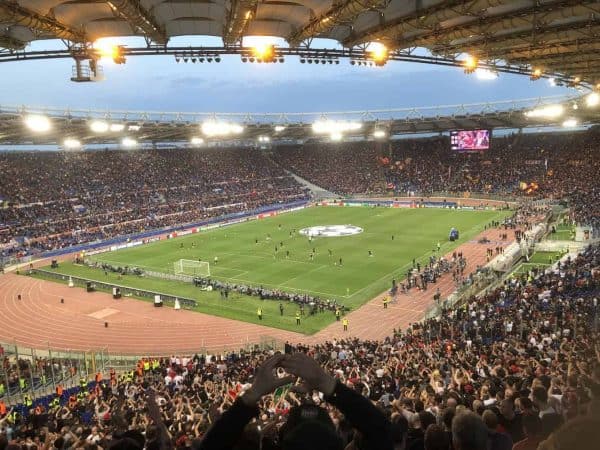 But our lot were not over-awed. Rocked. Quite the opposite, in fact. Because we believed too. Impossible not to when it comes to this Liverpool side. They just need a goal to quieten these down and they'll get one. They may even get two or three or four. Because they score. Liverpool under Jurgen Klopp always score.
The away end soon filled and as the seconds ticked away I made sure I took it all in. This was Rome. The Stadio Olimpico. Where we won No1 and No4, where I first saw Liverpool play in Europe, a venue of cherished memories and expectation, a link between what has come and what may follow, a signpost in the journey that only us Reds go on.
The sky was turning a lighter shade of blue, into black, night was coming but it was still t-shirt weather. Around me thousands of people were singing, flags were waving and banners fluttered in the light breeze. This was a European Cup semi-final alright. I was ready. Well, perhaps not.
Because even by Liverpool's recent standards, this proved to be a mad game. 1-0, 2-1 up, in control at half-time and still, somewhow, clinging on for dear life at the end. If 10 more minutes had been played we may well have chucked it all away. Thankfully, the referee's whistle came in the nick of time and we had done it. Kiev baby.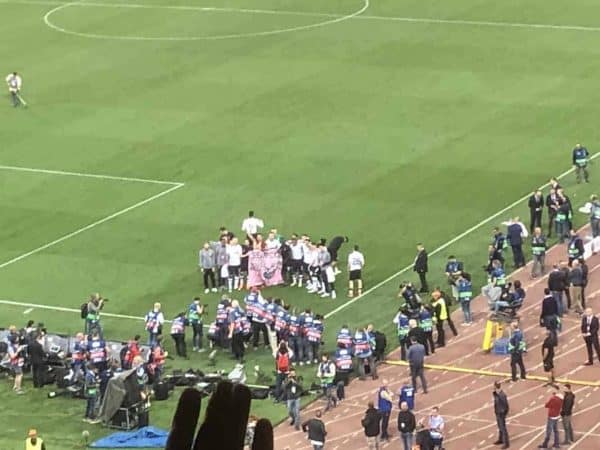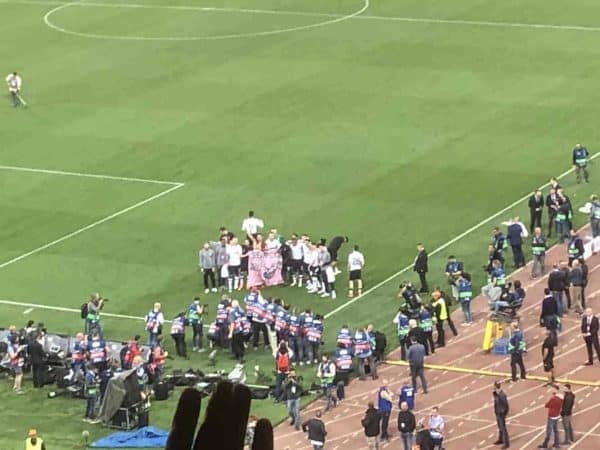 The celebrations at the end were almost a good as the journey that got us here. The players going wild, joining in with the "Allez, Allez, Allez" song and, touchingly, posing with a banner bearing Sean Cox's name. And after they had gone in, big Jurgen came out. The mad genius. I almost love him as much as I loved Rafa.
The buses have turned up. We're on our way back into town. I need a piss, a shower and something to eat. And I need to sleep, because I need to close my eyes and take this all in.
Next stop Kiev.