Trent Alexander-Arnold sat down with Soccer AM to recall his footballing 'firsts', with insight into what Jurgen Klopp told him before his debut.
The Liverpool-born full-back has enjoyed a meteoric rise at Anfield, blossoming into a key player this season and winning the prestigious Golden Samba Young Player of the Year award.
He is now less than two weeks away from starting in the Champions League final against Real Madrid, ending a memorable year for the 19-year-old.
The above video shows the boyhood Red being interviewed by Soccer AM, with the youngster discussing a list of 'firsts' during his life.
He starts off by revealing his first-ever footballing memory was kicking a ball around with his brothers and playing at school, explaining how he was more of a winger or a striker at that point in time.
Perhaps unsurprisingly, it is Steven Gerrard who Alexander-Arnold selects as his first idol, saying his treatment of the young players always stood out:
"He's a legend and a hero around Liverpool.

"He just had the authority that everyone respected. He had a lot of respect from the changing room, and he knew that.

"He would always always take the young ones and be really caring with them, and helped them a lot along the way."
Alexander-Arnold also touches upon the first match he remembers going to watch—the Champions League the quarter-final first leg clash with Juventus in 2005—describing the Anfield atmosphere as "crazy."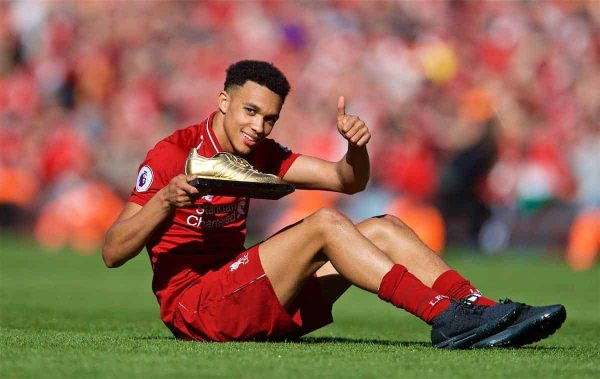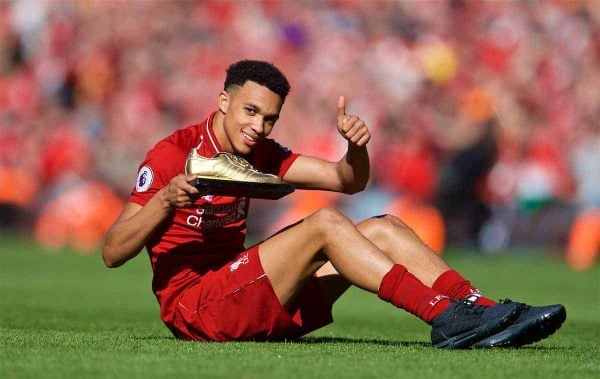 He speaks with great pride about his Liverpool debut against Tottenham in last season's League Cup, and his belting maiden Reds goal away to Hoffenheim last August.
It is another great watch with the right-back, who only recently impressed in a funny video talking about his Liverpool team-mates.
The teenager is expected to be in the mix for England's World Cup squad this summer, with Gareth Southgate naming his 23-man group on Wednesday.
Alexander-Arnold is such a likeable individual with a mature head on young shoulders, and the sky really is the limit as far as his career is concerned.
The Liverpool captaincy awaits him one day, without question.