Trent Alexander-Arnold was a surprise, but deserved, inclusion in England's World Cup squad, and he has clearly settled into the camp already.
A whirlwind season for the 19-year-old saw him become Liverpool's first-choice right-back, and he performed excellently as the Reds reached the Champions League final.
After taking a meteoric leap at club level, his performances caught the eye of England manager Gareth Southgate, who selected him in 23-man squad for this summer's tournament in Russia.
Speaking on 'First Impressions', released on England's official YouTube channel, Alexander-Arnold told a brilliant story about the day he was called up:
"We were going to Marbella for pre-training for Kyiv and I still hadn't heard a thing at all.

"I was at the airport on the shuttle bus thinking my dream might be over, and then the manager came over and said 'when's the announcement?'

"I tried to act dumb and told him I hadn't heard anything, and he asked if I had any holidays planned around the World Cup.

"I told him I hadn't and he said, 'good, because I've just got off the phone with Gareth and he wants me to tell you you're in the squad'.

"I called everyone close to me as quick as I could before we took off."
Alexander-Arnold had kind words to say about his Liverpool captain and England colleague Jordan Henderson, with the midfielder making him at ease in a new environment.
"He's a mentor," he explained.
"Liverpool is a tight group so we've all formed bonds with everyone there, and he's helped me form the same bonds with the players here.
"He's made it a lot easier than I thought it would be, and it's thanks to him that I've settled into the group so easily."
Asked quick-fire questions about his England team-mates, the teenager begrudgingly accepts that Dele Alli has the best 'swag', and calls Jamie Vardy the fastest member of the group.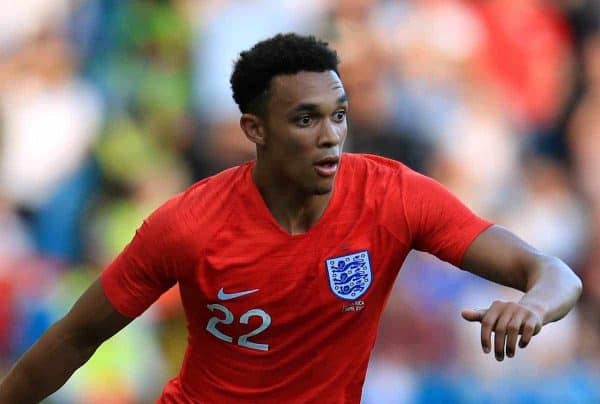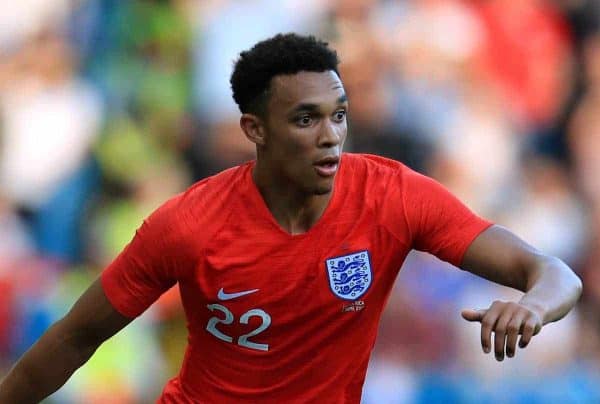 He praises the attackers in the Three Lions' squad, admitting he has been "punished" in training, and says it is a challenge being tested in different types of sessions to at Liverpool.
With every interview Alexander-Arnold conducts, the more he impresses, and his future promises so much.
It is easy to forget that he is just 19, and he handles himself superbly, cutting a more laid-back, interesting interviewee than so many footballers.
The World Cup starts on Thursday, and Liverpool's young favourite will be desperate to showcase his talent to the many millions watching across the globe.