Alex Malone was among the 101,254 in attendance at 'The Big House' Stadium in Michigan as Liverpool thrashed Man United in a pre-season friendly.
Man United 1-4 Liverpool
Michigan Stadium, Ann Arbour
Pre-Season Friendly (7)
Goals: Mane pen ('28), Pereira ('30), Sturridge ('64), Ojo pen ('73), Shaqiri ('82)
---
Let's face it, the Dortmund and City games were merely the appetiser to this, the big one. As Robbie Fowler said prior to the game "there is no such thing as a friendly with Manchester United. It's not a game we'd like to win, it's a game we must win."
Here are my 5 talking points:
The Pre-game
Compared to Dortmund and Man City, this felt like a 'real' rivalry. In true American style, there were tailgate parties everywhere you looked around the stadium. Liverpool and United fans co-existed. Whole families, whole groups of friends were split. Even boyfriends and girlfriends, husbands and wives proudly adorned their respective rival colours.
There was no animosity, no hint of trouble; each fan as passionate as the next. Fans from Asia, Africa and Latin America, attended the game in groups of sevens and eights – three or four with Liverpool shirts, three or four with United shirts.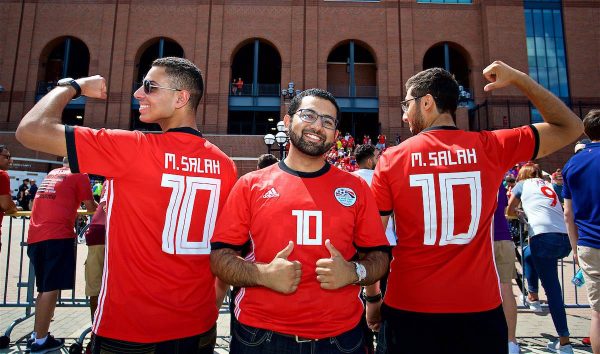 We don't have to like each other, but there was ample proof today that we can get along.
The Liverpool fanfest, in a car park (or parking lot) tent was a highlight. Peter Moore, Liverpool CEO and fellow Scouser, made a celebrity appearance and sounded every bit a fan as the rest of us.
Following him, to the delight of the masses of Reds on hand, came the 500+ goal duo of Rushie and Robbie. Given more freedom of expression than the normal media spotlight allows, they sounded like two die-hards chatting in a pub. "Will we beat United tonight, Ian?" – "'course we will!" he replied. "I think we'll win easily," added Robbie.
I bumped into a couple of young lads from the Columbus, Ohio Liverpool fan club. I asked them how they became Liverpool fans. It turns out they once acted out parts in 'Carousel' as kids in a school play. Years later, when they happened across the Kop singing 'You'll Never Walk Alone' while watching a Liverpool game on TV, there was no looking back.
"It's a football club, a sports institution like no other," they told me. "We feel like we are part of the world's biggest sporting family." They are probably right.
The Crowd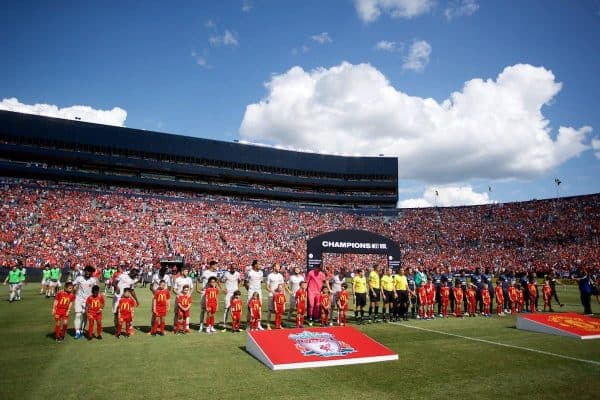 101,254.
Yes, you read that correctly. I'm not sure if this is the biggest crowd on record for either team, but it must be close.
Once again, Liverpool fans vastly outnumbered the opposition. My guesstimate is 65,000 Reds and 35,000 for United.
Self-proclaimed world's biggest club? It's hard to justify that tag when this attendance confirms you as merely the second biggest club in England.
Allegiances and bias aside, this was a quite fantastic turn out for both clubs, and a huge feather in the cap for English football.
The Game
Liverpool were simply fantastic; a joy to behold. 4-1 did not, in any way, flatter the performance. We had 65% possession, combined with 16 shots to United's 3, with 9 on target to United's 2.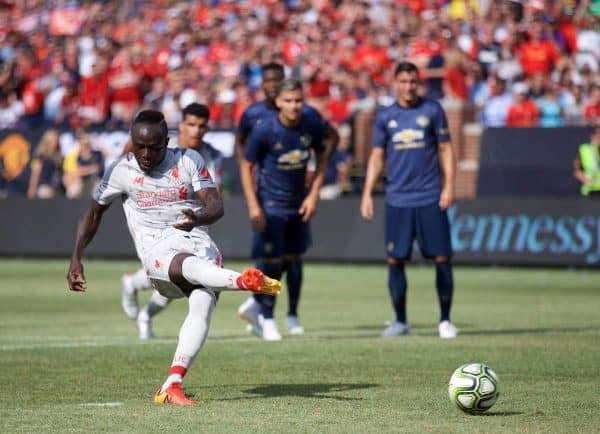 An oft less publicised statistic is quite telling: Liverpool had 41 touches in the United penalty box; United had 4 in Liverpool's penalty box.
The scoreline suggests utter domination; the statistics confirm it.
Once again, the kids were fantastic. Once again Nat Philips stood out. Mane and Salah played on a higher footballing plane than the mere mortals around them; James Milner again proved he doesn't do friendlies; Daniel Sturridge continued his re-birth.
As in the City game, Liverpool gave a second-half performance of pure footballing excellence. United barely had a kick. "They ran out of gasoline" was Mourinho's excuse. Chasing shadows will do that.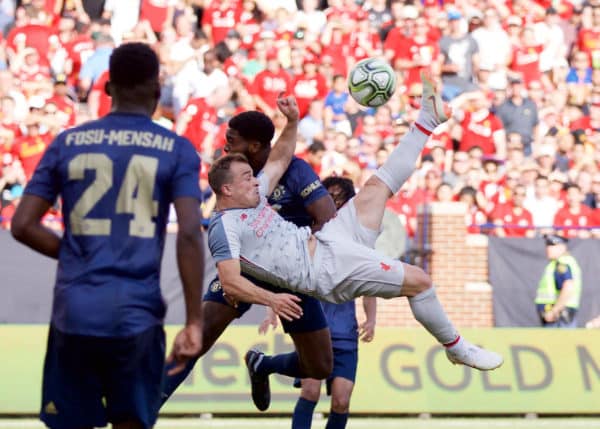 It's easy to dismiss this as a pre-season friendly – a nothing game designed to brush off the cobwebs.
No, this was more than that. This was Klopp's philosophy on show versus Mourinho's. This was high pressing, high octane football versus the bus-parking-counter-attack game adopted by the out-of-touch Mourinho.
The performance and result rendered any debate futile. It is obvious which philosophy wins.
Xherdan Shaqiri
I know, this was only a friendly, but rarely has a debut player made quite this level of impact in less than 45 minutes.
He was superb.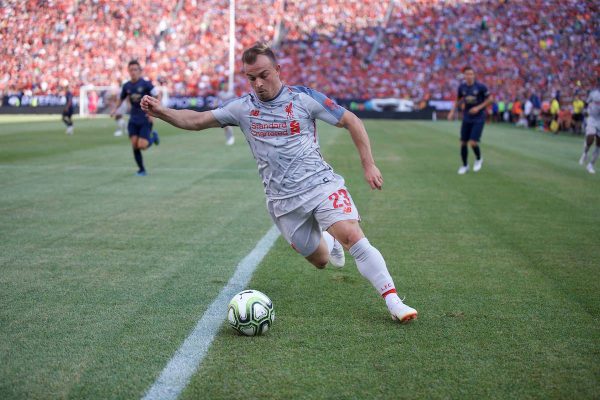 Let's get the obvious out of the way first. His goal brought gasps of disbelief from all around the stadium. A friendly it might have been, but it felt like an "I was there when…" moment.
But his goal was merely the delicious icing on a most delectable cake.
His performance was a master class in how to play the advanced midfield role.
His running, link up play, positional sense and overall impact were ten out of ten. He played the role to a level of perfection I have rarely witnessed. To do this on your debut a matter of days after joining your new club is quite exceptional. And only £13 million.
The Press Conferences
After a week of flight delays and United Airlines losing my luggage, the game had put a great big beaming smile back on my face.
Then Jose walked in.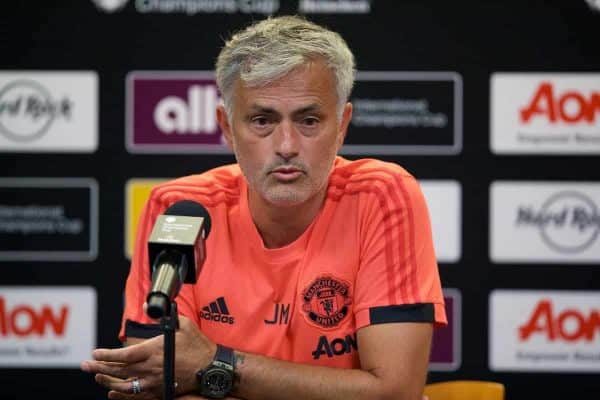 I can't imagine what it's like having this man as your boss. He even makes Morrissey sound happy.
"Half of this team won't even be here in August," ; "why shouldn't Sanchez be unhappy, I have no other strikers, no wingers, none" ; "Bailly is not a leader; good guy, works hard, not a leader" ; "I don't even know why these fans showed up, I wouldn't."
Money may not have bought him happiness, but it's certainly improved the quality of his misery.
United's halcyon days are long since over, and their manager – given the unenviable task of restoring them – is fast realizing that the task is beyond him. Like his team, his glory days too, are behind him.
Enter Jurgen, and it was almost as if someone had turned the lights back on.
"The kids were fantastic; Daniel Sturridge is a key player for us; Shaqiri's performance was so good it's not normal."
The personalities and attitude of the managers mirror the current cultures of both clubs.
There is a togetherness about Liverpool; a feel-good factor. You can sense it both on the field and in the stands. There is a mood of positivity encompassing the whole club.
It's been far too long since the future was this bright for Liverpool Football Club.
Roll on the new season.
---
Liverpool: Grabara (Kelleher 45′); Camacho (Jones 63′), Van Dijk (Gomez 63′), Klavan (Phillips 45′), Moreno (Robertson 63′); Fabinho (Chirivella 63′), Lallana (Woodburn 45′), Milner (Grujic 63′); Salah (Shaqiri 45′), Mane (Ojo 45′), Solanke (Sturridge 63′).