While Jurgen Klopp will be targeting silverware this season, he insists Liverpool aren't willing to sacrifice their attractive style of play to achieve success.
The Reds are preparing for their third full campaign under Klopp, who joined midway through 2015/16 and has now led his side to back-to-back top-four finishes.
Last season's push to the Champions League final captivated supporters whose memories of European glory had faded since 2005, while their performances in the Premier League often topped those of 2013/14.
The way in which Liverpool blew the likes of Roma, Arsenal and Man City away provides the enduring memory of the season, and speaking after the pre-season win over the latter he promised more of the same.
"The mood in the club at the moment is really good and we want to build on that, we want to come even closer," he said of his ambitions for 2018/19.
"In a world where everything is separated, we want to come even closer together as a club and use that to make the next step and enjoy ourselves.
"The boys have to enjoy their football, we have to enjoy our football, otherwise it makes no sense.
"We cannot only go for a 1-0 here, 1-0 there—I know if you win silverware in the end then people are probably happy, but the whole year was still rubbish."
Few conclusions can be drawn from pre-season, but the way in which Sadio Mane and Mohamed Salah made an instant impact on their return at the MetLife Stadium is certainly encouraging.
But as he highlighted the difficulties they will face with their rivals and newcomers continuing to build, Klopp stressed that Liverpool still need to improve.
"Improvement, development, using our football last season as a basis and make the next steps," he explained of his aims on the pitch, adding:
"More consistency—we were not inconsistent [last season], but we can be more consistent.

"I know that people want to hear that I tell you we can win this or that, but I have no clue if we will win something.

"But we will go for it with all we have. We don't look for excuses and if people now say with this squad we have to [win something], that's really not interesting.

"Man City played the football of tonight and then on Monday I think 11 players come back. Man City are coming back then; they are outstandingly strong.

"United, Tottenham, Arsenal, Chelsea and the other ones. It looks like Wolverhampton will be a proper threat and stuff like that.

"Beat them all in a specific moment, that's the plan. If it happens, it's good and if not then we have to work on the next game."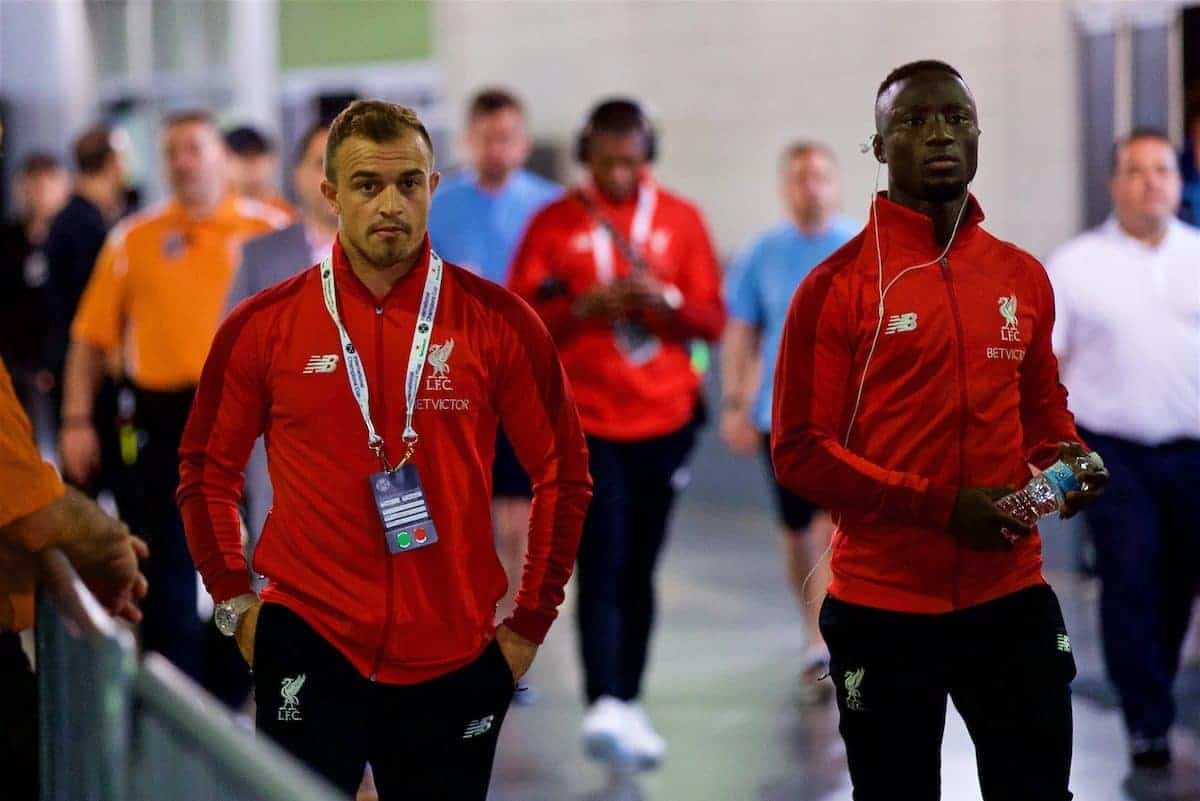 Liverpool have clearly made the right moves off the pitch, with Naby Keita and Fabinho already impressing during pre-season and Alisson and Xherdan Shaqiri preparing to make their debuts.
But Klopp's stance takes the pressure off his side to target tangible success, contrasting with Jose Mourinho's claim on Thursday that the Reds' spending means they "have to win" the league.
The manager's commitment to expressive, attractive football should please supporters, with Mourinho's turgid Man United side the polar opposite.
The two historic rivals will meet next on Saturday night, when the Reds play the final friendly of their US tour against United in Ann Arbor, Michigan.