A family divided ensured Richard Doherty was outnumbered in Michigan as Liverpool came to blows with rivals Man United in pre-season, but it was an experience he would not change for the world.
While Liverpool's US summer tour is now in the rear-view mirror with the season proper now in full swing, for those who attended it is still at the forefront of their minds.
Many experienced their first taste of the Reds in the flesh across pre-season, during stops in North Carolina, New Jersey and Michigan.
It was an experience of a lifetime for thousands of Liverpool supporters, as they were offered the first look at a side who many have tipped to challenge for the Premier League title this season.
But more importantly, it was the memories shared with close friends and family which will stand the test of time.

For Richard Doherty, the chance to witness the greatest rivalry in English football unfold inside the Big House was 'surreal' for a number of reasons, but the 4-1 victory over Man United ensured he was the lone man with the bragging rights over his travelling company on their long journey home.
This Is Anfield spoke with Richard about having no hesitations in making the 'unique' trip from Toronto to Ann Arbor, the feeling of finally getting one over his father and his first experience of seeing Liverpool in action.
The outnumbered Red came up trumps in Michigan

Richard has been a Red for more than 15 years, but he is the anomaly within his immediate family: the only one who does not hold any allegiances to Man United.
It was a purposeful decision which he lifted the lid on. "My father is a Man United fan, and just like any good son…you cheer for the natural rival of them!"
The years which followed saw his love for Liverpool cemented during the "miracle of Istanbul" and, with the rivalry on the field between the two sides reflected in his own home, it was a no-brainer to make the trip across the Canada-US border to witness the clash inside a stadium packed to the rafters.
"Liverpool vs. Manchester [United] is all the inspiration we needed [to make the trip]!
"These are two teams which our family supports with an even split of five United fans to one Liverpool fan.
"It is always a family event when these two teams are playing, as its usually at 7am on a Saturday morning, with my father and I waking up the entire house with yelling and screaming from watching it.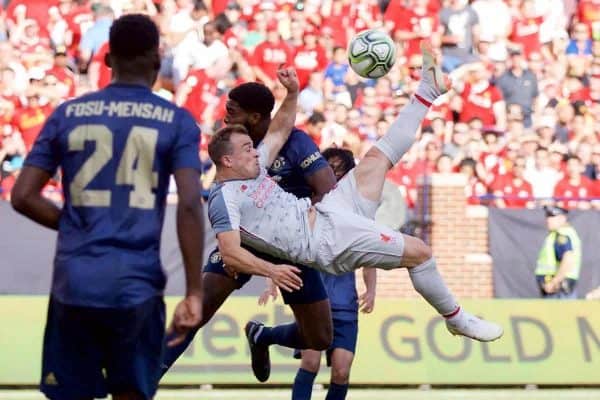 "I had the chance to go watch United play at home this year with my dad and this is an experience we always wanted to enjoy together which simply wouldn't be possible in England."
While it may have only been a pre-season outing, the knowledge that the Reds had secured just one win over United in the last 10 competitive fixtures still burned.
Richard, then, was thrilled to get one back after Liverpool comfortably put four past Jose Mourinho's side.
"It was about goddamn time! We went down with seven guys, with me being the only Liverpool supporter.
"I have spent many Saturday mornings watching United crush my hopes, dreams and wallet.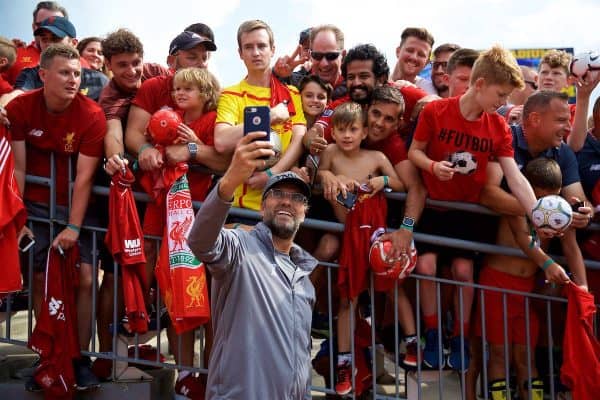 "Every time the big match comes, so do the big family bets and to put it mildly, the ledger was in red from Liverpool's past results against United. But like any gambler I had a gut feeling that this time was different.
"As a cautious person my father and I put a friendly wager on but as YNWA finished, and so was the beer, somehow it escalated to an additional four members of our group.
So needless to say if I wasn't already emotionally invested I was very much financially invested in the outcome of the match."
Perfect journey, even when it wasn't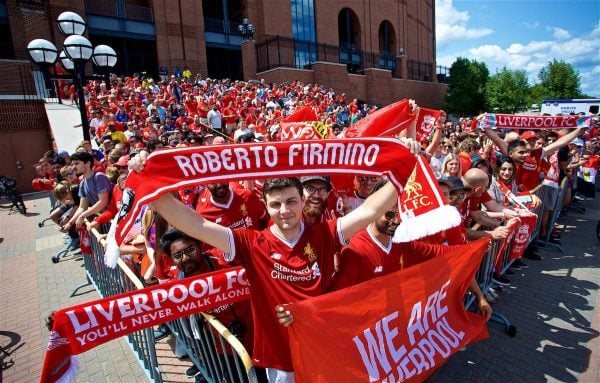 It wasn't just the 90 minutes which made the trip worthwhile.
"What made the entire experience was the uniqueness of the trip, a large group of us were able to go and watch a game we could only ever see on television.
"And it was with the ups and downs of travelling to another country, with those 'it could only happen to us' moments.
"We live in Pickering, Ontario, and we planned in advance to stay in Windsor and make an early move to the border to get to the game early.
"Unfortunately, we weren't the only ones with the idea and so it took us over two hours to get through the border and the tunnel—which was only two kilometres from our hotel!
"And to make it even more enjoyable it was a rented SUV with seven guys stuck inside and we didn't know how to work the air conditioning, so it was not a very ideal situation to not be moving in."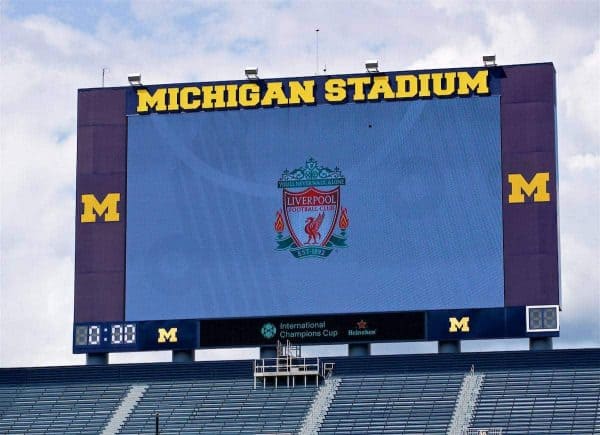 On the experience inside the Big House itself, Richard added: "I didn't know what to expect to be honest, I knew it wouldn't be the full first team, it wasn't Anfield and I had expected a sea of United fans.
"However, what we got was components of the first team and there were a lot more Liverpool fans than I expected.
"So when YNWA rang throughout the stadium, even after they stopped the music, the song was carried by the crowd which just made the experience truly surreal.
"Walking into the stadium and sitting down you could see around that there were plenty of 'sports guys,' people in other teams or World Cup jerseys who were not even playing in the game.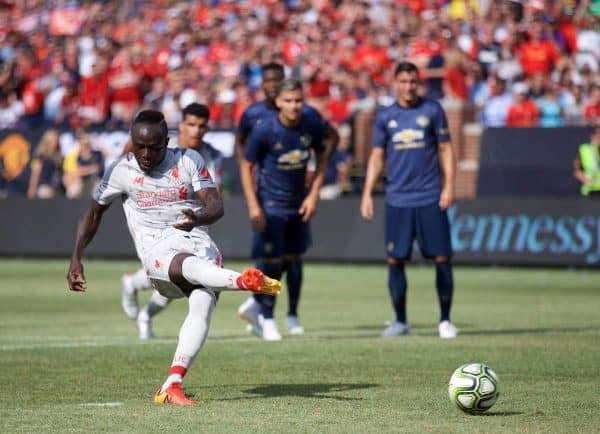 "But that was the beauty of these two teams playing, even though the club or country they supported were not there, these two historic clubs were worth paying to see, even in an exhibition game.
"But I must admit I am biased when it comes to cities and stadiums as I was lucky enough to get tickets to the Euros in Lille, France.
"I got to watch the Irish beat the Italians 1-0 from 14 rows up, lost in the sea of green of over 35,000 Ireland fans.
"But for this trip I wouldn't have changed a thing. Not even getting stuck in a tunnel, crammed in an SUV with seven guys all over six feet tall and no working AC unit!"
One dream fulfilled, next stop Anfield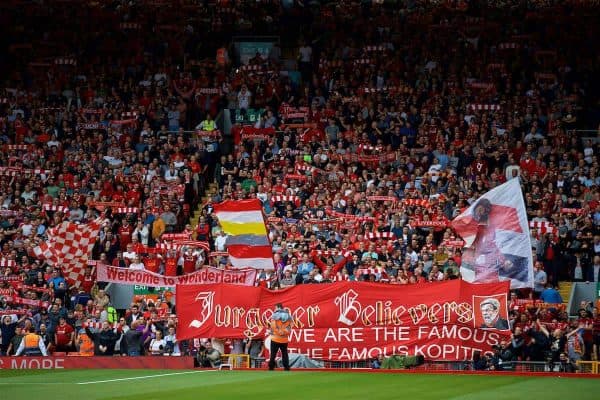 Watching the Reds in action live has not satisfied Richard's appetite for more.
"It would be a long time coming [to go to Anfield].
"Twice I have had the chance to go, first in December of last year when I came back over to England (where large parts of his extended family remain).
"I decided as a gift to my dad I would surprise him, and his brothers, with tickets to a game as I knew this was something he always wanted to do with them.
"The timing was perfect as Liverpool were playing Tottenham, but my dad and his brother were avid United fans so I made the sacrifice and got tickets for United vs. Norwich instead.
"The second time was a few years ago when I had bought tickets for United against Liverpool, which of course is almost a perfect scenario. But unfortunately, I ended up not being able to make the trip as the game was the same day as my cousin's wedding.
"I am hoping that I can beat this streak and finally get to see my childhood team at home, sing YNWA and celebrate a victory!"
---
Thanks to Richard for sharing his story.