Gini Wijnaldum has started this season as Liverpool's deepest midfielder of three, having previously been used in a more advanced role.
The Dutchman was regularly one of two No. 8s in the Reds' midfield trio last term, though he also fleetingly played as a No. 6 and even at centre-back.
Versatility is one of the biggest strengths of the current squad, with many players able to function in multiple roles, and Wijnaldum is one of those who can operate in a multitude of positions.
If there was a criticism of him last term, though, it was that he had a tendency to disappear in matches the Reds didn't dominate, particularly away from home.
But a chat with Jurgen Klopp this summer left Wijnaldum in no doubt as to where he could improve this term, he told Liverpoolfc.com.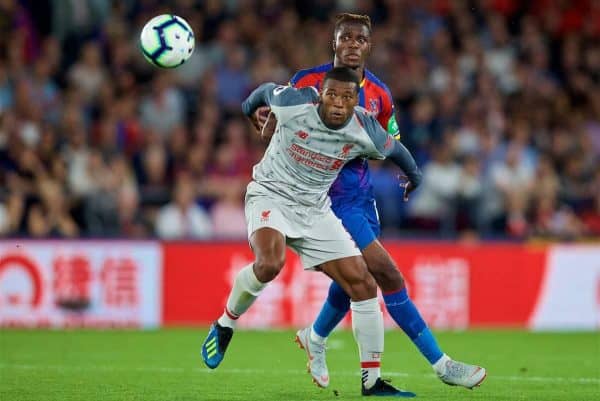 "He said that I have to be more involved in games [this season], and that there was too many times that I was not involved and that it was easier to play a bad game [because of that.

"I was busy with that and last season he was really busy with the No.6 position while my head was in the No.8 position!

"But he said that's also the next step, that you can play in more positions than only one because you have the qualities to play there and you can help the team to do better.

"I speak a lot with him about it and he makes me also aware of what I have to do to become a better player or to make the next step."
Having partnered Naby Keita and James Milner at the start of the campaign, the midfield has been pivotal in ensuring Liverpool have started with back-to-back wins.
Wijnaldum is happy with what has happened so far, but realises he still has a distance to go in terms of mastering his new position.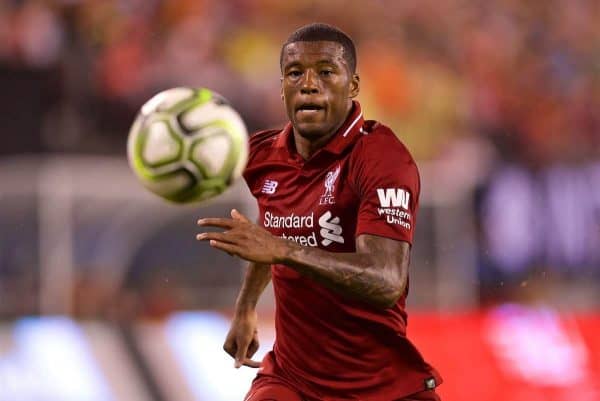 "It went good. You can always do better but I think it's a good start," was the No.5's assessment of his performances against West Ham and Palace.

"I think it went well [playing in a three with Keita and Milner].

"It's more difficult than it looks because sometimes on the pitch I also want to run forward and to help the attack as well and even score a goal, but when you're playing in that position it's not always possible so you have to keep the balance between the attackers and the two No.8s and the defence.

"That makes it hard because I am from origin a player who wants to run forward and try to go with the attacks, but now you have to look more around yourself, look if the players are in the right position.

"For example, if James goes and Naby goes also, there's no place for me to go also so I have to stay. If one of those two stays then I can go. But I enjoy playing in that position, it's going quite well."
With Jordan Henderson coming back to fitness and Fabinho also yet to really make an impact, there is intense competition in midfield.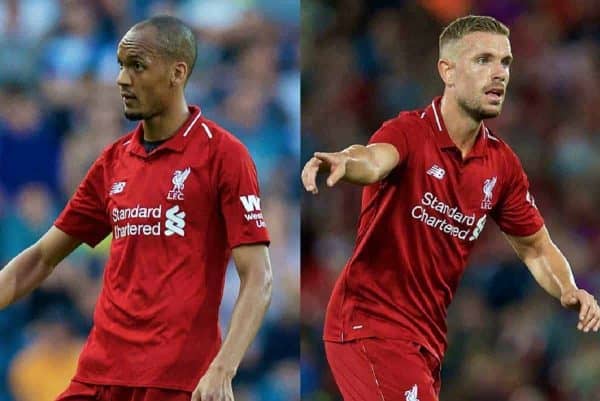 That's a necessary trait for the top teams and the Reds' No. 5 is keen to remain at the top of his game, to keep his place in the team.
"Yes, I think [the competition is there] especially at the start of the season because everyone wants to play, everyone is fit and fresh so everyone is fighting for their place and I think that's a good thing.
"It's a thing that suits Liverpool. Liverpool is a big club and if you go to the other big clubs like City, Chelsea and Manchester United, you also see that they have for one position a few players.
"It's good for the competition because you keep each other sharp and you have to do well, otherwise you are going to lose your place."