The new season is here and Chris McLoughlin, writer for the official LFC matchday magazine, is anticipating a memorable one for the Reds…
So here we go again. Another season in the life of Liverpool Football Club kicks off on Sunday and won't turn out quite how anyone anticipates. I can't remember anyone predicting Mo Salah would net 44 goals last season and the Reds would lose a Champions League final after scoring seven in the semi. Although you've probably got a mate who reckons he was gonna put a tenner on it.
Speaking of money, the sums that Liverpool have spent in 2018 recruiting new talent has taken us into unchartered territory since FSG have owned the club. Expectation levels haven't just risen because of the size of the transfer fees, but in line with the quality of the players Jurgen Klopp and Michael Edwards have acquired.
Not since the summer of 2007 – when Fernando Torres signed for the beaten Champions League finalists to give Liverpool a spine of Reina, Hyypia, Carragher, Mascherano, Alonso, Gerrard and Torres before the cent dropped that our former owners were burdening the club with debt and not putting a spade in the ground or buying Snoogy Doogy – has there been so much anticipation and excitement ahead of a new season.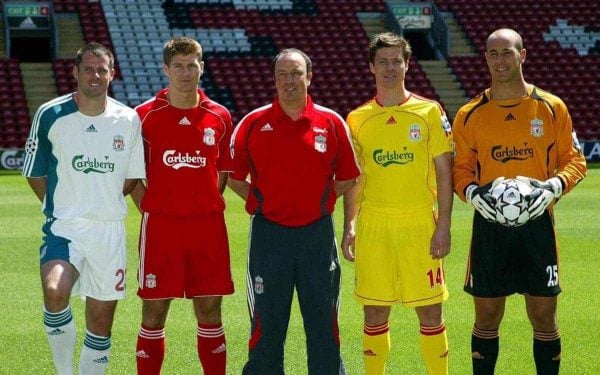 Is the hype justified following the arrivals of Alisson, Fabinho, Naby Keita and Xherdan Shaqiri? Should we all lose sleep on Saturday night dreaming of silver pots, red ribbons, roofless buses and LFC having to hire Knebworth to hear Jamie Webster play Allez Allez Allez at a title-winning Boss Night?
And should Jose Mourinho be lumping additional pressure on by pointing out LFC have spent more money on adding 'Sir' to the roof of one of their stands than Man United have this summer which means Klopp's side must win the league by February. Without conceding?
Yes. Yes. And you know he will. The time has come to believe this Liverpool side can be successful – and here comes the caveat – while remaining realistic.
If you think the Reds are going to go from winning one League Cup in 12 years to landing an unprecedented quadruple in 10 months then you may actually get carried away to see a psychiatrist, but if you believe Klopp has assembled a squad that could and should be genuinely challenging for major honours then we're reading from the same webpage.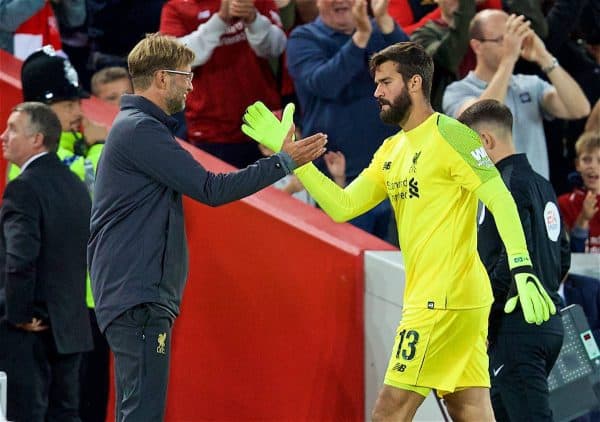 Alisson. Van Dijk. Keita. Firmino. Salah. Mane. If those six players stay healthy – and perform to the levels they can – then Man City will have a genuine English rival over the course of 38 games, not just 90 minutes. Unless they can repeat what they did in 2018/19.
Pep Guardiola's lot accumulated the most points (100), most points ahead of second (19), most wins (32), most away wins (16), most away points (50), most goals (106), best goal difference (+79), most consecutive victories (18) and this was despite goalkeeper Ederson having his head volleyed into Ardwick by Sadio Mane in August.
All joking aside, that is some standard to live up to – Liverpool have never won more than 26 Premier League games (2013/14) with the club record of 30 wins coming in the 42-game season of 1978/79 – and the prime reason why giddy expectations have to be realistic.
The Reds finished 25 points behind City, despite beating them at Anfield and twice in the Champions League, but a combination of believing Liverpool will be better in 2018/19 and City can't possibly emulate what they achieved last year means there is more than a glimmer of hope that a proper Premier League challenge will be on.
Whatever City do, if last season's PL points total of 75 (one less than the 76 of 2016/17) isn't surpassed it would be an underachievement.
In fact I'd go as far as to say that anything less than a decent title challenge, another good run in the Champions League and – with some luck – an end to our embarrassing six-year trophy drought would be a huge disappointment given the football Liverpool played in 2017/18 and the injection of quality, but now isn't the time for what might have beens or thinking of other seasons that promised so much but delivered to little.
2018/19 is upon us. The Redmen are back. Bring the rollercoaster of emotions on. Some seasons are more memorable than others. It feels this will be one of them…
---
* Chris McLoughlin writes for the new-look, new-sized Official LFC Matchday Programme and LFC Magazine. You can get both at Anfield on Sunday or online here.