One of Liverpool's four summer signings, Xherdan Shaqiri can play a big part for the Reds this season and fans should be confident he'll step up.
His career path has been a jagged one thus far; from Basel's academy to first team, a rocket move to Bayern Munich, a slight down to Inter, a deliberate drop to Stoke.
Now it's a rise again to Liverpool, and this time Shaqiri is confident of playing a more worthwhile role at a major side.
And there's good reason for that self-belief, given he's a tremendously talented individual who is used to playing a key role in his teams.
Just a month into his Anfield career, the Swiss international has already given fans several moments of excitement and, having arrived for a bargain fee of £13 million, it's clear he should represent another transfer success.
The likes of Man United, Southampton and West Ham, as well as overseas teams, all hoped to sign Shaqiri over the summer, but it's at Liverpool he feels he'll excel—and there's every reason to believe that will be the case.
Ceiling and Extraction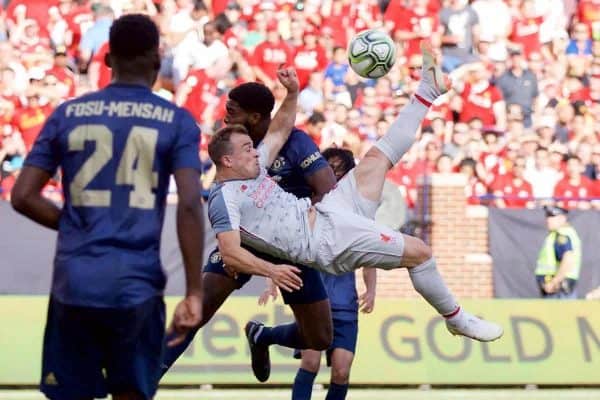 Relegated, ridiculed—then a bicycle kick against his new club's biggest rivals and suddenly he looks amazing.
There are two questions to be asked of Shaqiri: why hasn't he thrived previously at a big club, and was he good enough with Stoke to suggest he can be good enough for the Reds?
Unsurprisingly, the two are linked. But we'll start with the latter, as it's more recent; a simple, but oddly overlooked explanation can at least part-reassure supporters that this was the right move.
Stoke, and their players last term, were simply not very good. They had some very good individuals of course, but also a fair amount of dross.
Shaqiri couldn't shine there to a greater level because there weren't enough players of the standard to allow him to.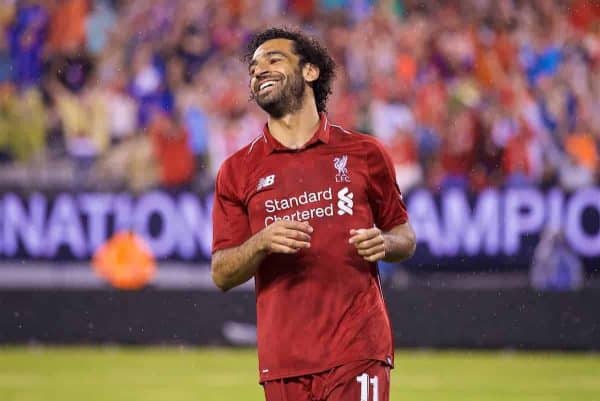 To put it another way: stick Mo Salah in the Everton team under Sam Allardyce last term and would he have been a revelation? No.
Nobody to fire the quick diagonal passes to him, nobody capable of keeping up with him on the counter-attack, a style which would have demanded he started his runs from 50 yards from goal. And out on the wing.
Shaqiri played his part in the good and the bad at Stoke, but there's a lot less of the bad at his new club. Stylistically, it's built to get the best out of forwards.
And once in possession, there are far more players on the same level, the same wavelength, all looking to commit defenders, find the space, fashion a shooting chance.
Stoke managed 10 shots per league game on average last season; the Reds weighed in at almost 70 percent more, with 16.8 per game.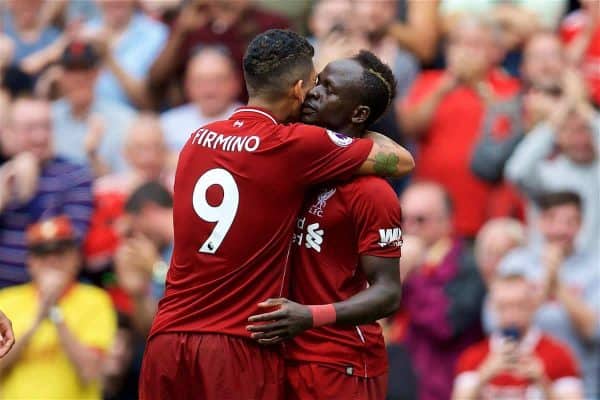 Playing with better players won't just make Shaqiri better, it will allow him to actually showcase what he's already good at.
He'll be on the ball in attacking zones a lot more, have more movement around him and will be linking with clever or more instinctive players who have a better first touch.
It's Roberto Firmino and Sadio Mane, rather than Mame Diouf and Saido Berahino.
As for why Shaqiri didn't shine at a big club: at Bayern he was a 19-year-old signing trying to win a spot ahead of prime-age Franck Ribery and Arjen Robben.
He didn't flop because of his talent, he was simply not then as good as internationals who were already there.
It's not the end of the world, nor the end of his chances to shine at the elite level.
Accusations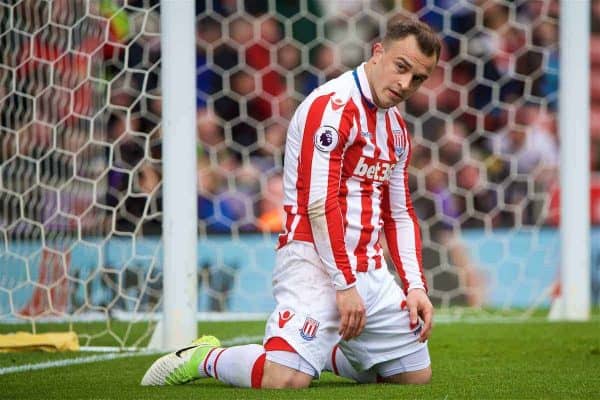 It's no secret that some fingers were pointed at Shaqiri as Stoke went down last year.
As the biggest name and most talented individual they possessed, perhaps it's right to an extent. Then again, self-awareness is a wonderful thing.
Charlie Adam spoke to BBC Sport before the end of the season:
"It's embarrassing because we should never have been in that situation. As a group you have your seven or eight who try their hardest to make it work and we failed.

"I'll be honest for the supporters, I think some players have been getting away with murder for a long time and it's difficult for supporters. It's not just one or two, I think there are four or five that could be counted."
And again, this summer on the radio:
"Was he [Shaqiri] one of them [getting away with murder]? Oh, definitely.

"When the chips are down you look at your big players, you want your big players to bring magic in one moment in the season, and at times we felt like the so-called big players in the squad never turned up for us and never performed.

"Yeah, everybody else could help, but for all the plaudits so-called bigger players were getting from certain members of the management staff last season—they weren't producing.

"But, listen, he's gone now. We move on and we look to the future. The future for us at the moment is in the Championship."
Except—awkward silence—it's not. They don't want him.
While Shaqiri has moved back to the top of English football, Adam himself has been told by second-tier Stoke his services are no longer required.

He has failed to make the matchday squad at the start of the Championship season; perhaps there were indeed some getting away with murder, and perhaps they couldn't see the forest for the trees.
Meanwhile, in the US, in Ireland and indeed on home soil, Liverpool fans have already seen evidence—and created gifs, and replayed videos—of Shaqiri not just working hard, but bustling around in demonic style to win back possession.
He tracks runners, he drops into spaces, he tackles with aggression.
It's early days, but there is no shirking of the role, none of the 'fake' running that the half-hearted manage before not actually putting in a challenge.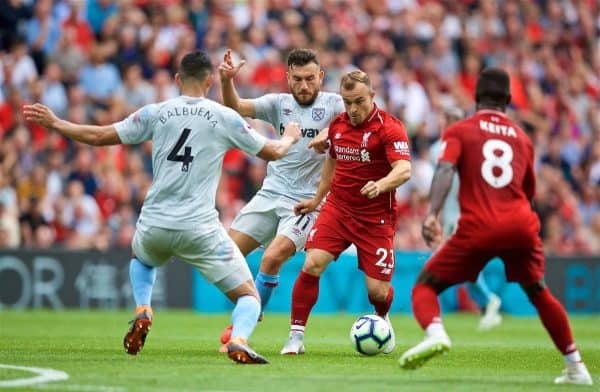 Shaqiri himself has also rejected any notion of not doing his part for his former club, saying: "I think my score points speak for themselves."
"I was the top scorer in the team with goals and assists, so I don't have to say any more. For me, it's clear," he explained.
"I think everybody knows that [I was the best player]. For me, I don't listen to what other people say."
Liverpool fans like what they've seen, and heard, so far.
Expectations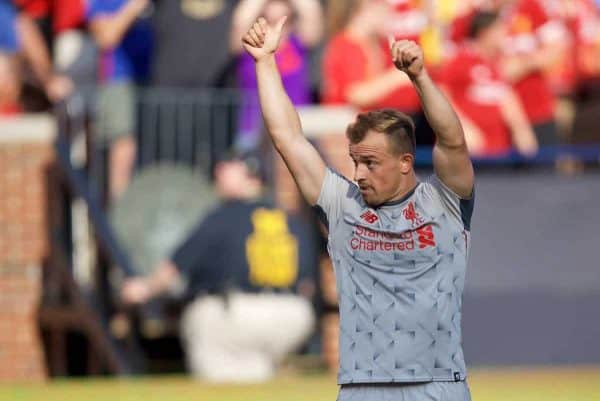 So what do the Reds need from Shaqiri this term for him to be considered a success?
Well, barring injuries to the likes of Mane or Salah, it's not a prerequisite that he wins himself a weekly starting spot.
That's not what the front line needed this summer, it was a reliable and quality alternative.
But Shaqiri will, by the looks of things so far, be essentially Liverpool's 'fourth attacker'.
He could play at least three roles, meaning he'll get plenty of game time, and given Klopp can—and must—rotate more often this term, expect to see the Swiss start games in succession at times—particularly with the failure to sign Nabil Fekir.
As an example: the Reds have a tough run of Spurs, Saints, Chelsea and Man City across September and October. But then it's Huddersfield and Cardiff.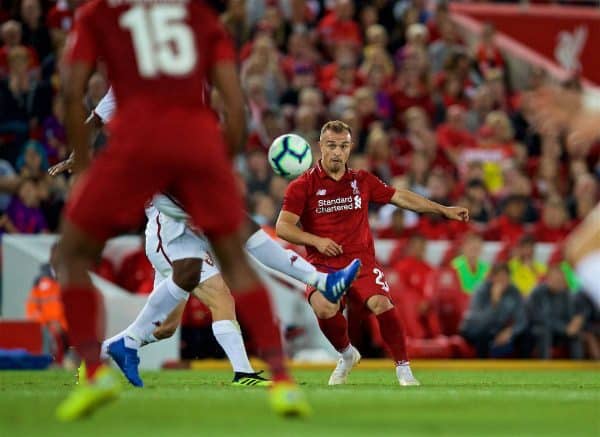 It should be no surprise if changes are made in a couple of positions, and Shaqiri could feasibly start one game in place of Mane, the next instead of Salah—or any similar scenario.
The quality shouldn't drop far at all, certainly not compared to last year's drop-off, and everybody stays fit, competitive and contributing.
All told, Shaqiri must be looking for double figures across combined goals and assists this term. The first-choice front three will each aim for 20 goals alone, but last year nobody else got close to 10.
Shaqiri, along with Daniel Sturridge, should be two capable of reaching that milestone.
And above all else, he'll help the rest of his attacking team-mates continue to be a threat, each and every game, whether he comes off the bench to ensure a strong finish or starts with instruction to wear out the defence.
Finally, Liverpool have depth to the attack, and finally, Shaqiri can impact at a team aiming for the top.