Liverpool fans were in buoyant mood after the Reds claimed a deserved 1-1 draw at Chelsea to keep the unbeaten start to the Premier League season intact.
Chelsea 1-1 Liverpool
Premier League, Stamford Bridge
September 29, 2018
Goals: Hazard 25' ; Sturridge 89'
---
The Reds responded to League Cup elimination by ensuring the Premier League unbeaten run was maintained with a fully deserved draw at Stamford Bridge.
Eden Hazard proved Liverpool's nemesis yet again as he opened the scoring on 25 minutes, firing across Alisson and into the far corner of the net.
In the final minute of the 90 late substitute Daniel Sturridge made a stunning impact, sending a sensational 25-yard curler into the top corner to grab a point and his 50th league goal for the Reds.
It was a strong response to a first loss of the season from Klopp's side, who could have taken all three points with more ruthlessness in attack.
Here's how supporters reacted to the result across social media and on our forums.
Supporters loved Sturridge's stunner and praised the impact of those from the bench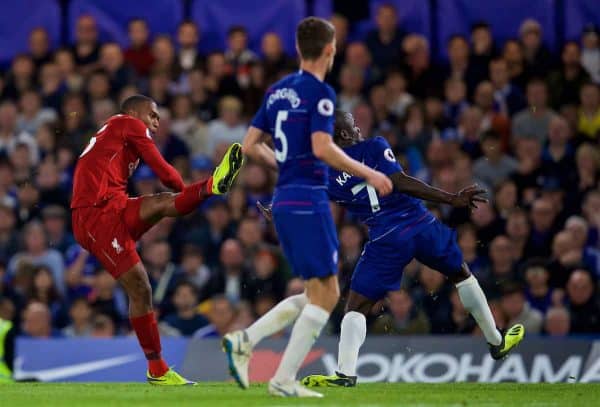 https://twitter.com/Robbie9Fowler/status/1046102829138673666
The quality of both teams in that game was clear to see. Such fine margins! The big difference for #LFC is we are able to bring Shaquiri, Keita & Sturridge off the bench to change things. And Christ did that make a difference today!

— Si Steers (@sisteers) September 29, 2018
No one else in that squad scores that goal other than @DanielSturridge, absolute ??????

— Andy Heaton (@Andrew_Heaton) September 29, 2018
"Sturridge may have one of the best left pegs in the world"
– RedSi on the forums
Have loved Sturridge with all my heart and then he left and I got over him. Mad how hes came back for the Reds big title push and he's the fucking business again. ?

— Craig Hannan (@C_Hannan7) September 29, 2018
https://twitter.com/TheKopMagazine/status/1046105433277108228
"What an amazing goal from an amazing player. "
– Paul Hemnell on Facebook
No back lift, a pure strike out of nothing. Classic moment of magic from Daniel Sturridge.

Delighted. Relieved. Exhausted. #LFC @AnfieldIndexPro

— Hari Sethi (@Hari_Sethi) September 29, 2018
Last season we would've had to bring on Solanke, Ings, Lallana to try to change the game.

This we can bring on Shaqiri, Keita & Sturridge.

— Taintless Red (@TaintlessRed) September 29, 2018
Naby Keita made the difference when he came on. He drove at Chelsea and linked the play between the rest of our side and attack. He deserves more time of the pitch. He makes things happen.

— Matt (@FalseFMatt) September 29, 2018
There was praise for the back-four and for Alisson after some key saves

I thought we defended brilliant today against a very good Chelsea team with an in form Hazard. VVD is imperious. Alisson has his best game in a pink shirt & Gomez is going to go on to become one of the best English Centre Backs ever. #LFC.

— Si Steers (@sisteers) September 29, 2018
Oh how good is it to have a keeper that "keeps" you in the game so that one of your quality players can do that. #Alisson

— GaGs (@GagsTandon) September 29, 2018
Special note for Alisson who sVed our arse a few times too.

Gomez and VVD great too.

Robbo fantastic on the ball and should have had an assist.

— Dan Shepherd (@TheCarteI) September 29, 2018
"MOTM has to be Becker. Brilliant to have a top class 'keeper isn't it? Gini(apart from that back pass ) was also brilliant I think."
– SirBillShankly on the forums
Alisson Becker has to be MOTM for me. Whilst others played well duh as Gomez and Virgil van Dijk, Alisson was the one constant. We've longed for a top goalkeeper that saves us and keeps us in games. He made the point possible.

— Matt (@FalseFMatt) September 29, 2018
"Shakiri, Sturridge and Keita changed the game, "
– Tex Riba on Facebook
Our goalie's good

— Ste Hoare (@stehoare) September 29, 2018
Alisson btw, two massive saves, go ead ? ? ?

— Andy Heaton (@Andrew_Heaton) September 29, 2018
https://twitter.com/IndigoLFC/status/1046109632152965120
Liverpool fully deserved that point. And bloody hell, what a goal from Daniel Sturridge. He looks reborn this season. Delighted for him.

— Sachin Nakrani (@SachinNakrani) September 29, 2018
Fans were delighted with the late comeback as the Reds remain unbeaten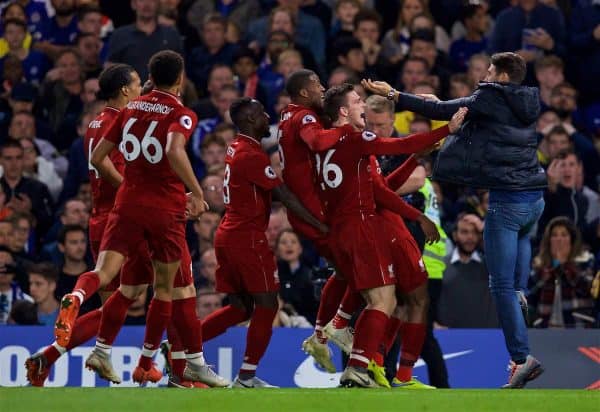 That is an absolutely fantastic point. Feels like a win on such a frustrating day in general. What a goal by Sturridge.

19 points from 7 games, in what has been a tough start, is fantastic.

— Henry Jackson (@HenryJackson87) September 29, 2018
Game over. Never gave up, never say die. Deserved a goal and Daniel Sturridge is the man of the moment!

Top scorer for #LFC!

— AnfieldIndex (@AnfieldIndex) September 29, 2018
https://twitter.com/TheKopMagazine/status/1046103220932759553
https://twitter.com/IndigoLFC/status/1046105925722025984
"We wasted a few golden chances in that match but key thing is we didn't get beat, point each! "
– Ciaran Richardson on Facebook
Snatching a point that late always feels like a win. Only negative will be Salah, who looks like he's carrying the weight of the world on his shoulders after last season. Movement was there but he's clearly overthinking the final ball/shot.

— Leanne Prescott (@_lfcleanne) September 29, 2018
What a game of football. Fully deserved point. Sturridge's goal was special.

— Mersey Reds (@MerseyReds1) September 29, 2018
Points against rivals could be vital this season. If we can win at home to City with the results against Spurs,Chelsea then that's pretty good return.

— kop in full voice (@LFC_Bantz) September 29, 2018
Feels like two points dropped but great to be the draw that way. Still unbeaten. Naby has to start. Becker was class. Up the Reds. #LFC

— Graeme Kelly (@GraemeKelly1) September 29, 2018
Huge point that. Glorious moment of magic from @DanielSturridge, absolute hero. A goal for the ages. So important not to lose twice in a row and keep the unbeaten league start going.

— Joel Rabinowitz (@joel_archie) September 29, 2018
Sturridge on course to become Reds all-time supersub. Massive point when it looked like a bad day at the office – Jurgen's Reds snatch another late goal. Now for another epic Anfield battle against city. These are the days my friends

— Jeff Goulding (@ShanklysBoys1) September 29, 2018