An impressive win at Wembley saw Liverpool keep their 100 per cent record at the start of the season, as attentions now turn to the Champions League.
The Reds were stronger than Tottenham throughout and should really have been more than two goals clear heading into the latter stages of the game, before Spurs pulled one back late on.
A 2-1 win kept Jurgen Klopp's team top of the table, albeit briefly until Chelsea moved ahead on goal difference, and it's five wins from five in 18/19.
This Is Anfield's Karl Matchett (@karlmatchett) discussed the best and the worst of the match with Jack McEvoy (@mcevoy_jack) and Ste Hoare (@stehoare).
---
The good…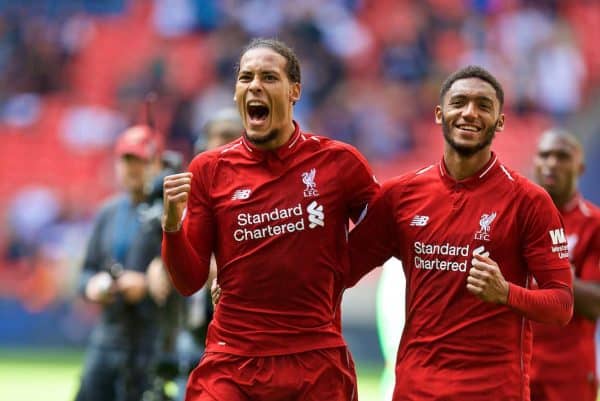 KARL: Much the same as in previous games, in all honesty.
There was a pleasing solidity about the defence for most of the game, they absolutely dominated Spurs aerially and neither Kane nor Eriksen had a sniff.
We created better openings, we looked the team with more ideas on how to open up the back line and obviously the win itself was key.
Liverpool didn't do enough against top-six sides last term, so it was nice to start off with a win this time.
In terms of individuals, Robertson and Milner both had short key spells where they simply didn't let Spurs pick up steam; they were small things, but utterly necessary, and a big part of why we didn't really suffer all that much.
JACK: Without doubt, the fact that we are not playing all that well but still winning games, and winning them ugly.
Last year I feel we would have thrown away the three points which was emphasised yesterday by my "here we go again" feeling.
Van Dijk has been key to that added grit and backbone. Also a shout-out to Gini's first away goal to cap off a really strong showing in the No. 6 role.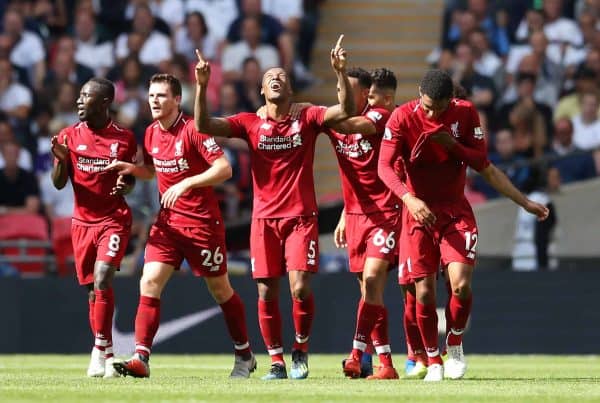 STE: It was great to see that Liverpool can win an away game against a top side and do so based on their defensive solidity and by controlling the midfield.
We usually need to blow teams away with our attack to have a chance in these games but that no longer looks to be the case.
Special mentions to Virgil van Dijk, Gini Wijnaldum and James Milner; all three were outstanding.
Also, it was great to see the team bailing each other out when a mistake was made.
Too often in years past, one mishap by a player in Red resulted in a goal; this year, the positioning and shape is much better and players can help their mate out if he messes up.
The bad…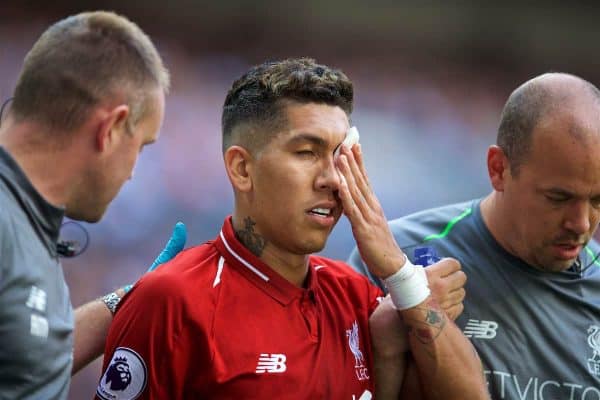 KARL: The late consolation goal was irritating. We'd defended extremely well and deserved a point, rather than the uncertainty and mild panic it induced when they won another free-kick a few minutes later.
Firmino's injury was an obvious downside, with immediate Momo Sissoko-related fears springing to mind, but it was the other two forwards who caused most frustration.
Poor choices, poor passes, poor finishes. Liverpool should really have been 4-0 up at some point.
We need better from both in terms of end product, though again it was evident even with them not-on-top-form just how much threat they remain, even if just in the eyes of the defenders.
Would also have liked a couple of different subs in this game, but I guess they did the job in the end.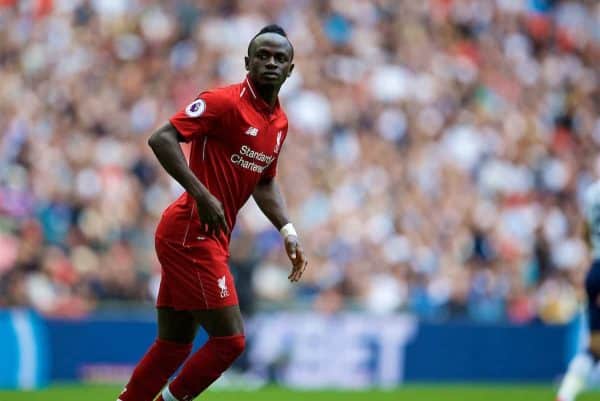 JACK: There aren't too many negatives to take away from winning away at Wembley 2-1, but possibly the wastefulness of the front three.
We should have killed that game off early, we had so many chances. The last few nervy minutes should not have happened as we should have been four or five up by then.
Salah's slight dip is a bit worrying also, especially ahead of a tough run of fixtures. The biggest negative would have been Firmino's injury but it looks like he won't be out for long.
STE: On the flip side of all those positives, it was a shame to see the selfishness of Mane and Salah in attack.
All forwards have a bit of that in them but both had clear opportunities to play in team-mates at certain points, but both went for glory.
Last season, our front three worked so well because all three players were happy to play in their team-mates, so hopefully this was just a one-off blip.
…and how many changes should be made for PSG?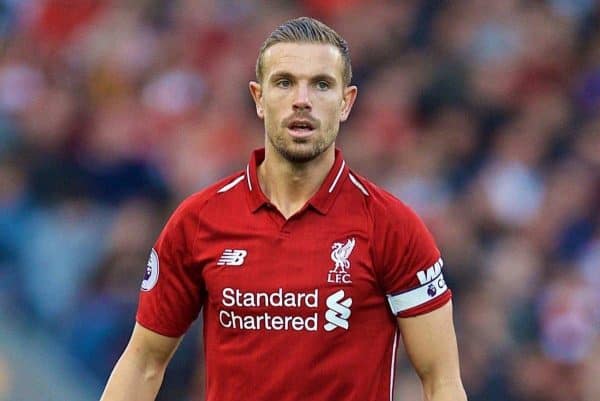 KARL: None of the back five should change, and I'd only really consider one midfield change.
I really think we might have to change shape, more than personnel, though. Stopping the supply line to PSG's front three will be key, so it could be more than worth our while going with a double pivot midfield.
Henderson for Milner would be the only one to think about, and only for fitness reasons. Wijnaldum should start, and I'd have Keita a little more free-roaming to link in attack.
For me it'll be the weekend when changes are made rather than the first Champions Legue group stage match, but if Firmino doesn't make it, Sturridge should get his chance.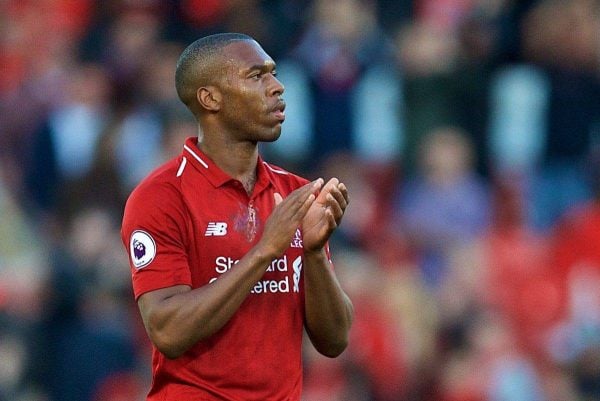 JACK: Ideally, none.
A lot of people are calling for Fabinho to come in against PSG, but I don't think it would be a good time to throw him in for his maiden Liverpool performance.
I think he would make a brilliant sub to add fresh legs to the midfield if Gini starts to struggle against the physicality of someone like Rabiot.
If Firmino is benched, I would start Shaqiri as a false nine.
He has Champions League experience and looks a more willing runner and presser than Sturridge, who looked lazy when he came on at Wembley.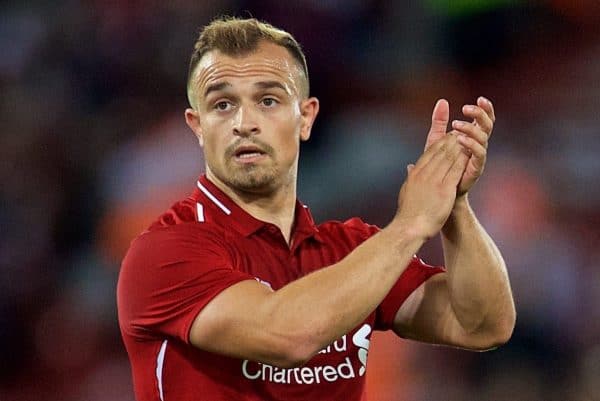 STE: Fitness permitting, I'd like to Liverpool go with the same starting XI, as a win in this game would be a massive boost for a number of reasons.
Having said that, I think the manager will make at least one change in midfield, probably Jordan Henderson coming in for Naby Keita.
If Roberto Firmino isn't ready to feature, then I want to see Xherdan Shaqiri come into the team with Mo Salah going up front, as I'd like Liverpool to keep plenty of pace in the front three.