Liverpool's 0-0 draw with Man City may not have been a Premier League classic, but some interesting statistics came out of the game.
The Reds and the champions both ended goalless on Sunday afternoon, following a tense battle that saw few chances created by either side.
Riyad Mahrez's late missed penalty could prove to be a key moment in the title race, however, in what could have been a cruel blow for Jurgen Klopp's side.
We head into the latest international break with the two teams locked on 20 points, along with Chelsea, as a fascinating fight at the top of the table beckons.
Here are five of the best statistics from the match following the draw at Anfield.
Superb Anfield Defensive Record Continues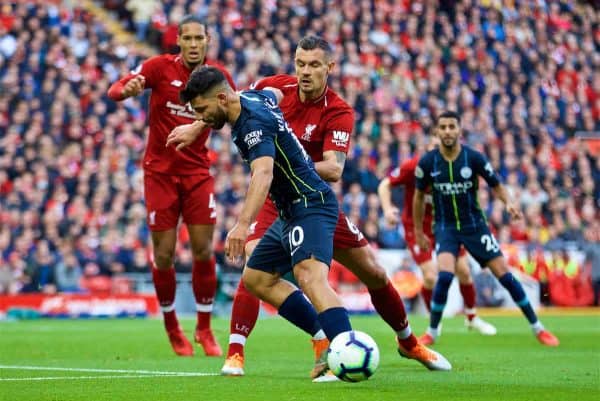 Liverpool may be defined by the front three of Mohamed Salah, Sadio Mane and Roberto Firmino, but things are going very well at the other end of the pitch.
Sunday's stalemate means the Reds have now kept nine clean sheets in a row at Anfield in the league, dating back to after the 4-1 win over West Ham in February.
In that time, they have only allowed 13 shots on target, highlighting how difficult they are to break down on home soil.
Virgil van Dijk's influence has clearly been huge, but Klopp deserves great credit for making his team so well-organised as a unit.
A total of just three goals conceded in the first eight league games is also a record only matched in 1978/79.
Klopp's Gradual Improvement Of The Reds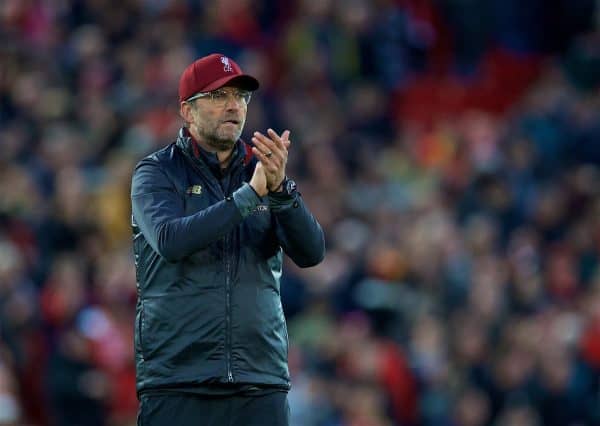 Klopp celebrates exactly three years in charge of Liverpool on Monday, during which time he has turned them from top-four hopefuls to genuine title contenders.
The German has taken charge of 114 league games in total, meaning you can work out his record in three separate batches of 38 games.
Jurgen Klopp's 1st 3 years at @LFC:
1st 38 PL games
W18 D11 L9 F73 A50

Middle 38 PL games
W20 D12 L6 F73 A44

Most recent 38 PL games
W24 D10 L4 F86 A29 pic.twitter.com/ohs5rKIRpQ

— Sky Sports Statto (@SkySportsStatto) October 7, 2018
The initial 38 garnered 64 points, the next load saw 72 accumulated, while the most recent group came to a total of 82.
It is proof of how far Liverpool have come with Klopp at the helm, with constant progress on show.
Lack Of Attacking Spark Exposed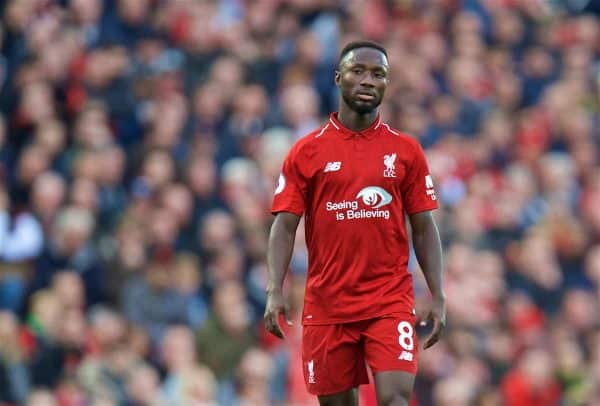 The Reds are struggling to hit top gear in the final third, with the City game another example of the attack not firing.
Writing in the Liverpool Echo, Andrew Beasley states that Joe Gomez (3) was the only Liverpool player to create more than one chance on the day.
The right-back also had two of his side's four shots, which is a rather damning indictment of the midfield and forward line's goal threat.
You feel they will come good soon, with an opponent likely to receiving a hiding, but it is becoming a little concerning after the attacking highs of last season.
Front Three Continue To Struggle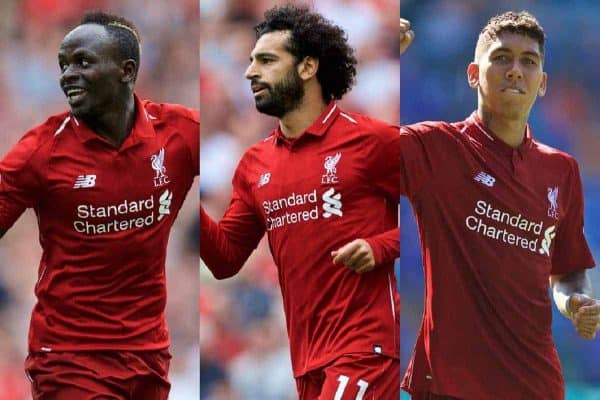 Salah, Mane and Firmino have all been wonderful signings, and are elite footballers, but it's fair to say they are all lacking a spark at the moment.
Their effort levels cannot be put into question, but their rhythm is not there, both as individuals and as a collective, and the goals have dried up.
Liverpool's brilliant trio have now gone four matches between them without scoring, with the last goal from any of them coming against Southampton on September 22.
It is the first time that has happened, although it must be stressed that this has been a difficult run of fixtures.
Expect their drought to end quickly after the international break.
Are Liverpool Pep's Kryptonite?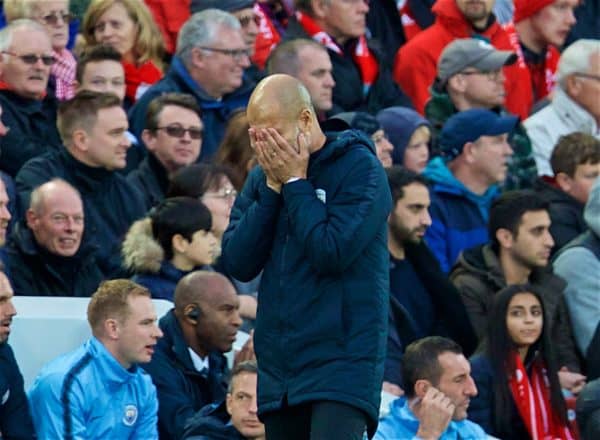 Pep Guardiola gets the better of most teams and opposition managers, with the Spaniard turning City into one of the most dominant Premier League sides in history.
His struggles at Anfield go on, however, even though a point was a perfectly respectable result at the weekend.
In four matches away to Liverpool, in all competitions, City have managed just eight shots on target—almost unthinkable, considering the attacking brilliance in their armoury.
They can't hit even the target with a penalty!
As an added aside, the 51 per cent possession City managed was the lowest-ever during Guardiola's reign at the Etihad, which is telling.
They don't like playing Liverpool, even when the Reds aren't at their best.