Liverpool face Man City on Sunday in their biggest Premier League match of the season so far, but can the Reds repeat their good form against the champions from last season?
Jurgen Klopp's team have had an extremely difficult run of late, playing the likes of Spurs, Paris Saint-Germain, Napoli, Chelsea twice and now City.
They've come through largely well, though a late defeat in Naples midweek was a low point.
At Anfield, though, they have to chance to supplant City atop the Premier League table heading into the international break…if they can find a way to raise performance levels to combat the depth and quality available to Pep Guardiola.
Ahead of the match, This Is Anfield's Karl Matchett (@karlmatchett) spoke with TIA writer James Nalton (@JDNalton) and Reds fans Nav Kaplish (@nkaplish) and Jonathan Higgins (@Jhiggins3), to gauge their thoughts on how Liverpool should take on the challenge and how the 90 minutes might pan out.
How should Liverpool approach the game? Hard and fast, like in the Champions League last season, or be warier because of our own current form?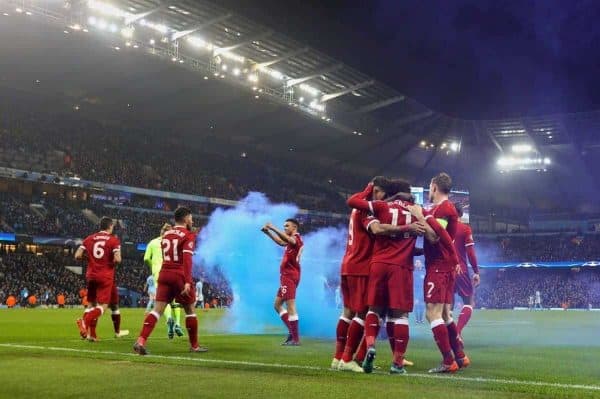 KARL: I think we have to try and start on the front foot and not let City take the game to us, because our midfield is being swamped a little too easily at times just recently.
Until each part of the team is playing with last year's cohesion, we won't be at the same devastating level, so we need to react accordingly and try to stay ahead of the curve in these biggest of matches.
We've already seen this season that City will only struggle if you try to go toe-to-toe with them (see the Wolves match) and Liverpool are best-equipped to do exactly that.
JAMES: In order to recover their form Liverpool need to revert to what they are good at. High-octane attacking football, relentless pressing, and swift counter-attacks.
They now have not one, but two central defenders who can deal with the one-on-one situations this type of system can produce, using their pace, strength, and defensive nous. But support from midfield will be vital.
Start fast and stay fast, and use the new-found depth from the bench to maintain this throughout.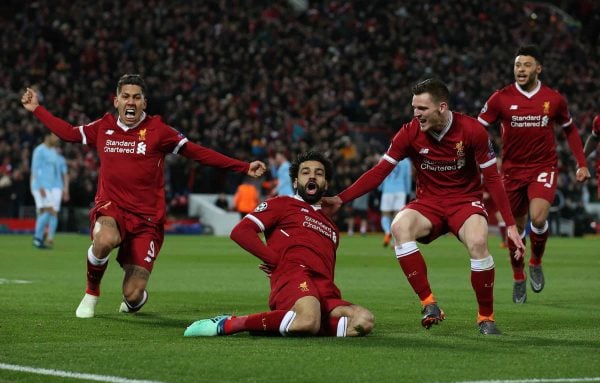 NAV: Rock, Paper, Scissors: I firmly believe that the reason Klopp keeps getting the better of Pep is that our primary tactics of pressing seems to beat Pep's primary tactic of dominating position.
Other teams can't deal with Pep because his tactics outwit most other managers', but Klopp is genuinely his Kryptonite.
Our best chance is for us to do what we best: start aggressively, press, hustle, hassle.
JONATHAN: This is a simple one for me, we need a complete return to the blueprint of last season's Champions League games.
You just have to look at Manchester City's bus arrival plans for this game to sum up just how wounded they are. Just like off the pitch, they will be doing everything in their power on the pitch to attempt to neutralise the situation.
After the disappointment in Italy midweek, we need a fast, aggressive start to further increase the doubts in the Manchester City players' minds.
Which changes would you make to the starting lineup, if any?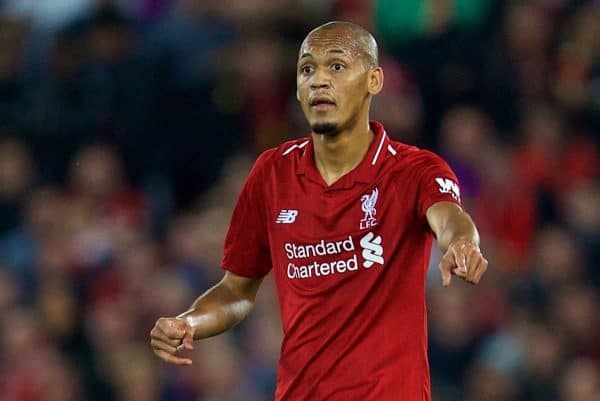 KARL: I'd honestly be bringing in Fabinho here. It doesn't matter that it's his full debut, he's obviously mentally strong enough to cope and more to the point, he'd bring key traits in midfield that would help.
If we're to press high and hard, we can get behind City's midfield line, but there's always their own outlets to worry about such as David Silva. He's not lightning fast, he's clever, has great movement—and Fabinho can be equal to that. He'll do the simple parts of his job, he'll make a few narky fouls to stop counters when necessary.
I think Milner has been off the boil recently so it's him I'd leave out on this occasion. Get Gini and Henderson charging around as the 8s, assuming Keita isn't fully fit to start, and press the life out of City's deeper midfielders.
JAMES: Had Fabinho played more games it would be tempting to throw him in. Nevertheless, Klopp must be tempted to do so anyway.
As it stands Liverpool have to hope Keita is fit enough to return and provide the box-to-box energy in midfield.
Milner started the season really well, but using him in the League Cup game was one match too many, and he now appears to be flagging. Which is a shame as he would have been useful in this fixture, and if he does start we can hope for a second wind before the international break.
The defence and attack picks itself despite Shaqiri making a good case for inclusion. While Salah's performances on the ball have been poor, off the ball he has been outstanding. The latter will be important here so he should keep his place.
A midfield of Henderson, Wijnaldum deepest and Keita, could be the best option, but Milner and Fabinho are also in with a shout. All five could play a big part whether starting or not.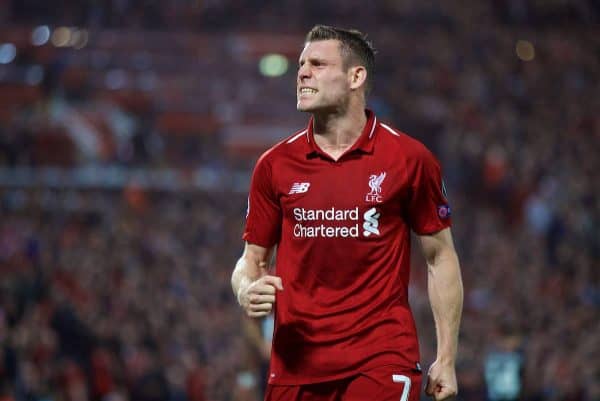 NAV: I would play the same 11 against City as played most of the game in Napoli.
We lack an Alex Oxlade-Chamberlain type of energy in the middle of the park, but the midfield needs to work together intuitively for such a game and I don't think Keita is there yet with the wavelength. Henderson deepest, Wijnaldum and Milner alongside.
JONATHAN: Assuming Keita has recovered fully, I would like to see the same team line up which started midweek against Napoli.
The back five picks itself, as do the front three even if we haven't seen that trio at their dynamic best yet.
Midfield is the only debate for me. I personally prefer Gini in the No. 6 at the moment as he gives us more energy and drive from deeper and it is arguably his most effective position for us.
Milner's experience will be crucial in this type of battle, particularly to give Trent some extra cover, as no doubt City will try and overload him on the right-hand side. The energy and direction running of Keita will be a huge addition to our (hopefully) aggressive approach also.
Which Liverpool players will be key to a victory?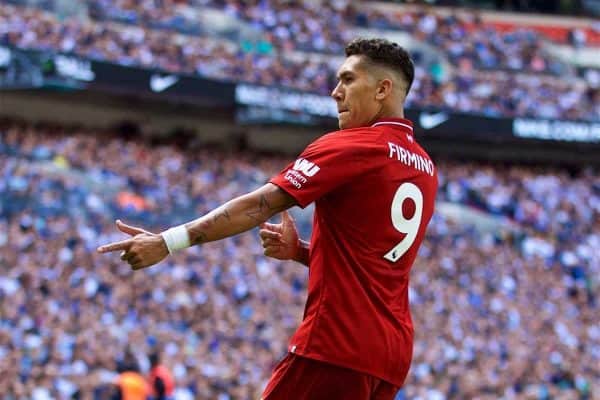 KARL: Neither of the wider forwards are firing on all cylinders at the moment, but Firmino's level has largely remained unchanged—just the service to him has been poorer, as have those around him to play off. We need Bobby at his best, on and off the ball.
It's not just about chance creation, though, and while I have no concerns about the goalkeeper/centre-backs triangle, we need whoever is playing as the No. 8s in midfield to be absolutely relentless with their work rate.
Tracking the channels, doubling up with the full-back, winning possession and playing forward quickly—this is a mammoth job which needs to be done near-perfectly to beat City.
JAMES: As we have seen against Man City, all players need to be on their game to secure the win. The full-backs need to deal with the wide threats, especially if Guardiola uses Sane as a wide forward again.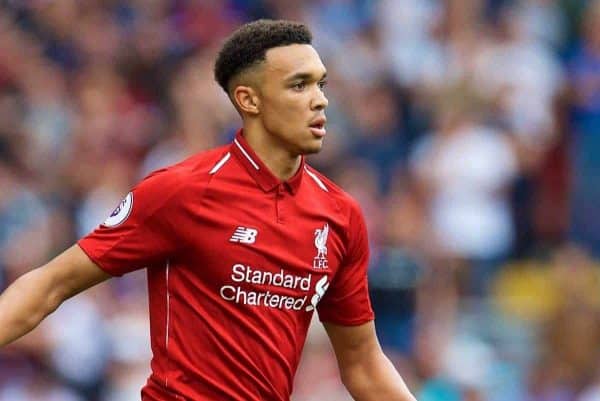 But the key to actually scoring goals in order to win the game will be the front three. The balanced trio whose attributes complement each other perfectly need to make a return, and the hesitation in front of goal seen at times this season need to turn into ruthless finishing.
NAV: Henderson and Trent. Hendo as the anchor, for dealing with the creative midfield of City, and Alexander-Arnold to exploit the weaker left wing of City, in terms of their defence.
JONATHAN: The midfield battle as I've mentioned above will be crucial to the outcome of the game; if they can get control of the game and feed our front three regularly, we are halfway to victory.
Even slightly off-par, you would have to fancy the forwards to exploit the City defence if they get the right service.
Give us a prediction and why you think it'll pan out that way?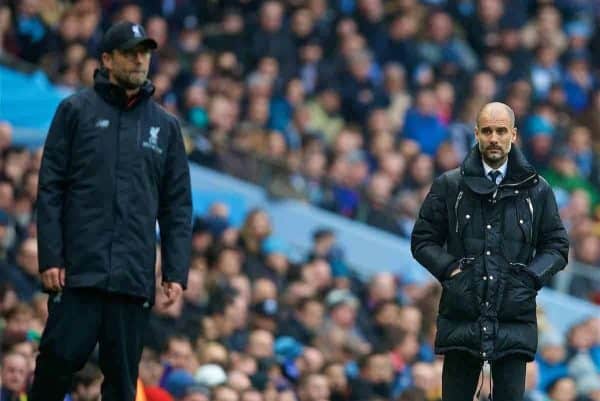 KARL: As much as I'd like to, I can't honestly say I think we're heading into the game with our performances suggesting we'll play at the intensity required. Unless we're super-ruthless with finishing even half-chances, I can see this one getting away from us.
Hopefully this is entirely wrong and our unbeaten Anfield run continues, but I'm seeing 2-1 to City.
JAMES: Guardiola has surely had enough games to work Liverpool out, but as with all the great footballers or the systems in which they play: working them out is one thing, stopping them is another.
If both teams operate at full capacity they could cancel each other out in an entertaining game. For that reason, I think it'll be a score draw.
NAV: 2-2. I think this will end even as our attackers aren't firing yet.
JONATHAN: 3-2 victory for the Redmen. No doubt there will be goals in this game, there always is. I expect a fight-back and a reaction from our midweek game. We have made a good start in the league but everyone involved at the club knows how big of a statement a victory here will be.