Under-pressure Fulham manager Slavisa Jokanovic believes he, the players and fans were disrespected by the decision to disallow Aleksandar Mitrovic's goal in the 2-0 defeat at Anfield.
In a pivotal 14 seconds the Serbia international's header was chalked off due to a marginal offside decision and Liverpool went straight down the other end to take the lead through Mohamed Salah.
Television replays suggested Maxime Le Marchand was the most advanced man, but he made no attempt to challenge for Andre Schurrle's cross while Mitrovic may have been played fractionally onside by Reds defender Andy Robertson.
To compound Fulham's grievance, Alisson Becker's free-kick appeared to be still rolling when the Liverpool goalkeeper launched the counter-attack for Salah's goal.
Xherdan Shaqiri made sure of the points just after the break but it was the opening goal which proved to be crucial.
"In this country normally you cannot show disrespect to the referee and this is a problem because it's shown disrespect to my team, myself and Fulham supporters," said Jokanovic, who is under scrutiny after seven successive defeats left the Cottagers bottom of the table.
"When I check the clips now it's Robertson [who] hasn't done a good enough job to squeeze up and my player is onside and scored the goal.
"If the ball is rolling or not rolling after, it's probably yes and in one moment, a crucial moment, instead of 1-0 up we're 1-0 down.
"We can talk about this situation for hours, but the damage is done.
"It's a completely absurd situation to defend. Yes they catch us on the counter, [Salah] is really fast and finished the action well, but the sensation is we are frustrated, disappointed.
"It's better we don't talk so much about my situation."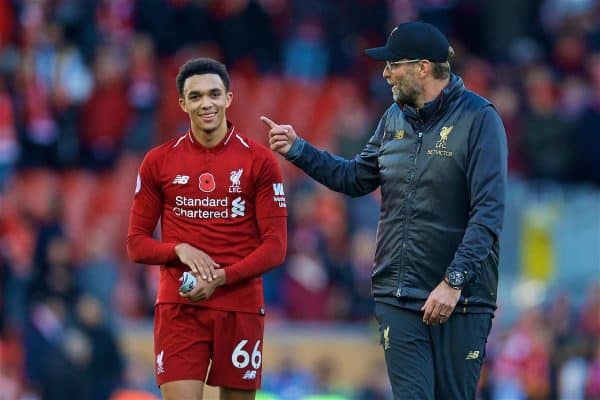 Liverpool manager Jurgen Klopp admits his side may have been lucky, both with the offside decision and Ryan Sessegnon's miss when clean through midway through the first half, but felt his side deserved their victory.
"I don't want to compare it but we scored a clearer goal against Arsenal which we didn't get," said the Reds boss.
"You cannot change it, the most important thing is reacting that quick in that situation and it was brilliant: Alisson, Trent, Mo and done.
"It is very important you have these situations in your locker that you can use it.
"In the end we were a bit lucky and maybe because of Robbo it is not 100 percent offside because of his heel. We cannot change it, Fulham cannot change it.
"Apart from scoring more goals it was a really good performance. Fulham always have the quality to cause problems. We had to work hard, we won it. All good."
Midfielders Naby Keita and Jordan Henderson both returned from hamstring injuries as substitutes and Klopp said he was happy for both to now go away on international duty.
However, he is having "discussions" with England over what role Joe Gomez will have as the 21-year-old has already played 17 times this season.
"If you ask me I always want them to stay here," he added.
"In this case Guinea they play one game against Ivory Coast and [Keita] is fit for four or five days so to play another game is brilliant for him.
"Most of the players only have one game: England and Brazil have two games, which is not too good, especially with the latest game on Tuesday night so it is good Brazil are in England and not elsewhere, so the travel stress will not be too much.
"Joe had all the games, we are not sure, we are in talks about that. Hendo is 100 percent fit and needs games as well. That's cool."