Jurgen Klopp is building an ever-more competitive squad, so what does the future hold for those on the fringes of the action?
The Liverpool manager has already shown more than once that he's willing to bring players into the side and enable them to win a regular place.
Just because one is on the outside looking in, it doesn't have to stay that way: Andy Robertson is the best example, but Joe Gomez and Fabinho are, in their own circumstances, doing similar.
But for three others, the future is less clear—the path to regular action doesn't look as apparent and their own careers are at different stages.
We put it to the fans on our Facebook page to vote on what should happen to Adam Lallana, Dominic Solanke and Harry Wilson, come January and the end of the season.
The Senior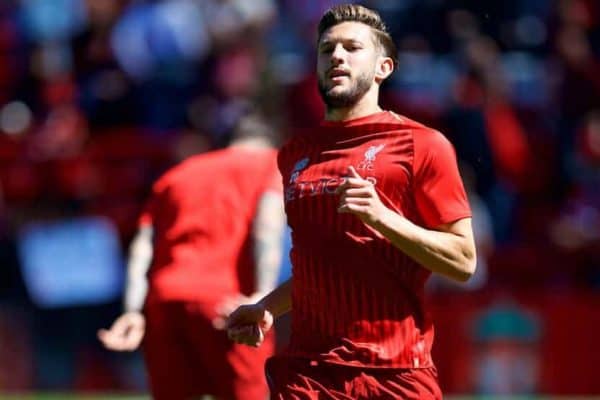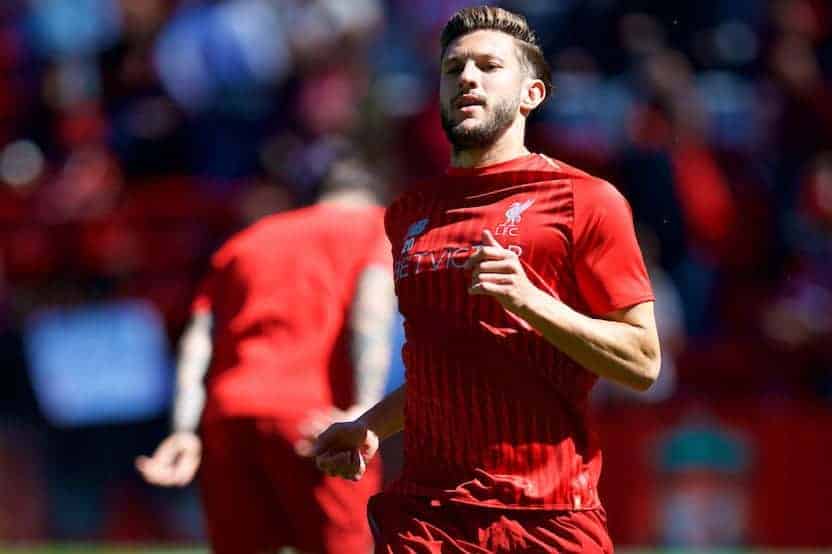 Lallana, now 30 years of age, saw last season decimated by injury. He was previously a regular pick for the manager, but the team has moved on considerably since then.
This season he has played just five times, amassing less than 250 minutes all told.
Over 30,000 voters had their say on Klopp's former favourite—and it was a one-sided poll to say the least.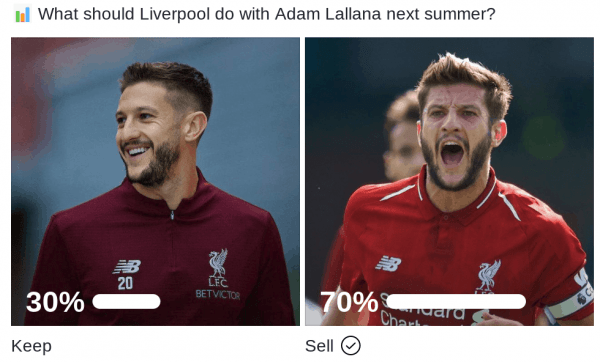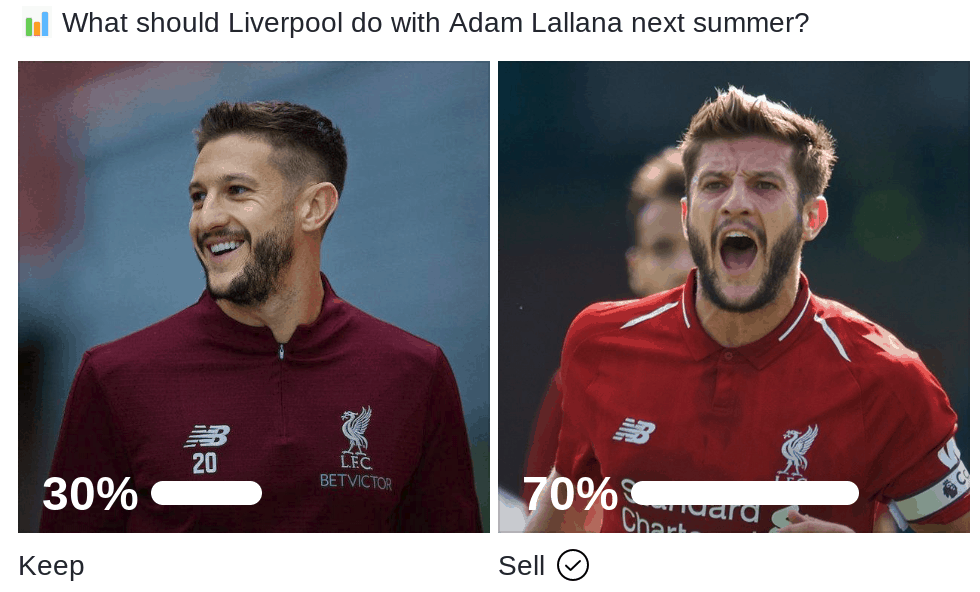 A whopping 70 per cent say to sell Lallana rather than keep him, with his impact on the first team minimal and several still voicing frustrations at the speed he plays at compared to other starters.
Others are quick to suggest some have short memories, however, with both club and country keen to utilise Lallana before his injuries.
"Keep. When he's fit he's a beast, remember when he used to be the most improved under klopp, impressive work rate etc… People forget so quick."
–Bonga Mkalali on Facebook.
Backup Status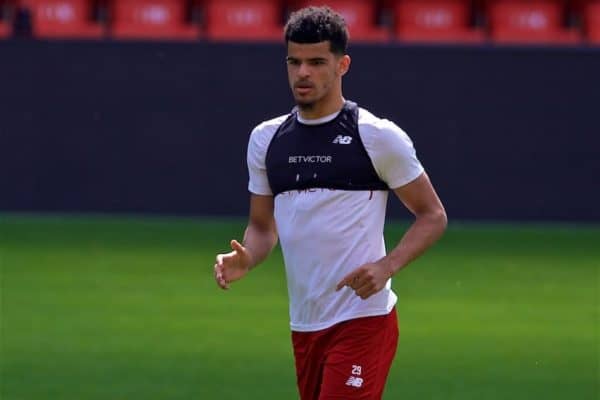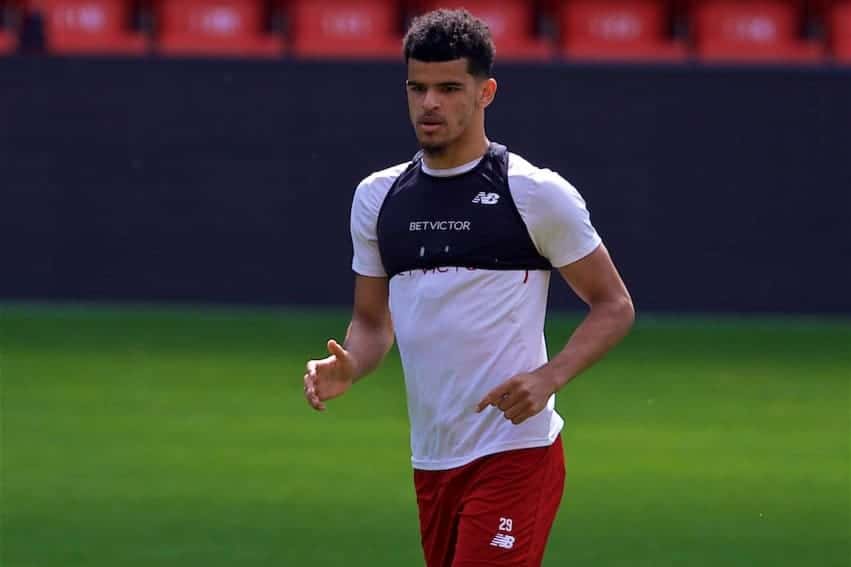 Solanke's situation is more pressing: there's a decision to be made on his future in January.
The striker is just 21 years of age, but after being a regular backup last term he hasn't featured at all in 2018/19, with just one appearance on the bench.
An international break or two have been kind to Solanke this term though, including two goals last week. We gave the options and 14,000 fans voted—and once more it was conclusive.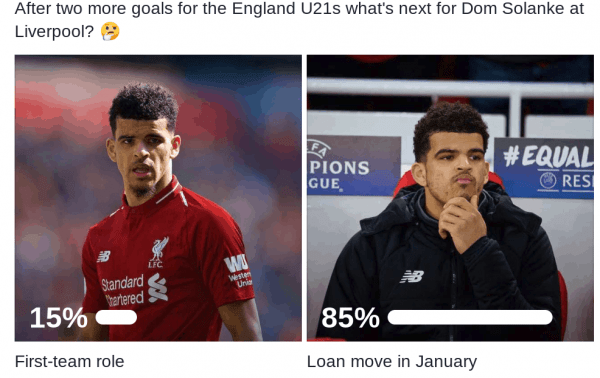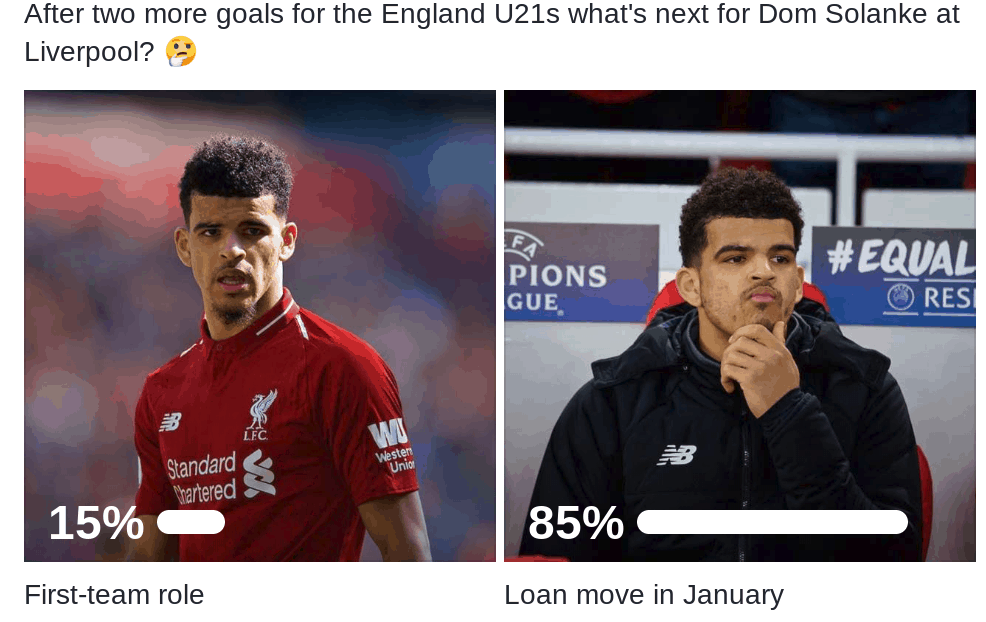 In total, 85 per cent say he should be loaned out to get some game time elsewhere, rather than being bumped up to a first-team support role at Anfield.
Solanke scored just once last season, on the final day of the league campaign, and he really needs to showcase his penalty box prowess elsewhere.
Whether that's in the Premier League or the Championship is the key question, but he's unlikely to break into the first-team scene this term.
"Loan move in January – let's help Rafa out at Newcastle."
–Trevor Houghton on Facebook.
Out on Loan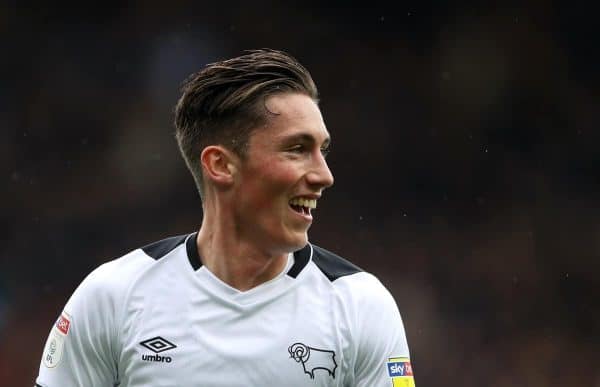 Finally, what of the starlet tearing it up one division lower?
Harry Wilson has been in excellent form for Derby County, also impressing with Wales, and has played both as a wide man and a more central attacking role this term.
Just shy of 20,000 fans had their say on his future and the outcome was a landslide opinion.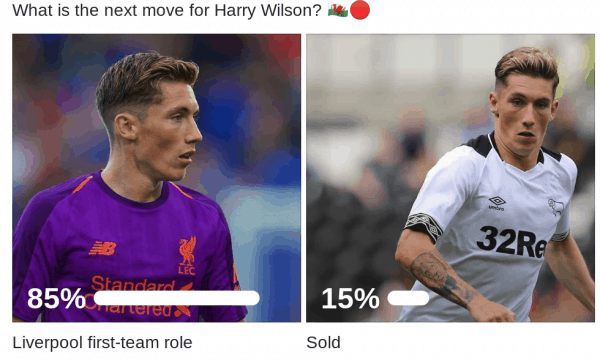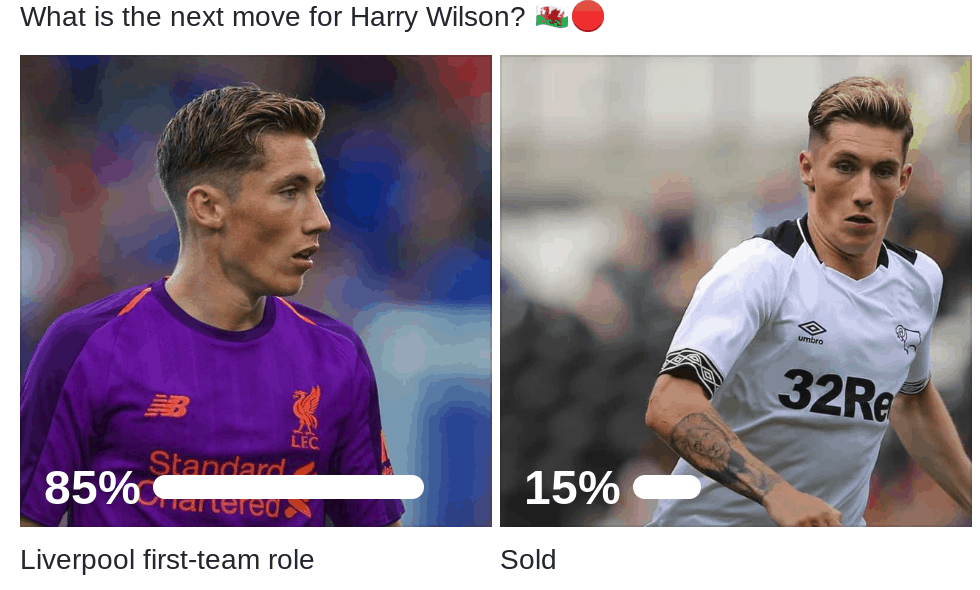 85 per cent of fans believed he should be promoted to a first-team role next season, rather than sold on.
Those are arguably the only two realistic prospects, as Wilson will be aged 22 by the time next term gets underway.
With Klopp featuring a three-man attacking midfield line more and more often, and Wilson showing he can be a goal threat, he could feasibly provide an important secondary source of goals—if he shows he can step up a level.
"Should never have been sent back on loan to begin with. At what point are we gonna decide that this player is ready for first-team football at Liverpool. He should be coming on in the last 5-10 minutes of games for the likes of Salah or Mane…that's how you improve these youngsters and give them the experience. Look at what Man City are doing with Phil Foden…we should be doing the same thing with Harry Wilson."
–Aaron O'Neil on Facebook.
What should the Reds do with each in your opinion? Leave your comments below!