Liverpool's defeat to PSG leaves them needing to beat Napoli to progress in the Champions League, but there's more to it to ensure the Reds reach the last 16.
While disappointing in many respects, the loss in France was somewhat of a free pass for the Reds in terms of qualifying from the group stage.
With PSG and Napoli drawing with each other twice, it left the group extremely tight even before Wednesday night.
The Italian side saw off Red Star 3-1 to secure a group-topping position heading into the final round of games, but there's still everything to play for and any two of the top three can progress.
Jurgen Klopp knows the importance that the final group game will hold and didn't pull any punches, talking to BT Sport after the final whistle in Paris, telling Reds fans they would be needed against Napoli.
"Now we have to use Anfield one more time. We are calling Anfield actually, right now!" he said, hoping for a huge atmosphere to help the players through.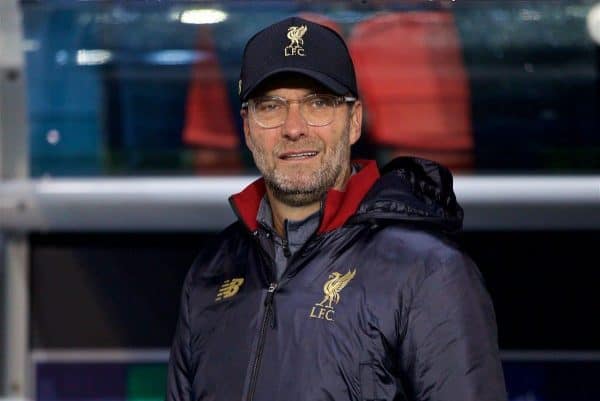 First and foremost, nothing less than a win for Liverpool will do—but not every win will guarantee progression.
Here's the complete run-down on what works for the Reds… and what would leave them facing the Europa League in the new year instead.
A 1-0 win for Liverpool
Should the Reds triumph by a goal at Anfield, they progress ahead of Napoli. They'd be level on points and head-to-head results, but would have more goals scored than the Italians, the next criteria to consult.
Any two-goal win for Liverpool
Think Olympiacos, 2004. Anything such as 2-0, 3-1, 4-2 and so on, or better, will see the Reds progress. They'd be level on points but have a better head-to-head than Napoli.
Any win for the Reds AND a PSG draw
Even a 2-1 win is good enough if PSG only take a point at Red Star. Liverpool, Napoli and PSG would all be on nine points and Klopp's team would be top of that three-way head-to-head, having taken six points against those sides.
Europa League permutations
Drawing with Napoli would leave the Reds in third. Beating Napoli 2-1, or by any other one-goal margin other than 1-0, would also leave the Reds third as long as PSG win at Red Star.
Fourth-place variation
The unthinkable could happen: if Liverpool lose at home to Napoli and Red Star beat PSG, the Serbian side will leapfrog the Reds into third, leaving Klopp's side bottom and with no further European action this season.
It promises to be a night of huge importance and atmosphere at Anfield, which could very much shape the course of the Reds' season thereafter.