Though conceding late to draw 1-1 at Arsenal left Liverpool disappointed, this result shouldn't be considered two points dropped in the title race, argues Steven Scragg.
Apparently, we should be winning at Arsenal. You know like, because Man City did.
That's despite the fact that Arsenal are an entirely different proposition in November to the one they were in August, when the team from Eastlands played them.
The rights and wrongs of football results aren't as simple as saying we should win somewhere because a rival did. There are too many subtle variables for that law to hold up.
The version of any given team we face won't always match the version a rival might have faced.
City drew at Wolves, for instance. If we win there in December, then does that hint at something being remiss about Pep Guardiola's side? Of course it doesn't.
Compare the Market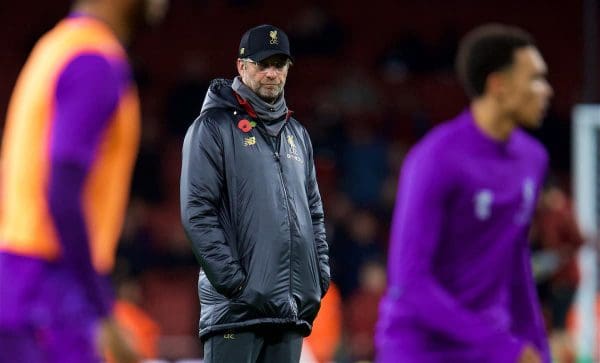 If you feel the need to compare and contrast, then you really need to do that a little bit closer to home.
This time last season, 11 games in, City were already eight points clear of the second-placed team. They were 12 points clear of us, while we'd suffered pronounced beatings at the Etihad and at Wembley, against Tottenham.
We will end this weekend in a worst-case scenario of remaining unbeaten, two points behind the leaders and having navigated our trips to Arsenal, Spurs and Chelsea, a full seven weeks before Christmas arrives.
We are in a healthy position and yet we are still to find anything higher than fourth gear.
A loss of perspective will be more damaging than a draw away to a very good Arsenal side. A very good Arsenal side which will lose few games at home between now and May, if any.
Reasons to Be Cheerful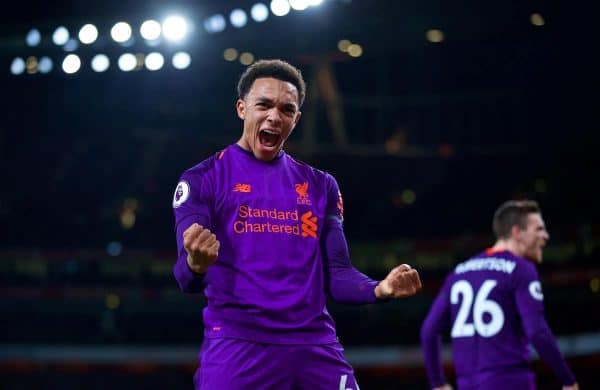 In the last 12 months we have moved forward a significant distance.
We will make it harder for City to win the Premier League this season, than it was for them last season. I actually suspect it won't only be us that does that.
There are a few reasons for this. The improvements of their rivals are married to a traditional age-old failing that City will have to navigate if they are to clinch the title again: they have never retained a league title before.
This is a peculiar anomaly which City have never conquered. Going back to the 1930s, they even contrived to befall relegation while being defending champions.
2018/19 is all about attempting to break new ground for City. It's all about trying to do things they've never managed before: retaining a league title and winning the Champions League.
The pressure will be intense. We need to make sure we remain on their shoulder in the Premier League, as at some point they will take their eye off the ball and drop unexpected points.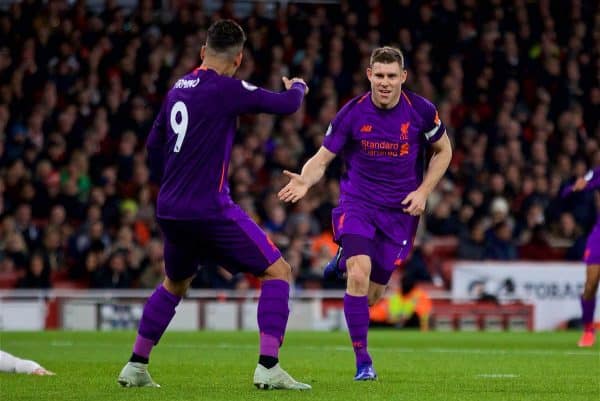 This is where we just need to dance our own dance. Do the right things and do them very well.
In this respect, a draw at an in-form Arsenal shouldn't be seen as a failure.
Yes, when you enter the final 10 minutes of a game with a 1-0 lead, only to concede an equaliser, you have the right to feel disappointed.
But in all honesty, this was a draw that could just as easily ended as a win or a loss by the time the final whistle was blown.
He Could Have Had A Hat-Trick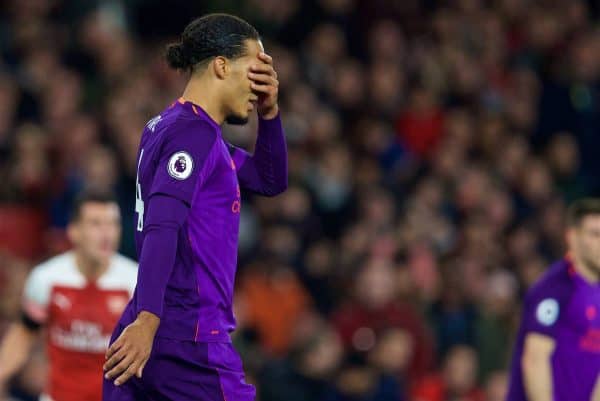 Virgil van Dijk was a colossus in this one, at both ends of the pitch.
There isn't another centre-back on the face of the planet who could have produced that touch he made, before blasting the ball against the advancing Bernd Leno.
Hitting the post and threatening with other headers, he could have scored a hat-trick.
We had a perfectly good goal disallowed and a reasonable 'half shout' for a penalty too.
Still, our goal was arguably against the run of play—and that was an outstanding equaliser from Alexandre Lacazette.
We lamented letting a win slip from our grasp, while those watching on, without a partisan interest, lauded the spectacle as a triumph for football.
A pat on the back from the neutrals and a point for our efforts it is then.
Next Up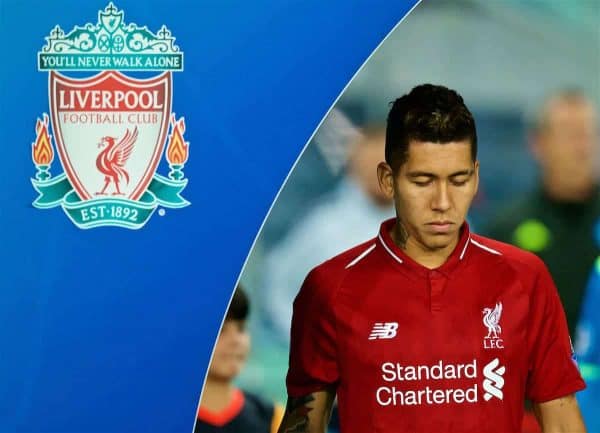 Back to European endeavours it is on Tuesday, in Belgrade, but I'm finding it hard to draw my attention away from Fulham next Sunday.
One game at a time is the well-worn mantra, and rightly so, but the visit of Fulham will need to be dealt with ruthlessly.
By all means, go to Serbia and make progression to the knockout stages of the Champions League a near certainty if possible, but I'd like to see our best performance of the week to be at Anfield against Fulham.
The last international break of the season looms beyond the Fulham game and to emerge from it unbeaten and breathing down City's neck, with effectively a third of the season completed, would set us up nicely for the oncoming 'silly season' that is December and the Christmas period.
The polite preliminaries of the season are almost over. The scene has been set and real battle is about to commence.