Mohamed Salah's hat-trick at Bournemouth proved his quality as a striker, but should he start up front for Liverpool's Champions League clash with Napoli?
Salah's role has shifted under Jurgen Klopp this season, moving from a devastating right forward to becoming the spearhead of a new-look 4-2-3-1 formation.
This has come with mixed success, but the Egyptian netted a stunning treble in Sunday's 4-0 thrashing of Bournemouth, in a clear sign both he and Roberto Firmino are adapting to their new duties.
Napoli travel to Merseyside this week for a decisive Group C tie on Tuesday night, with Liverpool needing to win 1-0 or by two clear goals to ensure progress to the last 16.
Klopp has largely stuck with his trusted 4-3-3 for big games this season, but the importance of victory in midweek and the performance at Dean Court could prompt a change in his outlook.
This is Anfield asked supporters on Facebook and Twitter to vote on whether Salah should lead the line, with the majority in agreement.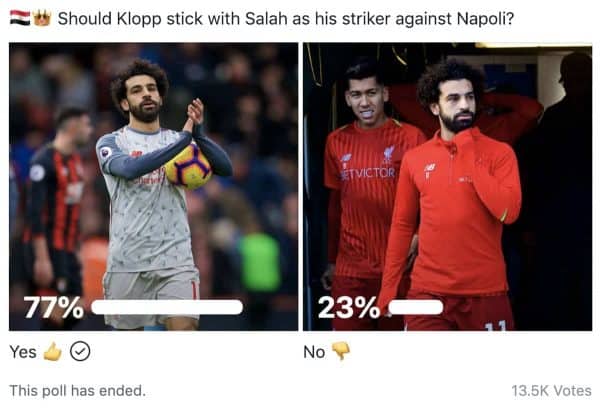 Of the 13,500 fans to vote on Facebook, 77 percent backed the 26-year-old to start as No. 9, with eight of his 12 goals for the campaign coming in seven starts from a central role.
"Yes, he's bound to be on a high, could do well," wrote John Stewart, with Michael Manning agreeing that "while Salah is in form for goals and he's fit keep him going that's when he's at his best."
"Salah up front, Mane on the left, Shaqiri on the right, and Firmino 10. With Gini and Naby in midfield," Isma Ilito added, backing Klopp to field a very attacking side with Salah at its forefront.
Josyf Senkyr disagreed, however, arguing that "he's a winger" and "one good match against weak opposition isn't a valid point to let him in this position."
A contentious suggestion came courtesy of Terrific Tboier, who backed Divock Origi to start and "confuse" Napoli.
"Think a little bit of Origi would be nice to confuse them. Then bring on Mo to run their defence ragged around 60-70 minutes," he wrote.
"Origi offers something different, many teams already figured out Mo's movement."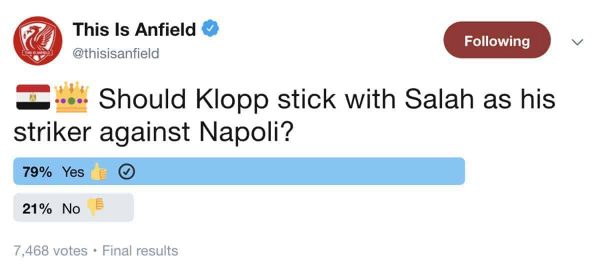 Supporters on Twitter were in line with those on Facebook, with 79 percent of the 7,468 to vote agreeing that Salah should remain as the striker at Anfield.
"Can you really say no after a game like that?" wrote @PllSKA, with the notion of momentum a popular one and rightly so following a faultless performance at Bournemouth.
Interestingly, the 4-2-3-1 seems to be growing in popularity with @Fotakis85 explaining that "it's the only way to keep 4-2-3-1 so I voted yes. As long as that is the used formation I don't mind the striker."
"People will be saying 'no, play Firmino up front', but also saying 'start Fabinho'," @GenericPundit added.
"Klopp's basically only used Fabinho in a 4-2-3-1, and that has meant Bobby in the 10 and Salah up front. So if you're voting for Salah not to play up front, you're voting for Fabinho not to start."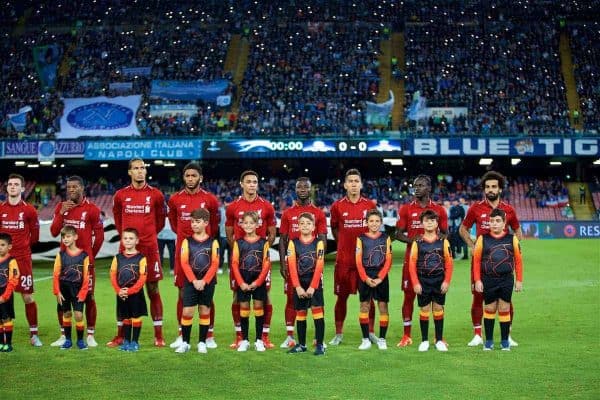 @AtaqShaq wrote: "Yes and Keita takes the 10, Bobby comes in from the bench."
However, @a7madhassan1 offered another more left-field option, writing that "Salah isn't a striker, except in counter-attacks, he is a right winger and Sturridge can play No. 9 much better."
It is unlikely that either Sturridge or Origi start against Carlo Ancelotti's side, though.
And after his masterclass to fire Liverpool to the top of the Premier League, it would be hard to argue against Salah keeping his place up front on Tuesday.