Liverpool stretched their lead atop of the Premier League to nine points after a thrilling 5-1 win over Arsenal, and there were a number of standout displays.
Liverpool 5-1 Arsenal
Premier League, Anfield
December 29, 2018
Goals: Firmino 14′, 16′, 65′ Mane 32′, Salah 45+2; Maitland-Niles 11′
---
Alisson – 8 (out of 10)
With the exception of the blemish on the scoresheet—which he could do little about—Alisson pitched in with another excellent performance between the sticks.
He was confident in clearing his lines when called upon, but notably his distribution was sublime throughout.
The Brazilian was quick to set his team-mates on the move and it paid dividends after his exceptional darting ball landed at Mohamed Salah's feet which ultimately led to the first penalty.
It was yet another fine performance from the 26-year-old.
The youngster had another solid game on the right flank, but was at times outfoxed by Alex Iwobi as the Gunners looked to his side of the field as the way to goal.
But, he was also key in stretching the field of play as he hugged the touchline to offer an out-ball which a number of his team-mates looked to exploit.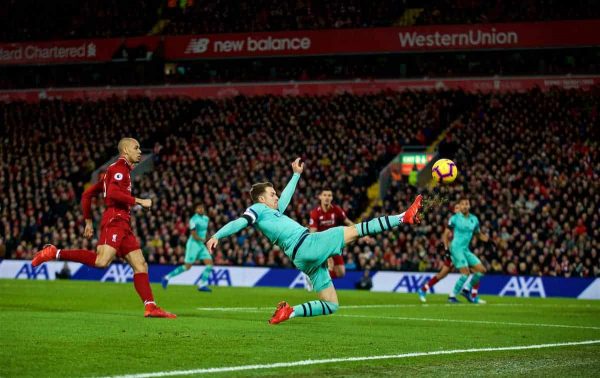 Dejan Lovren – 6.5
Lovren, while not under the pump for much of the game, had a mixed performance. His lazy chipped pass was the catalyst for Arsenal's goal, but as Liverpool gained a stronghold on proceedings he grew in stature.
He did prove to be a nuisance for the Gunners' defence as his presence in the box led to another penalty and Liverpool's fifth goal.
With centre-back options limited, fatigue will likely cause momentary lapses of concentration as he continues to build into the season having made only eight league appearances so far.
Virgil van Dijk – 8
Starting his 20th successive league game for Liverpool this season, Van Dijk again showed no sign of weakness as he dealt with Pierre-Emerick Aubameyang with ease.
He was as confident as ever in possession and was on cruise control for much of the match.
A figure of calm when the Reds were slightly on edge and were giving away possession early in the first term.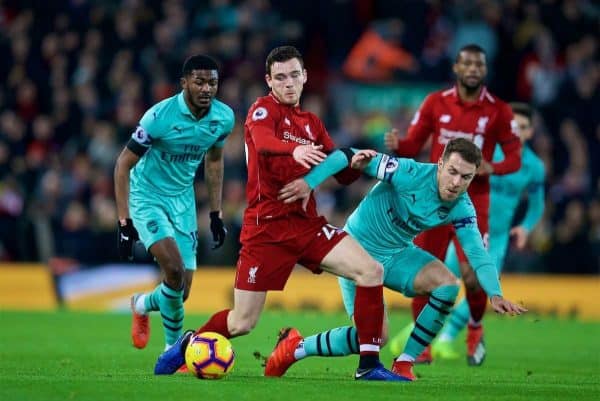 Andy Robertson – 7
The flying Scotsman put in yet another stellar shift as Liverpool's 'Mr Reliable'.
While being caught out of position for the goal, he quickly made up for it with a superb delivery to set up the Reds' third of the evening.
While it was not his most eye-catching performance to date, he made vital interceptions and you could not question his work rate as he never stopped running.
His substitution late in the game only went to show how important his presence is to Liverpool as he will be needed again against Man City.
Fabinho – 7
Picked ahead of Jordan Henderson, Fabinho initially struggled to get to grips with the tempo as early pressure from Arsenal saw him take unnecessary risks as his sloppiness in possession handed the visitors impetus moving forward.
His sloppy ball across his own half to Iwobi was the first scare, then passive movement alongside Lovren opened the door for the Arsenal opener.
Much like Lovren, however, the Brazilian adjusted to the pace of the game and improved as the Reds regained control.
Gini Wijnaldum – 10
Wijnaldum featured alongside Fabinho in a double pivot, and it was a performance to behold for Liverpool's midfield mainstay.
He doesn't get the headlines such is the intricate work he does, but he was the key cog in the machine and it would be hard to dispute claims that he covered every blade of grass such was his influence in both attack and defence.
Vital interceptions and tackles; coupled with his impeccable ball control—which forced the visitors to concede numerous fouls—ensured the Reds were given solid foundations to build on.
Was taken off with 15 minutes to play with the clash with City in mind.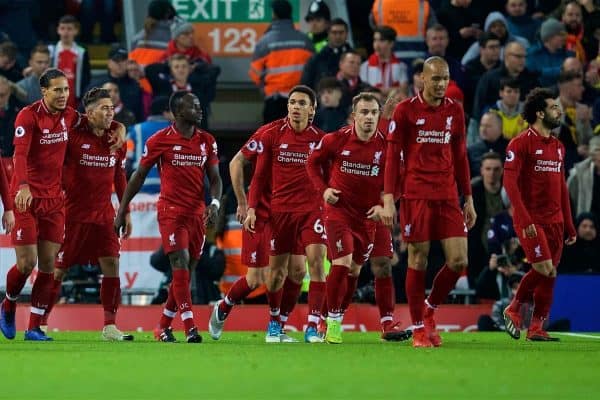 Xherdan Shaqiri – 8.5
It was arguably one of Shaqiri's best all-round performances for Liverpool in terms of both defensive and attacking accountability.
He was bright from the start and continually looked to drift into open spaces to hurt Arsenal himself or by isolating another one of his team-mates, most notably with Alexander-Arnold on the right.
Shaqiri consistently looked to move the ball forward and he established a connection with Salah which will only continue to grow as their understanding of one another continues.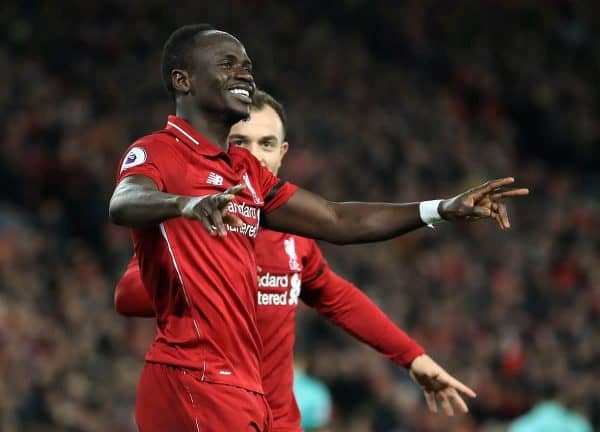 Sadio Mane – 8
It has been a largely frustrating season for Mane as his finishing capabilities have yet to match that of his buildup work, but against Arsenal the winger put in a complete performance.
From the off he pressed and harried and was consistently looking to drive forward and he received his just rewards after comfortably slotting the ball home for Liverpool's third.
The goal will no doubt prove to be a confidence boost after managing just one in his previous 11 outings.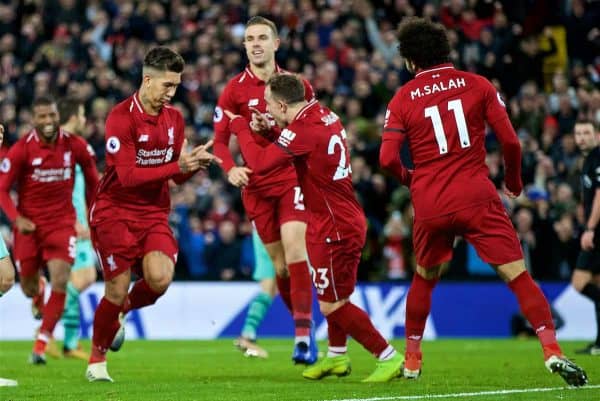 Roberto Firmino – 10 (Man of the Match)
The Brazilian has endured a relatively quiet start to the season compared to his usual standards, with his change in role requiring a period of adjustment. That was until Arsenal came to town.
He burst into life having been handed space to exploit through the middle, where his first came as a result of his work rate to accept Alisson's ball out, drive forward and follow the play until it was in the back of the net.
His second—90 seconds later—was simply out of this world. His poise and quick movement left Arsenal's back line splayed out on the turf behind him before he calmly slotted it beyond Bernd Leno.
A perfectly dispatched penalty secured his first hat-trick for Liverpool, where his influence on proceedings was second to none.
Having ended his 11-game goal draught at Anfield, he looks to be back to his best.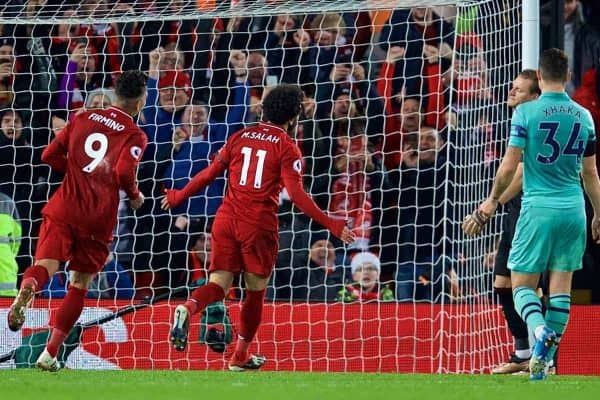 Mohamed Salah – 8
Again picked to lead the line, Salah was once more a menace for the opposition defence with his bag of tricks, vision and intricate movement proving too much to handle.
The Egyptian's run to occupy Arsenal's back line paved the way for Liverpool's opener, which he soon followed up with an exquisite first touch from Robertson's cross to set up Mane's goal before he himself landed on the scoresheet after finishing from the spot.
He established a good linkup with Shaqiri throughout which is promising for the weeks ahead.
Salah is purring having notched 11 goal contribution in his last seven games.
---
Starting XI Average Rating: 8
---
Substitutes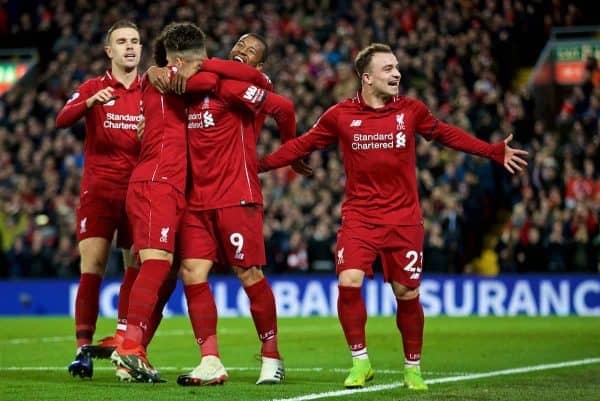 Jordan Henderson (on for Mane, 62′) – 7
Showed excellent forward drive and vision. Can overlook the ambitious finishing this time.
Adam Lallana (on for Wijnaldum, 77′) – N/A
The game was signed, sealed and delivered upon his arrival and had little time to have an influence.
Nathaniel Clyne (on for Robertson, 83′) – N/A
Not enough time to make an impact having occupied the left flank, but he was dangerously close to giving away a penalty.
Subs not used: Mignolet, Keita, Sturridge, Origi
Manager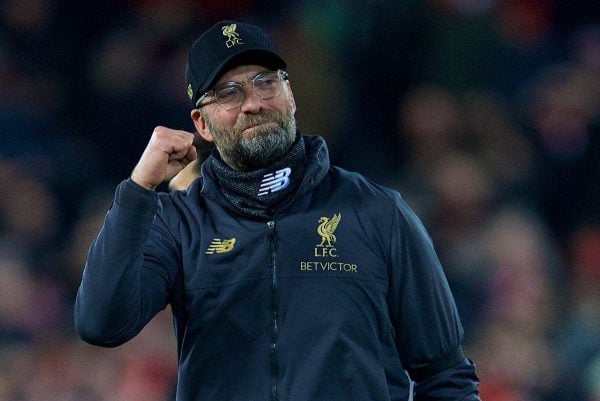 Jurgen Klopp – 9
All eyes were on Liverpool and Klopp to see if they could live with the external pressure following results elsewhere and, despite a slight blip, they did so in a convincing manner.
The goal woke the Reds up and, while it was slightly manic, it triggered an attacking display which would have sent warning signs across the league.
The settled lineup did the job, kept the momentum rolling and has now extended the lead atop of the table to nine points.
Pressure, what pressure? Man City, the Reds are on their way.