Liverpool strolled to an emphatic 4-0 victory over Newcastle at Anfield, with plenty of positives and upcoming rotation to discuss after the game.
The Reds were never in danger of dropping points as Rafa Benitez returned to his former club, with his Magpies side comfortably inferior to the hosts.
Dejan Lovren, Mohamed Salah, Xherdan Shaqiri and Fabinho netted for Jurgen Klopp's men, making it 19 Premier League games unbeaten this season.
The win means Liverpool are now seven points clear of Man City—an advantage that seemed unfathomable a couple of weeks ago—and six ahead of second-placed Tottenham.
This Is Anfield's Henry Jackson (@HenryJackson87) spoke with Joel Rabinowitz (@joel_archie) and Karl Matchett (@karlmatchett) to discuss the positives and negatives from the game and how Klopp should line up against Arsenal on Saturday.
The good…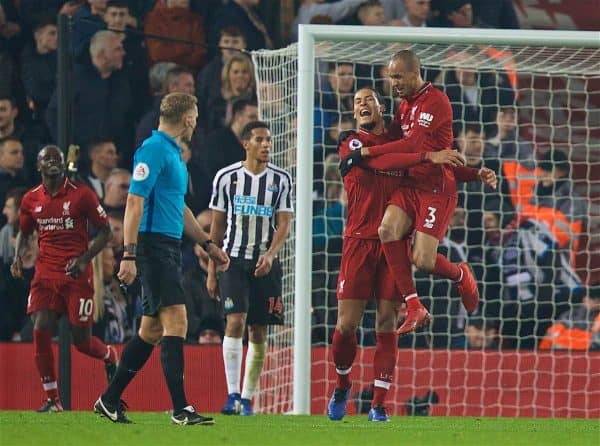 JOEL: The manner in which Liverpool are churning out three points game after game at the moment, in such routine fashion, is just phenomenal.
Rafa's Newcastle are notoriously stubborn opponents, but once Lovren had broken the deadlock after 11 minutes Liverpool never looked remotely like doing anything other than winning comfortably.
It was an added bonus to get the extra few goals in the second half to eliminate City's once vastly superior goal difference, and especially for Fabinho to get his first goal after coming off the bench.
That's now 13 different players who have netted for Liverpool in the league this season.
Coupled with City's defeat at Leicester, it made for a pretty perfect Boxing Day. Six points clear at the halfway mark and still unbeaten—what more could you ask for?
HENRY: As Joel alludes, winning is simply becoming the norm for Liverpool, with belief running throughout the squad, on and off the pitch.
The performance wasn't the best of the season, by any means, yet the Reds won 4-0 and never once looked like not being victorious.
Lovren was excellent throughout, scoring a beauty but also remaining switched on defensively, while Henderson shone for the second time in less than a week, which is encouraging.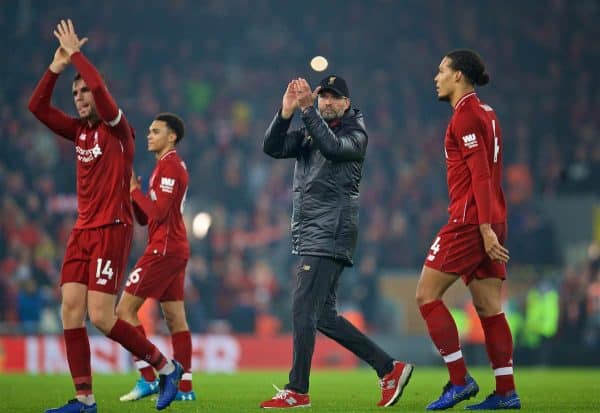 Robertson was another Man of the Match contender, providing endless energy, while Salah was again a menace leading the line.
The City result was a glorious bonus—the Anfield crowd celebrating Leicester's second goal was a great moment—after a staggering mini-collapse by the champions.
Let's not get too carried away, but my god these are exciting times!
KARL: The tempo at the start of the game was good, and something I feel we'll need in the next two matches.
Fast from the off against Arsenal is key, and City won't be as passive at home now they're in catch-up mode as they were at Anfield.
Both full-backs were excellent and I was delighted to see the Reds keep going for the kill, being ruthless toward the end of the game when the points were already won.
A six-point gap at this stage is nice, too!
The bad…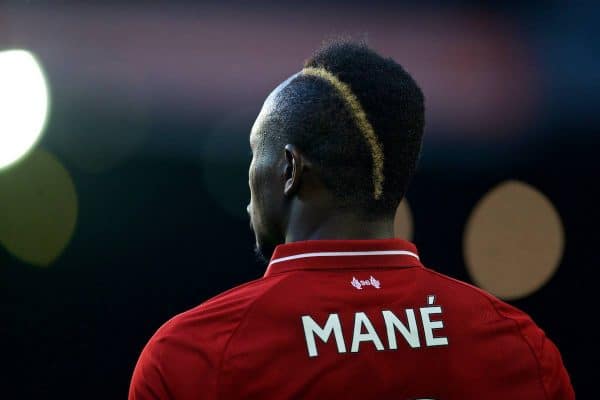 JOEL: It's a real struggle to pick out any negatives from a performance and a result like that.
If we're being hyper-critical, both Mane and Firmino were well below their best, as has been the case for much of the season, if truth be told.
Mane's touch let him down on numerous occasions and Firmino was far too casual and sloppy in giving away possession at times.
That said, they always carry a threat and they should play a key role in the upcoming games against Arsenal and City, such is their undoubted quality.
Other than that minor quibble, it was more or less a faultless afternoon for the Reds.
HENRY: I agree with Joel in that Mane and Firmino frustrated, with the latter particularly below-par.
The Brazilian is someone I admire greatly, but I found some of the praise heading his way quite bizarre.
He sold team-mates short so often with misplaced passes and never managed to stamp his authority on the game by his high standards.
He still worked his socks off, though, and it's important to stress that he was far from incompetent, with a few good moments thrown in.
Shaqiri wasn't great in patches and Trent's crossing was slightly erratic, but that is being ultra-harsh.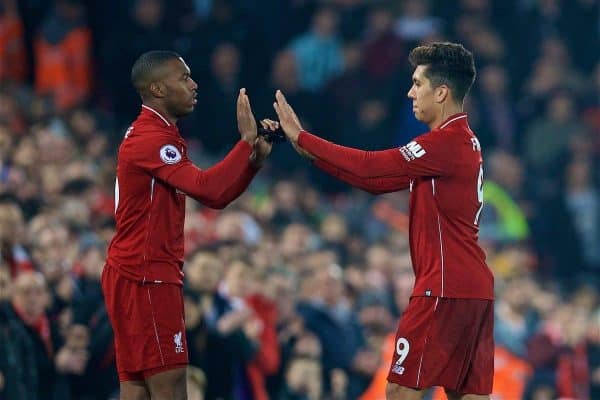 KARL: As above, Mane and Firmino were let-downs with the final ball, but it must be noted that Mane's movement was first class and the reason he was in so many dangerous areas in the first place.
A low-key period in the first half, a bit of a moody crowd atmosphere at 1-0 up: these things were the low points but there isn't much to complain about.
I was surprised at the lack of rotation, for sure, but as long as we get through these next two matches then there's nothing to single out as 'bad' as such.
…and what would your team vs. Arsenal be?

JOEL: I think the goalkeeper and back four from Boxing Day, and the usual front three, are more or less nailed on.
That just leaves three spaces in midfield, depending on whether Klopp goes for a 4-3-3 or 4-2-3-1 formation.
Given Fabinho started on the bench here, I fancy him to come back into the side against Arsenal, and I wouldn't be surprised if both Henderson and Wijnaldum keep their place, given how much Klopp tends to trust them in big games.
I don't quite see Keita starting this one, although Shaqiri is definitely an option should Klopp be feeling bold enough to field four attackers in an attempt to expose Arsenal's weak defence.
He might go for a more solid midfield trio with Fabinho, Henderson and Wijnaldum, all of whom offer a good balance of defensive assurance and the ability to carry the ball forward and feed the attack.
That also leaves Shaqiri and Keita as potential game-changers from the bench.
Alisson; Trent, Lovren, Van Dijk, Robertson; Fabinho, Henderson, Wijnaldum; Salah, Mane, Firmino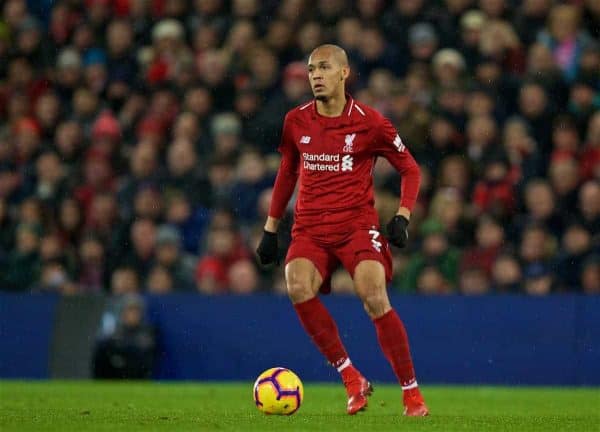 HENRY: I keep agreeing with Joel, which must delight him! I think he has nailed that starting XI.
There is no need to change the back line and Salah, Mane and Firmino look certain to start, unless an injury is detected before the match.
There is a nice little break before the City game next Thursday, so Klopp doesn't need to think too much about fatigue.
Fabinho should return to the side, hopefully helping dominate the Arsenal midfield alongside Henderson and Wijnaldum.
Keita and Milner are not 100 percent fit and Shaqiri can be a great impact substitute, although dropping him would feel a little harsh.
There is the option of playing the Swiss and retaining the 4-2-3-1—I certainly wouldn't be against that idea if Klopp opted for it, with one of the midfielders making way—but I think a 4-3-3 is more likely, given the calibre of opponent.
Alisson; Trent, Lovren, Van Dijk, Robertson; Fabinho, Henderson, Wijnaldum; Salah, Mane, Firmino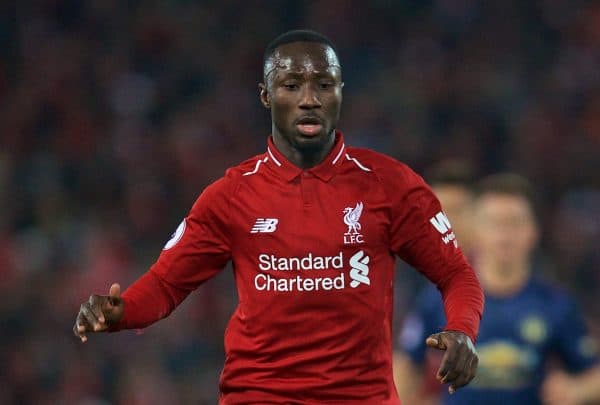 KARL: I'd go with the similar alignment as against Man United: Keita tucked in from the left, Mane right, Fabinho in the centre—either Henderson or Wijnaldum to partner him.
Normally Gini would be the clear pick, and probably still is after being rested for half an hour against Newcastle, but Henderson is clearly much better in a double pivot with another sitting beside and behind him.
Shaqiri drops out for me and the back five stays the same, of course.
Alisson; Trent, Lovren, Van Dijk, Robertson; Fabinho, Henderson; Mane, Firmino, Keita; Salah