Liverpool boss Jurgen Klopp has addressed the media ahead of the team's all-or-nothing Champions League showdown against Napoli on Tuesday.
The Reds head into the final group stage game needing a win, either by 1-0 or two clear goals, to reach the last 16.
Klopp has seen his side go top of the Premier League table but fail in away matches in Europe this season, to leave them in a do-or-die situation—but told reporters that he couldn't have hoped for anything else after the draw was made.
"From all the bad news getting the [difficult] group, the only good news is the last game is at home," he said.
"We know how difficult it will be, Napoli are in the better position but they deserve it. We need to be happy about the chance we have.
"If someone gives you the chance you have to take it. Belgrade probably played a different role in the group than other people expected.
"We have a chance, we will try everything."
Klopp was asked about Liverpool's good recent form on the domestic front, but says nothing will change about the team's focus and approach.
He also spoke once more about the need for a huge Anfield atmosphere as the players bid to create another memorable night under the lights.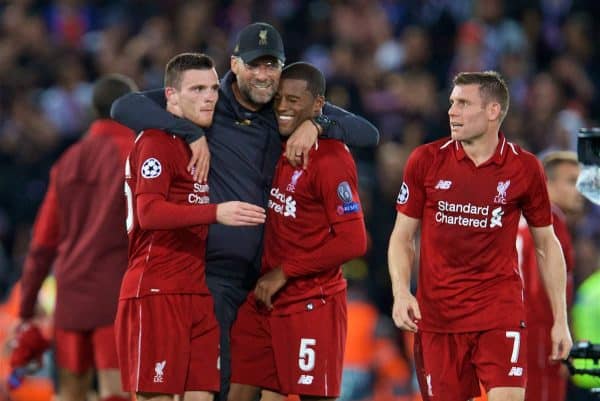 "I told the players, I really think if nothing special happens with referee decisions or whatever, we will get what we deserve.
"So, we need to be really good in both parts of the game, defending-wise and offensive.
"Now we have to create a special atmosphere with the way we play and use the atmosphere as well.
"I'm really looking forward to it, [it's a] big opportunity and we'll try everything to put it right."
Klopp led the Reds all the way to the final in Kyiv last season, having previously also reached the Europa League final.
There were many big Anfield nights along the way in both competitions—Dortmund, Man City, Roma—and now fans and players alike will hope Napoli are added to the list.