Midfielders and schoolkids at centre-back—but all isn't as it seems. Squad-building is a never-ending process and Liverpool have all the depth they need.
A week is, as the saying goes, a long time in football. Liverpool went into the new year unbeaten in the league, miles clear at the top and fully confident about everything they did.
Fans were largely united, full of praise for the team, the management and the club at large—and then the calendar year opened with back-to-back defeats.
The loss at Man City has been rightly accepted and put aside by most, a natural course of events in the football world, but the drab defeat at Wolves in the FA Cup has somehow taken on greater meaning for some, with specific regard to the Reds' squad depth.
Fabinho started at centre-back, Jordan Henderson was supposed to. That shows the struggles Jurgen Klopp has in the position at present, even before the last man (Virgil van Dijk is more than a mere mortal, surely?) standing, Dejan Lovren, also succumbed to injury.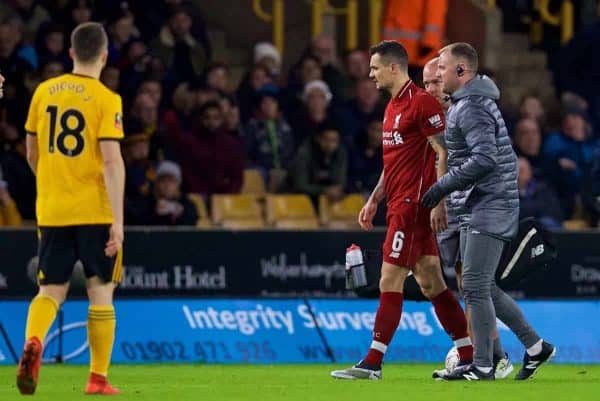 Enter Ki-Jana Hoever, a 16-year-old debutant in defence and sudden concerns over the Reds' title challenge. Some murmured, some shouted, but the premise was the same: After more than four years in charge for Jurgen Klopp and seven transfer windows including the current one, how could this be the case?
Simply put, it's not.
Liverpool have depth, better than plenty of other teams and certainly better than they have themselves previously, but the challenge of building a squad is constant, cyclical and never-ending.
Numbers and faces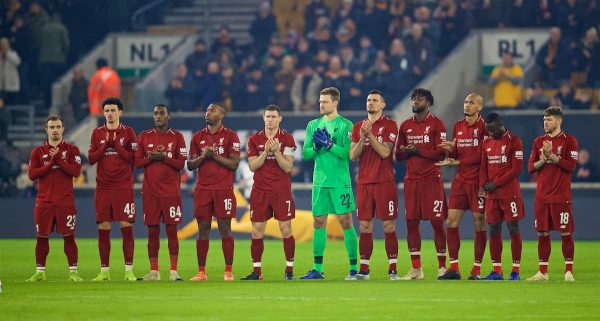 Liverpool have used 25 players across all competitions this season. Nothing particularly ground-breaking there; with youngsters and fringe players making the odd cameo, plenty of sides get past the 20-barrier every season.
In fact, it's a full 30 named in squads this term, with three goalkeepers, Dominic Solanke and Isaac Christie-Davies all unused subs on one occasion apiece.
But those numbers aren't reflective of Klopp's real, first-team squad, of course.
The true first-team is made up of 21 players, from Alisson's 2,430 minutes on the pitch to Divock Origi's 173.
General consensus is that the best, or strongest, squads are made up of two players for each position—so perhaps the Reds are one short of optimum, but Nathaniel Clyne was the 22nd man until very recently, so it has hardly affected results.
Indeed, given none of Clyne, Origi and Simon Mignolet have reached the 200-minute mark for the season for Liverpool, it shows that the end of that 22-man list barely features anyway: they are there as cover, for emergencies or specific situations.
Like injury time in the Merseyside derby, for example.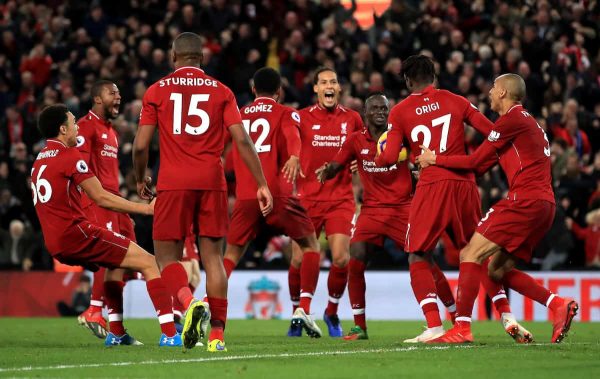 What of the others? Isn't depth about quality, as much as quantity?
Well, let's look at the main opposition in Man City. Are Fabian Delph or Oleksandr Zinchenko like-for-like back-ups for Benjamin Mendy? Very much not, neither in style nor trust.
In midfield, there's De Bruyne and the two Silvas, but apparently there's no backup for Fernandinho, not even Ilkay Gundogan, a 30-cap German box-to-box general who was specifically requested by Pep Guardiola when he joined the Etihad club.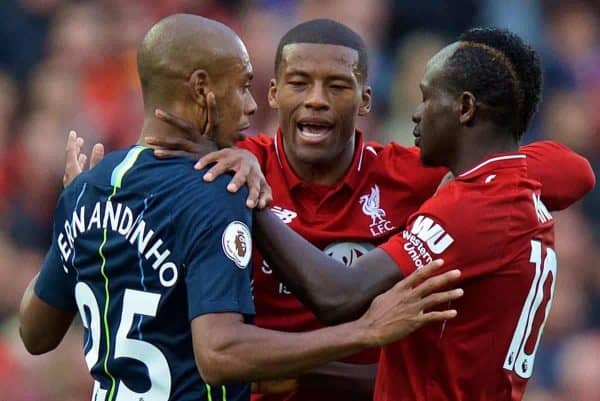 City don't have seven or eight central midfielders, they have those five and then 18-year-old Phil Foden. And if Bernardo Silva is counted as a central schemer, then in the wide forward roles they have three players for two positions: Mahrez, Sterling, Sane.
It is not a pre-requisite to have 22 absolute nailed-on starting-calibre players to win the title, nor even to mount a title challenge.
So yes, there's a drop-off in quality in certain areas. There has to be.
But that's also part of what allows Klopp to improve those he coaches, and stimulates competition for places at Anfield by encouraging the 'second string' to up their game.
The current situation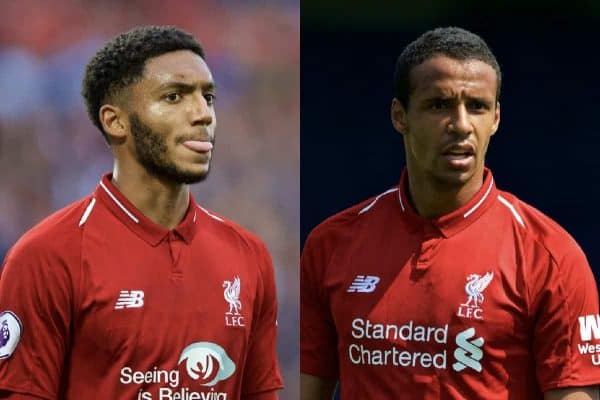 The real problem right now for Liverpool is centre-back. Lovren's absence is now added to that of Joe Gomez and Joel Matip, each of whom have impressed when given the chance this term.
So, should the Reds be in the market for a new defender? A loan, for this month, has already been ruled out by Klopp, given Joe and Joel will soon return.
But the fitness record of those three has been questioned and used as ammunition to suggest it was poor planning to not have another centre-back in place already—as though Liverpool's recent record in the transfer market has been anything other than meticulous, well thought-out and utterly successful.
Thirteen months ago, the Reds headed to Brighton in a similar situation: centre-backs out, down to one, midfield reinforcements drafted in.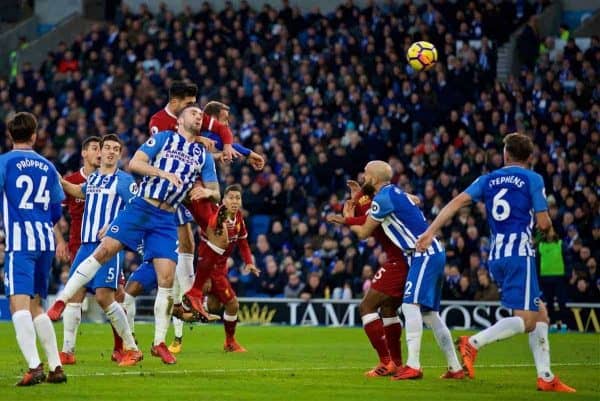 Gini Wijnaldum and Emre Can lined up either side of Dejan Lovren; Ragnar Klavan was sub, but ill, while Gomez and Matip were injured. The Reds won, of course, 5-1.
Fast forward a little more than a year and the same duo are sidelined, plus Lovren.
Should it have been accounted for? Not really.
Gomez's injuries have habitually been down to incredible ill-fortune, not least of all his latest one, sustained in a hard (but fair) challenge while out of his now-usual position.
Matip, meanwhile, suffered a broken collarbone defending in the last minute of a crucial, must-win Champions League encounter which the Reds were a single goal up in.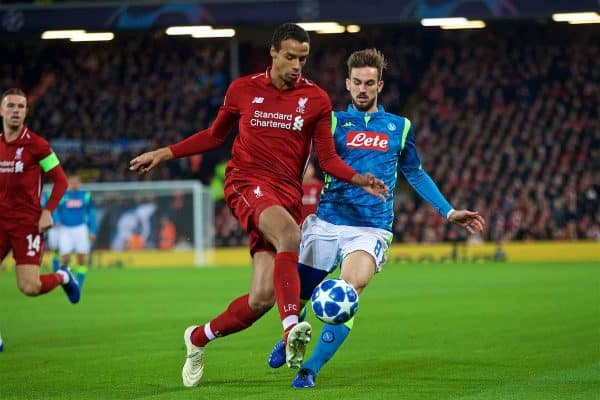 In other words, the exact type of fixture you'd like to think your centre-back might put his body on the line to win, even at the expense of injury.
Yes, he has suffered tissue and muscle injuries previously, hamstring and thigh most notably, but this isn't an "oh, he's injured again" absence. Impact injuries cannot be grouped with strains to conclude proneness or otherwise.
Lovren, in fact, has missed well over 160 days of action for the Reds in the past three-and-a-half seasons, but for a huge variety of issues spanning knee, pelvis, eye and hamstring.
It's improbable that three players in the same position are absent all at once.
That perhaps goes double for the fact it happened in the exact same position a year ago.
It's simply something to deal with at this point, and not by way of a quick fix in the January opposite-of-sales, when inflated costs would make even Van Dijk's transfer fee look like a Poundland bargain.
Squad-building, ongoing and eternal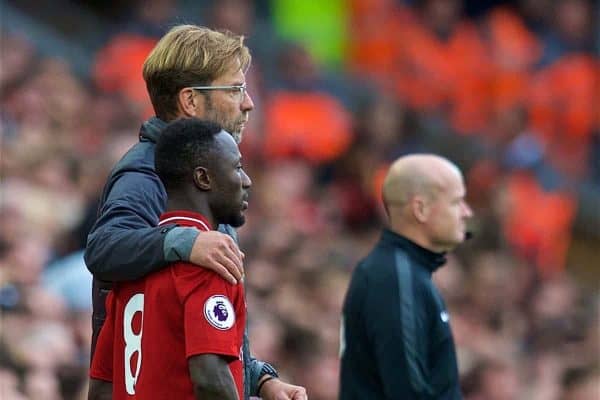 So, the Reds arrive to the summer, a fully fit squad and quite possibly hoisting a trophy or trophies aloft.
Should the Reds see out the season and win the Premier League title, does it indiciate job done for Klopp? That he has his squad, that it can't be improved, that the Reds go through summer merely waiting to regroup with the same players? Of course not.
As mentioned, this process is ongoing. Players' fitness and form can nosedive. A new recruit or prospect can make an undeniable case for inclusion and tip the entire tactical balance.
A player might want out for a new challenge or pay-packet. It happens.
And, of course, those at the very edges of the squad might be moved on.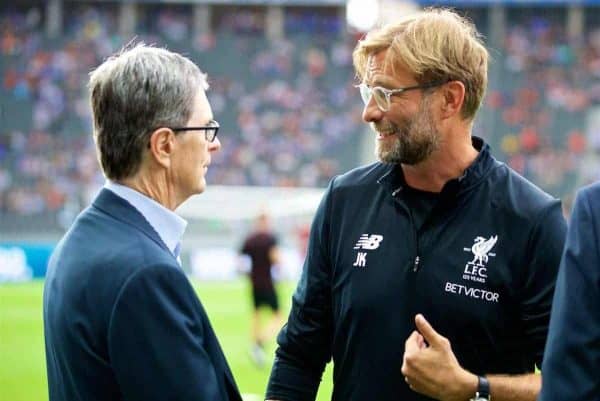 There is no end-point to squad building. Even if Klopp took hold of a fan, asked for their wishlist and signed Mauro Icardi, Isco and Matthijs de Ligt, it still wouldn't be done.
One might not settle in, or not suit a role in the team. They might not cope with the language, the Premier League style, the Liverpool weather. There are endless potential reasons and, even if they all worked to perfection, the knock-on implications would be that another player, previously a starter, wanted an immediate move.
And so the numbers go back down, and a new player must be sought, and so the process starts all over again.
It has taken time for Liverpool to find a centre-back partnership, for example, but Van Dijk and Gomez could fill that double-act for some time to come.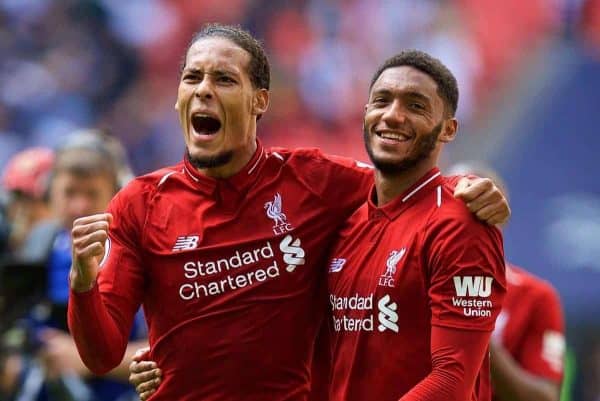 Man City's squad is the envy of many, but they haven't merely signed up Kompany, Stones, Laporte and Otamendi at once, either.
No; to reach this point of central defensive strength they had to trail and traverse through the murky waters of Eliaquim Mangala, around the festering swamp of Martin Demichelis and bypass the wilderness of Joelon Lescott, Dedryck Boyata and Matija Nastasic.
In holding midfield they didn't jump straight from Dickson Etuhu to Fernandinho, don't you know? This was a winding road which ventured past Owen Hargreaves, Jack Rodwell, Javi Garcia and Fernando.
Team-building. It takes time, perseverance and no shortage of trial and error.
Liverpool's errors have been well-documented throughout the Premier League years. But this squad is well-built; not perfect, but reliable, high-quality and utterly assured of its own ability.
And next year we'll do it all again—quite possibly as champions.