Liverpool supporters love discussing great moments supporting the Reds, but what about those that have completely ruined our days, months and years?
Drama seems to follow Liverpool everywhere they go, with the club almost defined by emotion and passion.
While they have provided us with some incredible memories down the years, from title wins to the Miracle of Istanbul, sad times have been provided by the bucket-load.
That has been particularly prominent in the Premier League era, as the title has evaded the Reds and trophies have come far too infrequently.
But what about the goals that have broken our hearts more than any other in our time adoring Liverpool?
We spoke to a selection of Reds writers and supporters to get their answers – here's what they went with.
Karl Matchett
Lucio – Bayer Leverkusen 4-2 Liverpool (2001/02)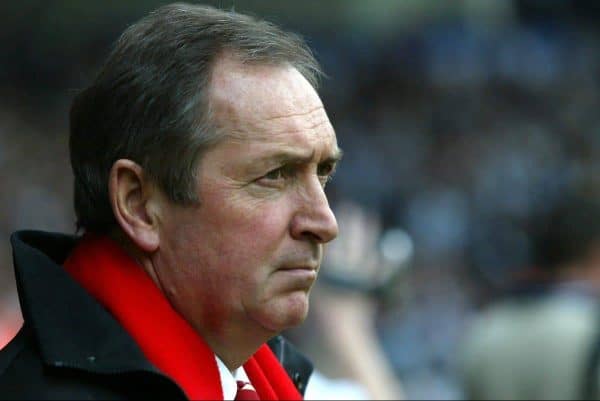 Not quite being a fully self-functioning human in the early-to-mid 1980s, the first great runs in the European Cup/Champions League I experienced were during Gerard Houllier's tenure.
Having listened to the stories, watched the videos and been told a billion times over by my dad, uncle and grandfather of how those European runs developed, it finally seemed as though one of my own was unfolding back in 2002.
A goal up and with Man United lying in wait in the semi-finals, it seemed perfectly set-up as the Reds headed to Leverkusen, and watching the game itself was a complete rollercoaster; behind, level, behind on aggregate, then Jari Litmanen had us going through late on.
They always spoke of the hardships, the close-calls, the memorable goals which made the difference; now Jari had one to go in the collection.
Until Lucio popped up in the closing stages, the mad rampaging bastard centre-back, and put all those dreams of European glory in the bin.
Joel Rabinowitz
Dwight Gayle – Crystal Palace 3-3 Liverpool (2013/14)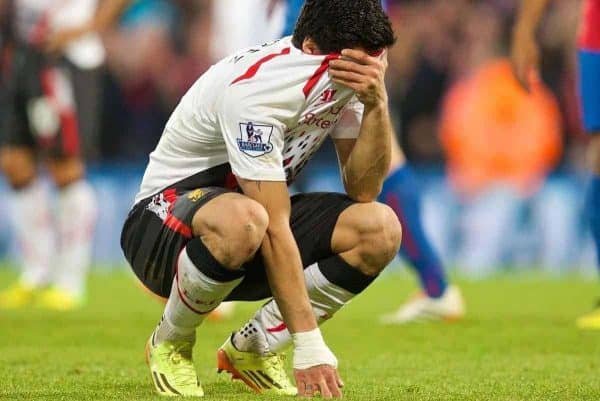 This one stands out as particularly excruciating for me as I was at Selhurst Park for this fateful fixture in that oh-so-nearly season under Brendan Rodgers.
In truth, it was the Chelsea loss which cost Liverpool, as a win against Crystal Palace still would've seen Man City finish top on goal difference, but this was the game that put the nail in the coffin.
All those hopes and dreams which had been built up by this remarkable Reds side riding the crest of a wave to unexpectedly challenge for the title were brutally crushed in that very moment.
To be in the stadium and watch that 3-0 lead dissipate in the final 15 minutes really felt like the life had been sucked out of you in that moment.
Everyone knew it was over, and the sheer jubilation of the surrounding Palace fans just intensified the anguish. It's the worst I've ever felt watching a football match, and one I wish I could wipe from memory.
Jeff Goulding
Michael Thomas – Liverpool 0-2 Arsenal (1988/89)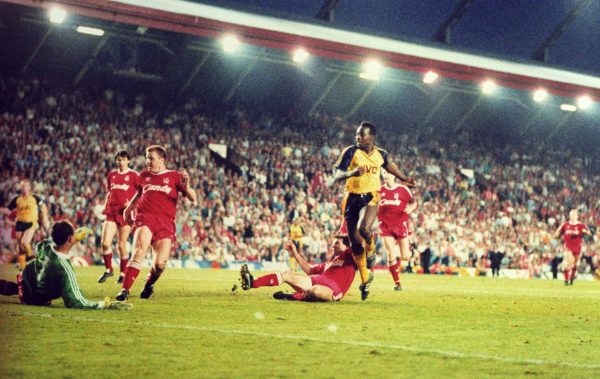 It's May 23, 1989. I'm on the Kop, under the floodlights. Liverpool are on the cusp of a second league and cup double, after vanquishing Everton at Wembley just three days earlier.
It's been an arduous season. While the mere glint of silverware couldn't wash away the pain of April, I hoped – believed even – that May would provide a glimmer of joy.
Our opponents and rivals for the title were Arsenal. They sat three points behind Liverpool and goal difference meant that they needed a miracle.
Even a 1-0 defeat would see us crowned champions. Liverpool losing 2-0 at home in the 1980s was almost unheard of.
In the dying moments, Steve McMahon issued a final rallying cry. "One more minute," he shouted. Just 60 seconds stood between us and eternal glory. A huge roar filled the air.
Then it happened.
Memories of Michael Thomas running through on goal, Bruce Grobbelaar's futile attempts to block before the ball rippled the net – they haunt me still.
The explosion of joy in the away section, juxtaposed with the gut-churning horror on the Kop – still too much to bear.
Henry Jackson
Ole Gunnar Solskjaer – Man United 2-1 Liverpool (1998/99)
January 24, 1999 was the day before my 12th birthday and my dad took me to the pub to watch Liverpool visit Man United in the FA Cup fourth round.
There was no Sky Sports at home at the time, so it felt particularly special.
Approximately 70 percent of my mates at school were United fans – I'm from the south, what do you expect? – and the thought of losing was unthinkable.
Typically, horrendous traffic meant I missed Michael Owen head the Reds into a very early lead, but I got to the pub about 10 minutes in and watched them desperately trying to hold on for the remainder of the contest.
Just as it looked as though my birthday and Monday morning would be spent bragging, Dwight Yorke went and scored a painfully late equaliser.
Gutting, but at least Liverpool would take them back to Anfield for a replay, right? No.
Instead, Ole Gunnar Solskjaer won it for United deep into stoppage time, reducing me to tears and giving me my first truly heartbreaking moment as a fan.
Sachin Nakrani
Demba Ba – Liverpool 0-2 Chelsea (2013/14)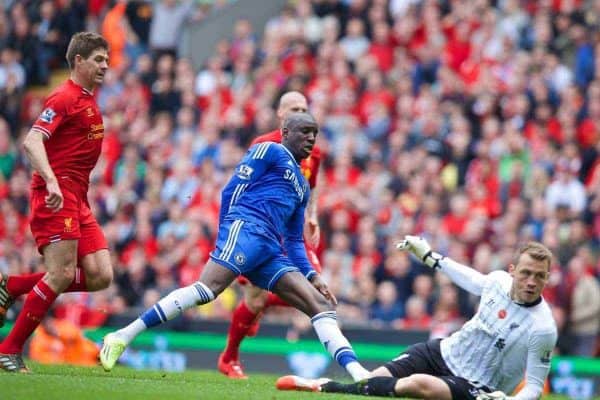 Sometimes the obvious choice is the right choice. I could pick another goal but the truth is none have hurt me more than the one we all remember and may never forget.
I was at Anfield that spring afternoon and remember leaving my seat in the Main Stand and heading for the toilets on the presumption the first-half was about to end 0-0 when I heard someone scream with agony.
"What's happened?", I asked having turned back. "Gerrard's fallen over!" they replied. I looked towards the pitch and saw him – Demba Ba – running clear. From optimism to desolation in a matter of seconds.
I've never watched the game back. I have seen the goal again, however, and something needs addressing. Yes, Steven Gerrard was at fault, but Simon Mignolet could have done better.
He came out and made himself big, but not big enough and the shot, one that wasn't hit hard or decisively, went through him with ease.
Classic Mignolet and classic us, some would say. Let's hope 2018/19 is a whole lot different.
Matt Ladson
Eric Cantona – Man United 1-0 Liverpool (1996)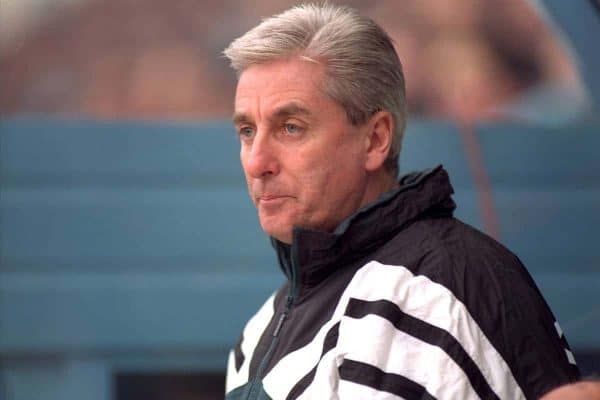 Having grown up in the nineties, I still have fond memories of the 'Spice Boys' era purely because the football was exciting and we had some very exciting players. There also wasn't quite the same feeling of desperation to win the title then, whether due to only being young or less than a decade since No.18.
Having won the League Cup in '95, an FA Cup final victory over United in '96 would have perhaps given Liverpool the belief to go to that next step, and prevent Fergie's lot from overtaking us at the top of English football.
Cantona's goal, arriving as it did, summed up Liverpool's inability at the back and United's seemingly endless luck during this era.
I'd decked the house with all the Liverpool Cup final flags and the papers, had Pass n Move on repeat all morning… then we produced that display. After Cantona's goal I locked myself in my room for the night and didn't speak to anyone for a good two days or more, being sick for school on the Monday.
Ian Salmon
Charlie George – Liverpool 1-2 Arsenal AET (1971 FA Cup final)
Charlie George is, quite possibly, a genuinely lovely bloke. Perhaps the kind of guy you'd enjoy a pint with if you bumped into him in a pub. An ex-pro who could regale you with stories of his glory days that could enrapture you for hours.
I've no idea. I've studiously avoided acquiring any knowledge of Charlie George since May 1971. I hate Charlie George. I want nothing in my life that prevents me from hating Charlie George. Nothing personal, like. But…
I was seven years old. Seven years old is a great time to see your first FA Cup final.
In fairness, the first FA Cup final of my life was six years earlier when the lad I'm named after brought it home for the first time. But I was eighteen months old and not paying attention.
Seven years old. All anticipation and hope and belief that this team in red that my dad adored would be coming home with the real version of the cut out cardboard and silver foil cups that we had at home for the day.
I remember nothing of the game, I remember nothing of the goal. All I remember is Charlie George flat on his back, his head raised, his arms outstretched in victory, waiting for his team mates to join him.
I remember his hair. Even at seven, even at the dawn of the seventies, I knew this hair was a bad fashion choice. If I'd known the word 'smug' at that point, I'd have used it. If I'd sworn, I'd have sworn. I had neither to aid me.
All I had was a hatred of Charlie George for ruining my day. I hated Charlie George in May 1971. I haven't managed to stop yet.