Liverpool were back to their best as they recorded a 5-0 win over Watford, with the full-backs emerging as a key point of discussion after a stunning display.
The Reds welcomed Watford to Anfield off the back of a frustrating performance against Manchester United last time out, but it was chalk and cheese for Jurgen Klopp's charges this time as Liverpool ran rampant.
Sadio Mane set the Reds on their way to victory with two goals inside the first 20 minutes, before a further three unanswered goals were piled on in the second half through Divock Origi and a double from Virgil van Dijk.
The result ensured Liverpool remain top of the Premier League table ahead of their visit to Goodison Park on Sunday.
This Is Anfield trio Joanna Durkan (@JoannaDurkan_), Henry Jackson (@HenryJackson87) and Matt Ladson (@mattladson) were on hand to breakdown the victory and assess the importance of the full-backs in Liverpool's title hopes.
The good…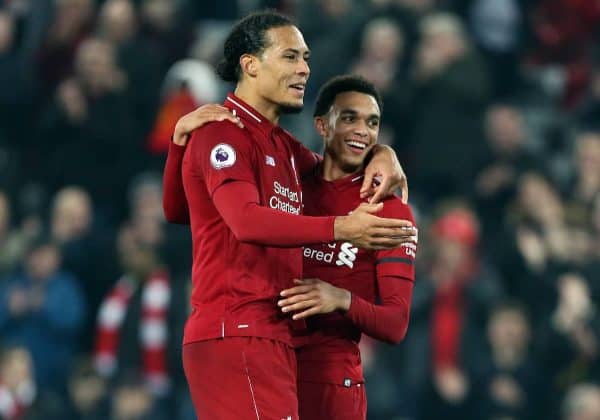 JOANNA: Where to start? From front to back Liverpool were superb and after a disappointing performance at Old Trafford it was pleasing to see us back to our fluid and dominant best.
Trent was the clear standout for me. A hat-trick of assists underlines that it was arguably his best performance in a Liverpool shirt – his deliveries are truly something to behold; more of those in the last 10 games would be fantastic.
Similarly, I thought Fabinho again proved how instrumental and vital he has become in the middle of the park.
He's always in the right place at the right time and his work rate to track back and dispossess Deulofeu was a thing of beauty, not to mention his composure and eye for a pass – the midfielder we have long needed.
Van Dijk was imperious as ever and Mane thrived playing through the middle in what was an inspired and surprising move from Klopp.
On the whole it was a statement performance and result which showed no signs of nerves or pressure after a mixed bag of results in recent weeks, and a fourth clean sheet in succession after just one in the previous seven games cannot be understated.
A Liverpool side full of swagger and belief is hard to stop and the same treatment must now be dished out to Everton on Sunday as momentum will be key as the season moves into the final stages.
HENRY: It was a fantastic response after a dour performance at Man United, acting as a statement moving forward.
The football on show was superb at times and there seemed to be much more cohesion about the display – a great effort considering Firmino was out.
Trent's first-half showing was one of the best I've seen by a Liverpool full-back, showing why he has been such a big miss in recent weeks.
Fabinho put in a No. 6 masterclass, and Mane was obviously a menace as well, scoring an outrageous goal and looking the part in a central role.
In truth, the vast majority of the players excelled, from Matip and Van Dijk – great to see him score twice – to Milner and Salah.
Four clean sheets on the spin shows that the sloppiness against Leicester and West Ham was only a short-term issue.
There was very little to criticise on the night.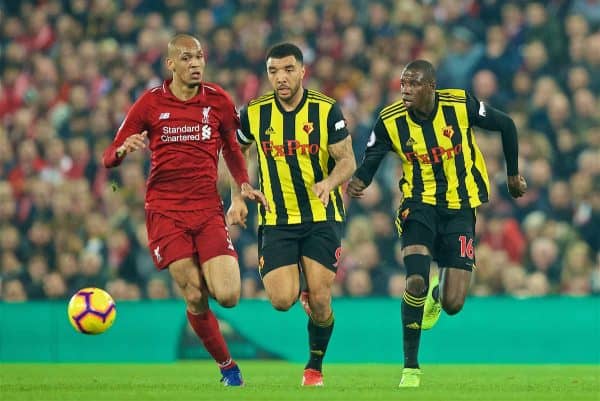 MATT: Obviously I can't disagree with any of what Joanna and Henry have already said, and echo their thoughts on the standout trio of Trent, Fabinho and Mane.
I'd like to add some praise for Joel Matip. A dominant team performance starts from the back in that when the opponent begins an attack, if we defend high and stop the attack before it begins then we remain on the frontfoot.
Matip has really settled alongside Van Dijk now and the two of them work like a partnership should do, with Matip usually the one attacking the ball and Van Dijk protecting behind. He's been vastly improved lately.
Overall, both collectively and individually Liverpool were superb.
The bad…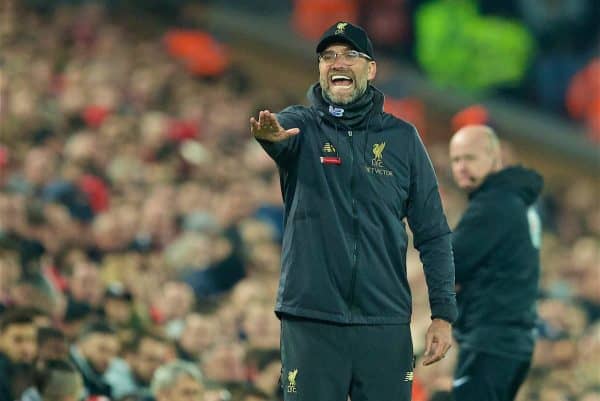 JOANNA: You know it has been a good day at the office when you're scratching your head trying to pick apart a performance for any negatives.
From Sunday to Wednesday the difference in the level of performance is stark and it's a credit to the team that this time round the positives far outweigh the negatives.
No performance is ever perfect, but this was pretty close from the Reds and the only thing I can pinpoint is that perhaps Liverpool could have made more of the chances in front of goal – and that is a stretch in itself.
And what I mean by that is sometimes the Reds try to make their play in and around the box too intricate rather than letting fly when an opening presents itself.
HENRY: When you win 5-0 it is really is hard to find much to whinge about.
Man City winning 1-0 against West Ham was a shame, but then we all know they are going to keep racking up points from now on. Liverpool simply need to focus on themselves.
I don't think Robbo is at his very best at the moment, with a few not-so-perfect moments thrown in, but that is being extra picky.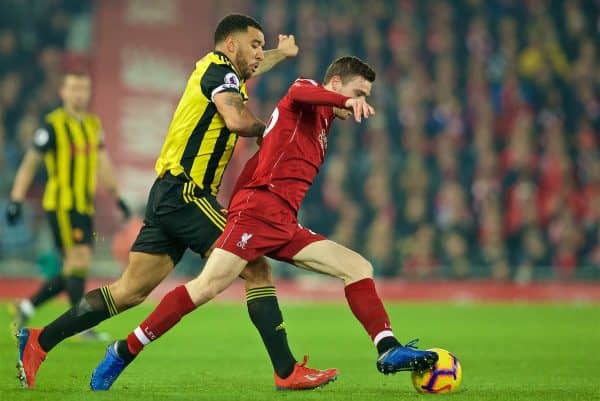 MATT: There's nothing bad at all. The atmosphere was decent enough too for a midweek match against Watford, the crowd are in it for the season run-in.
I do get what Joanna is saying though and I miss the days where we'd score goals from the edge / outside the area, we don't get many of them thesedays. A midfielder who can unleash something ala Gerrard would be nice. Apparently we wanted some lad called Nabil who does that.
And with the midfield lacking scoreboard impact, how imperative are Robertson and Alexander-Arnold to Liverpool's title hopes?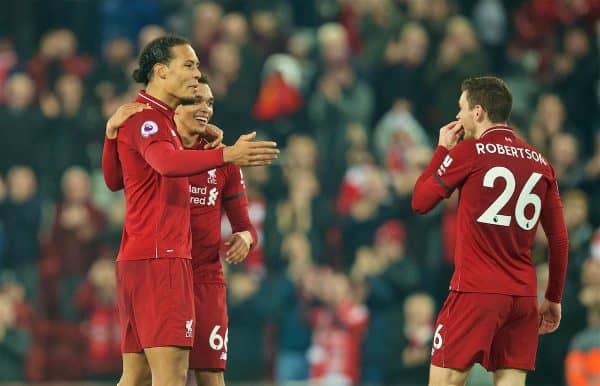 JOANNA: While the two are not the first names you would pick out as Liverpool's most important players, it's becoming apparent that if one or both of the full-backs fail to hit their stride than Liverpool struggle to create chances in front of goal.
The pair are both in the top 10 in the league for assists this season, with Robertson on eight and Alexander-Arnold on six, five more than Liverpool's entire midfield have collected thus far.
Their deliveries into the box and runs outside of the front three, for me, are imperative to Liverpool and we only have to look to Trent's absence against United to see the drop in output if others fail to fire.
Robbo and Trent bring the best out of both Mane and Salah respectively and their quality out wide adds a different dimension to the Reds' game, and a combined five assists against Watford only proves how vital they are to adding a creative spark and establishing an avenue to goal.
They are the perfect duo for Klopp's style of play and dare I say the best full-back duo in the Premier League.
HENRY: Robbo and Trent are two of Liverpool's most important players.
They are part of a sizeable group of roughly seven or eight individuals in that respect (Alisson, Van Dijk, Fabinho, Salah, Mane and Firmino also included).
The energy that they provide from those full-back positions gives the Reds an extra attacking dimension – when they are both on-song it is a sight to behold.
They display everything that is great about Klopp's style of play, combining technical quality with direct running and ever-improving defensive work.
The midfield can be a little one-dimensional at times, so their ability to affect matters in the final third will be vital between now and May.
Salah looks a different player when Trent is in the team and he and Robbo's attacking forays create space for those around them, with the Scot often great in tandem with Mane.
They are both gems of footballers and there is a reason why they were recently rated as the highest-valued full-backs in world football.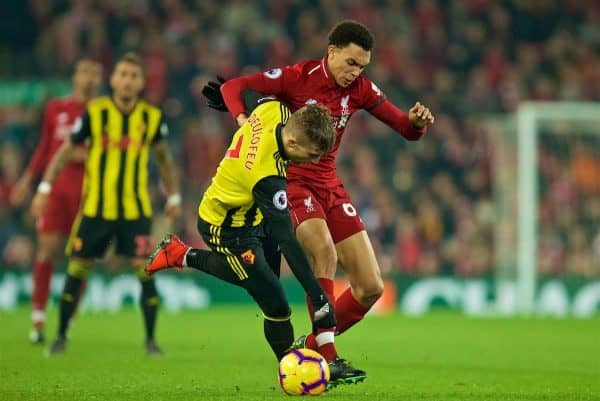 MATT: Especially when we play 4-3-3, they're vital.
Our 'wide' forwards don't play wide at all and are 'inside' forwards – which is different to how City setup with Sterling/Sane/Mahrez playing much wider and their full-backs often moving into midfield.
The big issue for Liverpool is that beyond Trent and Robbo they have very few quality options and that must be addressed in the summer. In all honesty, a game like Watford at home should be an opportunity to rest one of the regular full backs and play their deputy.
It's a big ask for Trent and Robbo to play every game for the rest of the season, but we need to ask them to do so.