After the £30 cap on away ticket prices in the Premier League was extended for the next three seasons, we look at the title race, the importance of travelling fans, and why this cap should be lowered further.
"Jurgen's cracking up," sang the Man City fans as they filed out of Goodison Park last Wednesday, having just watched their side see off Everton.
It was one of those ghost games which takes place in midweek—not shown live, and no MOTD highlights—but unlike many such games in the past which can go unnoticed, this one didn't.
The away fans were jovial. Typical City. The City which spent seasons in the lower leagues and seemed to quite enjoy it, singing songs about the Invisible Man and poking fun at themselves rather than the standard of opposition they came up against.
They were singing about Manuel Pellegrini, whose West Ham side had held Liverpool to a draw on the Monday, just as Liverpool fans had belted out the name of Rafa Benitez at Anfield after his Newcastle side defeated City.
They might sing songs of former managers anyway, but the welcome and continued presence of Pellegrini and Benitez in the Premier League, affecting the title race, adds to the entertainment.
They were also singing primarily about their own side, just as Liverpool fans do.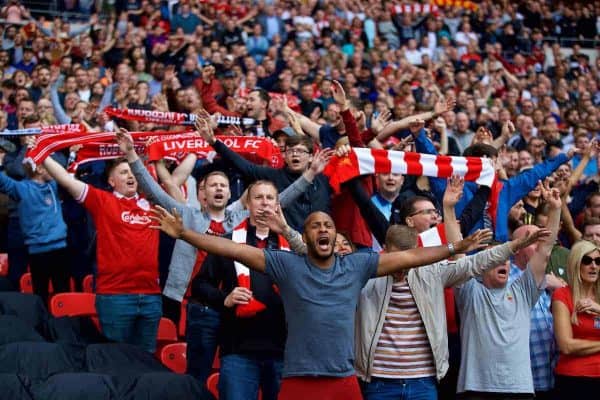 The occasional moment was reserved for their title challengers, as well as Man United, similar to the barbs of travelling Reds aimed at Everton, Man United, and, erm, Nottingham Forest.
But this was support of the team with humour thrown in. There were no nerves, even at 0-0.
Chants of "sit down for the champions" were directed to a disgruntled Park End, who may have been buoyed by the fact their team were in the game until the end in terms of getting a result, but they weren't going to stand regardless of what the City fans threw at them.
For the travelling Kop there may be the usual individual worries which have become ingrained in Premier League era Reds fans, but as a whole Liverpool's away support isn't nervous either.
Away games are more a celebration of the bigger picture of what is happening at this club, rather than trepidation at the possibility of not winning the league.
Contrast these emotions to those experienced at home.
Home Truths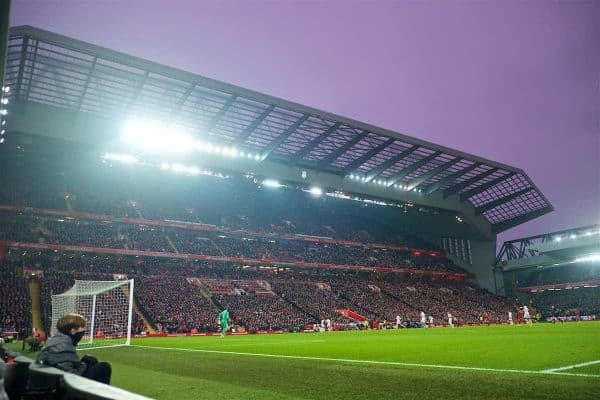 The Etihad has become a hive of expectation. The Tunnel Club wants to be entertained and the new generation of City fans expect to win and win like Barcelona did under Guardiola.
There are Emirates-esque pockets of anger and annoyance when things don't go their way, and even though a section of their support—probably those who also travel to away games—maintain some of the Maine Road spirit, they are now a minority.
Anfield, meanwhile, can be a bag of nerves.
Klopp thought he had eradicated this by replacing Simon Mignolet with Alisson and bringing Virgil van Dijk into the defence, but there can still be a lack of confidence which gives the impression there are still more doubters than believers.
Maybe the lack of atmosphere at the Etihad is better for players than the tense nervousness which can engulf Anfield, but it's not better for the game as a whole.
The Kop tries to get things going when the chips are down, even after opposition goals, but sometimes they are fighting a losing battle.
Even Klopp himself has gestured his anger towards the Main Stand when it groans at some slight mistake on the pitch.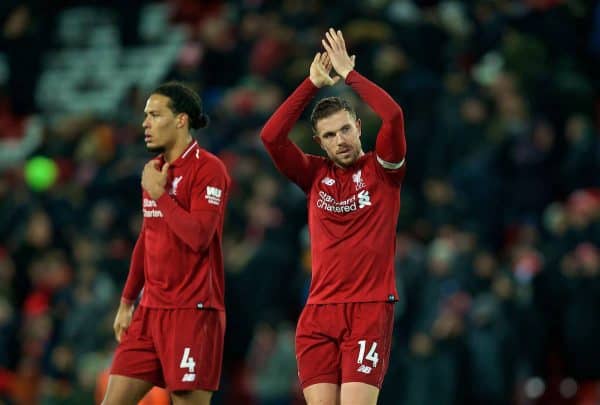 "It sounded like it [was nervous]," Van Dijk said of Anfield after the draw at home to Leicester, and though he said it doesn't affect him, not all players are the same.
"Nah, not to me! But, obviously, you get that feeling as well from the crowd and I think it's not really necessary at the moment.
"But, obviously, everyone wants to win so bad and that's what we want as well but sometimes you need to be very patient."
This was certainly improved in the 3-0 win over Bournemouth on Saturday, and this must now be extended across the rest of the season.
The Importance of Away Fans – Twenty's Plenty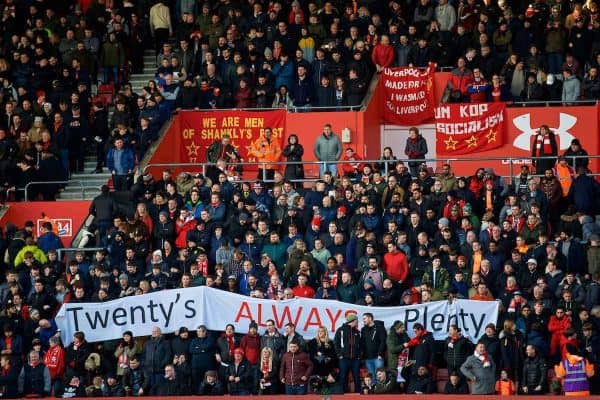 But either way, this shows the importance of away supporters, not just in a title race but in football generally.
On the rare occasion that there is a decent atmosphere at a Premier League game, it is almost always triggered by the travelling fans.
Most sets of away supporters sing the same set of songs, regardless of the club they are supporting, but they do sing, and it does help to create an atmosphere.
If you wonder why you can only hear the away fans when watching a game on TV or online, it's because broadcasters want to transmit the best product, so will turn up the mics near to where there is singing—which, more often than not, is from the away fans.
They'll quickly turn it down again if said singing is unsavoury!
For the most part they can predict what they will hear. The usual renditions of "is this a library?" and "your support is fucking shit" can be heard at almost every game from unimaginative away fans.
But other groups of away supporters have their own creations.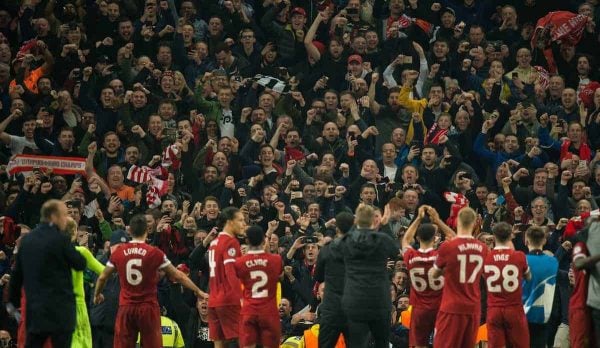 They sing about their own team as well as their bitter rivals. The northwest clubs are among the best for this, with Liverpool, Everton, City and United all boasting a number of original creations.
Further south towards the Midlands, clubs like Stoke City and West Brom will have their own signature tunes, which make for a much more enjoyable afternoon than hearing the umpteenth airing of "is there a fire drill" as some bloke goes for his half-time pie five minutes before the end of the half.
There's nothing like the West Brom fans' version of 'The Lord Is My Shepherd' (except maybe Schalke 04 fans signing Mike Oldfield's 'Moonlight Shadow').
Some sets of supporters may have playlists which are no more imaginative than that of a commercial radio station, but they regularly light the touch-paper for the home fans to become more involved in the game.
It's for this reason that the recent decision to extend the £30 cap on away ticket prices for another three seasons is welcome, but that there was doubt in the first place is worrying.
Great news for supporters and a victory for those who campaigned for its introduction and to be continued.

No one just gave fans this – fans fought for it https://t.co/qgddBmXc8R

— Jay McKenna (@JayMcKenna87) February 7, 2019
If there are any rumblings of this changing, it should be in the other direction, supporting the Twenty's Plenty campaign.
If away fans can no longer afford to go to games—and this is about travel costs, kickoff times, and time off work as much as it is ticket prices—then away sections will become more and more like many of the sections of home support, or empty.
Where will the TV companies direct their microphones then? What's a relegation scrap or a title race without fans there who care? Lower ticket prices are in the interests of the TV companies, too.
Average away capacity in Premier League: 2,800.

Average broadcasting revenue for Premier League club last season: £121m.

Reduction in ticket prices from £40 to £30 would cost club £532,000 per season. Or just 0.4% of average broadcasting revenue alone.https://t.co/Rp90cHk0lJ

— Daniel Storey (@danielstorey85) February 6, 2019
In this season's title race, there's a feeling that away supporters of the clubs involved are detached from many of the petty issues argued among fans on social media.
There is no bottling it on these terraces, and win or lose they will have enjoyed the ride.