Jurgen Klopp expects Liverpool to find a better performance level when Watford visit Anfield on Wednesday night in the Premier League.
The Reds are top of the Premier League after taking a point from their game in hand on Man City, but the full-time whistle was bittersweet at best at the weekend.
Liverpool should have beaten a woeful and below-strength Man United side, but failed to find the rhythm or creativity in their game to take victory, thus moving just a single point clear of City at the top.
A chance to quickly get back to winning ways is offered with the home fixture against Watford, and Klopp acknowledges that the Reds will have to be prepared for the varying approaches of the away side.
Even with a key game at the weekend for Watford in the battle for seventh place, when they face Leicester, Klopp told reporters he's sure that their focus will be fully on getting a result against Anfield.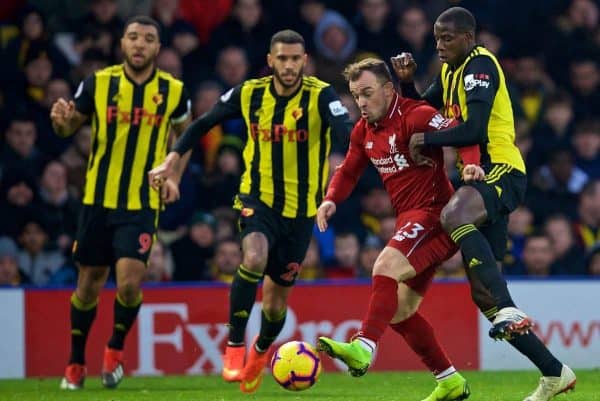 "I dont think that ever, any manager thought about a game on Sunday when they play on Wednesday.
"They are on a good run, have different styles of play; against the top six they don't have possession but [are a] good counter-attacking threat, from set pieces, second balls, deep defending all that stuff.
"Against other teams they are much more proactive. We need to be ready for both but probably we will have the ball for some time in the game and need to be ready for that."
In terms of team news, Klopp gave a positive update on Roberto Firmino's injury—but also noted that Naby Keita had missed training on Monday due to illness.
Reporters also questioned Klopp on Brendan Rodgers' seemingly imminent switch to Leicester City—and while wishing him well, the Reds boss was glad it wasn't a team closer to the north-west that Rodgers was heading to!
"As long as he doesn't go to Everton it's fine because if he goes there he'll want his house back!
"If it happens, wherever he goes I wish him luck because he's a good guy."