Liverpool lost their grip on top spot in the Premier League after a 0-0 draw with Everton, leaving plenty of debate around just how problematic recent form has been.
A succession of draws, four in the last six league games, has seen the Reds' lead at the top gradually whittled away, and while nine matches remain, Man City are now top.
The draw at Goodison Park was frustrating and preventable in equal measures, but missed chances and a lack of cutting edge combined to produce a second goalless 90 minutes on the road in a row—against the Reds' two biggest domestic rivals.
This Is Anfield's Karl Matchett (@karlmatchett) spoke to Guy Drinkel (@guydrinkel) and Matt Ladson (@mattladson) to get their thoughts on the game and on a hotly debated topic: Jurgen Klopp's use of his bench players.
The good…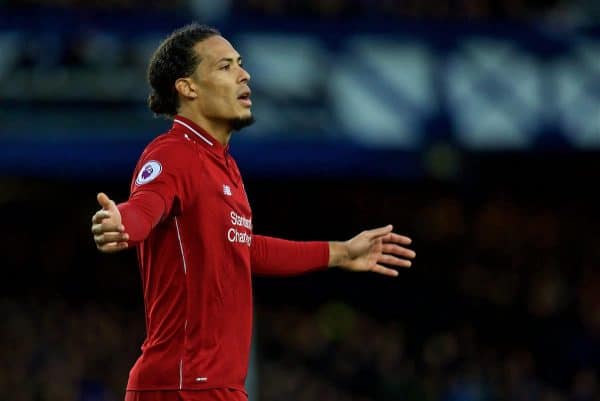 GUY: I thought the positives continued to be with regards to the defensive part of the team.
Right down the defensive half of the spine in fact, as Joel Matip and especially Virgil van Dijk continued their good form together.
I like the dependability of this centre-back partnership; Matip may make the odd dodgy pass, or be slightly passive, but you know he's not going to implode in a game.
Also his runs from deep are just funny, he's definitely scoring a Maradona special. Van Dijk is simply a babe.
Fabinho also played OK but perhaps trailed off slightly compared to his usual high standards that we've come to expect over the past couple of months.
MATT: The obvious: Van Dijk. The rest: not so good. I thought both Henderson and Trent started well, but both then faded and Henderson in particular there.
Henderson has one goal in the last two seasons—if he's going to play a more advanced role as he did here, he needs to actually offer a goalscoring threat. A familiar issue for Liverpool's midfield…
Struggling for any other positives really.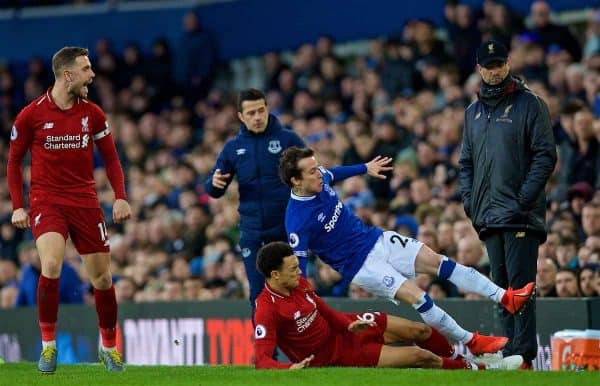 KARL: In the first half, the movement was decent. We split Everton open at least four times with a quick pass and good off-the-ball running, and that alone should have sealed us three points.
Van Dijk was imperious, absolutely magnificent, and his bark at Fabinho in the second half for conceding possession too easily could simultaneously melt hearts and make them quiver in fear.
That might be about it, other than a fifth successive clean sheet, which is absolutely fantastic and deserves more notoriety than this result will let it get.
…the bad…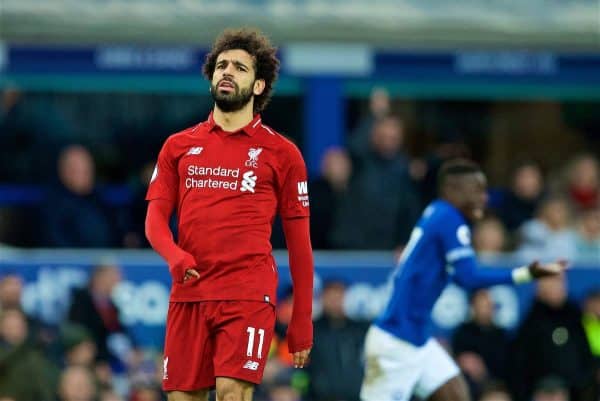 GUY: For the negatives, I have to look at the rest of the team really.
The front three were absolutely awful, the two No. 8s in midfield offered absolutely nothing, other than one through pass by Jordan Henderson.
I expected more from Gini; a few weeks ago we saw him chipping a goalkeeper with minimal effort and these last two away games I forgot he was actually playing.
A player of that ability should be able to step up, but unfortunately, he goes missing far too often for my liking.
The full-backs went on to have the complete polar opposite performance to against Watford, as Andy Robertson almost made Theo Walcott look Premier League-standard again.
MATT: I could take a point at Goodison if in isolation, but coming now so that it's five draws in seven games in all competitions, and the third consecutive 0-0 in 'big' games against United, Bayern and in the derby, it's a disappointing result.
Draws — forgive me if you've read this before from me — are what cost titles.
Most concerning is how we either seem to blow teams apart, a la Watford, or completely lose any clue on how to break down an opponent.
Salah has rightly been talked about after those poor misses, he started well and was a threat, but he loses his focus when he misses good chances like those. He really needs to do better there.
I think, again, how Torres and Suarez would have responded in a derby and I think it would have been different.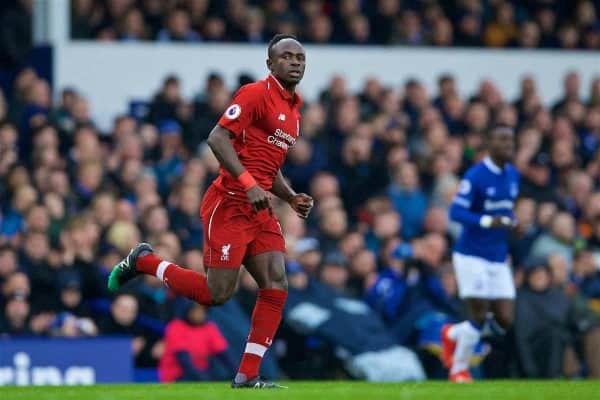 KARL: Finishing, finishing, finishing. There's not being clinical, and then there's spurning golden chances in key matches.
I really expected Salah to score against Everton; his movement and touch and explosivity is all there and he had at least two brilliant chances—one has to be taken.
But it's not all on him, and too many weren't forceful enough when it was apparent the match was drifting away from us.
Origi reverted to type, the midfield threat was non-existent and the delivery from wide and set plays was, after a one-game reprieve, poor.
Nobody in central midfield battled and scrapped and demanded that we regain the rhythm of the match after the break, when Everton had a good 20-minute spell of pushing for a goal of their own.
That's a real failing of our midfield still. The last 15 were simply a non-event and that's just appalling. I hate draws.
…and what are your thoughts on Klopp's use of the bench?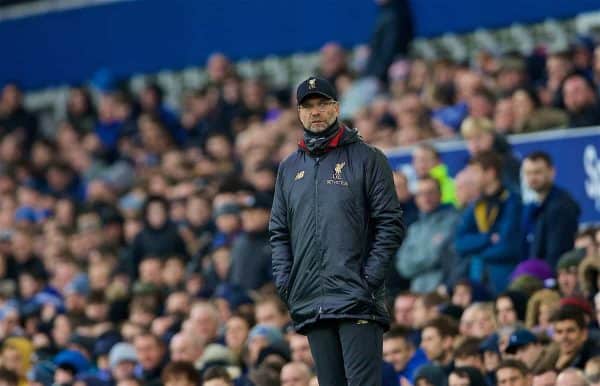 GUY: The substitutes were absolutely baffling. Bobby Firmino you can understand, as he's one of best players, but to take off Divock Origi doesn't change the attacking impetus of the game.
James Milner is obviously more attacking than Gini and Henderson combined but he's not exactly an impact type of player.
The Adam Lallana sub was simply disheartening, I saw him getting ready to come on and simply gave up hope of winning the game—but taking off Sadio Mane just added salt to the wound.
MATT: Pre-match we looked at that bench and thought how attacking it was, how many good options there were.
And then we ended up bringing on Firmino, Milner and Lallana and left Shaqiri, Sturridge and Keita watching on as we struggled for any creativity.
There's been talk that perhaps Klopp was content with a point and I think this is proven by both his subs and his words post-match. There's no way on earth you make those subs if you actually want to 'go for the jugular' and win the game.
Lallana's last goal was May 2017, I have no idea why we're bringing him as the wide forward with 10 minutes to go when needing a goal in the derby.
Earlier in the season we lauded our options from the bench, but Shaqiri and Sturridge now hardly get a look-in.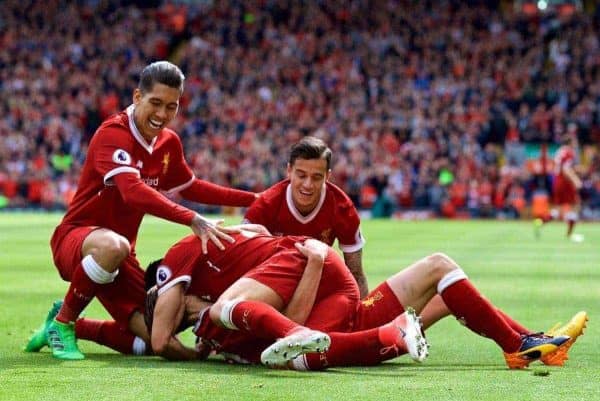 KARL: Like the answers above, I have zero understanding of why Lallana came on ahead of the other three options, each of which has already significantly impacted a match as sub this season.
Clearly Shaqiri has done something to upset the boss; his form has been poor in his 2019 performances but you can add 2018 and 2017 to that for Lallana.
A few weeks back Shaqiri was being heralded as the reason we didn't sign Christian Pulisic, so to not even get a look-in recently is bewildering.
If Lallana was going to offer anything to change the game, it would have been as the midfield change instead of Milner earlier in the match—not as the last-ditch throw of the dice to create or score a goal, neither of which he has done in the league in over 650 days—since the image above against Middlesbrough, in fact.