Liverpool are enjoying their best-ever title challenge in the Premier League era, but there is a case of the Mandela Effect in play, writes Andy Campbell.
Modern mainstream media demands a churn of fresh material for us to consume and obsess over.
Clicks, views, likes, shares and most importantly in their business model, exposure for associated sponsors and commercial partners.
There's definitely been a push, in some circles, to create a narrative thread around Liverpool's 2018/19 vintage. Draws at Old Trafford and Goodison have amplified that noise.
The suggestion is Liverpool are succumbing to the pressure of ending Anfield's long wait for a league flag; that previous title-chasing Reds sides endured the same fate and, most bizarrely, that the current team has been fortunate over the course of the season.
Last season the problem with Klopp's brand of football was, allegedly, its all-or-nothing nature. The inability to grind out wins or, dare I say, draws.
This time around…well I'm more than a little perplexed. From what I can gather, the criticism is that they've managed to remedy that issue.
The air is saturated with revisionist views, twisted to fit the conclusion of this particular 'I told you so' tale.
The Mandela Effect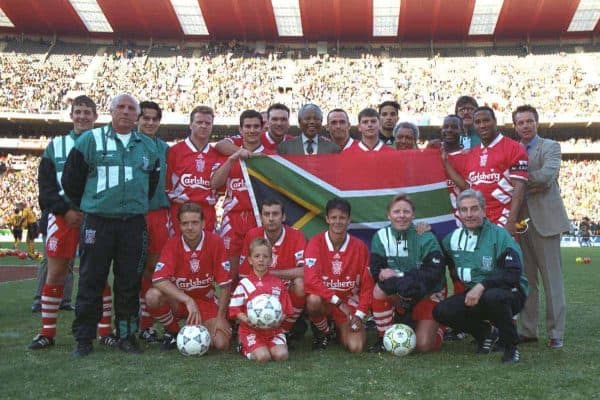 There's a quirky theory that, in part, plays on the idea of collective misremembering of common events. And yes I was as surprised as you that alcohol isn't a factor!
The hypothesis was tagged 'The Mandela Effect' because it seemingly originated around countless people falsely recalling that the former South African president died in prison.
Evidently this phenomenon went beyond simple ignorance of the subject matter with many claiming to remember how it unfolded on TV.
The idea continues that frequently reported errors can gain real-world traction, embedding themselves in collective psyches. The era of fake news indeed.
There's a whole other thread where it's explained by the multiverse theory but that was a wormhole too far me.
I didn't want to explore an alternate reality where Adrian Durham was a respected broadcaster or, worse still, Man United appointed a Gollum lookalike and started winning precious points again with him perched on the sidelines like Andy Serkis in a onesie!
Pulling back ever so slightly from brink of my own late-night insomnia and psychosis, I tiptoed away from pseudoscience and revisited both the present Liverpool side's performance and those of previous sides that fell short in the 38-game era.
Was I simply recalling events through red-tinted lenses? Had Liverpool thrown away, sorry 'bottled', previous leagues? Are this year's iteration about to do the same?
Calamity James Undone by Bendy Beckham (1996/97)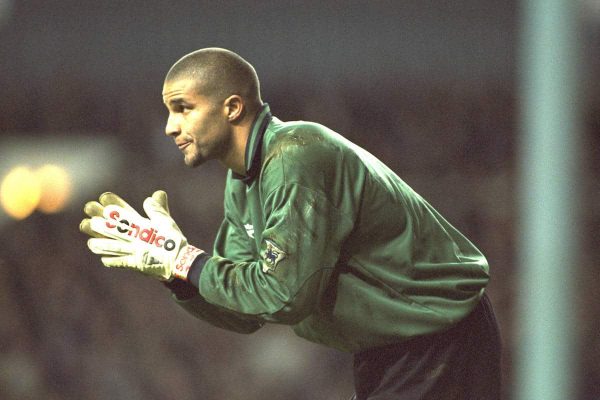 Roy Evans' Liverpool era is, to an extent, unfairly remembered.
His team was tarnished with the infamous Spice Boys tagline when memories of the silver-tinged, ruthlessly professional Reds of the '80s remained vividly fresh in minds, undimmed by the passing of time.
The Reds led the way at times during a three-way title tussle with United and Arsenal.
They were close but came unstuck in two key fixtures in April. The shock defeat to the then-bottom side, Coventry, has become the stick to beat McManaman, Redknapp, Fowler and friends with.
Yet they could've later gone top in April had they defeated United at Anfield. Alas the 'Calamity James' moniker came to the fore and Liverpool lost not only the game but any chance of glory with it.
Remarkably this side finished in fourth place. The end-of-season collapse saw them accrue a mere five out of 15 points, ending seven behind the despairingly low winning tally of 75.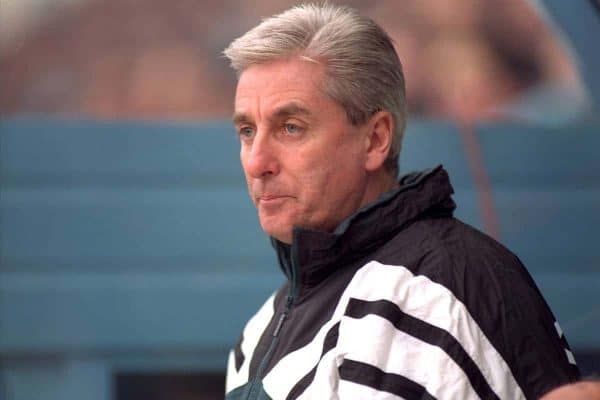 VERDICT: Context is vital. This was a more competitive era in league terms.
The average winning points total between 1995/96 and 2002/03 was a lowly 81.88.
Nonetheless, the defeat to Coventry was indicative of a team with deficiencies, whether mental, tactical, physical or lack of leadership.
This was painful at the time and of the club's flirtations with the Premier League trophy, in the modern era, it's the one that comes precariously close to fitting the 'bottled it' label sadly.
Although I must say it's a horribly derogative tag for a team that performed admirably for 90 percent of the season.
Houllier Than Thou (2001/02)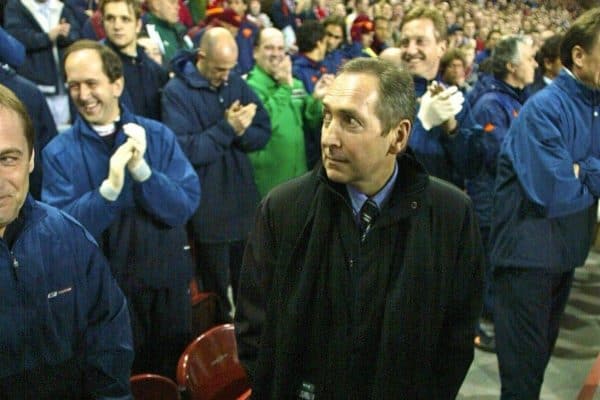 The affable, much-loved Frenchman delivered more than his share of trophies. No small feat when trapped in an era where Wenger and Ferguson were raising the bar domestically.
Surprisingly, looking back, this was the only sustained surge for the title under Houllier.
The real disappointment didn't rest with how events unfolded in the season 2001/02. Rather it was reserved for the following season when they failed to build on the potential of that campaign.
Liverpool actually did lead the race late into the season, a point clear of the Gunners with five to play.
This came with a critical caveat: Arsenal's then-quite-brilliant team had two games in hand and were unrelenting.
While the Anfield side delivered a stunning 34 points from the final 13 games, Arsenal dropped the grand total of zero in the same sequence.
VERDICT: A title won not lost. Liverpool's endgame was fantastic, Arsenal's unfortunately was flawless. No mental slips or glaring errors to see here, move on.
Camera Kissing and Nothing but the Facts (2008/09)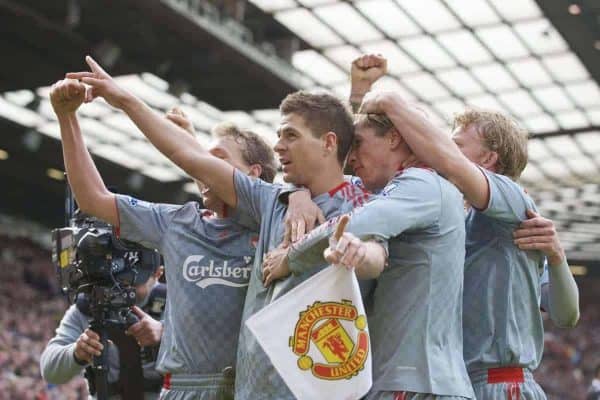 Rafa remains cherished for countless reasons.
The Miracle of Istanbul, fact-laden press conferences and regular spats with Mourinho and Ferguson, then there's the not-insignificant achievement of keeping Liverpool relevant in the burgeoning oligarch era. Did I mention he does magic?
The 2008/09 season was Rafa's turn to flutter his lashes at the league trophy. This one fell squarely into the 'frustrating' category.
Benitez built a formidable side. An abundance of goals, points and season-defining highlights, ably assisted by a miserly defence.
They were denied eventually by the frustratingly consistent excellence of the notorious winker Ronaldo and a cameo from future pub-quiz tie-breaker question, Federico Macheda.
Not for the first, or last time, games in hand proved a teasing and misleading source of hope. Liverpool got to within a point in late March but United survived the onslaught to remain agonisingly beyond Gerrard's lip-smacking antics.
Only three teams in the 38-game era have posted 86 points or above and not won the title: United (2011/12), Spurs (2016/17) and inevitably this Liverpool team (2008/09).
It's highly probable another club will be added to this list of unfortunates by May. Here's hoping it's a new name carved into notoriety.

VERDICT: A superb team that excelled in every area, except depth of squad which gave United enough of an edge.
Only two defeats all season and they recorded the club's record points tally in the 38-game era. Desperately unlucky and no hint of lacking mental strength.
If ever there's proof Liverpool have been cursed by the footballing Gods, it's the intervention from the otherwise utterly irrelevant Macheda.
Biting, Brilliance and Character…Oh and a Lot of Tears (2013/14)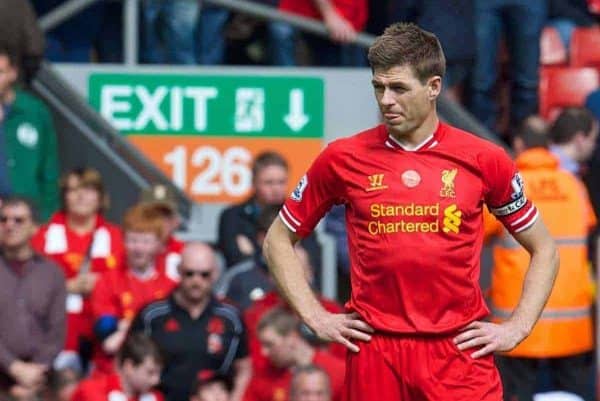 If Rafa's close call was a source of frustration, this one was simply heartbreaking. So much so it, arguably, broke the spirit of the support until Klopp fist-pumped new life into the Kop.
Liverpool famously led with just three games to go. They bottled it right? In truth, the answer is no. More a case of being undone by misfortune and crazed, near feral ambition.
They were as far as eight points behind the leaders, Arsenal, in early February 2014. Even after mauling the Gunners 5-1 at Anfield they still trailed the new league leaders Chelsea by six points.
Liverpool's sensational attacking play swept them into pole position by the end of March.
There was another factor: in an unacknowledged fact that Rafa would take delight in, Chelsea were busy bottling it!
In the latter stage of the campaign, Mourinho's "little horse" stunningly lost to Villa (finished 15th), Palace (finished 11th) and Sunderland (finished 14th).
There is however no denying the trophy was in the Reds' grasp.
Gerrard's desperately unlucky slip is well established. Oft forgotten is Vito Mannone's last-minute howler that gifted City a crucial point against Sunderland.
Without that, Rodgers' Reds would never have had to chase down City's superior goal difference (+9) with their unique brand of characteristic, charismatic mania against Palace.
Ifs, buts and maybes.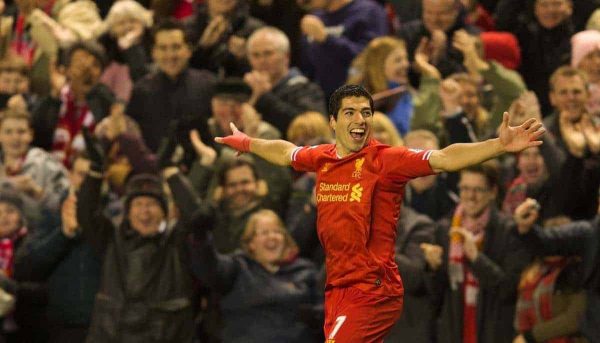 VERDICT: It's worth noting that Liverpool won 37 out of 42 points in the final 14 games. City managed 33, Chelsea 39 and Arsenal an eye-opening 24.
A campaign laced with character as Rodgers' mantra was played out time and again.
Liverpool's grip on the title was never quite as significant as perceived, City's games in hand created a false impression of a safety net that never existed.
Bad luck, naivety and perhaps even a lack of experience finally undid this unexpected surge.
Klopp's Got a New Beat (2018/19)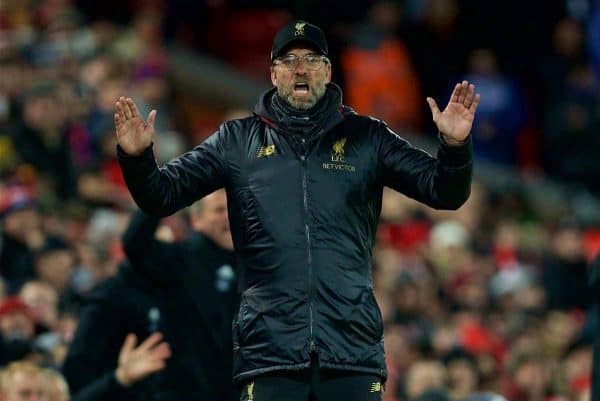 The increasingly voiced narrative suggesting Klopp's Reds are succumbing to pressure is tiresome to say the least.
It's an easy out rather than acknowledging two outstanding teams going to toe-to-toe each week with an uncertain outcome at this point. It's OK to say you don't know who'll win!
The Reds' greatest misfortune is to find themselves in direct conflict with Pep's record-breaking league champions.
However, should the Anfield club prove victorious it would become an era-defining badge of honour. The side that brought Guardiola's 100-point heroes to their knees.
Liverpool remain on track to obliterate the club's record points tally. If that's not enough to win the title then it hardly represents a failure of mental fortitude.
For all the recent disappointment, it's highly probable this side is going to surpass every metric set by previous Reds teams that were close to winning the title (see the table below):


Houllier and Benitez's teams were always kept frustratingly out of reach, games in hand skewing the picture
With that in mind this side, arguably, finds itself in a battle closer to that experienced by Evans and Rogers.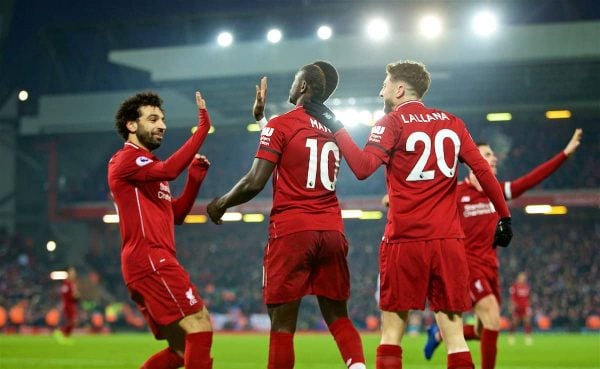 VERDICT: At this point, the greatest criticism might yet unfold as a source of strength.
A seven-point lead blown? No question that lead is gone, City have consumed it and nudged a 'bawhair' ahead as my Scottish brethren might say.
Another take, wildly optimistic I accept, is that Liverpool have never been in a position to hit such a, relatively speaking, poor run and remain in contention.
The title would've been out of reach before they regrouped and found their flow again. That's the challenge that sits before Klopp's men now.
They don't need to look any further ahead than Burnley, win there and carry on to the next match.
A tentative step to a blistering end to come I hope.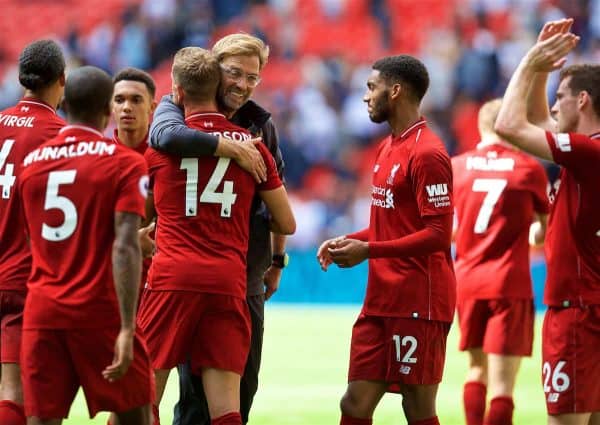 The notion that any team bottles the title is, typically, a lazy assessment.
It ignores the complexity of a draining, nine-month slog and the layers of stories the final success is built upon. It ignores the individual and unique circumstances of each club.
Such races are played out between closely matched rivals, one eventually edging the marathon through endurance, excellence and an element of good fortune, often by the smallest of margins.
Nine games to go, everything to play for and Liverpool still have a wonderful opportunity to end their title drought.
Pick up your scarves, find your voices. We go again this Sunday.
---
* This is a guest article for This Is Anfield. If you'd like to contribute a piece for consideration please see this page. Follow Andy on Twitter, @AndyC1874.