Trent Alexander-Arnold has earmarked a moment of defensive brilliance as the key factor behind Liverpool's 2-1 comeback victory over Tottenham on Sunday.
The Reds made it very difficult for themselves as they looked to return to the top of the Premier League, with Roberto Firmino's opener cancelled out by Lucas Moura.
Spurs in fact looked the more likely to score as their interplay on the counter troubled a misshapen back line, and found themselves in a fine two-on-one position late on with Heung-min Son and Moussa Sissoko charging forward.
But Virgil van Dijk was that 'one', and the Dutchman closed down the space expertly and ensured Sissoko was the man to take the shot, on his left—which he duly blazed over.
Liverpool eventually went up the other end to score a vital winner via Toby Alderweireld's own goal, and the man who crossed the ball in, Alexander-Arnold, believes Van Dijk's heroic effort inspired that fightback.
"Obviously coming up against a top side in Tottenham, both teams wanted to win the game," he told Sky Sports.
"We had our chances and you need to put them away to win the game.
"I think we wanted it more than them and we showed that at the end.
"Virgil did very well in the two-versus-one, cut the angle off. He's done fantastic and showed again why he's probably the best defender in the world.
"He made it tough for them, and that's probably given us the confidence to go and score and win the game."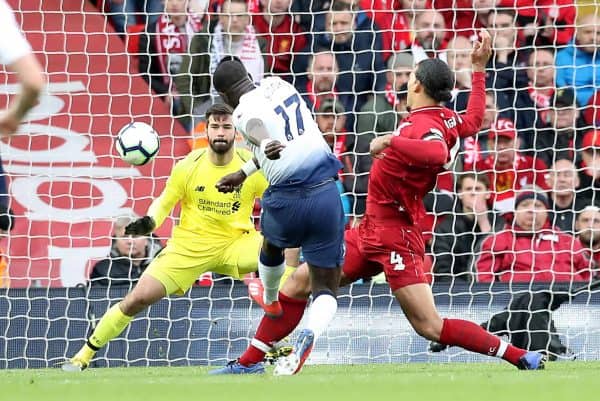 Andy Robertson set up Firmino's header with a brilliant cross in the first half, and the Scot joined his fellow left-back to relish a "massive" victory for Liverpool.
"I think in the first half-hour we blew them away, then we got a wee bit sloppy and you can't do that against teams like that," he said.
"These lads go right to the end, another late winner. It's a bit fortunate but we fought right to the end.
"It's all about the three points and we're back top of the league.
"Relief, that's the world. Every team in this league is fighting for something.
"When you see the ball in the back of the net, especially when it's that fortunate, it's about relief.
"It's about getting together and celebrating, then digging deep."
The Reds were able to dig deep despite stoppage time going well beyond the originally allocated four minutes, and now they can look to a trip to Southampton on Friday night with even more confidence.