Liverpool roared back to the top of the Premier League with a tremendous performance and 2-0 win over Chelsea at Anfield on Sunday.
Liverpool 2-0 Chelsea
Premier League, Anfield
April 14, 2019
Goals: Mane 50′, Salah 53′
---
An Ode to Fabinho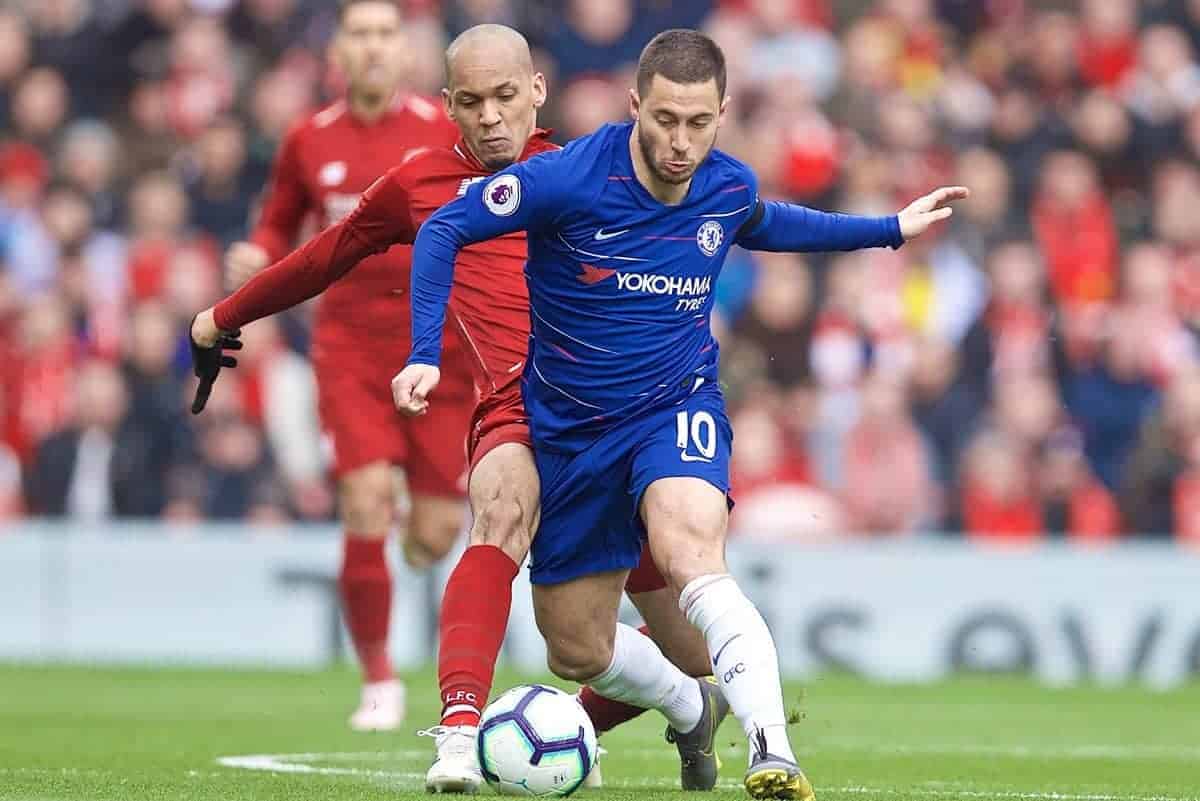 Having requested, and been denied, permission to simply write five points presenting Fabinho's greatest moments, one will have to suffice to cover all.
A back-tracking slide tackle on Eden Hazard set the tone early on, winning back possession, stopping a counter-attack and quickly establishing the middle of the park as his own territory.
Thereafter there were countless superb uses of the ball, great interceptions and tackles and no shortage of flair in possession.
He was the best player on the park in the first half by an absolute mile, a one-man microcosm of the very best strengths of this Liverpool team.
And while we're admiring the Brazilians of the team: a great reaction save from Alisson kept the clean sheet and Roberto Firmino was relentless throughout.
Keeping Faith in the Eights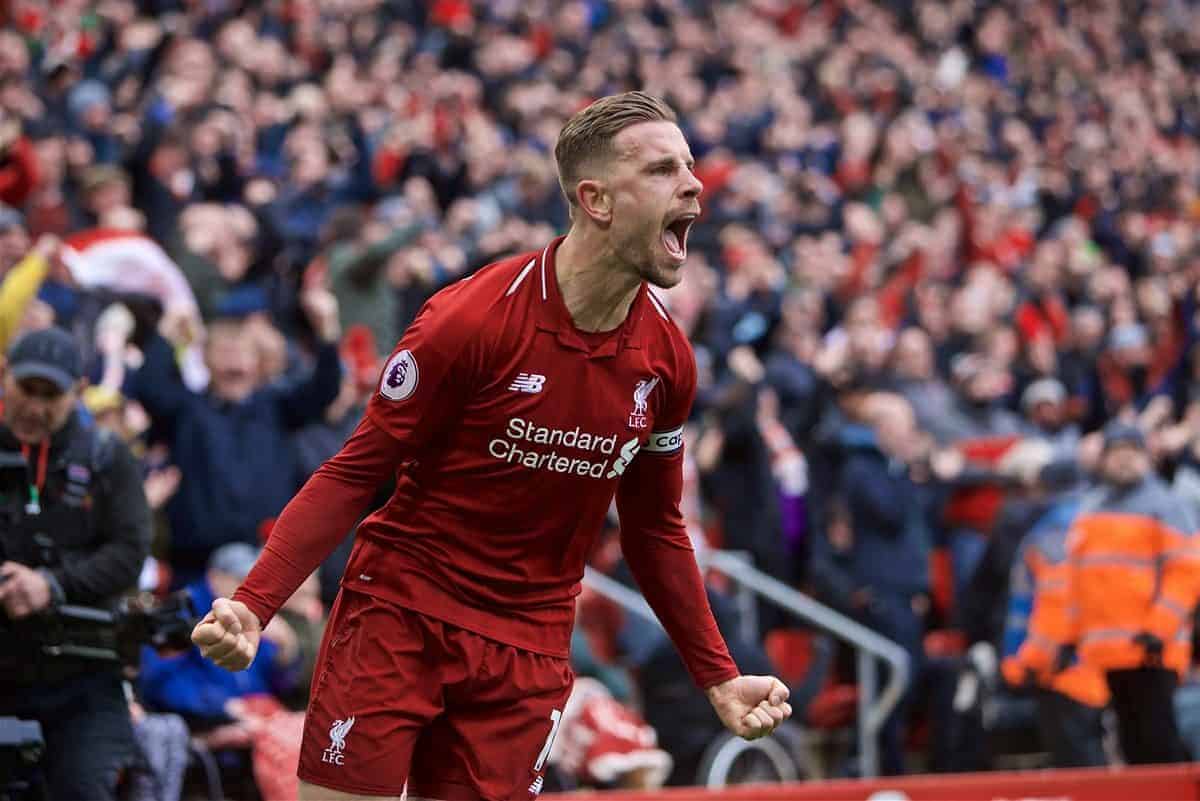 The big decision Jurgen Klopp faced ahead of kickoff was whether to restore Gini Wijnaldum to the midfield line or to keep faith with Naby Keita and Jordan Henderson ahead of Fabinho.
He opted for the latter and was repaid many times over, as all three—plus Wijnaldum and James Milner later on—all produced big displays, including one or two key moments.
Keita, first half, was often the out-ball; always in space in the left channel, often willing to run at the defence and again showing his increased confidence in one-on-one situations.
Henderson, immediately after the break, was visibly looking to get into the box more often—culminating in his brilliant interception and chipped assist for the opening goal.
A slightly better through pass from Mo Salah might have seen Henderson hare away for a goal of his own, though as it was he was still an aggressive and impressive performer throughout, helping win back possession and taking the game to Chelsea.
Full praise to Keita, too, for being the only one to slow down the game at 2-0 after Chelsea had a few good minutes of their own.
The Touch of Genius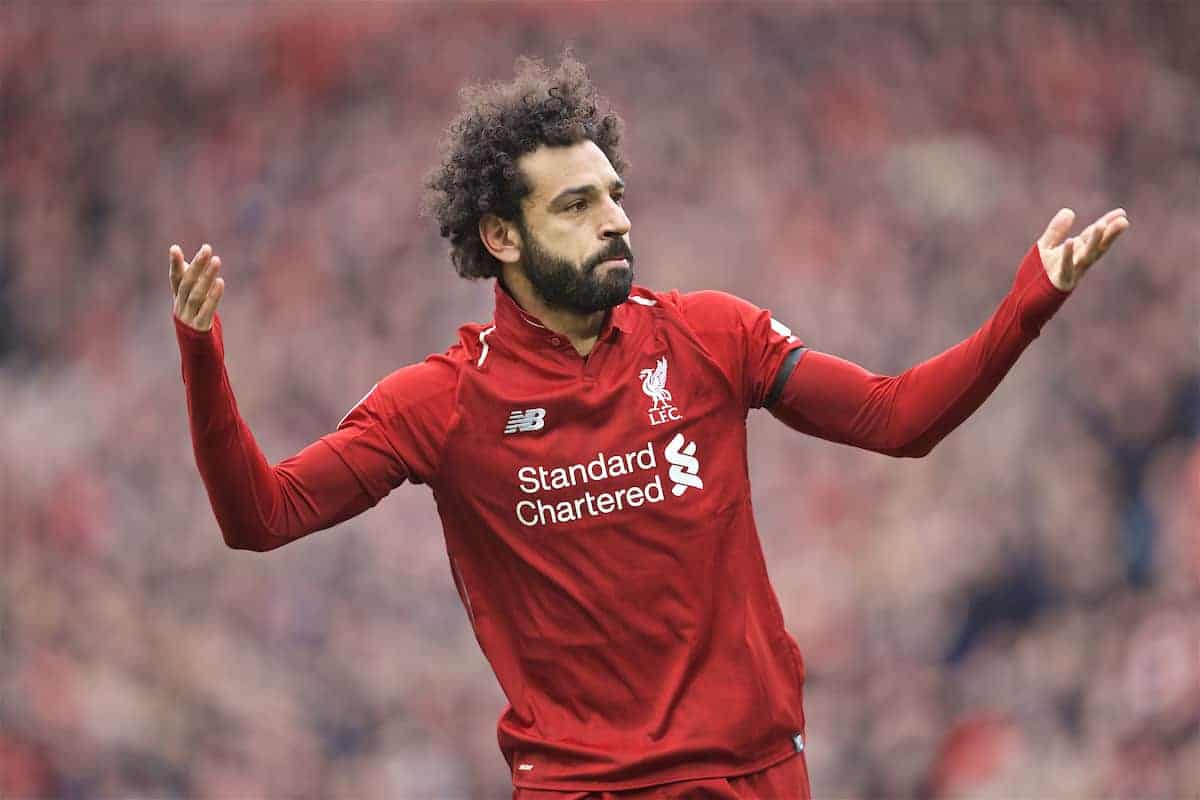 Arrow. Rocket. Missile. Describe it how you will, the trajectory and power of Mohamed Salah's strike made it unstoppable and unerring.
It was a shot hit with a similar level of ferocity to that of the crowd's cheers which immediately followed it hitting the back of the net.
After almost the relief of the first goal going in, this second was more of a primeval, aggressive roar of attack: yes, this is us, here we go, now we're on it.
Salah has been bizarrely criticised in some quarters for not scoring 30 goals this season and strangely ignored in others for offering the off-the-ball outlet, the in-possession danger and the constant threat—even without end product—that he does, every game, without fail.
This was his answer: a team-first performance with a moment of individual genius.
Power, Control, Assurance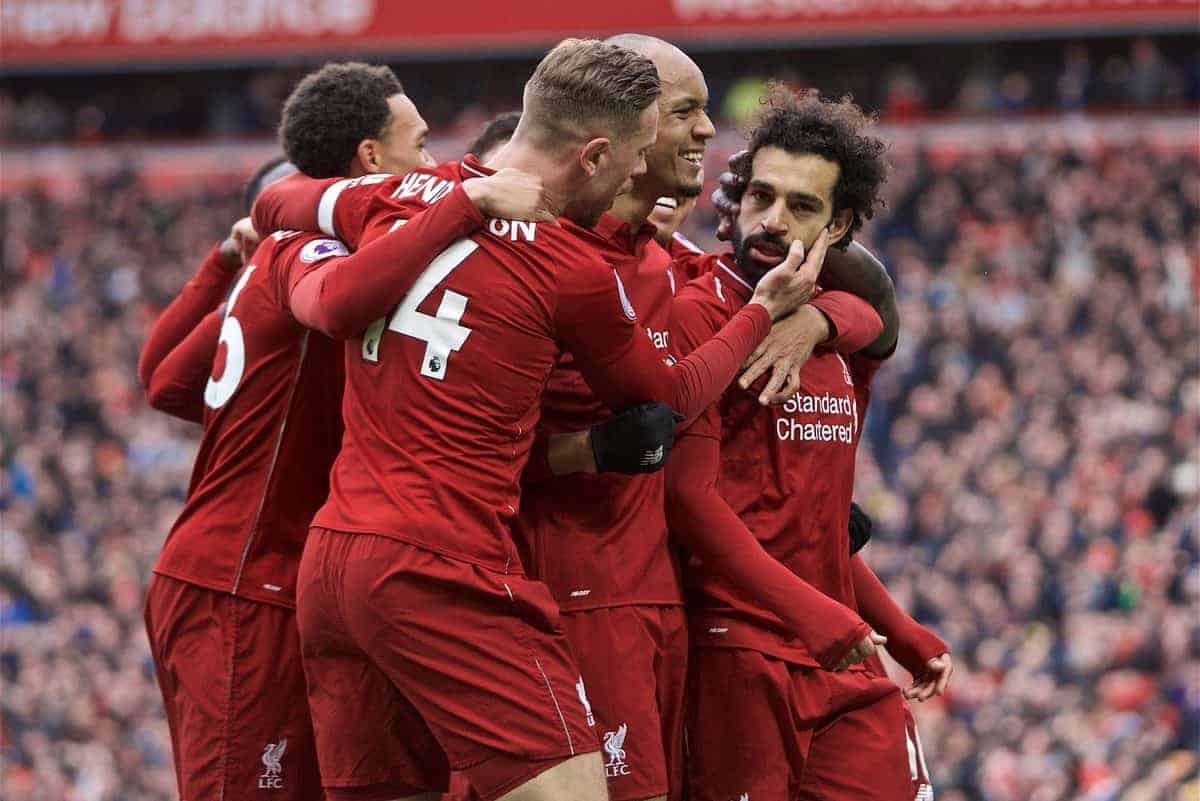 Sometimes a team is at their best, sometimes not. Sometimes defence wins the day, sometimes the attack.
Sometimes Liverpool need a last-10 winner, sometimes their pure power, quality and self-belief is enough to see off even a very good side.
Sunday evening, Anfield, it was the latter: the Reds were in control throughout and rarely looked troubled, save for 10 minutes after going two up.
Order was quickly re-established and the only danger thereafter was to how silly Kepa, David Luiz and Co. would be made to look.
This was a performance of consummate poise, a confident, deliberate and absolute domination of a supposed rival.
The gap between the teams in the league was only two places ahead of kickoff, but on the pitch there was even more than the 19-point chasm which lay between them at full-time.
Title Fight: Another Test Passed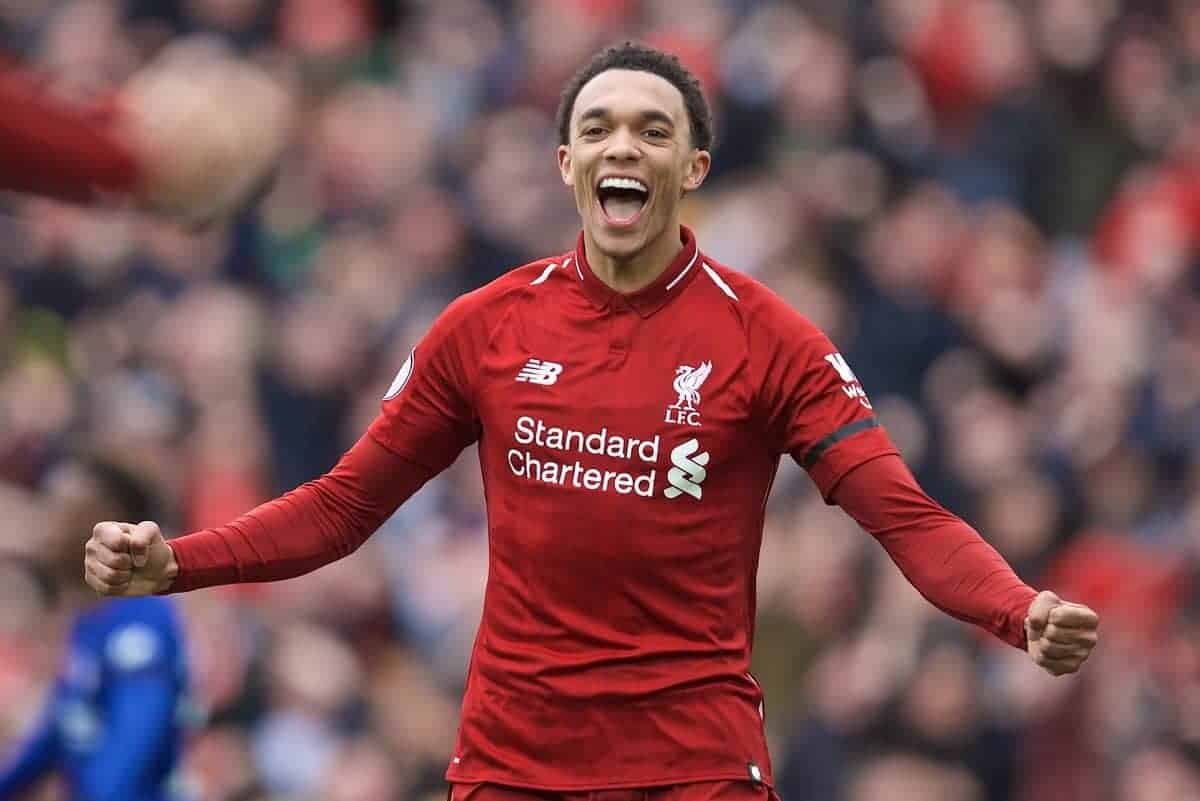 Over to Liverpool, they said, as Man City waltzed past Crystal Palace earlier in the day.
Well, the Reds answered in kind: the same margin of victory against a much better opponent, to retake top spot with just four matches left to play.
City have an additional game of course, leaving the league in their own hands, but right now it must feel like an additional test rather than opportunity.
Nine straight wins, and City aren't top unless they win a 10th—the mental strain keeps right on coming, every bit as much as the physical demands do.
Cardiff, Huddersfield, Newcastle, Wolves.
Those are the remaining teams to play: not as great quality as Chelsea but still no room for error.
And next up, a job to finish in Europe. It's all still very much on.