Jamie Carragher has explained why he believes Sadio Mane has become one of Liverpool's most important players, and their best winger since John Barnes.
Mane's goal in the 2-0 win over Chelsea on Sunday ensured his best-ever tally in a single season for the club, at 21, and it is likely he will add to that in the weeks ahead.
In the last 15 games he has scored 12 goals, raising his game at a vital time with Mohamed Salah netting just five in the same period, and this led him to be a key topic on Sky Sports' Monday Night Football.
Carragher, leading the analysis, highlighted how in Liverpool's last 11 games Mane has been the opening goalscorer on seven occasions, with only two others—Roberto Firmino and Naby Keita—doing so:
? – @LFC's most important player?

He's the top scorer in the @premierleague (excluding penalties) and @Carra23 says Sadio Mané is the best wide player the club have had since John Barnes. ??

Join tonight's #MNF live on Sky Sports PL now or follow: https://t.co/Bi5MEwVIet pic.twitter.com/aXDuH4Lcay

— Sky Sports MNF (@SkySportsMNF) 15 April 2019
"It's not just the goals he's scoring, it's the importance of the goals," Carragher explained.
"The most important goal is that first goal and very rarely do we see top teams lose or draw from that position.
"You go through the games now, Liverpool's last 11 games, so the [first] four Mane gets the first goal.
"The opposition does twice but there are only two other Liverpool players in those 11 games who have scored the first goal. That's how vital they are.
"It's not just scoring and being top of the charts and getting goals when it's 4-0 and banging a couple in at the end of the game, it's the importance of the goals Mane is getting.
"And I think sometimes he goes under the radar.
"We've Salah, we've got Van Dijk at the back, talk of the goalkeeper, the impact these players have had.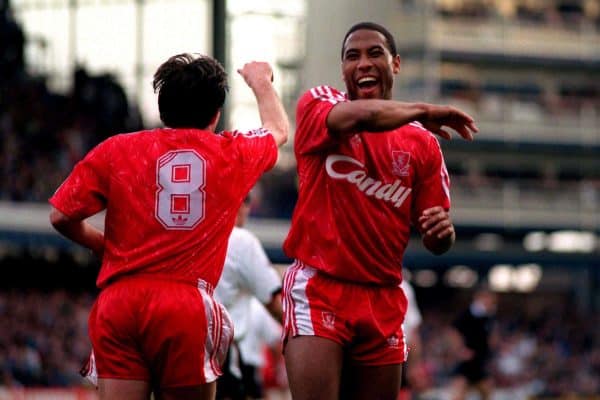 "Liverpool are going for a first title in almost 30 years. He's the best wide player Liverpool have had for 30 years.
"You have to go back to John Barnes to when Liverpool have had a player like that.
"And that's massive coming [from me], because I think John Barnes is possibly in the best five or six players to ever play for Liverpool Football Club."
This is significant praise from Carragher, and it is difficult to argue with him despite a plethora of talented wingers plying their trade at Anfield over the past three decades.
Interestingly, when asked by Gary Neville who he would rather lose—in a worst-case scenario—for the run-in from Mane or Mohamed Salah, he opted for the latter.
?? – "Mané is the one that got Liverpool back." @Carra23 and @GNev2 look at the impact of wide-men from @LFC and @ManCity on #TheRunIn and the rest of the @premierleague. ?#MNF is live on Sky Sports PL now! pic.twitter.com/XzerEfaS28

— Sky Sports MNF (@SkySportsMNF) 15 April 2019
He described him as "the one that got Liverpool back into the top four," and who "has been there from the very start," even claiming if the Reds side of 2008/09 had Mane they would have won the title.
Mane has often been considered third-best, or third in importance, behind Salah and Roberto Firmino in Jurgen Klopp's attack, but his form this season has made him invaluable.
It is only right he receives such praise from Carragher, and he makes a convincing case for him over Salah at this stage—though much of his success stems from the freedom he is provided from sides double-marking the No. 11.
Both are worthy of serious plaudits, but this season has really seen Mane come to the fore.