Liverpool scraped a 2-1 win over Tottenham in dramatic fashion on Sunday, with the performance leading to a debate over Fabinho's place in the starting lineup.
The Reds returned from international duty to clinch a potentially season-defining victory over Tottenham in a nail-biting affair at Anfield.
Roberto Firmino's first-half strike and a Toby Alderweireld own goal 25 seconds before the end of regular time cancelled out Lucas Moura's equaliser for the visitors to see Liverpool return to the Premier League summit.
While the performance was far from perfect the Reds again found a way to win after being pegged back, ensuring another dose of confidence was injected into the side ahead of another crucial league clash against Southampton on Friday.
After the game, This Is Anfield's Joanna Durkan (@JoannaDurkan_) and Steven Scragg (@Scraggy_74) were joined by Jonathan Higgins (@Jhiggins3) to delve into the highs and lows of the win and discuss if Liverpool are best served with Fabinho in the starting lineup.
The good…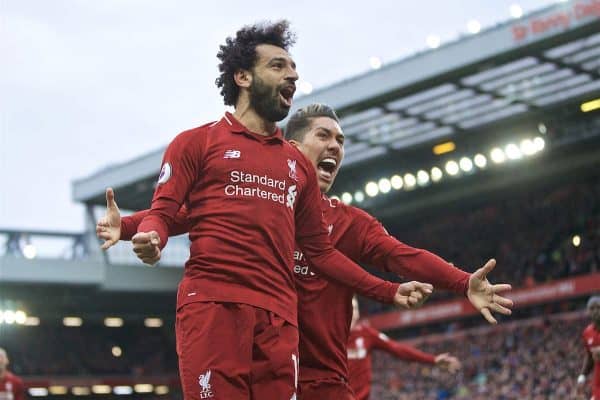 Steven: It was a game that could have provoked a nervous reaction for those watching, but I thought the crowd met the challenge well and played their part in the win.
It was a predictably open game and we were the better team by far in the first half, yet Spurs were always going to have a spell where they troubled us, and they did.
The late winner could provide a similar spring to the Liverpool step that the 'Pickford Moment' did. We now have the 'Lloris Moment'.
Joanna: For me, the standout from the game has to be Liverpool's never say die attitude.
It's now two games in a row where the Reds have stared down the barrel of dropping points, and while it is indicative of not being at our best performance wise, the fact that we can still win when we have our backs against the wall means the Reds have the making of a champion side.
It even transcends into the stands, as Steven said the crowd was immense and instead of allowing the frustration and the pressure to creep to the surface both met the challenge face on.
And what about Virgil van Dijk!? The man cannot be human, surely. His approach with the two-vs-one was second to none and it all but ensured there was three points still on offer for Liverpool – £75 million seems like more of a bargain with every passing game.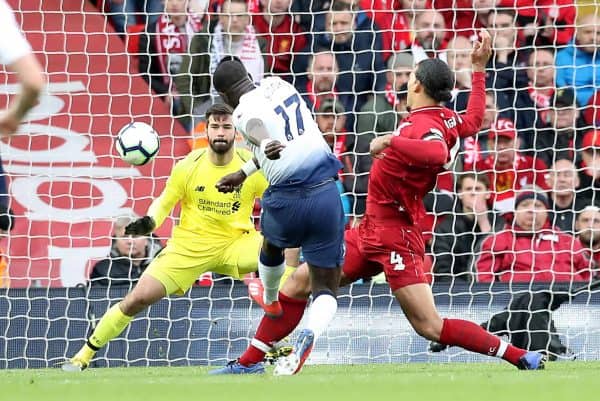 Similarly, Andy Robertson was just as influential in both defence and attack, with an assist for the opener and a crucial block on Christian Eriksen now added to his highlight reel.
And while my heart would appreciate navigating the remaining six games with less of a flair for the dramatic, it's Liverpool after all and where is the fun in that?
Jonathan: It's impossible to look past the dramatic late winner and the wild celebrations from everyone associated with the football club.
A late winner which admittedly had a huge stroke of luck, but a goal that resulted in an eruption of the full spectrum of emotions.
After Lucas Moura equalised on 70 minutes it looked for all the world that Tottenham would put a massive dent in Liverpool's title charge, a goal no doubt was celebrated wildly by the blue half of Manchester.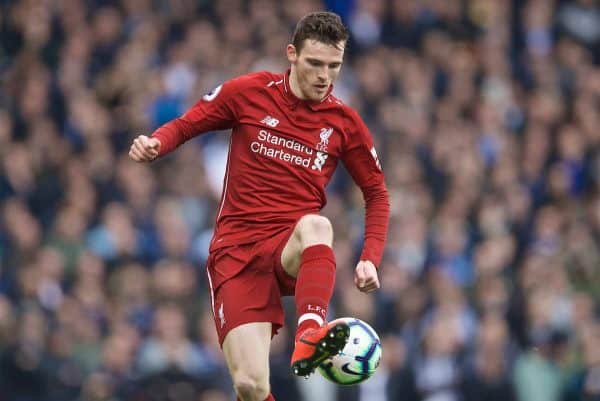 The late winner not only secured a vital three points, but it's also a goal that could potentially provide a psychological boost and provide momentum for the final six massive league games.
As Joanna said, a special mention has to go to Van Dijk yet again. We have seen his importance to the team and multiple occasions this season but his calmness in dealing with that breakaway two-on-one was world class. The game was level at the time, a Tottenham goal at that stage could have been fatal.
The bad…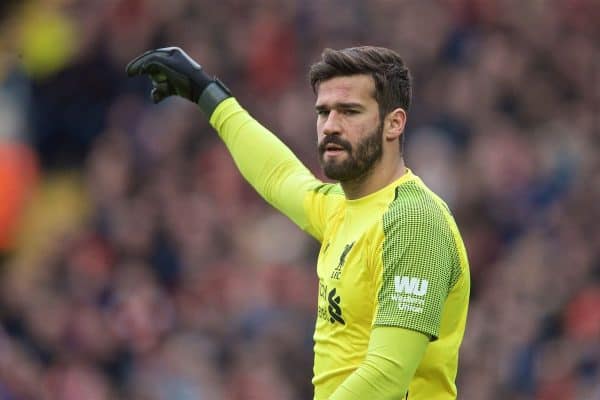 Steven: We switched off during the second half. Seemed sluggish almost, which offered Spurs an invitation into a game that should have been well beyond them by half time.
Too casual in our passing during our dip in tempo, to the point of carelessness, we almost paid the price, when Moussa Sissoko was given the chance to put Spurs ahead.
Joanna: It felt as though there was no one dictating the tempo in the middle of the park for a large chunk of the first half, warning signs which failed to be heeded in the second as Tottenham's tactical change only served to further cause us issues.
Their equaliser felt inevitable yet Jurgen Klopp held off making any changes until after the fact, but thankfully luck was on our side and it was not a decision we were left to rue.
Jordan Henderson did not quite justify starting over Fabinho, and Steven's mention of the team switching off and being a bit sluggish made Alisson's performance come to mind.
He was surprisingly skittish and his decision making was, for the most part, poor. No doubt a blip, but I could do without him giving me more heart palpitations than I already have moving forward.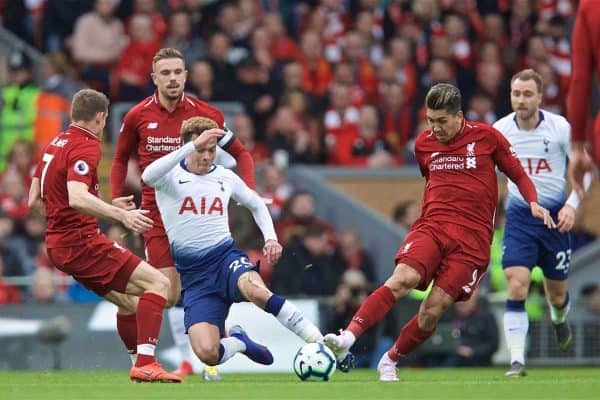 Jonathan: Liverpool's sloppiness really frustrated me, it allowed Tottenham who had been completely outplayed to come back into the game.
Liverpool started the game brilliantly scored and should have added at least one more. Spurs created absolutely no attacking threat in the first half but had a number of opportunities thanks to Liverpool errors.
Our midfield was slow and laboured and the sloppy passing tempo didn't allow us to get any grip on the game. Fabinhos's introduction highlighted this even further.
Alisson was uncharacteristically nervous at times and perhaps highlighted Liverpool's off par performance most.
Not getting that vital second goal until late on could have detrimental, but for me, the biggest negative is that we allowed a game that we had total control over needing almost divine intervention to secure all three points.
But as the old cliche goes titles are won by late winners. One thing for certain however Liverpool's midfield will need to be a lot better for the remainder of the season.
And are the Reds best served with Fabinho in the starting XI?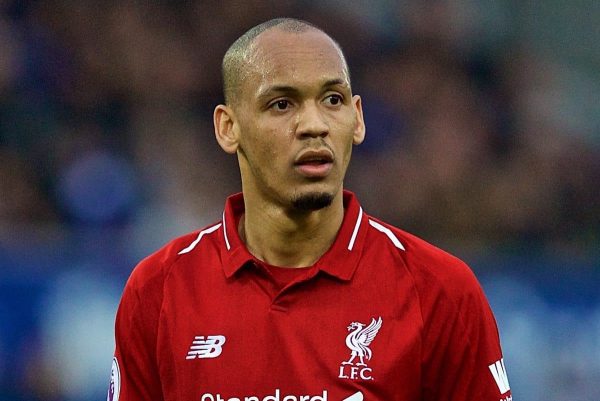 Steven:Our main issue this season has been identifying the ideal midfield three.
We've no shortage of options and what tends to happen is that if the midfield has a collective off day, or one individual is off the pace, then they are pointed at and derided.
Conversely, when the midfield performs well, then there is little in the way of praise.
Fabinho has been largely outstanding, but he too has had off games.
That said, yes, yes he should be in the starting 11. We are six games from the Premier League finish line, and we shouldn't be rotating the midfield at this stage.
Joanna: I was staggered when I saw Fabinho was omitted from the starting lineup as for me he should be one of the first names on the team sheet such is his ability to influence and dictate the Reds' play.
Just like against Bayern Munich, where he was initially overlooked, he made an immediate impact on Sunday and added much-needed bite and direction into a midfield which was struggling to grab a foothold in proceedings prior to his arrival.
We know Klopp trusts the combination of Henderson, James Milner and Gini Wijnaldum but more often than not this season they have failed to fire on all cylinders.
And with six games remaining Liverpool need to have their best players on the park, and the Brazilian is certainly one of them.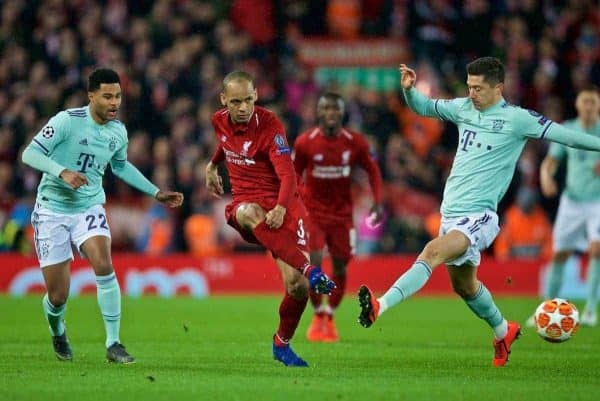 Jonathan: As I touched on before, our midfield was slow and laboured and the sloppy passing tempo didn't allow us to get any grip on the game.
Fabinho's introduction was critical, you could argue he did more in the short time he was on the pitch that the rest of the starting midfield all game long.
Fabinho's over aggression is possibly his biggest negative. He likes to walk a tightrope with referees and the biggest concern I would have is one day he will overstep the mark and receive his marching orders.
However, his energy, tackling and speed of passing even in that short cameo appearance shows for me that he has to be an automatic starter for the remainder of the season.