Jurgen Klopp hailed Liverpool's "crazy" efforts this season after a 5-0 win over Huddersfield on Friday saw them return to the top of the Premier League.
A goal within 15 seconds from Naby Keita and two apiece from Mohamed Salah and Sadio Mane secured a 28th league win of the season for Liverpool, making a big statement.
After Man City's midweek win at Man United, the Reds could seen their spirits drop slightly as their hopes of winning the title were taken out of their hands, but that certainly wasn't the case.
Speaking to reporters after the game, which saw his side up to 91 points—the fourth-most in any Premier League campaign, with two left to play—Klopp was clearly delighted.
"It's a good team eh? [Ninety-one points] is crazy. It's only because the boys play like they play. The attitude they have," he said.
"And in the end, we cannot do more than win these games.
"After City won vs. United, the next morning, the mood was really good, nothing changed. If we can have 97 [points], then let's go for it.
"We want to create our own history. These boys are outstanding. That is the reason why we are where we are."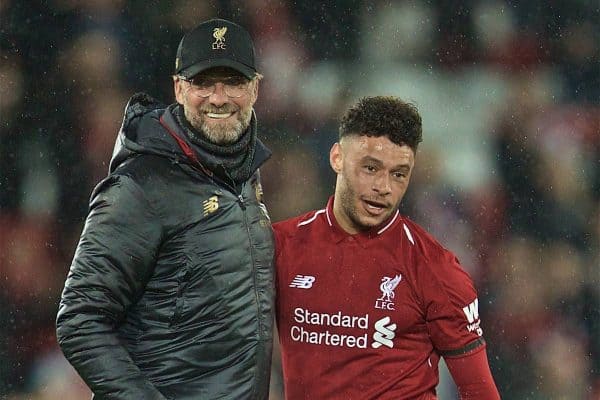 This win also saw Alex Oxlade-Chamberlain make his return to first-team action 367 days after his nightmare knee injury against AS Roma.
The midfielder almost scored within minutes of coming after some great footwork in the box, and the manager praised Oxlade-Chamberlain on his comeback.
"After more than a year, bringing him back was the 100 percent plan if there was any chance tonight," he explained.
"Because with Ox we try to be very careful with him, it's a difficult situation after that long time and with all the demands of the Premier League.
"And the training for being ready for the Premier League is already demanding.
"So he had these little, little, little setbacks in training and now he's ready. That's cool, that's really cool.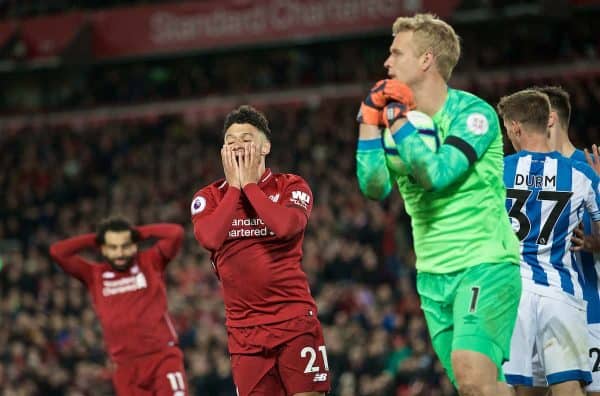 "He showed that, and it was a wonderful situation, it would have been Goal of the Season if he scored that one.
"It was brilliant run, a brilliant run, move, everything, and then unfortunately he doesn't hit the ball right.
"But [it was a] really important, important step tonight for him and for us."
Klopp then provided a hopeful update on Roberto Firmino's injury, and allayed fears of a blow for Virgil van Dijk after a slight scare, as Liverpool turn their focus to Barcelona.