There are nights when it feels as though football transcends reality. It takes you to a whole different dimension well beyond the realms of ordinary everyday life. Anfield is renowned for them.
Chelsea in 2005 was one of them. Dortmund in 2016 another. Last season, Man City and Roma were vanquished in a scorching red blaze.
This, though, was a different beast.
"If we can do it, wonderful. If not, then fail in the beautiful way," were the words of Jurgen Klopp in his pre-match press conference. Anyone who watched the first leg at the Nou Camp will have seen Liverpool were a match for Barcelona, only to be punished for a lack of ruthless finishing.
The first leg result did not represent the gap in quality between these two sides. Liverpool were always more than capable of beating Barcelona at Anfield—that much was clear. But to do so scoring four goals without reply?
Not impossible, but improbable in the extreme.
Overcoming obstacles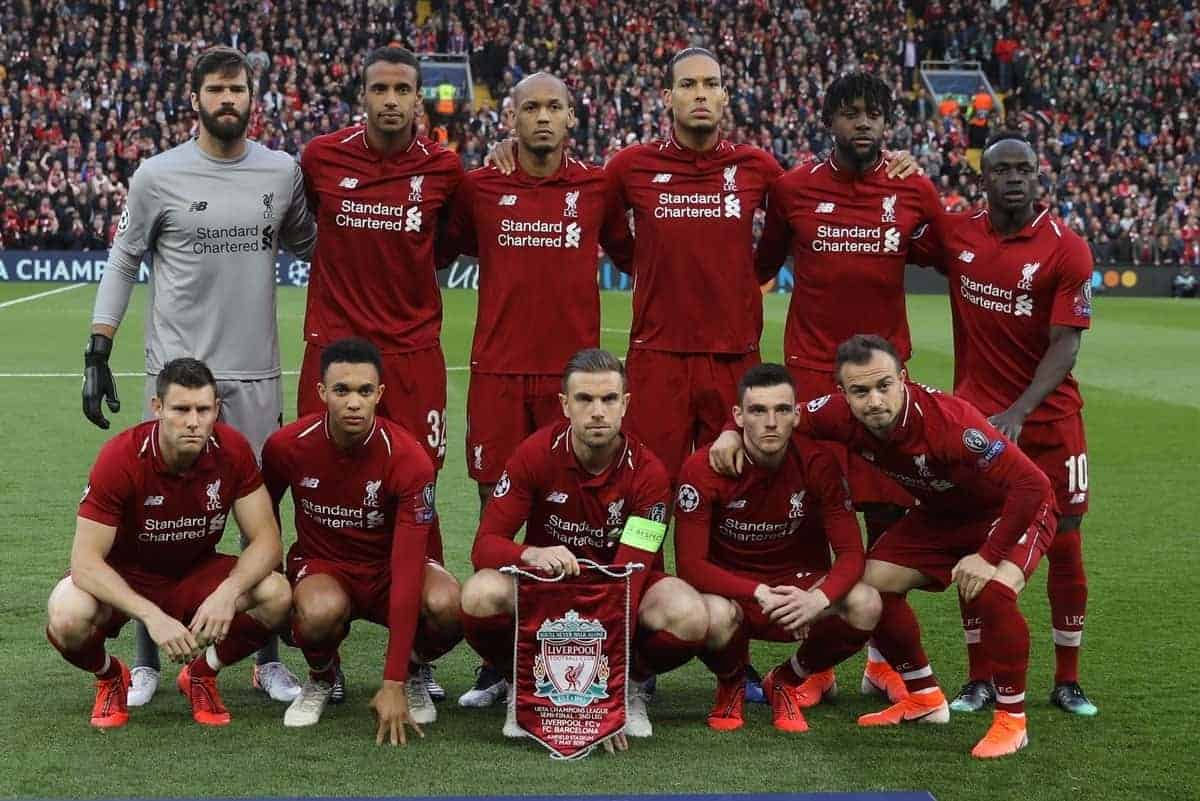 Shorn of Mohamed Salah, Roberto Firmino and Naby Keita, the mountain Liverpool had to climb had been made even higher. Xherdan Shaqiri and Divock Origi carried hope, but no real expectation on their shoulders.
Unable to play due to his concussion suffered in the dramatic win at Newcastle, Salah walked into Anfield on Tuesday night with a black t-shirt emblazoned in white with the message: "Never give up".
That, if nothing else, is the mantra which has defined the character and the spirit of this phenomenal, resilient Liverpool side this season.
They never know when they are beaten. No task fazes them. No goal is unachievable.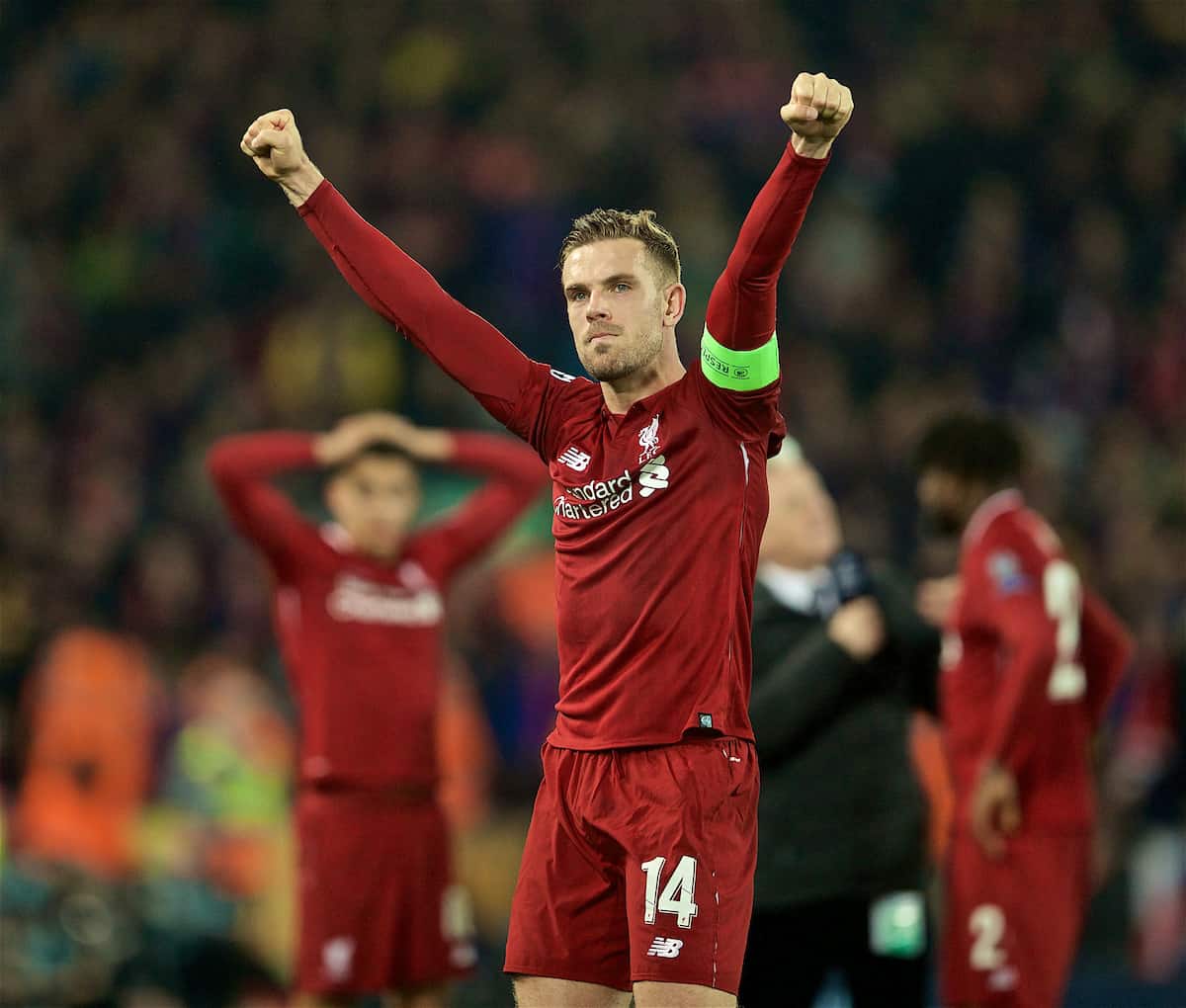 After Vincent Kompany's one in a million thunderbolt shattered the possibility of Man City dropping points against Leicester on Monday night, leaving Liverpool's title challenge—and season—hanging by a thread, it would have been very easy, understandable even, for morale to have been crushed.
The prospect of potentially finishing 2nd on 97 points, the highest runners-up total in history, and with Barcelona most likely needing just a single goal at Anfield to destroy Liverpool's faint Champions League hopes, what once promised to be a glorious end to a historic season was in danger of disintegrating into the most heartbreaking of finales.
And yet, the collective willpower, grit and determination of this group of players to purge the devastation of last season's final defeat in Kiev meant they were never going to roll over and lay out the red carpet for the finest footballer of all time and his comrades to cruise their way to the final without a fright.
Anfield atmosphere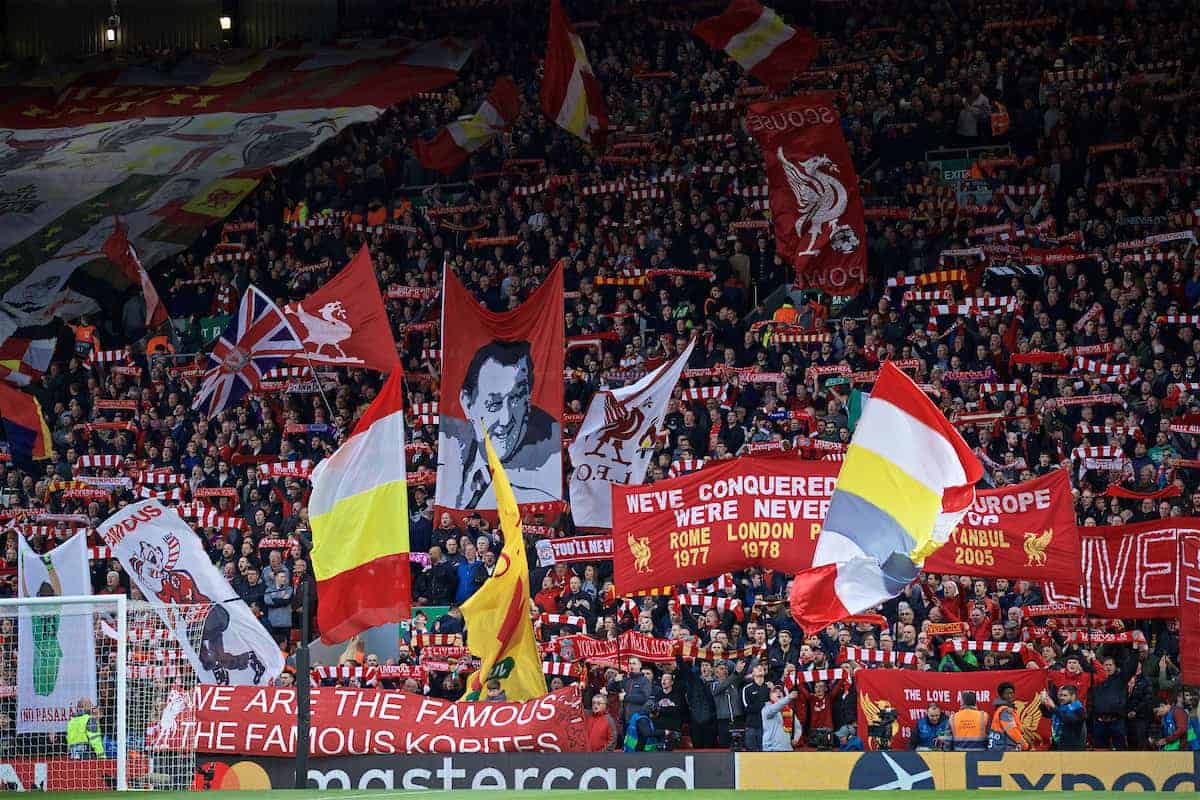 The much-vaunted Anfield atmosphere is a cultural phenomenon, oft-dismissed by outsiders who claim the impact of the crowd—however defiant, or feral—cannot possibly define the events which occur on the pitch below.
Especially not with a side as experienced and packed with world-class, iconic figures as Barcelona.
Perhaps not. It's impossible to scientifically measure whether opposition players are directly affected by the atmosphere in any significant way.
Although, when you see the likes of Gerard Pique and Ivan Rakitic slicing balls out of play in a state of sheer panic, you do wonder.
More pertinently, though, is the effect it has on Liverpool players. The lift, that extra ten per cent of drive and belief it bestows upon them, is abundantly clear.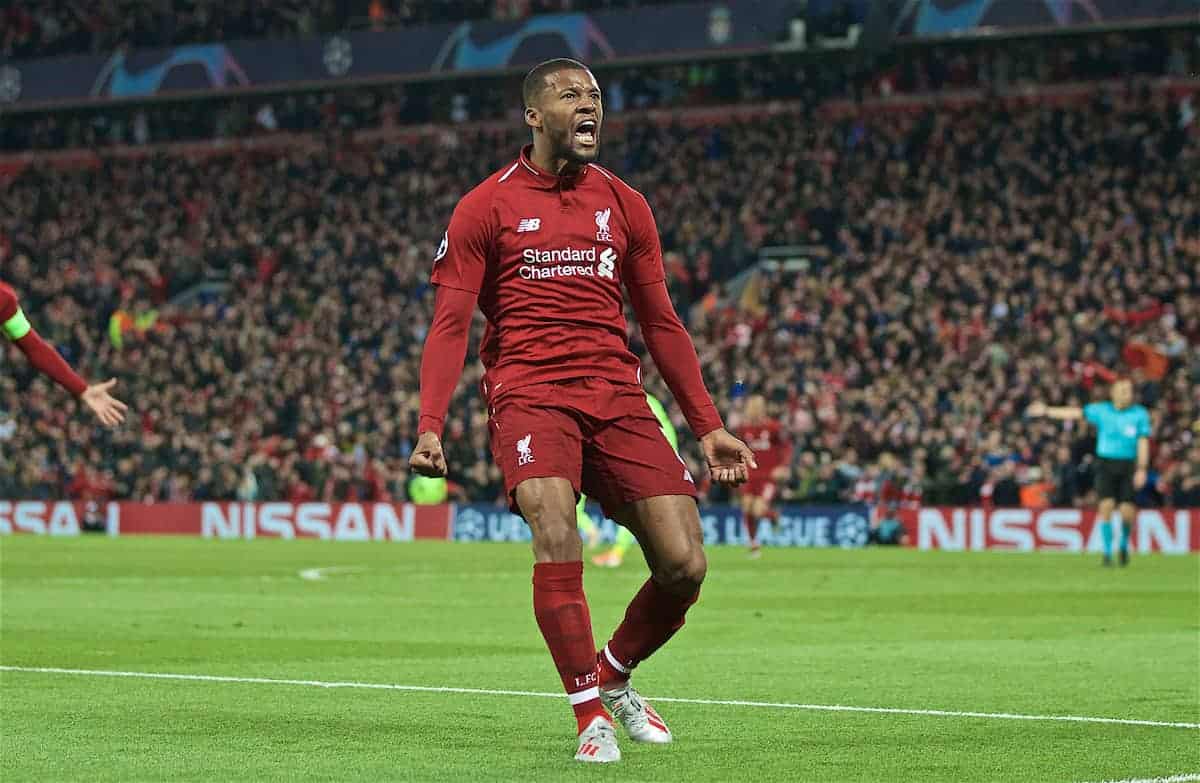 It happens time and time again, but never has this extraordinary dynamic presented itself in such raw, visceral passion.
From the first whistle, even before Origi opened the scoring seven minutes in, Liverpool were a team possessed. Barcelona were shaken, met by howls of derision with every moment they dared touch the ball.
Lionel Messi. Luis Suarez. Philippe Coutinho. Powerless and lost in the chaos which ensued, merely spectators in this bearpit of Liverpudlian red, unable to implement their genius in any way against 11 players bound by a collective strength and common desire so resolute that individual quality became almost an irrelevancy.
A night of heroes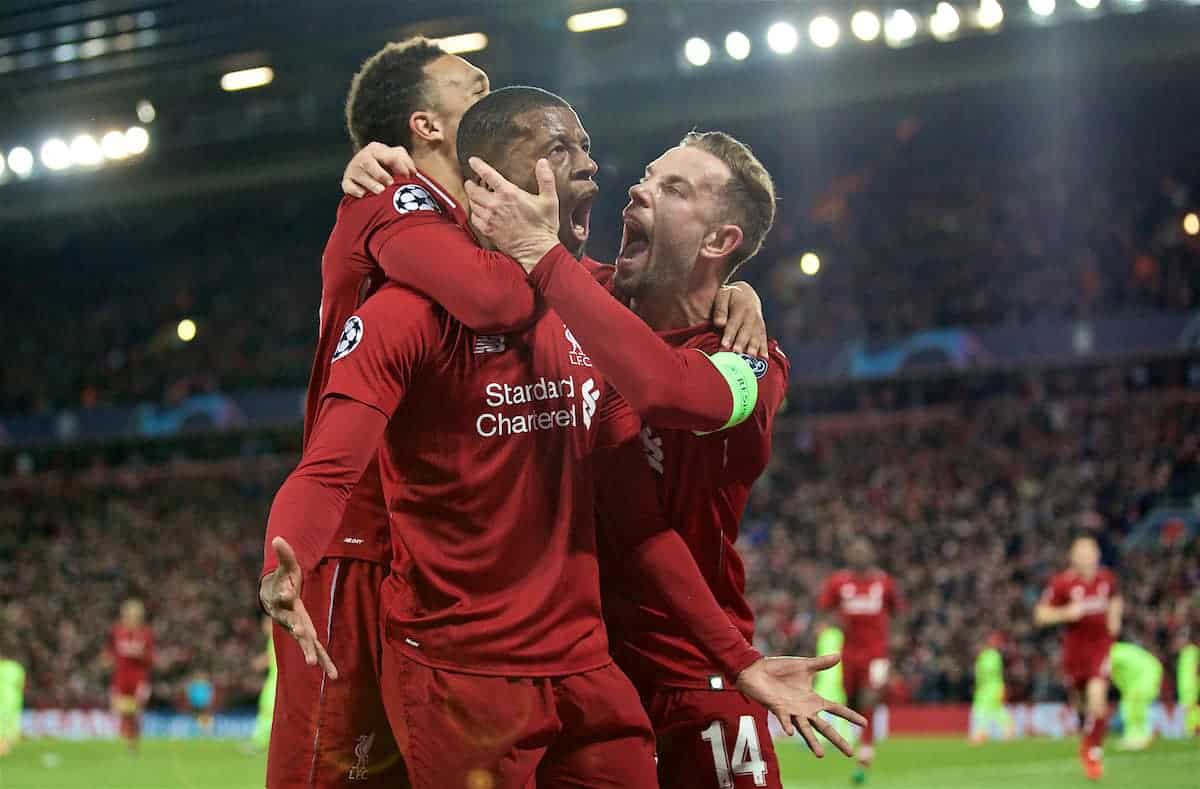 Jordan Henderson was everywhere, setting the tone, tigerishly pressing, using the ball intelligently, leading his peers in the battle.
The epitome of defiance and fighting spirit which underpins the extraordinary mentality of this side. A performance to make a mockery of those who doubt his credentials, on the very biggest stage.
When Andy Robertson, so influential to Klopp's system, limped off injured at half-time after being kicked twice by Suarez, there was no need for panic.
James Milner, the veteran figure of this youthful side, slotted in seamlessly in his place, as he always does.
Gini Wijnaldum, off the bench to score twice in two minutes, sending the stadium into a state of unbridled delirium with one of the all-time great substitute cameos.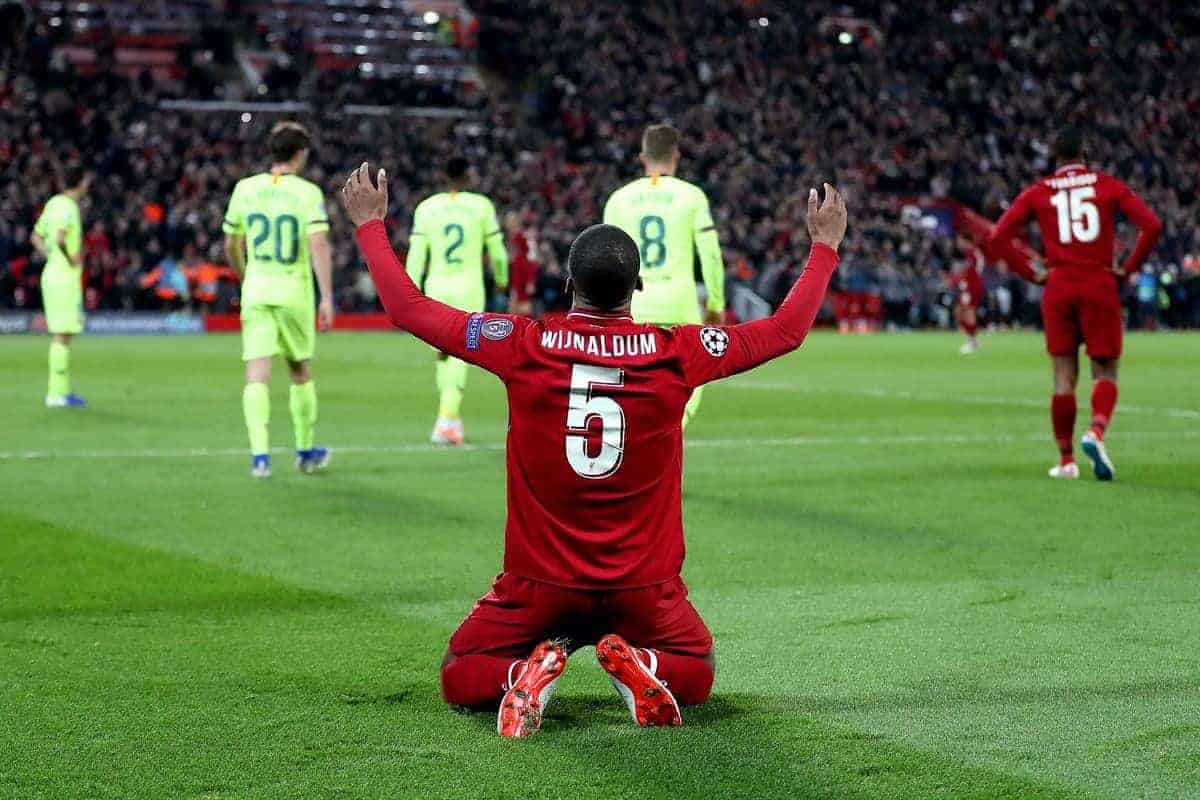 A player brought in as one of Klopp's first major signings, a core component of the story—and surely one of the finest, multi-faceted and most underappreciated midfielders in Europe.
Divock Origi, whose own journey is quite astonishing. Forgotten and dismissed by many after an unsuccessful loan spell, working his way back from the brink, scoring last-minute Merseyside derby winners and, here, the pinnacle of his career to-date, writing his name into Anfield folklore once more.
It's easy to forget the trajectory of Origi's career until he got injured against Everton in 2016, missing the Europa League final as a result.
He was Klopp's go-to man that season and has, against all the odds, become a pivotal figure once more, cementing his cult hero status.
The first goal and the last goal in the tie—the winner a strike of such awareness, instinct and technique—his name will be forever remembered for that Barcelona game.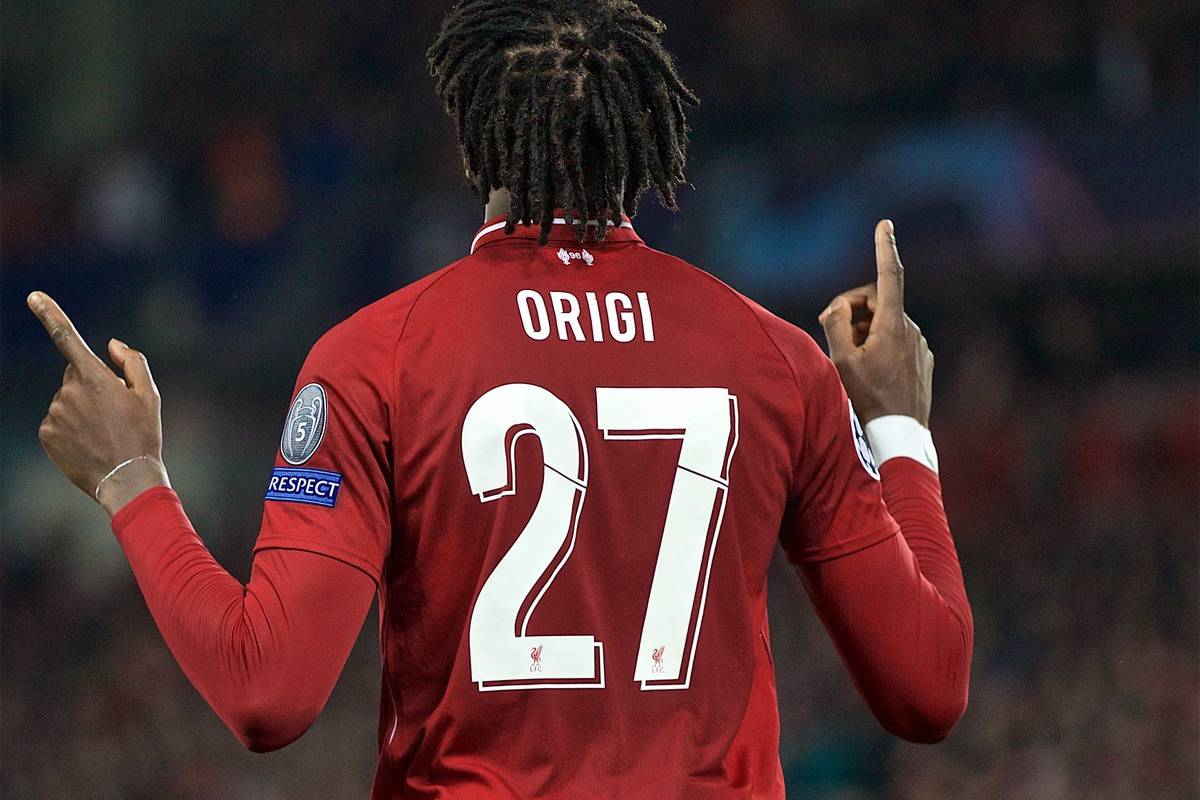 And then there's Trent Alexander-Arnold. 20 years of age, reaching his second Champions League final with his boyhood club, a shining light on a field of players who have won everything there is to win.
It's his tenacity which creates Wijnaldum's first, and his astonishing piece of quick thinking and vision to catch the entire Barcelona defence off-guard for Origi's winner.
Anybody would be hard-pressed to think of a more influential performance from a right-back in recent history.
This is a young man living the hopes and dreams of a city, and turning those dreams into a reality.
In the contemporary football landscape increasingly defined by club wealth and eye-watering transfer fees, his emergence is a tangible reminder of that local connection between club and city that money cannot buy.
Klopp effect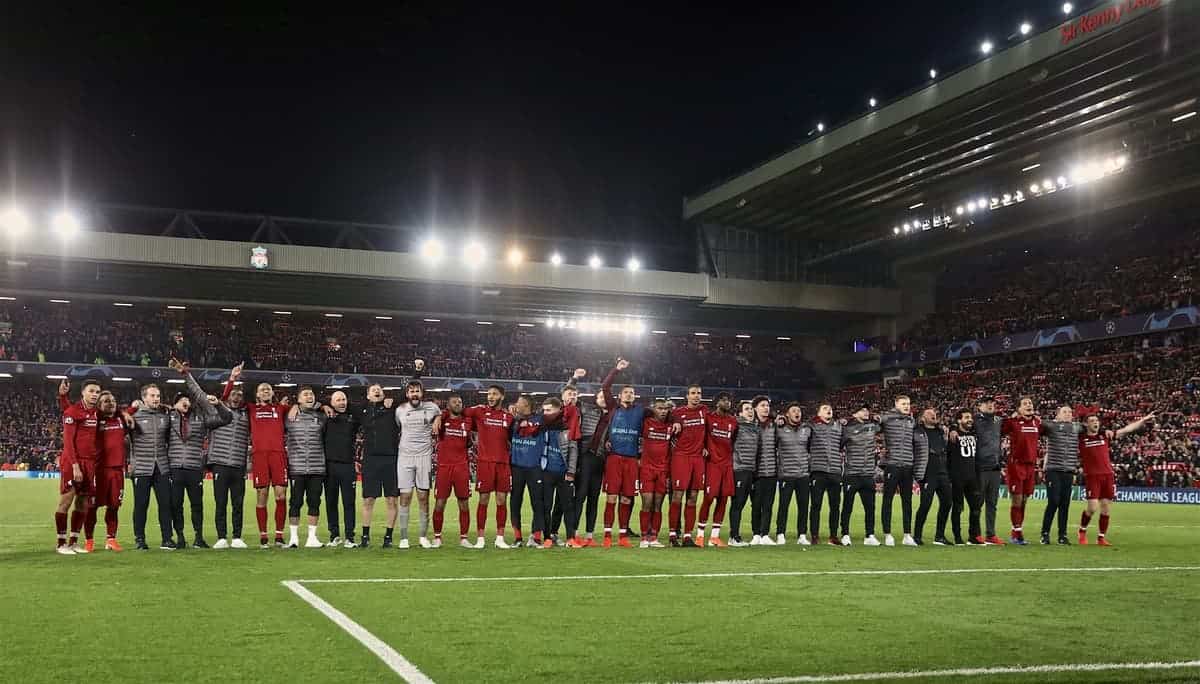 Barcelona had their chances on the night, and both Virgil Van Dijk and Alisson demonstrated their transformative effect on Liverpool's rear-guard once more, but the result was no freak, no fluke of any kind.
This was Liverpool systematically demolishing one of the finest teams on the continent in the most controlled, but fiery, vibrant of manners.
When you see the entire squad and coaching staff lining up in front of the Kop and belting out 'You'll Never Walk Alone' in unison with a rapturous crowd, you see how much it means to them, this group of mostly 20-something professionals, and how this was a collective triumph and show of unity unlike any seen before.
Klopp has led Liverpool to the final of every European competition he has been in, winning every single two-legged knockout tie in his tenure thus far.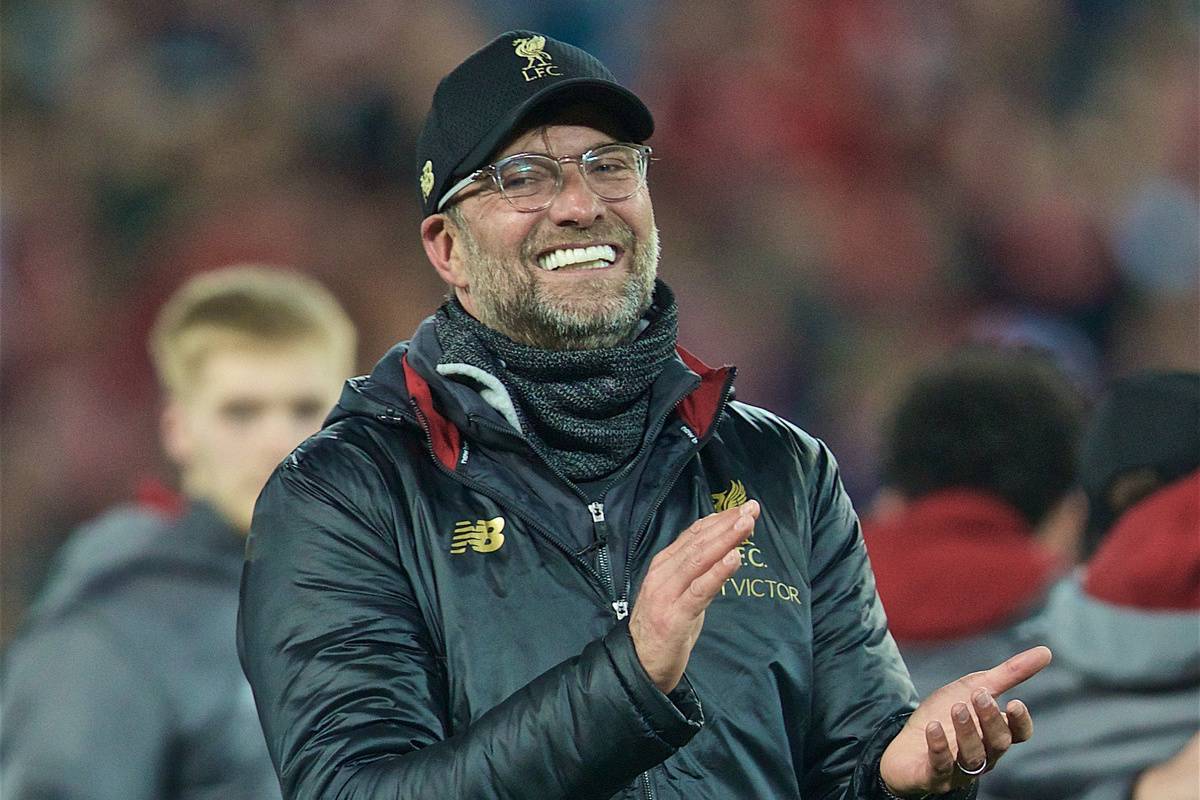 It's a quite astonishing record. He will feel this is now his time to finally succeed and deliver the silverware his joyous tenure richly deserves.
Tactically and psychologically, this was, without doubt, his greatest accomplishment at Liverpool so far. There is no manager in world football who harnesses emotion and energy within a ground to quite this effect.
The infamous 'doubters to believers' line from his very first press conference back in 2015 has never carried more meaning.
Any negativity and doubts have been purged in the most emphatic and unforgettable of fashions. Only believers are left.
On to Madrid. This is what it is to be alive.