Jurgen Klopp has given his advice for young players breaking through, with Trent Alexander-Arnold and Kylian Mbappe his examples of the perfect mentality.
Klopp has been consistent in his stance that ability is more important than age, with an open door for youth to break into his first team.
Alexander-Arnold has clearly found the most success with this at Liverpool, with the 20-year-old set to play in his second Champions League final in June and pass the 100-game mark next season.
The manager has also looked to bring the best young players into the club, with the Reds among the sides actively pursuing Mbappe before he made his £166 million move from Monaco to PSG in 2017.
Those operating in the club's academy may do so on a more modest level than the France striker, but Klopp is blessed with a host of talents at his disposal at Kirkby.
Speaking to Unisport, the 51-year-old explained what is required for youngsters to make it at a club like Liverpool.
"I saw in the last couple of years a lot of talented boys," he said.
"It's unbelievable how early it starts, 14, 15, 16, you see them already.
"The boys I see, they all have talent. I don't see all of them [at the academy], I only see the icing of the cake.
"You ask me what a player needs to have when he's young: talent, and an obvious football character. You can see that easily. How he is involved in the game and all that stuff.
"When you are 'strange' at 16, it's pretty likely you are much more strange when you are 25.
"So here, not nice and humble, just a normal football player with extraordinary skills.
"For example I saw Kylian Mbappe when he was 16, everybody knew: 'Yeah, wow, that will be absolutely amazing'.
"He's a nice kid and a world-class player, so he's a good example for that generation."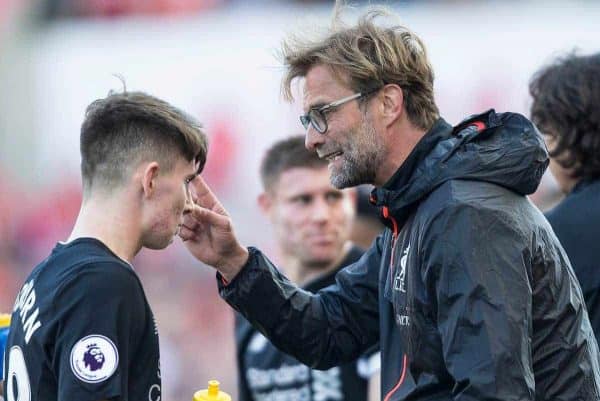 Klopp went on the detail how every young player needs to have a defining attribute, which could even be a "long throw-in," but added that there is "not one special thing" he looks for.
And the manager stressed the importance of "patience" in dealing with setbacks in their rise, and how expectations are created from the outside that can be undermined by "nature" slowing their development.
This can arguably be seen with Ben Woodburn, who broke through to considerable scrutiny at Liverpool but has struggled to impose himself over the past two seasons.
"We try to be different in that way, we try to give our boys the time," he continued.
"But sometimes the boys don't want to have that much time and want to already be a bit earlier somewhere else, and you cannot change that.
"Trent Alexander-Arnold is the perfect example, perfect. From day one he did everything like he should have done.
"By being himself, not by listening to us, 'what do I have to do', no it was clear for him: 'I have to learn, so I will learn, do my very best and there will come the day when I play'.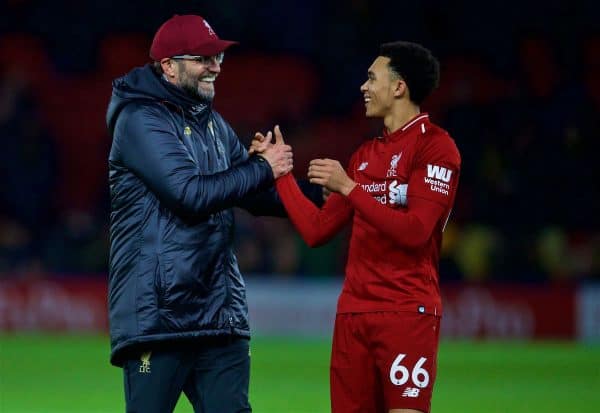 "Today, when he's not playing, he's not looking at me thinking 'why not?'.
"He knows I thought about it, so he doesn't have to think about it: he doesn't play because he plays the next game or whatever.
"That's pretty smart from him, to be honest."
Klopp concluded that "to have a long career you have to be a serious person," which highlights the fine margins between being a talented young player and one able to establish himself at Liverpool.