Jurgen Klopp has vowed that Liverpool "will make the next step" after finishing just one point behind an incredible Man City in the Premier League this time out.
The Reds fell one point short of City in the race for the title on Sunday, despite a 2-0 victory over Wolves, as their rivals won 4-1 at Brighton.
A campaign that saw them lose just once and amass a record 97 points, this cannot be deemed a failure for Liverpool, albeit the challenge ahead is now likely to grow more difficult.
With a Champions League final to look ahead to, and given the context of their near-miss, there was little negativity around Anfield as the players made their lap of the pitch at full-time.
And speaking in his post-match press conference Klopp acknowledged this, as he set his sights on a renewed bid "from tomorrow on."
"I didn't see anybody really on the ground, or completely 'done'. People really love what the boys did over the year," he told reporters on Sunday.
"That's already special, after such a long season, all the brilliant things you could say about us and this club.
"We can decide how we deal with that, which information we take out of that, nobody else can decide that.
"And if we are ready to make the next step, then we will make the next step, and that's the plan, obviously, from tomorrow on."
City lifted their second title in as many seasons after their triumph at the Amex, with 98 points enough for Pep Guardiola's expensively assembled squad.
Klopp congratulated City for their success, but added that Liverpool will "go again" as they chase a first Premier League title, with his belief being that his team are "one of the best that every played" for the club.
"As long as City are around, with the quality they have, the financial power and all that stuff, it's not that any other team will pass them easily, that's clear," he explained.
"You need to be very, very close to perfection to win the Premier League as long as this is the case.
"But we made unbelievably big steps and I really expect more to come, that's the truth. What that means at the end, I don't know.
"But if you see whatever happens to you in life as the only chance you ever had, I feel a bit for you, to be honest.
"There's a lot to come, a lot of years and it's all about you, what you do with it—and that's what we do with it.
"People will tell us now it's 30 years [since Liverpool won the league] but they have bigger problems, to be honest, all the people who will say that.
"We will go again. This team tried it for the first time and I really think they did quite impressively to try the first time.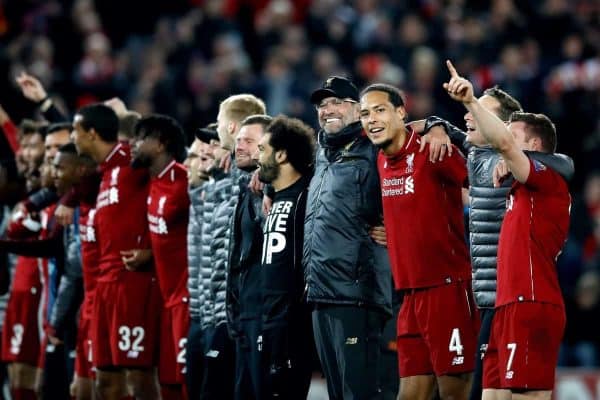 "And, on this road, to qualify for the Champions League final is pretty special.
"This team is one of the best that ever played for Liverpool, 100 percent. But we play in a league with other very good teams.
"What's what we have to accept and we do accept, no problem. We will go again, 100 percent."