Liverpool edged a five-goal thriller against Newcastle on Saturday to return to the Premier League summit, leaving fans with plenty to discuss afterwards.
The Reds were again in the mood for yet another dramatic finish, leaving it late to secure a 3-2 win over the Magpies in the penultimate game of the Premier League season.
Newcastle twice pegged Liverpool back to levels terms after both Virgil van Dijk and Mohamed Salah had edged the Reds into the lead on either side of half-time, setting up a nervy finish to proceedings for Jurgen Klopp's men.
But Divock Origi was again the man of the moment for Liverpool as his goal proved to be the winner, ensuring the Reds return to the top of the table with Man City still to play on Monday.
This Is Anfield's Joanna Durkan(@JoannaDurkan_) and Joel Rabinowitz (@joel_archie) were joined by Scott Stewart (@ImScottStewart) to delve into the positives and negatives from the thrilling win, and discuss how injuries will affect the options in attack for Barcelona's upcoming visit.
The good…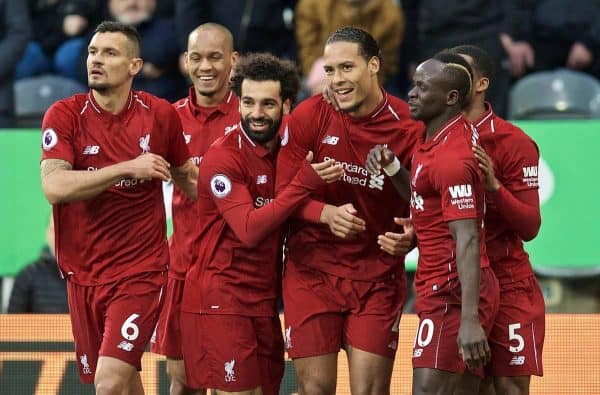 Joel: I've said it countless times this season, but the mental strength of this Liverpool team to keep finding the answers just when it looks like it might just be all over is simply astonishing.
It felt like the title challenge was dead when Salah went off injured, but they just kept their heads, kept playing and came up with the goods again.
It means the title goes down to the final day, and City now have the pressure back on them against Leicester under the lights on Monday night.
You cannot ask for any more from this group of players and this manager.
Special mention to Xherdan Shaqiri, who hasn't had much action lately but made a vital contribution off the bench with that superb free kick for the winning goal.
Scott: The Reds are going nowhere.
It was an unbelievable encounter. Liverpool once again showed their resiliency with Origi fashioning another late winner and reminding you that if you make it through this season it'd be a good idea to call your cardiologist and make sure your heart is still in good shape.
Van Dijk was great and Trent Alexander-Arnold was a welcomed return to the XI, producing another two assists and again showing what he can offer Liverpool going forward.
Salah was the more ruthless of the attacking trio up front and earned his goal, while I was more impressed with Daniel Sturridge's influence against Newcastle than against Huddersfield.
The substitutes were crucially effective as well, and a worthy shout out to Van Dijk for calling for Shaqiri to take the free kick that resulted in Origi's goal.
In the end, we're watching one of the greatest Liverpool sides to ever take the field and they're taking the race for the Premier League down to the final day. What more can you ask for?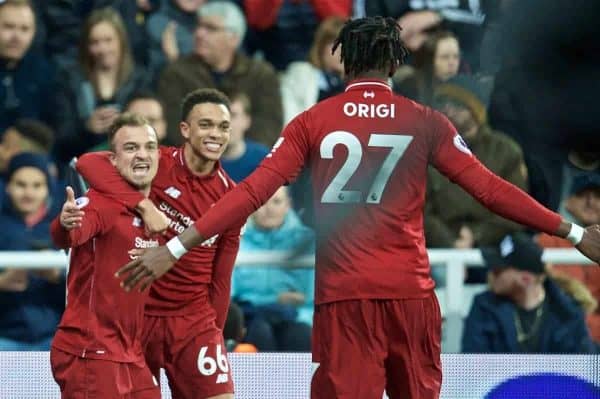 Joanna: Twice Liverpool were asked questions of their title credentials, their ability to handle the pressure and bounce back—and on both occasions they were emphatically answered.
Like Joel noted, it comes down to the willpower and maturity of the team, qualities which have underpinned the record-breaking season we are bearing witness to: 94 points with one still to play, incredible.
On the night I thought both Trent and Andy Robertson were superb, the former for his sumptuous deliveries into the box and the latter for his work-rate in both defence and attack.
All you could have asked for was Liverpool to pose one more question of Man City before the final day, and they did just that—albeit in dramatic fashion.
Now we wait and keep the faith before doing it all over again for one last time.
The bad…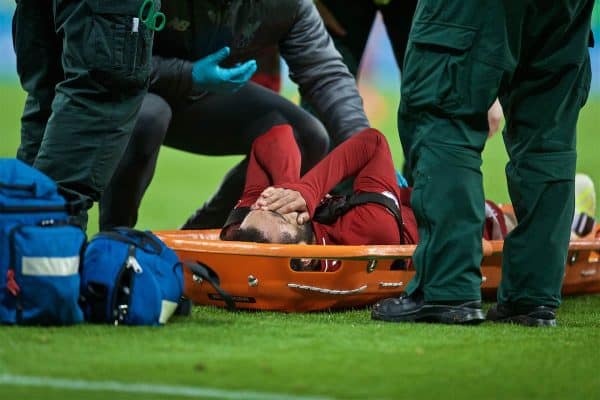 Joel: This was one of Liverpool's worst defensive displays of the season.
They never fully controlled the game and gave Newcastle so much time and space to cause problems.
I don't like to point at individuals, but Dejan Lovren had a really poor game and had a part to play in both Newcastle goals.
He was jittery and unconvincing throughout, and the contrast with Joel Matip was stark.
Obviously, the Salah injury was horrible to see; touch wood he's ok and can play again this season.
Scott: First, and most importantly, the injury to Salah.
After collecting his 22nd league goal of the season, it was one of Liverpool's worst nightmares to see him stretchered off with a serious head injury after a clash with Newcastle 'keeper Martin Dubravka.
Klopp has said that they 'have to wait' about checking on his availability for Barcelona on Wednesday, for what that's worth.
Elsewhere, Gini Wijnaldum did not have the game of his life and looked a step behind the rest of the action and I'm in same boat as Joel—Lovren did not impress, either.
There's no arguing that Newcastle's pesky attack was effective, but Lovren was not at his best on the day.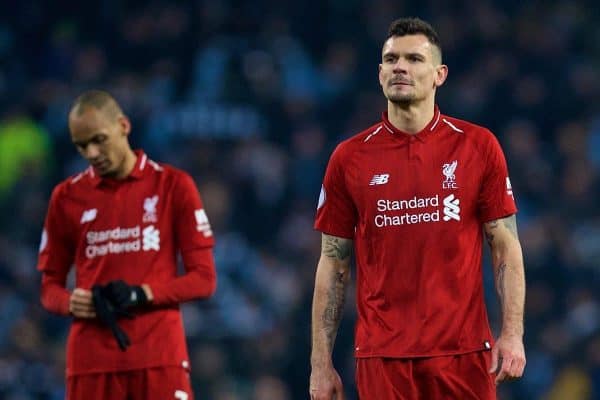 Joanna: The game was far too frantic and open for my liking, and it was undoubtedly the root cause of the waves of nauseousness and despair I was feeling, mostly throughout the second half.
The Reds were a little bit all over the place across the entire pitch, but it's hard not to agree with Joel and Scott, Lovren was clearly off the pace and it contributed to Newcastle finding the back of the net.
At the end of the day another three points in the bank is all that matters at this stage of the season, but like the guys mentioned Salah's injury was the clear negative to emerge from the game.
Initial reports suggest it is not too serious, but concussion protocols will be strictly followed, and I just hope he is alright and can still play a part in what is left of the season.
…and if Salah & Firmino are ruled out, how should the Reds lineup in attack vs. Barca?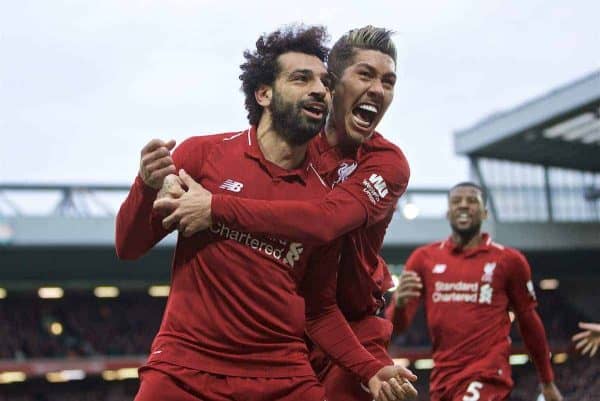 Joel: I'd probably be looking at Shaqiri and Origi to come in, which is far from ideal, but probably the most feasible attacking options at Klopp's disposal now.
Both played a key part in the winner vs. Newcastle, so hopefully they can carry that good feeling into Tuesday night.
It doesn't fill you with much confidence though, unfortunately.
Scott: With Firmino definitively unavailable, an argument could be made for Shaqiri to take his place this time around though he has not had his best outings in the starting XI.
Outside of the Shaqiri, Sturridge is the only other obvious choice after Wijnaldum's outing in the 9 role at the Camp Nou.
However, if Salah is also unavailable, it may be possible that both Sturridge and Shaqiri start with Klopp having to then look to replace Naby Keita, also sidelined for the remainder of the season.
With Wednesday just around the corner, Liverpool will have more questions than answers early this week as they wait to see if Salah is fit and can help them reach a second straight Champions League final.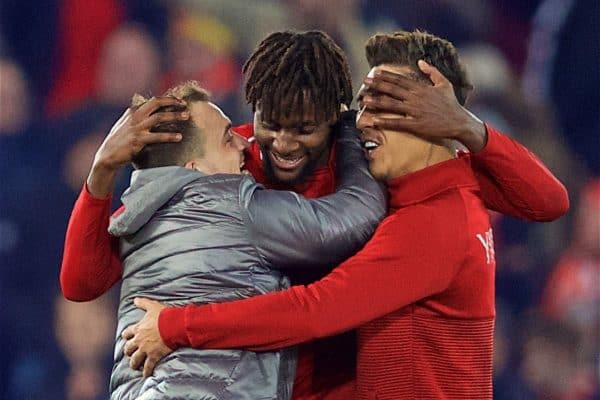 Joanna: This is where questions pertaining to Liverpool's depth in attack come to the fore.
Firmino's absence alone at the Nou Camp was felt, and so if both Salah and Firmino are ruled out it will come as a massive blow to the Reds' hopes of turning around what was already a stern test.
While Sturridge showed glimpses of his quality against Newcastle, he simply doesn't have the pressing ability to be given the nod.
It leaves Klopp with the option of keeping Wijanldum as Firmino's direct replacement, but I would be tempted to move Sadio Mane into the middle and have Shaqiri and Origi support him.
In an ideal world, Alex Oxlade-Chamberlain would replace the latter, but he's still working his way back to full fitness and I'd be surprised if he was able to start.
Moreover, for me, it would also mean Trent has to return to the starting lineup to supplement the attack as Joe Gomez at right-back would only add to the lack of potency and threat in the final third.