Liverpool lost 3-0 to Barcelona in painful fashion on Wednesday night, as Lionel Messi's genius and poor finishing proved to be the difference at the Nou Camp.
Barcelona 3-0 Liverpool
Champions League Semi-Final First Leg, Nou Camp
May 1, 2019
Goals: Suarez 27, Messi 75′, 82′
---
Wijnaldum as No.9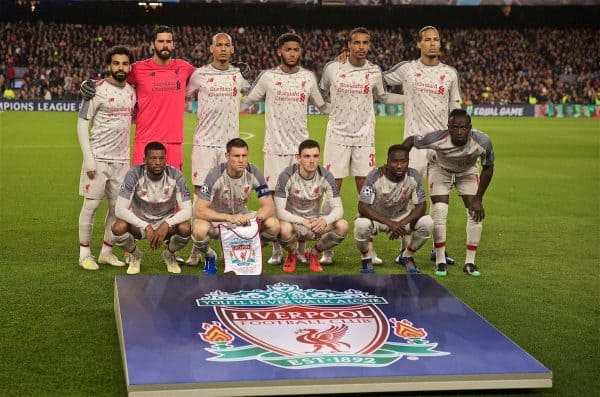 Roberto Firmino was ruled out of the starting lineup after failing to find full fitness, leading to all sorts of predictions about Jurgen Klopp's formation.
While many thought the manager would go with a 4-4-2 diamond system, he shocked everyone by deploying Gini Wijnaldum as a false nine in a 4-3-3, with Mohamed Salah and Sadio Mane either side of him.
Although an intriguing move that didn't necessarily look a bad one in the early exchanges, it quickly became apparent that it wasn't working.
Wijnaldum gave his all in the role, but he blunted Liverpool's attack and never looked at home in an alien position.
He didn't have the movement, guile or general goal threat of Firmino, and in hindsight, it backfired spectacularly and played a key part in the result.
Wijnaldum's versatility has been admirable throughout his career, but this was a step too far for him.
Messi the Difference Again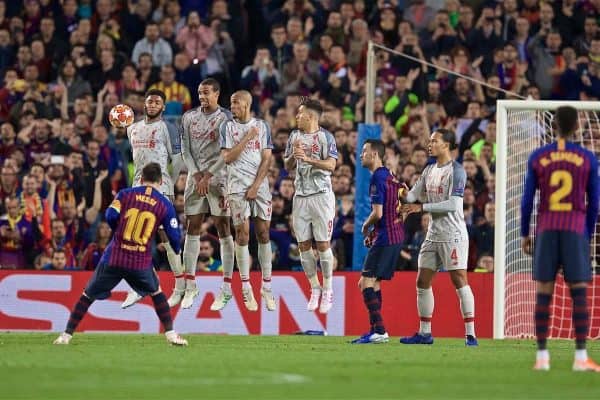 Messi is undoubtedly the greatest footballer of all time.
Yes, there have been undeniable contenders throughout history, but Barcelona's genius is on another level to anyone, as he again showed on Wednesday evening.
Messi was the difference between the two sides, scoring twice on the night including a free-kick that almost defied belief, also showing so many moments of individual magic that threatened to make the night even more galling.
Add to that Luis Suarez shining as the most dangerous of supporting actors, and others such as Jordi Alba and Gerard Pique excelling, and this was always going to be a tough night for the Reds.
There is still an inexperience that exists in this brilliant young team, and as was the case in last season's Champions League final, they were outdone by individuals who have been there and done it for years, mastering the dark arts and taking their chances.
But still, without Messi things would have been very different.
Reds Pay for Wastefulness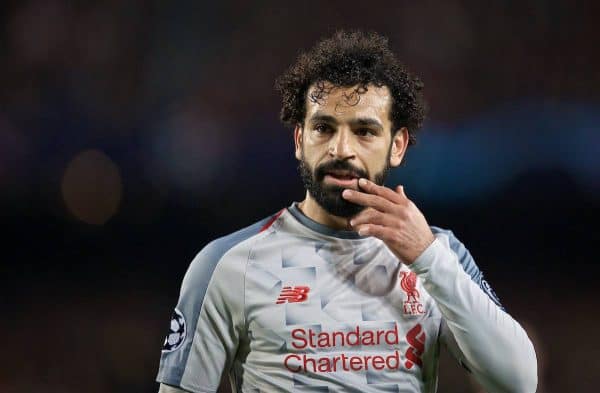 There was a spell earlier in the season when Liverpool's lack of end product became infuriating, with so much to love about their play barring the final ball or finish.
Unfortunately, that shortcoming came back to haunt them at the worst possible time at the Nou Camp, on a night when so much about the performance was impressive.
The main difference was end product, with Barcelona burying the opportunities that came their way, barring Ousmane Dembele's last-gasp sitter, and the Reds fluffing their lines constantly.
James Milner was twice denied by Marc-Andre ter Stegen, the second of which was not a clinical enough effort, while too many crosses were either aimless, behind a man or over-hit.
Salah's late effort that somehow hit the post, after Firmino's attempt had been cleared off the line, epitomised a desperately frustrating 90 minutes.
When ties are as finely poised as this one was before kickoff, ruthlessness is everything—Liverpool couldn't have been further from that in Catalonia.
Performance Better Than the Result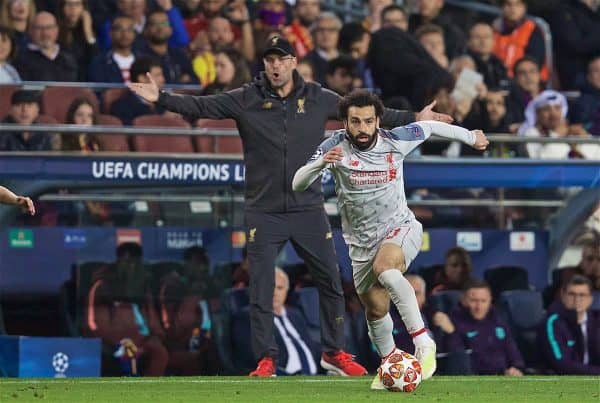 A 3-0 defeat never looks pretty on paper, but Liverpool played well in the first half and were superb at times before Messi's first of the evening made it 2-0 after the break.
The Nou Camp crowd were clearly sensing Liverpool's dominance as Klopp's men came out superbly in the second half and should have found an equaliser.
It was also a change from Ernesto Valverde that signalled Liverpool's dominance – and ultimately won the game for the hosts. Bringing on Semedo to replace Coutinho and switching to 4-4-2 brought more control again for the Catalans.
Sadly, the Reds' profligacy proved to be their downfall, and in truth, they could easily have lost by more in the final minutes as they desperately searched for that all-important away goal.
For large chunks, however, this was a display to be proud of, but the result is one that would happily never be spoken of again.
Reds Mustn't Crumble Now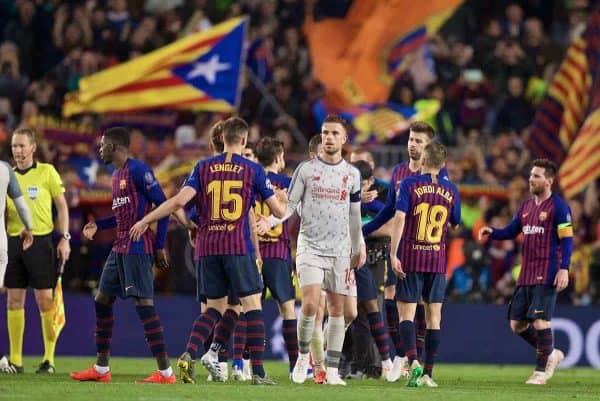 Liverpool went into Wednesday's first leg brimming with confidence after racking up 10 wins in a row in all competitions.
There was a real belief that they could cause problems for a Barcelona side just crowned La Liga champions for an eighth time in 11 seasons.
This defeat will, therefore, have hit Klopp and his players hard, but they must now regroup and not let their season end with a whimper rather than a bang.
The trip to Newcastle on Saturday is a must-win game in the Premier League title race and the Reds cannot feel sorry for themselves at St James' Park.
While hope is fading on both fronts—falling short in the two major competitions will be tough to stomach, considering how good Liverpool have been—they must show the mental fortitude that has been apparent throughout 2018/19.
They can still win the league, and Anfield can roar Liverpool back into contention against Barca next Tuesday. Maybe take some inspiration from Roma last season…