Liverpool have confirmed five more friendlies as part of their pre-season preparations this summer, ending with a marquee meeting at Anfield.
The Reds will take on Bundesliga side Schalke to round off their warmup ties ahead of the new Premier League campaign which begins on August 9/10/11.
Having already announced their tour of the United States in July, the club have now confirmed plans for domestic friendlies and two big-name clashes in Scotland and Switzerland.
Tranmere Rovers (July 11) and Bradford City (July 14) will be the first opponents of the summer, with the latter a charity match in aid of the Darby Rimmer MND Foundation.
Liverpool then head across the Atlantic, where they will play Borussia Dortmund in Indiana (July 19), Sevilla in Boston (July 21) and Sporting CP in New York (July 24).
Next up is a friendly against Napoli at Murrayfield in Edinburgh (July 28), after which Jurgen Klopp's squad will head to France for a training camp.
While there, they will cross the border to Switzerland to play Lyon in Geneva (July 31), ahead of the Community Shield against Man City at Wembley on August 3/4.
And finally they take on David Wagner's Schalke at Anfield on August 6, giving the late returners a chance to fine-tune their fitness before the season begins proper.
Liverpool's Pre-Season Fixtures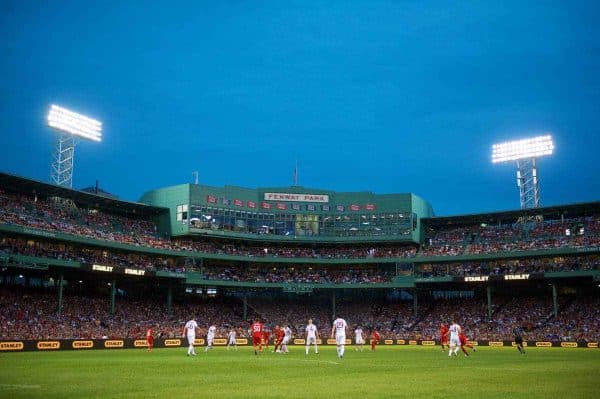 Vs. Tranmere
Prenton Park
July 11, 7.30pm
Vs. Bradford City
Valley Parade
July 14, 3pm
Vs. Dortmund
Notre Dame Stadium, Notre Dame, Indiana
July 19, 8pm local / July 20, 1am BST
Vs. Sevilla
Fenway Park, Boston, Massachusetts
July 21, 6pm local / 11pm BST
Vs. Sporting CP
Yankee Stadium, New York City, New York
July 24, 8pm local / July 25, 1am BST
Vs. Napoli
Murrayfield, Edinburgh
July 28, 5pm
Vs. Lyon
Geneva
July 31, 7pm local / 6pm BST
Vs. Man City (Community Shield)
Wembley
August 4, 3pm
Vs. Schalke
Anfield
August 6, 7pm
The Darby Rimmer MND Foundation was set up by ex-Reds defender Stephen Darby after his diagnosis with motor neurone disease.
"They are two amazing clubs who both played a massive part in my career and both will always have a special place in my heart," Darby told the club's official website on the news.
"I can't thank both clubs and sets of fans enough for their support."