Jurgen Klopp was eager not to "create headlines" with his view on a "full throttle" challenge from Sevilla's Joris Gnagnon which saw Yasser Larouci stretchered off.
The 18-year-old was scythed down midway through the second half of a 2-1 loss in Boston, and after attempting to stand crumpled back to the turf in agony.
Carried off the pitch as Gnagnon was accosted by the entire Liverpool squad, before being shown a straight red card, incredibly protesting the decision before reluctantly walking.
It remains to be seen how severe Larouci's injury is, though Klopp told reporters in his post-match press conference that the Algerian, who has been making a case for a first-team role this season, was "lucky."
Klopp shared words with Sevilla boss Julen Lopetegui in the aftermath, and Virgil van Dijk led a furious tirade against Gnagnon himself at full-time, with the manager reflecting after the game.
"[I would] create headlines with the things I think about the situation," he told reporters.
"Yasser looks like he was lucky, but of course, how it always is, we have to wait a little bit.

"He couldn't keep on playing, in the dressing room he was OK, same with Harry [Wilson], who got a knock on his jaw.
"Not too cool, [Harry] should be OK as well. That's the situation.
"I would love that pretty early in the season that you write a story about these games without my headlines. Whatever I say would be the headline.
"The football could be much better. You know in general I don't like overly hard games.
"The challenge is there to win the ball, there are rules. I don't want to say anything about this specific game.
"No headlines, 'Jurgen Klopp…', I'll never be able to holiday in Spain again!"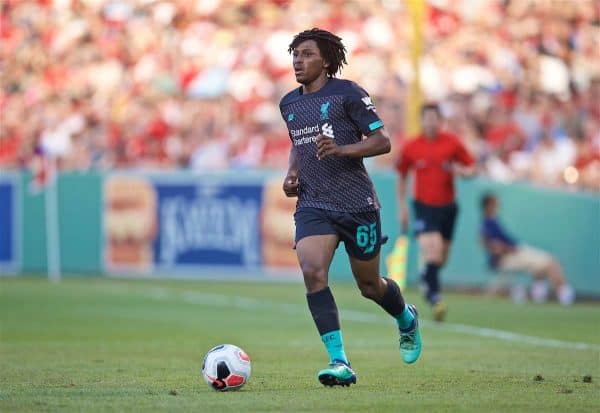 Questioned further on the challenge in particular, Klopp described it as "full throttle," but elaborated on his conversation with a club doctor on Larouci's injury.
"I don't know 100 percent, but it looks like it was lucky," he continued.
"I spoke shortly with the doctor, that's what he said, but we will see."
Adding in his own post-match briefing, Lopetegui said: "I worry about the player but I asked Jurgen, he said the player is OK, no bad injury, so I'm happy for that."
Gnagnon took to Twitter to issue an apology in his native French, labelling his challenge as "odious":
— Joris Gnagnon (@Gnagnon_39) July 22, 2019
"I would like to publicly apologise to Liverpool, the player's family and [the club's] supporters," he wrote.
"This an odious act on my part, whatever the reason, [and should not be seen] on a football field. All my prayers are directed towards the player and this family."
Larouci left Fenway Park with his leg in a protective boot, with the left-back due a scan on Monday.