Jurgen Klopp has compared Rhian Brewster to "exceptional talent" Jadon Sancho, and praised Yasser Larouci for how he dealt with the Dortmund winger.
Sancho was among the starters as Dortmund provided the Reds with the first opponents of their pre-season tour of United States on Friday night.
The 19-year-old has been a revelation since leaving Manchester for Germany in 2017, scoring 14 goals and laying on 23 assists in 55 games for Klopp's former club.
Klopp was interested in signing Sancho ahead of his departure from Man City, but difficulty in negotiations between top English sides, and likely the teenager's desire for immediate first-team football, squandered any move.
At the Notre Dame Stadium, the No. 7 lined up against one of Klopp's new young hopes, with Larouci serving as Liverpool's starting left-back in every pre-season friendly so far.
A misjudgement in the buildup to Jacob Bruun Larsen's goal aside, it was another impressive showing from the 18-year-old Algerian—particularly in the 45 minutes Sancho played.
Meanwhile, Brewster came off the bench among 10 changes for the Reds on the hour, and stepped up confidently to score the penalty which brought the score to 3-2, which is how it stayed.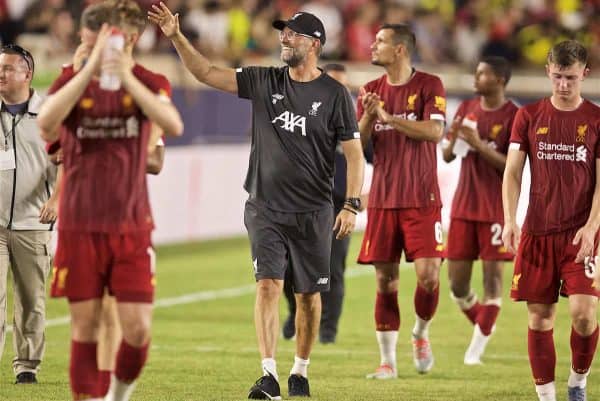 Speaking after the game, Klopp described Sancho as "one of the biggest talents in world football," and in this identified why Larouci and Brewster are among his favourites this pre-season.
"He's an exceptional talent but he's not the only one in England at the moment," he told reporters in South Bend.
"That age group has already a few—Rhian Brewster is the same age. Raheem Sterling, for example.
"I don't want to forget any wingers, but there are a lot of talents; young and very, very promising players in England.
"There is no doubt about the potential of Jadon Sancho. His speed and body control at the highest speed is his main strength.
"Being good in big spaces and in small spaces makes you a pretty interesting player—and that's what Jadon is.
"Yasser, our 18-year-old left-back, played against one of the biggest talents in world football and did pretty well the whole night.
"The pitch helped a little but, but still he did really well."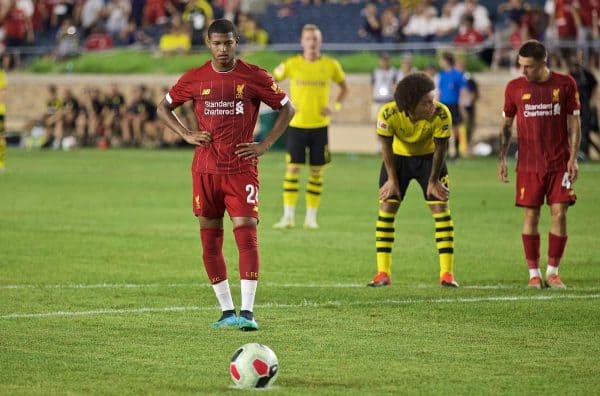 Little more needs to be said of Brewster this pre-season: the 19-year-old is proving why Klopp has so much faith in him, despite having yet to make his competitive debut for the Reds.
But that he was able to compose himself so swiftly and fire his spot-kick into the top corner is a marker of his ability in a friendly which was a step up from previous clashes with Tranmere and Bradford.
And for Larouci, who spent most of last season with the under-18s, these games against high-profile opponents in the US could earn him a first-team role as Andy Robertson's backup.
The youngster coped well up against Sancho, and next time out it could be Sevilla's Munir, in Boston.