Alex Malone was part of the This Is Anfield team on the US tour, here he explains the experience of the impressive fan events in Boston and New York City.
After a whirlwind few days, the games are done and dusted, the fans are heading home and lifelong memories have been made.
I was lucky enough to attend the games in both Boston and New York – but saying 'attended the games' doesn't do justice to what was an exhilarating experience.
It's much more accurate to say that I attended two remarkable, spectacular and unique fan experiences in two remarkable American cities.
The first stop was Boston. For those who've never visited this great city, I'd advise adding it to your bucket list. A wonderful, picturesque city full of heritage and charm. The locals welcomed us with open arms, genuine warmth and renowned Boston hospitality.
A Mosh Pit to End All Mosh Pits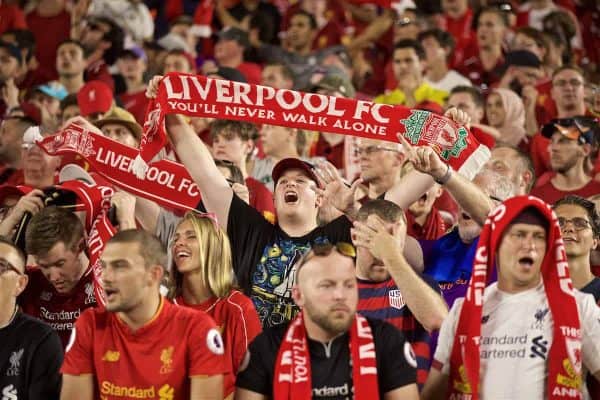 A House of Blues fan event the night before the Sevilla game kicked the whole thing off. The 'sold-out' event was free but still required a highly sought-after ticket.
I arrived at 7pm due to rumours the doors would be closed at 8pm and if you weren't in, you weren't getting in. What a sight it was to behold! A queue of Liverpool fans stretching over the horizon, singing, chanting and generally having the time of their lives.
Scores more fans passed by, singing, dancing, laughing and engaging; everyone there with the common purpose of celebration and comradery – and it's worth mentioning that throughout this entire trip which took in both Boston and New York, I didn't see even a hint of trouble.
Inside, it was a typical House of Blues; 3 levels, a massive 'dance floor' area and a huge stage. The number of bar staff adorning the sprawling perimeter bars suggested they knew what to expect. The obligatory LFC merchandise stall was doing brisk business; the new 'turquoise' kit quite the topic of debate.
Fans continued to stream in, more and more until the Sea of Red was complete. I've attended many a rock concert at several House of Blues locations but never have I seen a crowd this immense, this engaged, and this fervent.
The legends in attendance were Patrik Berger, Ian Rush, Jason McAteer and Vladimir Smicer and LFCTV were in attendance for the introductions.
The ex-players took the stage to rapturous applause. The beer was flowing and the excitement was mounting. Stories were told, laughs were had and a thousand mobile phones were held high to capture the moments.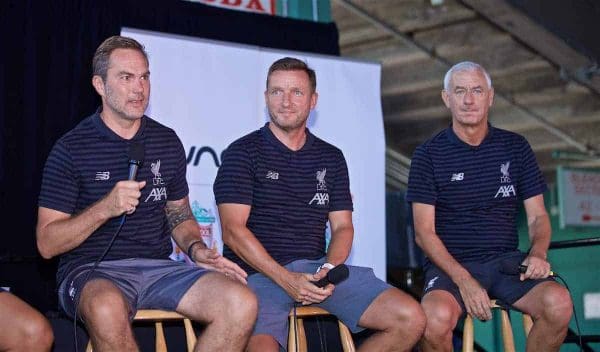 After an appearance by the Anfield Wrap team, on walked Jamie Webster. I've seen YouTube videos of his performances in Ireland, Germany, Madrid and other places but this was my first time experiencing him live.
A few classic non-LFC songs were boomed out as teasers, which went down well enough with a crowd seemingly ready to sing along with anything thrown at them. But you could sense the anticipation for what was to come, and so it proved.
The crowd went wild as 'Allez, Allez, Allez', 'Virgil Van Dijk' and 'You'll Never Walk Alone' were given centre stage. As Jamie's guitar went ballistic after the 'calm' opening of 'Dirty Old Town' so did the masses.
'Dirty Old Town' became 'Virgil Van Dijk,' beer flew through the air as the walls and ceilings vibrated to the cacophony of noise. A mosh pit to end all mosh pits bounced with joy. It was a jaw-dropping extravaganza; an artist and his audience as one.
After an epic few hours, the bars closed, and two thousand Liverpool fans spilled into the street. There the party continued. Groups of fans gathered with their red flares, scarves, banners and what was left of their voices, booming out Liverpool anthems into the Boston night. I watched on for a while, in awe of it all.
I've experienced similar before and after cup finals in places like Istanbul, Wembley and Liverpool, but this was before a ball had been kicked, for an exhibition game, in Boston, USA!
A friend of mine, who has attended many LFC fan events called it "the greatest Liverpool fan party she had ever witnessed." With 2,500 delirious Liverpool fans in one superb arena, it has to rank as one of the best for me too.
Yes, two thousand five hundred; from not only across North America but across the world; and together those fans made it a night that everyone in attendance will never forget.
On to Fenway Park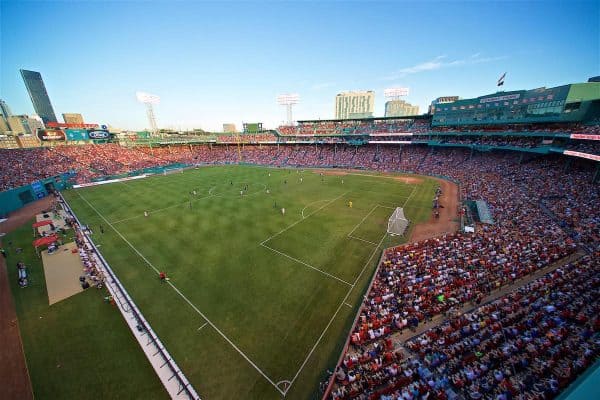 After nowhere near enough recovery time or sleep, it was suddenly game time.
This was my first visit to Fenway Park, home of the Liverpool owners, and a famous name in US sports stadiums.
Access to the stadium was only a short walk or Uber ride from nearby hotels. Wherever you looked, red shirts were literally everywhere. Very few adorned the Sevilla badge.
Having previously visited several spectacular US sports stadiums but having next to no knowledge of this one, I was looking forward to it with keen interest and anticipation.
The only way I can describe Fenway Park is 'interesting.'
Remember that green wooden fence your slightly wacky neighbour had when you were growing up? It's like that except bigger, and I'm assuming there must have been a half-price sale on green paint when they built it. It is green, really green.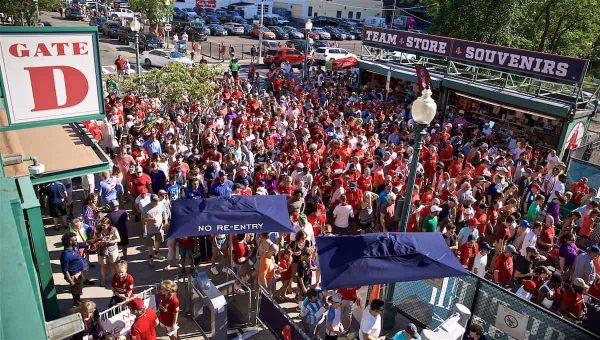 They still change the scoreboard using square placards with numbers printed on them, similar to those used on old cricket boards. It really is a throwback to a bygone era.
The Liverpool fans, as always, massively outnumbered the opposition. I'm estimating about ten to one here. A healthy crowd had braved the searing heat to bake in record Boston area temperatures.
According to the weather report, it was the hottest day since 1991. For anyone complaining about the players' lack of intensity of the games here, trust me, walking in that heat was hard enough, never mind running around the pitch for an hour.
The game, as we know, ended in a disappointing defeat but it didn't dampen the spirits of the fans at all, many of whom were seeing their heroes for the first time.
Our thoroughly enjoyable Boston experience was over. Next stop, New York City.
A Remarkable Evening at Carragher's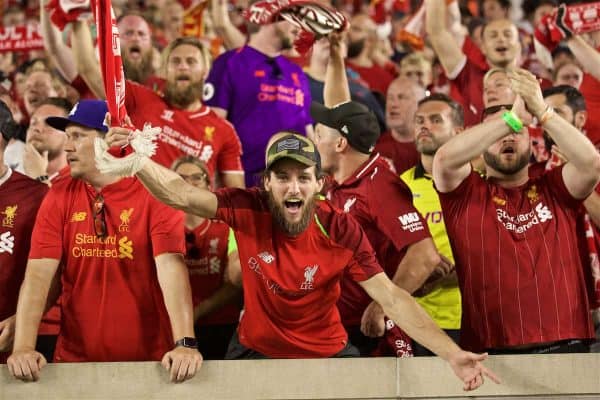 The Monday and Tuesday nights prior to Wednesday's game saw two separate events, both taking place in Carragher's Pub, right in the heart of New York City, minutes from Broadway and Times Square.
I'd heard great things about it, I'd read about it and I'm even acquainted with Brian the owner, but this was my first time visiting it.
It's an impressively authentic pub adorned (of course) with LFC memorabilia, and with Jamie Carragher's image taking up a fair chunk of wall space. At the end of the main room is a massive and very impressive mural of Liverpool players from our illustrious past.
Their pizzas are named after legendary Liverpool players, and if you order a side dish off the menu, they're called… wait for it… Mersey Sides.
Unlike the vastness of the House Of Blues, Carragher's is more your typical pub layout and size. Such was the demand and interest, fans were packed like sardines on both nights with even elbow room at a premium.
Considering these were midweek nights, it showed the pulling power of Liverpool FC, with both events sold out, and many more without tickets waiting outside hoping to find one.
I met up with friends of mine, all of whom I have met due to our mutual LFC connections, from every corner of the United States and Canada, as well as some who'd made the trek across the pond from England and Ireland specifically to be a part of it.
The North American Liverpool fanbase truly is remarkable in how it has brought people from thousands of miles apart who are now genuinely close, lifelong friends.
Monday night featured The Anfield Wrap team followed by a rousing session by renowned Liverpool-based singer and guitarist Marc Kenny. Marc's performance was typically superb as he engaged the crowd and raised the roof with a catalogue of famous Liverpool FC anthems.
Tuesday night was the New York appearance of the ex-players and Jamie Webster, mirroring the Boston House of Blues format. While smaller in scope than the Boston event, the sell-out crowd lapped it up, the atmosphere was fantastic and it was another hugely entertaining evening.
'Magnificent' Experience Comes to an End at Yankee Stadium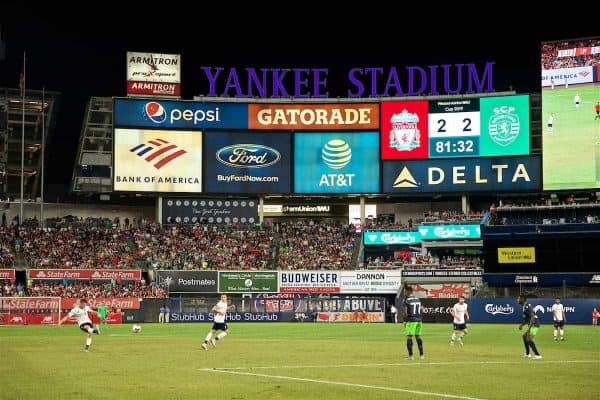 Red and white open-top buses adorned with flags, banners and slightly tipsy Liverpool fans ambled through the Manhattan streets on their way to the stadium.
Songs boomed out, fists were pumping and scarves were swinging above heads. Confused locals, stunned and bemused by the spectacle, looked on unsure of what to make of it all.
As for me, well, I'd 'missed the bus' so to speak by not getting a ticket beforehand, so decided to brave the New York subway system instead. Now, if you've never done it, trust me, it's not quite as easy as it sounds.
It's fair to say that I only made it there in time – or possibly at all – thanks to the intervention of a few locals and some genuinely helpful Sporting fans I, thankfully, got chatting to on the train.
"Your defence is suspect, we'll put two past you tonight" one of them told me…
As for the subway ride itself, this made my Carragher's 'sardine' grumble seem petty. I had room only for my right arm to grab the 'hang on for dear life' rail. I'm not sure of its official name but this seems fitting.
And then, when the carriage was full to bursting point, more got on. New York rush hour plus several thousand Liverpool fans each heading the same way will do that. 30 claustrophobic minutes later, the stadium was conveniently – and thankfully – a stone's throw from the subway station – and WHAT a place it is.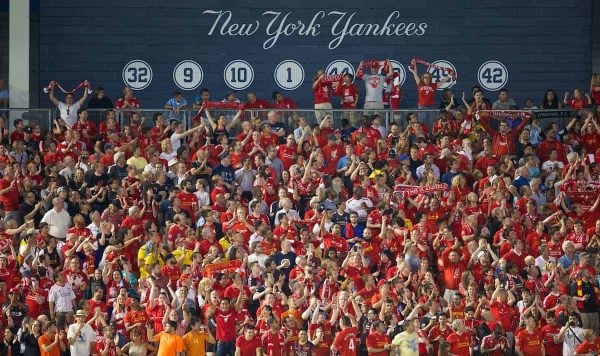 If Fenway Park is the stadium equivalent of a 1971 Ford Anglia, Yankee Stadium is a 2019 Corvette. Hugely impressive with the biggest 'large screen TV' you're ever likely to see, it's a fitting spectacle for a city as spectacular as New York.
The game commenced, the fans sang their hearts out, and those Champion's League goal-machines, Origi and Wijnaldum earned us a half share of the highly sought after, ahem, Western Union Trophy.
Again, the Liverpool fans made up easily more than 90% of the crowd.
And then, suddenly, that was it.
The trip, the experience, the party was over. All that remained was the subway ride back to the hotel. Even then, a rather less packed but still busy New York subway ride full of Liverpool shirts was something quite surreal to behold.
It was seven thousand miles of travel on planes, trains and automobiles. It was sardine conditions in record-breaking heat. It was many days of too little time and too little sleep.
But it was an experience of a lifetime and a genuinely magnificent celebration of 'The Six Times European Champions'. One that I, and I suspect everyone else who experienced it, wouldn't change for the world.