Pep Guardiola has seen his sides succumb to the aura of Anfield in the past, and the Man City boss believes it has a unique effect on players and managers.
Guardiola has visited Anfield four times as a manager and is yet to taste victory.
The 0-0 draw between Liverpool and City in the Premier League in October was the first time the Spaniard was able to pick up any points at the stadium.
Previously, he saw City lose 1-0, 4-3 and 3-0, with three goals in 19 minutes in the Champions League quarter-final first-leg loss in 2018 a humiliating spell.
This year one of his old clubs, Barcelona, suffered a similar fate, relinquishing their four-goal lead in the semi-finals of the competition to lose 4-0 at Anfield, including two goals in three minutes from Gini Wijnaldum.
Wijnaldum's header restored parity in the tie, and the noise from the stands and horror painted on the faces of the Barca players summed it up.
Speaking to Catalan newspaper ARA in a long interview, Guardiola described how every player and manager can grow to fear Anfield.
"I thought they'd score a goal at Anfield, and I am sure the players knew that Anfield is Anfield," he said.
"The motto 'This is Anfield' is no marketing spin. There's something about it that you will find in no other stadium in the world.
"They score a goal and over the next five minutes you feel that you'll receive another four.
"You feel small and the rival players seem to be all over.
"We've all gone through what happened to Barca. They were laughing at me when we were losing 3-0 after the first 15, 20 minutes of the quarter-final.
"It's a bugger of a ground."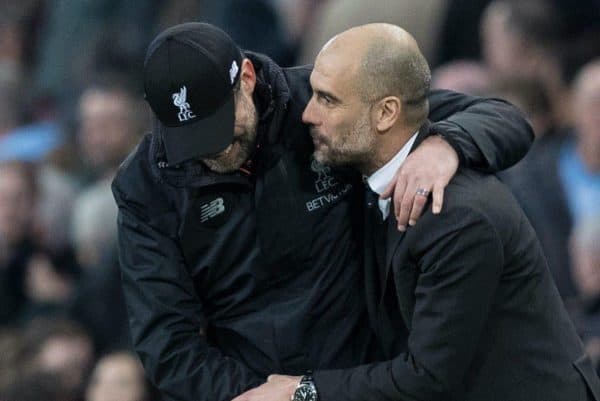 Of course, City had the last laugh in the Premier League last season as they lifted their second consecutive title at Liverpool's expense.
But the Reds won their sixth European Cup, and the momentum generated in Madrid should aid them in producing another challenge for the top domestic prize in 2019/20.
"To win the league in England is very hard," Guardiola continued.
"The challenge is that it is the first time in 11 years that a team has retained the title, and Barca have done that many times [in La Liga].
"In contrast, Liverpool have not won the league in 30 years, and we all saw who Liverpool are this year."
Liverpool begin their league campaign at home to Norwich on August 9, with their first meeting with City coming in the Community Shield on August 4.